John Wynne McCoy's Genealogy & Music Pages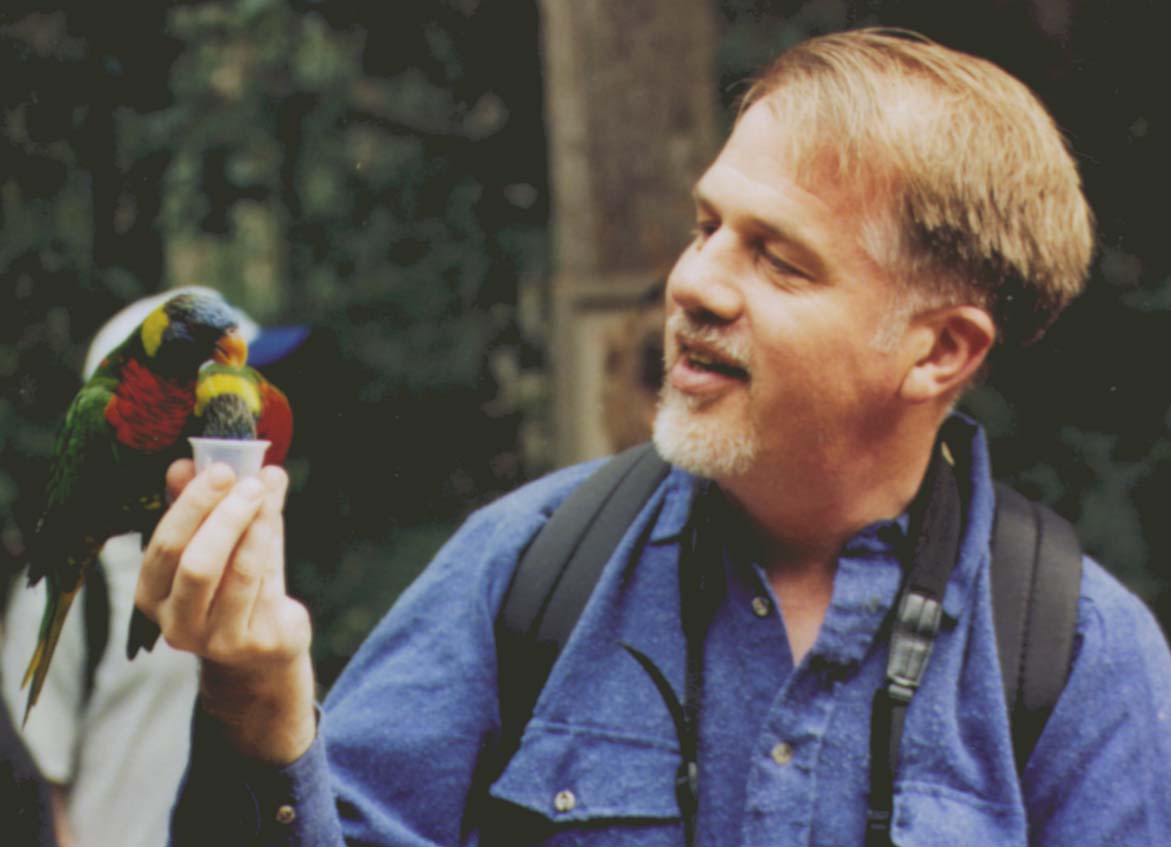 Surnames include McCoy, Marcel, Mayor, Johannot, Gélieu,Margueron, Faucherres, Dutoit, Trolliet, Planche, Rouge, Leorat, Barnett, Gachet, Berthod, Vallier,Chalon,Uran, McDougall, Havens, and many more! Many of these are from French-SpeakingSwitzerland with links to Huguenot families in France.
My current projects:
Matters of Opinion: If I were a modern person, it would be called a blog.
My Music:
Now Playing: François Couperin, "Le Tic-Toc-Choc, ou Les Maillotins"
Free MP3 files! We have hours and hours of high-quality MP3 files from the organ and harpsichord repertoires! These realizations use our JEUX and Hpschd soundfonts. Explore vast realms of music from the following links:
---
Click here to send me E-mail!
Visitors to our old site on aol.com since Bastille Day, 1998: over 15,000!
AOL discontinued its web hosting services in November, 2008, after which this site was resurrected on GoDaddy.com.
Visitors to this site since Election Day, 2008:

Warning: fopen(./counter/data/counter.php) [function.fopen]: failed to open stream: Permission denied in D:\Hosting\3410369\html\counter\includes\counterh.php on line 50

Warning: fwrite(): supplied argument is not a valid stream resource in D:\Hosting\3410369\html\counter\includes\counterh.php on line 52

Warning: fclose(): supplied argument is not a valid stream resource in D:\Hosting\3410369\html\counter\includes\counterh.php on line 53

Hit counter






Warning: fopen(./counter/data/online.php) [function.fopen]: failed to open stream: Permission denied in D:\Hosting\3410369\html\counter\includes\counterh.php on line 216

Warning: flock() expects parameter 1 to be resource, boolean given in D:\Hosting\3410369\html\counter\includes\counterh.php on line 217

Warning: feof(): supplied argument is not a valid stream resource in D:\Hosting\3410369\html\counter\includes\counterh.php on line 218

Warning: fgets(): supplied argument is not a valid stream resource in D:\Hosting\3410369\html\counter\includes\counterh.php on line 220

Warning: feof(): supplied argument is not a valid stream resource in D:\Hosting\3410369\html\counter\includes\counterh.php on line 218

Warning: fgets(): supplied argument is not a valid stream resource in D:\Hosting\3410369\html\counter\includes\counterh.php on line 220

Warning: feof(): supplied argument is not a valid stream resource in D:\Hosting\3410369\html\counter\includes\counterh.php on line 218

Warning: fgets(): supplied argument is not a valid stream resource in D:\Hosting\3410369\html\counter\includes\counterh.php on line 220

Warning: feof(): supplied argument is not a valid stream resource in D:\Hosting\3410369\html\counter\includes\counterh.php on line 218

Warning: fgets(): supplied argument is not a valid stream resource in D:\Hosting\3410369\html\counter\includes\counterh.php on line 220

Warning: feof(): supplied argument is not a valid stream resource in D:\Hosting\3410369\html\counter\includes\counterh.php on line 218

Warning: fgets(): supplied argument is not a valid stream resource in D:\Hosting\3410369\html\counter\includes\counterh.php on line 220

Warning: feof(): supplied argument is not a valid stream resource in D:\Hosting\3410369\html\counter\includes\counterh.php on line 218

Warning: fgets(): supplied argument is not a valid stream resource in D:\Hosting\3410369\html\counter\includes\counterh.php on line 220

Warning: feof(): supplied argument is not a valid stream resource in D:\Hosting\3410369\html\counter\includes\counterh.php on line 218

Warning: fgets(): supplied argument is not a valid stream resource in D:\Hosting\3410369\html\counter\includes\counterh.php on line 220

Warning: feof(): supplied argument is not a valid stream resource in D:\Hosting\3410369\html\counter\includes\counterh.php on line 218

Warning: fgets(): supplied argument is not a valid stream resource in D:\Hosting\3410369\html\counter\includes\counterh.php on line 220

Warning: feof(): supplied argument is not a valid stream resource in D:\Hosting\3410369\html\counter\includes\counterh.php on line 218

Warning: fgets(): supplied argument is not a valid stream resource in D:\Hosting\3410369\html\counter\includes\counterh.php on line 220

Warning: feof(): supplied argument is not a valid stream resource in D:\Hosting\3410369\html\counter\includes\counterh.php on line 218

Warning: fgets(): supplied argument is not a valid stream resource in D:\Hosting\3410369\html\counter\includes\counterh.php on line 220

Warning: feof(): supplied argument is not a valid stream resource in D:\Hosting\3410369\html\counter\includes\counterh.php on line 218

Warning: fgets(): supplied argument is not a valid stream resource in D:\Hosting\3410369\html\counter\includes\counterh.php on line 220

Warning: feof(): supplied argument is not a valid stream resource in D:\Hosting\3410369\html\counter\includes\counterh.php on line 218

Warning: fgets(): supplied argument is not a valid stream resource in D:\Hosting\3410369\html\counter\includes\counterh.php on line 220

Warning: feof(): supplied argument is not a valid stream resource in D:\Hosting\3410369\html\counter\includes\counterh.php on line 218

Warning: fgets(): supplied argument is not a valid stream resource in D:\Hosting\3410369\html\counter\includes\counterh.php on line 220

Warning: feof(): supplied argument is not a valid stream resource in D:\Hosting\3410369\html\counter\includes\counterh.php on line 218

Warning: fgets(): supplied argument is not a valid stream resource in D:\Hosting\3410369\html\counter\includes\counterh.php on line 220

Warning: feof(): supplied argument is not a valid stream resource in D:\Hosting\3410369\html\counter\includes\counterh.php on line 218

Warning: fgets(): supplied argument is not a valid stream resource in D:\Hosting\3410369\html\counter\includes\counterh.php on line 220

Warning: feof(): supplied argument is not a valid stream resource in D:\Hosting\3410369\html\counter\includes\counterh.php on line 218

Warning: fgets(): supplied argument is not a valid stream resource in D:\Hosting\3410369\html\counter\includes\counterh.php on line 220

Warning: feof(): supplied argument is not a valid stream resource in D:\Hosting\3410369\html\counter\includes\counterh.php on line 218

Warning: fgets(): supplied argument is not a valid stream resource in D:\Hosting\3410369\html\counter\includes\counterh.php on line 220

Warning: feof(): supplied argument is not a valid stream resource in D:\Hosting\3410369\html\counter\includes\counterh.php on line 218

Warning: fgets(): supplied argument is not a valid stream resource in D:\Hosting\3410369\html\counter\includes\counterh.php on line 220

Warning: feof(): supplied argument is not a valid stream resource in D:\Hosting\3410369\html\counter\includes\counterh.php on line 218

Warning: fgets(): supplied argument is not a valid stream resource in D:\Hosting\3410369\html\counter\includes\counterh.php on line 220

Warning: feof(): supplied argument is not a valid stream resource in D:\Hosting\3410369\html\counter\includes\counterh.php on line 218

Warning: fgets(): supplied argument is not a valid stream resource in D:\Hosting\3410369\html\counter\includes\counterh.php on line 220

Warning: feof(): supplied argument is not a valid stream resource in D:\Hosting\3410369\html\counter\includes\counterh.php on line 218

Warning: fgets(): supplied argument is not a valid stream resource in D:\Hosting\3410369\html\counter\includes\counterh.php on line 220

Warning: feof(): supplied argument is not a valid stream resource in D:\Hosting\3410369\html\counter\includes\counterh.php on line 218

Warning: fgets(): supplied argument is not a valid stream resource in D:\Hosting\3410369\html\counter\includes\counterh.php on line 220

Warning: feof(): supplied argument is not a valid stream resource in D:\Hosting\3410369\html\counter\includes\counterh.php on line 218

Warning: fgets(): supplied argument is not a valid stream resource in D:\Hosting\3410369\html\counter\includes\counterh.php on line 220

Warning: feof(): supplied argument is not a valid stream resource in D:\Hosting\3410369\html\counter\includes\counterh.php on line 218

Warning: fgets(): supplied argument is not a valid stream resource in D:\Hosting\3410369\html\counter\includes\counterh.php on line 220

Warning: feof(): supplied argument is not a valid stream resource in D:\Hosting\3410369\html\counter\includes\counterh.php on line 218

Warning: fgets(): supplied argument is not a valid stream resource in D:\Hosting\3410369\html\counter\includes\counterh.php on line 220

Warning: feof(): supplied argument is not a valid stream resource in D:\Hosting\3410369\html\counter\includes\counterh.php on line 218

Warning: fgets(): supplied argument is not a valid stream resource in D:\Hosting\3410369\html\counter\includes\counterh.php on line 220

Warning: feof(): supplied argument is not a valid stream resource in D:\Hosting\3410369\html\counter\includes\counterh.php on line 218

Warning: fgets(): supplied argument is not a valid stream resource in D:\Hosting\3410369\html\counter\includes\counterh.php on line 220

Warning: feof(): supplied argument is not a valid stream resource in D:\Hosting\3410369\html\counter\includes\counterh.php on line 218

Warning: fgets(): supplied argument is not a valid stream resource in D:\Hosting\3410369\html\counter\includes\counterh.php on line 220

Warning: feof(): supplied argument is not a valid stream resource in D:\Hosting\3410369\html\counter\includes\counterh.php on line 218

Warning: fgets(): supplied argument is not a valid stream resource in D:\Hosting\3410369\html\counter\includes\counterh.php on line 220

Warning: feof(): supplied argument is not a valid stream resource in D:\Hosting\3410369\html\counter\includes\counterh.php on line 218

Warning: fgets(): supplied argument is not a valid stream resource in D:\Hosting\3410369\html\counter\includes\counterh.php on line 220

Warning: feof(): supplied argument is not a valid stream resource in D:\Hosting\3410369\html\counter\includes\counterh.php on line 218

Warning: fgets(): supplied argument is not a valid stream resource in D:\Hosting\3410369\html\counter\includes\counterh.php on line 220

Warning: feof(): supplied argument is not a valid stream resource in D:\Hosting\3410369\html\counter\includes\counterh.php on line 218

Warning: fgets(): supplied argument is not a valid stream resource in D:\Hosting\3410369\html\counter\includes\counterh.php on line 220

Warning: feof(): supplied argument is not a valid stream resource in D:\Hosting\3410369\html\counter\includes\counterh.php on line 218

Warning: fgets(): supplied argument is not a valid stream resource in D:\Hosting\3410369\html\counter\includes\counterh.php on line 220

Warning: feof(): supplied argument is not a valid stream resource in D:\Hosting\3410369\html\counter\includes\counterh.php on line 218

Warning: fgets(): supplied argument is not a valid stream resource in D:\Hosting\3410369\html\counter\includes\counterh.php on line 220

Warning: feof(): supplied argument is not a valid stream resource in D:\Hosting\3410369\html\counter\includes\counterh.php on line 218

Warning: fgets(): supplied argument is not a valid stream resource in D:\Hosting\3410369\html\counter\includes\counterh.php on line 220

Warning: feof(): supplied argument is not a valid stream resource in D:\Hosting\3410369\html\counter\includes\counterh.php on line 218

Warning: fgets(): supplied argument is not a valid stream resource in D:\Hosting\3410369\html\counter\includes\counterh.php on line 220

Warning: feof(): supplied argument is not a valid stream resource in D:\Hosting\3410369\html\counter\includes\counterh.php on line 218

Warning: fgets(): supplied argument is not a valid stream resource in D:\Hosting\3410369\html\counter\includes\counterh.php on line 220

Warning: feof(): supplied argument is not a valid stream resource in D:\Hosting\3410369\html\counter\includes\counterh.php on line 218

Warning: fgets(): supplied argument is not a valid stream resource in D:\Hosting\3410369\html\counter\includes\counterh.php on line 220

Warning: feof(): supplied argument is not a valid stream resource in D:\Hosting\3410369\html\counter\includes\counterh.php on line 218

Warning: fgets(): supplied argument is not a valid stream resource in D:\Hosting\3410369\html\counter\includes\counterh.php on line 220

Warning: feof(): supplied argument is not a valid stream resource in D:\Hosting\3410369\html\counter\includes\counterh.php on line 218

Warning: fgets(): supplied argument is not a valid stream resource in D:\Hosting\3410369\html\counter\includes\counterh.php on line 220

Warning: feof(): supplied argument is not a valid stream resource in D:\Hosting\3410369\html\counter\includes\counterh.php on line 218

Warning: fgets(): supplied argument is not a valid stream resource in D:\Hosting\3410369\html\counter\includes\counterh.php on line 220

Warning: feof(): supplied argument is not a valid stream resource in D:\Hosting\3410369\html\counter\includes\counterh.php on line 218

Warning: fgets(): supplied argument is not a valid stream resource in D:\Hosting\3410369\html\counter\includes\counterh.php on line 220

Warning: feof(): supplied argument is not a valid stream resource in D:\Hosting\3410369\html\counter\includes\counterh.php on line 218

Warning: fgets(): supplied argument is not a valid stream resource in D:\Hosting\3410369\html\counter\includes\counterh.php on line 220

Warning: feof(): supplied argument is not a valid stream resource in D:\Hosting\3410369\html\counter\includes\counterh.php on line 218

Warning: fgets(): supplied argument is not a valid stream resource in D:\Hosting\3410369\html\counter\includes\counterh.php on line 220

Warning: feof(): supplied argument is not a valid stream resource in D:\Hosting\3410369\html\counter\includes\counterh.php on line 218

Warning: fgets(): supplied argument is not a valid stream resource in D:\Hosting\3410369\html\counter\includes\counterh.php on line 220

Warning: feof(): supplied argument is not a valid stream resource in D:\Hosting\3410369\html\counter\includes\counterh.php on line 218

Warning: fgets(): supplied argument is not a valid stream resource in D:\Hosting\3410369\html\counter\includes\counterh.php on line 220

Warning: feof(): supplied argument is not a valid stream resource in D:\Hosting\3410369\html\counter\includes\counterh.php on line 218

Warning: fgets(): supplied argument is not a valid stream resource in D:\Hosting\3410369\html\counter\includes\counterh.php on line 220

Warning: feof(): supplied argument is not a valid stream resource in D:\Hosting\3410369\html\counter\includes\counterh.php on line 218

Warning: fgets(): supplied argument is not a valid stream resource in D:\Hosting\3410369\html\counter\includes\counterh.php on line 220

Warning: feof(): supplied argument is not a valid stream resource in D:\Hosting\3410369\html\counter\includes\counterh.php on line 218

Warning: fgets(): supplied argument is not a valid stream resource in D:\Hosting\3410369\html\counter\includes\counterh.php on line 220

Warning: feof(): supplied argument is not a valid stream resource in D:\Hosting\3410369\html\counter\includes\counterh.php on line 218

Warning: fgets(): supplied argument is not a valid stream resource in D:\Hosting\3410369\html\counter\includes\counterh.php on line 220

Warning: feof(): supplied argument is not a valid stream resource in D:\Hosting\3410369\html\counter\includes\counterh.php on line 218

Warning: fgets(): supplied argument is not a valid stream resource in D:\Hosting\3410369\html\counter\includes\counterh.php on line 220

Warning: feof(): supplied argument is not a valid stream resource in D:\Hosting\3410369\html\counter\includes\counterh.php on line 218

Warning: fgets(): supplied argument is not a valid stream resource in D:\Hosting\3410369\html\counter\includes\counterh.php on line 220

Warning: feof(): supplied argument is not a valid stream resource in D:\Hosting\3410369\html\counter\includes\counterh.php on line 218

Warning: fgets(): supplied argument is not a valid stream resource in D:\Hosting\3410369\html\counter\includes\counterh.php on line 220

Warning: feof(): supplied argument is not a valid stream resource in D:\Hosting\3410369\html\counter\includes\counterh.php on line 218

Warning: fgets(): supplied argument is not a valid stream resource in D:\Hosting\3410369\html\counter\includes\counterh.php on line 220

Warning: feof(): supplied argument is not a valid stream resource in D:\Hosting\3410369\html\counter\includes\counterh.php on line 218

Warning: fgets(): supplied argument is not a valid stream resource in D:\Hosting\3410369\html\counter\includes\counterh.php on line 220

Warning: feof(): supplied argument is not a valid stream resource in D:\Hosting\3410369\html\counter\includes\counterh.php on line 218

Warning: fgets(): supplied argument is not a valid stream resource in D:\Hosting\3410369\html\counter\includes\counterh.php on line 220

Warning: feof(): supplied argument is not a valid stream resource in D:\Hosting\3410369\html\counter\includes\counterh.php on line 218

Warning: fgets(): supplied argument is not a valid stream resource in D:\Hosting\3410369\html\counter\includes\counterh.php on line 220

Warning: feof(): supplied argument is not a valid stream resource in D:\Hosting\3410369\html\counter\includes\counterh.php on line 218

Warning: fgets(): supplied argument is not a valid stream resource in D:\Hosting\3410369\html\counter\includes\counterh.php on line 220

Warning: feof(): supplied argument is not a valid stream resource in D:\Hosting\3410369\html\counter\includes\counterh.php on line 218

Warning: fgets(): supplied argument is not a valid stream resource in D:\Hosting\3410369\html\counter\includes\counterh.php on line 220

Warning: feof(): supplied argument is not a valid stream resource in D:\Hosting\3410369\html\counter\includes\counterh.php on line 218

Warning: fgets(): supplied argument is not a valid stream resource in D:\Hosting\3410369\html\counter\includes\counterh.php on line 220

Warning: feof(): supplied argument is not a valid stream resource in D:\Hosting\3410369\html\counter\includes\counterh.php on line 218

Warning: fgets(): supplied argument is not a valid stream resource in D:\Hosting\3410369\html\counter\includes\counterh.php on line 220

Warning: feof(): supplied argument is not a valid stream resource in D:\Hosting\3410369\html\counter\includes\counterh.php on line 218

Warning: fgets(): supplied argument is not a valid stream resource in D:\Hosting\3410369\html\counter\includes\counterh.php on line 220

Warning: feof(): supplied argument is not a valid stream resource in D:\Hosting\3410369\html\counter\includes\counterh.php on line 218

Warning: fgets(): supplied argument is not a valid stream resource in D:\Hosting\3410369\html\counter\includes\counterh.php on line 220

Warning: feof(): supplied argument is not a valid stream resource in D:\Hosting\3410369\html\counter\includes\counterh.php on line 218

Warning: fgets(): supplied argument is not a valid stream resource in D:\Hosting\3410369\html\counter\includes\counterh.php on line 220

Warning: feof(): supplied argument is not a valid stream resource in D:\Hosting\3410369\html\counter\includes\counterh.php on line 218

Warning: fgets(): supplied argument is not a valid stream resource in D:\Hosting\3410369\html\counter\includes\counterh.php on line 220

Warning: feof(): supplied argument is not a valid stream resource in D:\Hosting\3410369\html\counter\includes\counterh.php on line 218

Warning: fgets(): supplied argument is not a valid stream resource in D:\Hosting\3410369\html\counter\includes\counterh.php on line 220

Warning: feof(): supplied argument is not a valid stream resource in D:\Hosting\3410369\html\counter\includes\counterh.php on line 218

Warning: fgets(): supplied argument is not a valid stream resource in D:\Hosting\3410369\html\counter\includes\counterh.php on line 220

Warning: feof(): supplied argument is not a valid stream resource in D:\Hosting\3410369\html\counter\includes\counterh.php on line 218

Warning: fgets(): supplied argument is not a valid stream resource in D:\Hosting\3410369\html\counter\includes\counterh.php on line 220

Warning: feof(): supplied argument is not a valid stream resource in D:\Hosting\3410369\html\counter\includes\counterh.php on line 218

Warning: fgets(): supplied argument is not a valid stream resource in D:\Hosting\3410369\html\counter\includes\counterh.php on line 220

Warning: feof(): supplied argument is not a valid stream resource in D:\Hosting\3410369\html\counter\includes\counterh.php on line 218

Warning: fgets(): supplied argument is not a valid stream resource in D:\Hosting\3410369\html\counter\includes\counterh.php on line 220

Warning: feof(): supplied argument is not a valid stream resource in D:\Hosting\3410369\html\counter\includes\counterh.php on line 218

Warning: fgets(): supplied argument is not a valid stream resource in D:\Hosting\3410369\html\counter\includes\counterh.php on line 220

Warning: feof(): supplied argument is not a valid stream resource in D:\Hosting\3410369\html\counter\includes\counterh.php on line 218

Warning: fgets(): supplied argument is not a valid stream resource in D:\Hosting\3410369\html\counter\includes\counterh.php on line 220

Warning: feof(): supplied argument is not a valid stream resource in D:\Hosting\3410369\html\counter\includes\counterh.php on line 218

Warning: fgets(): supplied argument is not a valid stream resource in D:\Hosting\3410369\html\counter\includes\counterh.php on line 220

Warning: feof(): supplied argument is not a valid stream resource in D:\Hosting\3410369\html\counter\includes\counterh.php on line 218

Warning: fgets(): supplied argument is not a valid stream resource in D:\Hosting\3410369\html\counter\includes\counterh.php on line 220

Warning: feof(): supplied argument is not a valid stream resource in D:\Hosting\3410369\html\counter\includes\counterh.php on line 218

Warning: fgets(): supplied argument is not a valid stream resource in D:\Hosting\3410369\html\counter\includes\counterh.php on line 220

Warning: feof(): supplied argument is not a valid stream resource in D:\Hosting\3410369\html\counter\includes\counterh.php on line 218

Warning: fgets(): supplied argument is not a valid stream resource in D:\Hosting\3410369\html\counter\includes\counterh.php on line 220

Warning: feof(): supplied argument is not a valid stream resource in D:\Hosting\3410369\html\counter\includes\counterh.php on line 218

Warning: fgets(): supplied argument is not a valid stream resource in D:\Hosting\3410369\html\counter\includes\counterh.php on line 220

Warning: feof(): supplied argument is not a valid stream resource in D:\Hosting\3410369\html\counter\includes\counterh.php on line 218

Warning: fgets(): supplied argument is not a valid stream resource in D:\Hosting\3410369\html\counter\includes\counterh.php on line 220

Warning: feof(): supplied argument is not a valid stream resource in D:\Hosting\3410369\html\counter\includes\counterh.php on line 218

Warning: fgets(): supplied argument is not a valid stream resource in D:\Hosting\3410369\html\counter\includes\counterh.php on line 220

Warning: feof(): supplied argument is not a valid stream resource in D:\Hosting\3410369\html\counter\includes\counterh.php on line 218

Warning: fgets(): supplied argument is not a valid stream resource in D:\Hosting\3410369\html\counter\includes\counterh.php on line 220

Warning: feof(): supplied argument is not a valid stream resource in D:\Hosting\3410369\html\counter\includes\counterh.php on line 218

Warning: fgets(): supplied argument is not a valid stream resource in D:\Hosting\3410369\html\counter\includes\counterh.php on line 220

Warning: feof(): supplied argument is not a valid stream resource in D:\Hosting\3410369\html\counter\includes\counterh.php on line 218

Warning: fgets(): supplied argument is not a valid stream resource in D:\Hosting\3410369\html\counter\includes\counterh.php on line 220

Warning: feof(): supplied argument is not a valid stream resource in D:\Hosting\3410369\html\counter\includes\counterh.php on line 218

Warning: fgets(): supplied argument is not a valid stream resource in D:\Hosting\3410369\html\counter\includes\counterh.php on line 220

Warning: feof(): supplied argument is not a valid stream resource in D:\Hosting\3410369\html\counter\includes\counterh.php on line 218

Warning: fgets(): supplied argument is not a valid stream resource in D:\Hosting\3410369\html\counter\includes\counterh.php on line 220

Warning: feof(): supplied argument is not a valid stream resource in D:\Hosting\3410369\html\counter\includes\counterh.php on line 218

Warning: fgets(): supplied argument is not a valid stream resource in D:\Hosting\3410369\html\counter\includes\counterh.php on line 220

Warning: feof(): supplied argument is not a valid stream resource in D:\Hosting\3410369\html\counter\includes\counterh.php on line 218

Warning: fgets(): supplied argument is not a valid stream resource in D:\Hosting\3410369\html\counter\includes\counterh.php on line 220

Warning: feof(): supplied argument is not a valid stream resource in D:\Hosting\3410369\html\counter\includes\counterh.php on line 218

Warning: fgets(): supplied argument is not a valid stream resource in D:\Hosting\3410369\html\counter\includes\counterh.php on line 220

Warning: feof(): supplied argument is not a valid stream resource in D:\Hosting\3410369\html\counter\includes\counterh.php on line 218

Warning: fgets(): supplied argument is not a valid stream resource in D:\Hosting\3410369\html\counter\includes\counterh.php on line 220

Warning: feof(): supplied argument is not a valid stream resource in D:\Hosting\3410369\html\counter\includes\counterh.php on line 218

Warning: fgets(): supplied argument is not a valid stream resource in D:\Hosting\3410369\html\counter\includes\counterh.php on line 220

Warning: feof(): supplied argument is not a valid stream resource in D:\Hosting\3410369\html\counter\includes\counterh.php on line 218

Warning: fgets(): supplied argument is not a valid stream resource in D:\Hosting\3410369\html\counter\includes\counterh.php on line 220

Warning: feof(): supplied argument is not a valid stream resource in D:\Hosting\3410369\html\counter\includes\counterh.php on line 218

Warning: fgets(): supplied argument is not a valid stream resource in D:\Hosting\3410369\html\counter\includes\counterh.php on line 220

Warning: feof(): supplied argument is not a valid stream resource in D:\Hosting\3410369\html\counter\includes\counterh.php on line 218

Warning: fgets(): supplied argument is not a valid stream resource in D:\Hosting\3410369\html\counter\includes\counterh.php on line 220

Warning: feof(): supplied argument is not a valid stream resource in D:\Hosting\3410369\html\counter\includes\counterh.php on line 218

Warning: fgets(): supplied argument is not a valid stream resource in D:\Hosting\3410369\html\counter\includes\counterh.php on line 220

Warning: feof(): supplied argument is not a valid stream resource in D:\Hosting\3410369\html\counter\includes\counterh.php on line 218

Warning: fgets(): supplied argument is not a valid stream resource in D:\Hosting\3410369\html\counter\includes\counterh.php on line 220

Warning: feof(): supplied argument is not a valid stream resource in D:\Hosting\3410369\html\counter\includes\counterh.php on line 218

Warning: fgets(): supplied argument is not a valid stream resource in D:\Hosting\3410369\html\counter\includes\counterh.php on line 220

Warning: feof(): supplied argument is not a valid stream resource in D:\Hosting\3410369\html\counter\includes\counterh.php on line 218

Warning: fgets(): supplied argument is not a valid stream resource in D:\Hosting\3410369\html\counter\includes\counterh.php on line 220

Warning: feof(): supplied argument is not a valid stream resource in D:\Hosting\3410369\html\counter\includes\counterh.php on line 218

Warning: fgets(): supplied argument is not a valid stream resource in D:\Hosting\3410369\html\counter\includes\counterh.php on line 220

Warning: feof(): supplied argument is not a valid stream resource in D:\Hosting\3410369\html\counter\includes\counterh.php on line 218

Warning: fgets(): supplied argument is not a valid stream resource in D:\Hosting\3410369\html\counter\includes\counterh.php on line 220

Warning: feof(): supplied argument is not a valid stream resource in D:\Hosting\3410369\html\counter\includes\counterh.php on line 218

Warning: fgets(): supplied argument is not a valid stream resource in D:\Hosting\3410369\html\counter\includes\counterh.php on line 220

Warning: feof(): supplied argument is not a valid stream resource in D:\Hosting\3410369\html\counter\includes\counterh.php on line 218

Warning: fgets(): supplied argument is not a valid stream resource in D:\Hosting\3410369\html\counter\includes\counterh.php on line 220

Warning: feof(): supplied argument is not a valid stream resource in D:\Hosting\3410369\html\counter\includes\counterh.php on line 218

Warning: fgets(): supplied argument is not a valid stream resource in D:\Hosting\3410369\html\counter\includes\counterh.php on line 220

Warning: feof(): supplied argument is not a valid stream resource in D:\Hosting\3410369\html\counter\includes\counterh.php on line 218

Warning: fgets(): supplied argument is not a valid stream resource in D:\Hosting\3410369\html\counter\includes\counterh.php on line 220

Warning: feof(): supplied argument is not a valid stream resource in D:\Hosting\3410369\html\counter\includes\counterh.php on line 218

Warning: fgets(): supplied argument is not a valid stream resource in D:\Hosting\3410369\html\counter\includes\counterh.php on line 220

Warning: feof(): supplied argument is not a valid stream resource in D:\Hosting\3410369\html\counter\includes\counterh.php on line 218

Warning: fgets(): supplied argument is not a valid stream resource in D:\Hosting\3410369\html\counter\includes\counterh.php on line 220

Warning: feof(): supplied argument is not a valid stream resource in D:\Hosting\3410369\html\counter\includes\counterh.php on line 218

Warning: fgets(): supplied argument is not a valid stream resource in D:\Hosting\3410369\html\counter\includes\counterh.php on line 220

Warning: feof(): supplied argument is not a valid stream resource in D:\Hosting\3410369\html\counter\includes\counterh.php on line 218

Warning: fgets(): supplied argument is not a valid stream resource in D:\Hosting\3410369\html\counter\includes\counterh.php on line 220

Warning: feof(): supplied argument is not a valid stream resource in D:\Hosting\3410369\html\counter\includes\counterh.php on line 218

Warning: fgets(): supplied argument is not a valid stream resource in D:\Hosting\3410369\html\counter\includes\counterh.php on line 220

Warning: feof(): supplied argument is not a valid stream resource in D:\Hosting\3410369\html\counter\includes\counterh.php on line 218

Warning: fgets(): supplied argument is not a valid stream resource in D:\Hosting\3410369\html\counter\includes\counterh.php on line 220

Warning: feof(): supplied argument is not a valid stream resource in D:\Hosting\3410369\html\counter\includes\counterh.php on line 218

Warning: fgets(): supplied argument is not a valid stream resource in D:\Hosting\3410369\html\counter\includes\counterh.php on line 220

Warning: feof(): supplied argument is not a valid stream resource in D:\Hosting\3410369\html\counter\includes\counterh.php on line 218

Warning: fgets(): supplied argument is not a valid stream resource in D:\Hosting\3410369\html\counter\includes\counterh.php on line 220

Warning: feof(): supplied argument is not a valid stream resource in D:\Hosting\3410369\html\counter\includes\counterh.php on line 218

Warning: fgets(): supplied argument is not a valid stream resource in D:\Hosting\3410369\html\counter\includes\counterh.php on line 220

Warning: feof(): supplied argument is not a valid stream resource in D:\Hosting\3410369\html\counter\includes\counterh.php on line 218

Warning: fgets(): supplied argument is not a valid stream resource in D:\Hosting\3410369\html\counter\includes\counterh.php on line 220

Warning: feof(): supplied argument is not a valid stream resource in D:\Hosting\3410369\html\counter\includes\counterh.php on line 218

Warning: fgets(): supplied argument is not a valid stream resource in D:\Hosting\3410369\html\counter\includes\counterh.php on line 220

Warning: feof(): supplied argument is not a valid stream resource in D:\Hosting\3410369\html\counter\includes\counterh.php on line 218

Warning: fgets(): supplied argument is not a valid stream resource in D:\Hosting\3410369\html\counter\includes\counterh.php on line 220

Warning: feof(): supplied argument is not a valid stream resource in D:\Hosting\3410369\html\counter\includes\counterh.php on line 218

Warning: fgets(): supplied argument is not a valid stream resource in D:\Hosting\3410369\html\counter\includes\counterh.php on line 220

Warning: feof(): supplied argument is not a valid stream resource in D:\Hosting\3410369\html\counter\includes\counterh.php on line 218

Warning: fgets(): supplied argument is not a valid stream resource in D:\Hosting\3410369\html\counter\includes\counterh.php on line 220

Warning: feof(): supplied argument is not a valid stream resource in D:\Hosting\3410369\html\counter\includes\counterh.php on line 218

Warning: fgets(): supplied argument is not a valid stream resource in D:\Hosting\3410369\html\counter\includes\counterh.php on line 220

Warning: feof(): supplied argument is not a valid stream resource in D:\Hosting\3410369\html\counter\includes\counterh.php on line 218

Warning: fgets(): supplied argument is not a valid stream resource in D:\Hosting\3410369\html\counter\includes\counterh.php on line 220

Warning: feof(): supplied argument is not a valid stream resource in D:\Hosting\3410369\html\counter\includes\counterh.php on line 218

Warning: fgets(): supplied argument is not a valid stream resource in D:\Hosting\3410369\html\counter\includes\counterh.php on line 220

Warning: feof(): supplied argument is not a valid stream resource in D:\Hosting\3410369\html\counter\includes\counterh.php on line 218

Warning: fgets(): supplied argument is not a valid stream resource in D:\Hosting\3410369\html\counter\includes\counterh.php on line 220

Warning: feof(): supplied argument is not a valid stream resource in D:\Hosting\3410369\html\counter\includes\counterh.php on line 218

Warning: fgets(): supplied argument is not a valid stream resource in D:\Hosting\3410369\html\counter\includes\counterh.php on line 220

Warning: feof(): supplied argument is not a valid stream resource in D:\Hosting\3410369\html\counter\includes\counterh.php on line 218

Warning: fgets(): supplied argument is not a valid stream resource in D:\Hosting\3410369\html\counter\includes\counterh.php on line 220

Warning: feof(): supplied argument is not a valid stream resource in D:\Hosting\3410369\html\counter\includes\counterh.php on line 218

Warning: fgets(): supplied argument is not a valid stream resource in D:\Hosting\3410369\html\counter\includes\counterh.php on line 220

Warning: feof(): supplied argument is not a valid stream resource in D:\Hosting\3410369\html\counter\includes\counterh.php on line 218

Warning: fgets(): supplied argument is not a valid stream resource in D:\Hosting\3410369\html\counter\includes\counterh.php on line 220

Warning: feof(): supplied argument is not a valid stream resource in D:\Hosting\3410369\html\counter\includes\counterh.php on line 218

Warning: fgets(): supplied argument is not a valid stream resource in D:\Hosting\3410369\html\counter\includes\counterh.php on line 220

Warning: feof(): supplied argument is not a valid stream resource in D:\Hosting\3410369\html\counter\includes\counterh.php on line 218

Warning: fgets(): supplied argument is not a valid stream resource in D:\Hosting\3410369\html\counter\includes\counterh.php on line 220

Warning: feof(): supplied argument is not a valid stream resource in D:\Hosting\3410369\html\counter\includes\counterh.php on line 218

Warning: fgets(): supplied argument is not a valid stream resource in D:\Hosting\3410369\html\counter\includes\counterh.php on line 220

Warning: feof(): supplied argument is not a valid stream resource in D:\Hosting\3410369\html\counter\includes\counterh.php on line 218

Warning: fgets(): supplied argument is not a valid stream resource in D:\Hosting\3410369\html\counter\includes\counterh.php on line 220

Warning: feof(): supplied argument is not a valid stream resource in D:\Hosting\3410369\html\counter\includes\counterh.php on line 218

Warning: fgets(): supplied argument is not a valid stream resource in D:\Hosting\3410369\html\counter\includes\counterh.php on line 220

Warning: feof(): supplied argument is not a valid stream resource in D:\Hosting\3410369\html\counter\includes\counterh.php on line 218

Warning: fgets(): supplied argument is not a valid stream resource in D:\Hosting\3410369\html\counter\includes\counterh.php on line 220

Warning: feof(): supplied argument is not a valid stream resource in D:\Hosting\3410369\html\counter\includes\counterh.php on line 218

Warning: fgets(): supplied argument is not a valid stream resource in D:\Hosting\3410369\html\counter\includes\counterh.php on line 220

Warning: feof(): supplied argument is not a valid stream resource in D:\Hosting\3410369\html\counter\includes\counterh.php on line 218

Warning: fgets(): supplied argument is not a valid stream resource in D:\Hosting\3410369\html\counter\includes\counterh.php on line 220

Warning: feof(): supplied argument is not a valid stream resource in D:\Hosting\3410369\html\counter\includes\counterh.php on line 218

Warning: fgets(): supplied argument is not a valid stream resource in D:\Hosting\3410369\html\counter\includes\counterh.php on line 220

Warning: feof(): supplied argument is not a valid stream resource in D:\Hosting\3410369\html\counter\includes\counterh.php on line 218

Warning: fgets(): supplied argument is not a valid stream resource in D:\Hosting\3410369\html\counter\includes\counterh.php on line 220

Warning: feof(): supplied argument is not a valid stream resource in D:\Hosting\3410369\html\counter\includes\counterh.php on line 218

Warning: fgets(): supplied argument is not a valid stream resource in D:\Hosting\3410369\html\counter\includes\counterh.php on line 220

Warning: feof(): supplied argument is not a valid stream resource in D:\Hosting\3410369\html\counter\includes\counterh.php on line 218

Warning: fgets(): supplied argument is not a valid stream resource in D:\Hosting\3410369\html\counter\includes\counterh.php on line 220

Warning: feof(): supplied argument is not a valid stream resource in D:\Hosting\3410369\html\counter\includes\counterh.php on line 218

Warning: fgets(): supplied argument is not a valid stream resource in D:\Hosting\3410369\html\counter\includes\counterh.php on line 220

Warning: feof(): supplied argument is not a valid stream resource in D:\Hosting\3410369\html\counter\includes\counterh.php on line 218

Warning: fgets(): supplied argument is not a valid stream resource in D:\Hosting\3410369\html\counter\includes\counterh.php on line 220

Warning: feof(): supplied argument is not a valid stream resource in D:\Hosting\3410369\html\counter\includes\counterh.php on line 218

Warning: fgets(): supplied argument is not a valid stream resource in D:\Hosting\3410369\html\counter\includes\counterh.php on line 220

Warning: feof(): supplied argument is not a valid stream resource in D:\Hosting\3410369\html\counter\includes\counterh.php on line 218

Warning: fgets(): supplied argument is not a valid stream resource in D:\Hosting\3410369\html\counter\includes\counterh.php on line 220

Warning: feof(): supplied argument is not a valid stream resource in D:\Hosting\3410369\html\counter\includes\counterh.php on line 218

Warning: fgets(): supplied argument is not a valid stream resource in D:\Hosting\3410369\html\counter\includes\counterh.php on line 220

Warning: feof(): supplied argument is not a valid stream resource in D:\Hosting\3410369\html\counter\includes\counterh.php on line 218

Warning: fgets(): supplied argument is not a valid stream resource in D:\Hosting\3410369\html\counter\includes\counterh.php on line 220

Warning: feof(): supplied argument is not a valid stream resource in D:\Hosting\3410369\html\counter\includes\counterh.php on line 218

Warning: fgets(): supplied argument is not a valid stream resource in D:\Hosting\3410369\html\counter\includes\counterh.php on line 220

Warning: feof(): supplied argument is not a valid stream resource in D:\Hosting\3410369\html\counter\includes\counterh.php on line 218

Warning: fgets(): supplied argument is not a valid stream resource in D:\Hosting\3410369\html\counter\includes\counterh.php on line 220

Warning: feof(): supplied argument is not a valid stream resource in D:\Hosting\3410369\html\counter\includes\counterh.php on line 218

Warning: fgets(): supplied argument is not a valid stream resource in D:\Hosting\3410369\html\counter\includes\counterh.php on line 220

Warning: feof(): supplied argument is not a valid stream resource in D:\Hosting\3410369\html\counter\includes\counterh.php on line 218

Warning: fgets(): supplied argument is not a valid stream resource in D:\Hosting\3410369\html\counter\includes\counterh.php on line 220

Warning: feof(): supplied argument is not a valid stream resource in D:\Hosting\3410369\html\counter\includes\counterh.php on line 218

Warning: fgets(): supplied argument is not a valid stream resource in D:\Hosting\3410369\html\counter\includes\counterh.php on line 220

Warning: feof(): supplied argument is not a valid stream resource in D:\Hosting\3410369\html\counter\includes\counterh.php on line 218

Warning: fgets(): supplied argument is not a valid stream resource in D:\Hosting\3410369\html\counter\includes\counterh.php on line 220

Warning: feof(): supplied argument is not a valid stream resource in D:\Hosting\3410369\html\counter\includes\counterh.php on line 218

Warning: fgets(): supplied argument is not a valid stream resource in D:\Hosting\3410369\html\counter\includes\counterh.php on line 220

Warning: feof(): supplied argument is not a valid stream resource in D:\Hosting\3410369\html\counter\includes\counterh.php on line 218

Warning: fgets(): supplied argument is not a valid stream resource in D:\Hosting\3410369\html\counter\includes\counterh.php on line 220

Warning: feof(): supplied argument is not a valid stream resource in D:\Hosting\3410369\html\counter\includes\counterh.php on line 218

Warning: fgets(): supplied argument is not a valid stream resource in D:\Hosting\3410369\html\counter\includes\counterh.php on line 220

Warning: feof(): supplied argument is not a valid stream resource in D:\Hosting\3410369\html\counter\includes\counterh.php on line 218

Warning: fgets(): supplied argument is not a valid stream resource in D:\Hosting\3410369\html\counter\includes\counterh.php on line 220

Warning: feof(): supplied argument is not a valid stream resource in D:\Hosting\3410369\html\counter\includes\counterh.php on line 218

Warning: fgets(): supplied argument is not a valid stream resource in D:\Hosting\3410369\html\counter\includes\counterh.php on line 220

Warning: feof(): supplied argument is not a valid stream resource in D:\Hosting\3410369\html\counter\includes\counterh.php on line 218

Warning: fgets(): supplied argument is not a valid stream resource in D:\Hosting\3410369\html\counter\includes\counterh.php on line 220

Warning: feof(): supplied argument is not a valid stream resource in D:\Hosting\3410369\html\counter\includes\counterh.php on line 218

Warning: fgets(): supplied argument is not a valid stream resource in D:\Hosting\3410369\html\counter\includes\counterh.php on line 220

Warning: feof(): supplied argument is not a valid stream resource in D:\Hosting\3410369\html\counter\includes\counterh.php on line 218

Warning: fgets(): supplied argument is not a valid stream resource in D:\Hosting\3410369\html\counter\includes\counterh.php on line 220

Warning: feof(): supplied argument is not a valid stream resource in D:\Hosting\3410369\html\counter\includes\counterh.php on line 218

Warning: fgets(): supplied argument is not a valid stream resource in D:\Hosting\3410369\html\counter\includes\counterh.php on line 220

Warning: feof(): supplied argument is not a valid stream resource in D:\Hosting\3410369\html\counter\includes\counterh.php on line 218

Warning: fgets(): supplied argument is not a valid stream resource in D:\Hosting\3410369\html\counter\includes\counterh.php on line 220

Warning: feof(): supplied argument is not a valid stream resource in D:\Hosting\3410369\html\counter\includes\counterh.php on line 218

Warning: fgets(): supplied argument is not a valid stream resource in D:\Hosting\3410369\html\counter\includes\counterh.php on line 220

Warning: feof(): supplied argument is not a valid stream resource in D:\Hosting\3410369\html\counter\includes\counterh.php on line 218

Warning: fgets(): supplied argument is not a valid stream resource in D:\Hosting\3410369\html\counter\includes\counterh.php on line 220

Warning: feof(): supplied argument is not a valid stream resource in D:\Hosting\3410369\html\counter\includes\counterh.php on line 218

Warning: fgets(): supplied argument is not a valid stream resource in D:\Hosting\3410369\html\counter\includes\counterh.php on line 220

Warning: feof(): supplied argument is not a valid stream resource in D:\Hosting\3410369\html\counter\includes\counterh.php on line 218

Warning: fgets(): supplied argument is not a valid stream resource in D:\Hosting\3410369\html\counter\includes\counterh.php on line 220

Warning: feof(): supplied argument is not a valid stream resource in D:\Hosting\3410369\html\counter\includes\counterh.php on line 218

Warning: fgets(): supplied argument is not a valid stream resource in D:\Hosting\3410369\html\counter\includes\counterh.php on line 220

Warning: feof(): supplied argument is not a valid stream resource in D:\Hosting\3410369\html\counter\includes\counterh.php on line 218

Warning: fgets(): supplied argument is not a valid stream resource in D:\Hosting\3410369\html\counter\includes\counterh.php on line 220

Warning: feof(): supplied argument is not a valid stream resource in D:\Hosting\3410369\html\counter\includes\counterh.php on line 218

Warning: fgets(): supplied argument is not a valid stream resource in D:\Hosting\3410369\html\counter\includes\counterh.php on line 220

Warning: feof(): supplied argument is not a valid stream resource in D:\Hosting\3410369\html\counter\includes\counterh.php on line 218

Warning: fgets(): supplied argument is not a valid stream resource in D:\Hosting\3410369\html\counter\includes\counterh.php on line 220

Warning: feof(): supplied argument is not a valid stream resource in D:\Hosting\3410369\html\counter\includes\counterh.php on line 218

Warning: fgets(): supplied argument is not a valid stream resource in D:\Hosting\3410369\html\counter\includes\counterh.php on line 220

Warning: feof(): supplied argument is not a valid stream resource in D:\Hosting\3410369\html\counter\includes\counterh.php on line 218

Warning: fgets(): supplied argument is not a valid stream resource in D:\Hosting\3410369\html\counter\includes\counterh.php on line 220

Warning: feof(): supplied argument is not a valid stream resource in D:\Hosting\3410369\html\counter\includes\counterh.php on line 218

Warning: fgets(): supplied argument is not a valid stream resource in D:\Hosting\3410369\html\counter\includes\counterh.php on line 220

Warning: feof(): supplied argument is not a valid stream resource in D:\Hosting\3410369\html\counter\includes\counterh.php on line 218

Warning: fgets(): supplied argument is not a valid stream resource in D:\Hosting\3410369\html\counter\includes\counterh.php on line 220

Warning: feof(): supplied argument is not a valid stream resource in D:\Hosting\3410369\html\counter\includes\counterh.php on line 218

Warning: fgets(): supplied argument is not a valid stream resource in D:\Hosting\3410369\html\counter\includes\counterh.php on line 220

Warning: feof(): supplied argument is not a valid stream resource in D:\Hosting\3410369\html\counter\includes\counterh.php on line 218

Warning: fgets(): supplied argument is not a valid stream resource in D:\Hosting\3410369\html\counter\includes\counterh.php on line 220

Warning: feof(): supplied argument is not a valid stream resource in D:\Hosting\3410369\html\counter\includes\counterh.php on line 218

Warning: fgets(): supplied argument is not a valid stream resource in D:\Hosting\3410369\html\counter\includes\counterh.php on line 220

Warning: feof(): supplied argument is not a valid stream resource in D:\Hosting\3410369\html\counter\includes\counterh.php on line 218

Warning: fgets(): supplied argument is not a valid stream resource in D:\Hosting\3410369\html\counter\includes\counterh.php on line 220

Warning: feof(): supplied argument is not a valid stream resource in D:\Hosting\3410369\html\counter\includes\counterh.php on line 218

Warning: fgets(): supplied argument is not a valid stream resource in D:\Hosting\3410369\html\counter\includes\counterh.php on line 220

Warning: feof(): supplied argument is not a valid stream resource in D:\Hosting\3410369\html\counter\includes\counterh.php on line 218

Warning: fgets(): supplied argument is not a valid stream resource in D:\Hosting\3410369\html\counter\includes\counterh.php on line 220

Warning: feof(): supplied argument is not a valid stream resource in D:\Hosting\3410369\html\counter\includes\counterh.php on line 218

Warning: fgets(): supplied argument is not a valid stream resource in D:\Hosting\3410369\html\counter\includes\counterh.php on line 220

Warning: feof(): supplied argument is not a valid stream resource in D:\Hosting\3410369\html\counter\includes\counterh.php on line 218

Warning: fgets(): supplied argument is not a valid stream resource in D:\Hosting\3410369\html\counter\includes\counterh.php on line 220

Warning: feof(): supplied argument is not a valid stream resource in D:\Hosting\3410369\html\counter\includes\counterh.php on line 218

Warning: fgets(): supplied argument is not a valid stream resource in D:\Hosting\3410369\html\counter\includes\counterh.php on line 220

Warning: feof(): supplied argument is not a valid stream resource in D:\Hosting\3410369\html\counter\includes\counterh.php on line 218

Warning: fgets(): supplied argument is not a valid stream resource in D:\Hosting\3410369\html\counter\includes\counterh.php on line 220

Warning: feof(): supplied argument is not a valid stream resource in D:\Hosting\3410369\html\counter\includes\counterh.php on line 218

Warning: fgets(): supplied argument is not a valid stream resource in D:\Hosting\3410369\html\counter\includes\counterh.php on line 220

Warning: feof(): supplied argument is not a valid stream resource in D:\Hosting\3410369\html\counter\includes\counterh.php on line 218

Warning: fgets(): supplied argument is not a valid stream resource in D:\Hosting\3410369\html\counter\includes\counterh.php on line 220

Warning: feof(): supplied argument is not a valid stream resource in D:\Hosting\3410369\html\counter\includes\counterh.php on line 218

Warning: fgets(): supplied argument is not a valid stream resource in D:\Hosting\3410369\html\counter\includes\counterh.php on line 220

Warning: feof(): supplied argument is not a valid stream resource in D:\Hosting\3410369\html\counter\includes\counterh.php on line 218

Warning: fgets(): supplied argument is not a valid stream resource in D:\Hosting\3410369\html\counter\includes\counterh.php on line 220

Warning: feof(): supplied argument is not a valid stream resource in D:\Hosting\3410369\html\counter\includes\counterh.php on line 218

Warning: fgets(): supplied argument is not a valid stream resource in D:\Hosting\3410369\html\counter\includes\counterh.php on line 220

Warning: feof(): supplied argument is not a valid stream resource in D:\Hosting\3410369\html\counter\includes\counterh.php on line 218

Warning: fgets(): supplied argument is not a valid stream resource in D:\Hosting\3410369\html\counter\includes\counterh.php on line 220

Warning: feof(): supplied argument is not a valid stream resource in D:\Hosting\3410369\html\counter\includes\counterh.php on line 218

Warning: fgets(): supplied argument is not a valid stream resource in D:\Hosting\3410369\html\counter\includes\counterh.php on line 220

Warning: feof(): supplied argument is not a valid stream resource in D:\Hosting\3410369\html\counter\includes\counterh.php on line 218

Warning: fgets(): supplied argument is not a valid stream resource in D:\Hosting\3410369\html\counter\includes\counterh.php on line 220

Warning: feof(): supplied argument is not a valid stream resource in D:\Hosting\3410369\html\counter\includes\counterh.php on line 218

Warning: fgets(): supplied argument is not a valid stream resource in D:\Hosting\3410369\html\counter\includes\counterh.php on line 220

Warning: feof(): supplied argument is not a valid stream resource in D:\Hosting\3410369\html\counter\includes\counterh.php on line 218

Warning: fgets(): supplied argument is not a valid stream resource in D:\Hosting\3410369\html\counter\includes\counterh.php on line 220

Warning: feof(): supplied argument is not a valid stream resource in D:\Hosting\3410369\html\counter\includes\counterh.php on line 218

Warning: fgets(): supplied argument is not a valid stream resource in D:\Hosting\3410369\html\counter\includes\counterh.php on line 220

Warning: feof(): supplied argument is not a valid stream resource in D:\Hosting\3410369\html\counter\includes\counterh.php on line 218

Warning: fgets(): supplied argument is not a valid stream resource in D:\Hosting\3410369\html\counter\includes\counterh.php on line 220

Warning: feof(): supplied argument is not a valid stream resource in D:\Hosting\3410369\html\counter\includes\counterh.php on line 218

Warning: fgets(): supplied argument is not a valid stream resource in D:\Hosting\3410369\html\counter\includes\counterh.php on line 220

Warning: feof(): supplied argument is not a valid stream resource in D:\Hosting\3410369\html\counter\includes\counterh.php on line 218

Warning: fgets(): supplied argument is not a valid stream resource in D:\Hosting\3410369\html\counter\includes\counterh.php on line 220

Warning: feof(): supplied argument is not a valid stream resource in D:\Hosting\3410369\html\counter\includes\counterh.php on line 218

Warning: fgets(): supplied argument is not a valid stream resource in D:\Hosting\3410369\html\counter\includes\counterh.php on line 220

Warning: feof(): supplied argument is not a valid stream resource in D:\Hosting\3410369\html\counter\includes\counterh.php on line 218

Warning: fgets(): supplied argument is not a valid stream resource in D:\Hosting\3410369\html\counter\includes\counterh.php on line 220

Warning: feof(): supplied argument is not a valid stream resource in D:\Hosting\3410369\html\counter\includes\counterh.php on line 218

Warning: fgets(): supplied argument is not a valid stream resource in D:\Hosting\3410369\html\counter\includes\counterh.php on line 220

Warning: feof(): supplied argument is not a valid stream resource in D:\Hosting\3410369\html\counter\includes\counterh.php on line 218

Warning: fgets(): supplied argument is not a valid stream resource in D:\Hosting\3410369\html\counter\includes\counterh.php on line 220

Warning: feof(): supplied argument is not a valid stream resource in D:\Hosting\3410369\html\counter\includes\counterh.php on line 218

Warning: fgets(): supplied argument is not a valid stream resource in D:\Hosting\3410369\html\counter\includes\counterh.php on line 220

Warning: feof(): supplied argument is not a valid stream resource in D:\Hosting\3410369\html\counter\includes\counterh.php on line 218

Warning: fgets(): supplied argument is not a valid stream resource in D:\Hosting\3410369\html\counter\includes\counterh.php on line 220

Warning: feof(): supplied argument is not a valid stream resource in D:\Hosting\3410369\html\counter\includes\counterh.php on line 218

Warning: fgets(): supplied argument is not a valid stream resource in D:\Hosting\3410369\html\counter\includes\counterh.php on line 220

Warning: feof(): supplied argument is not a valid stream resource in D:\Hosting\3410369\html\counter\includes\counterh.php on line 218

Warning: fgets(): supplied argument is not a valid stream resource in D:\Hosting\3410369\html\counter\includes\counterh.php on line 220

Warning: feof(): supplied argument is not a valid stream resource in D:\Hosting\3410369\html\counter\includes\counterh.php on line 218

Warning: fgets(): supplied argument is not a valid stream resource in D:\Hosting\3410369\html\counter\includes\counterh.php on line 220

Warning: feof(): supplied argument is not a valid stream resource in D:\Hosting\3410369\html\counter\includes\counterh.php on line 218

Warning: fgets(): supplied argument is not a valid stream resource in D:\Hosting\3410369\html\counter\includes\counterh.php on line 220

Warning: feof(): supplied argument is not a valid stream resource in D:\Hosting\3410369\html\counter\includes\counterh.php on line 218

Warning: fgets(): supplied argument is not a valid stream resource in D:\Hosting\3410369\html\counter\includes\counterh.php on line 220

Warning: feof(): supplied argument is not a valid stream resource in D:\Hosting\3410369\html\counter\includes\counterh.php on line 218

Warning: fgets(): supplied argument is not a valid stream resource in D:\Hosting\3410369\html\counter\includes\counterh.php on line 220

Warning: feof(): supplied argument is not a valid stream resource in D:\Hosting\3410369\html\counter\includes\counterh.php on line 218

Warning: fgets(): supplied argument is not a valid stream resource in D:\Hosting\3410369\html\counter\includes\counterh.php on line 220

Warning: feof(): supplied argument is not a valid stream resource in D:\Hosting\3410369\html\counter\includes\counterh.php on line 218

Warning: fgets(): supplied argument is not a valid stream resource in D:\Hosting\3410369\html\counter\includes\counterh.php on line 220

Warning: feof(): supplied argument is not a valid stream resource in D:\Hosting\3410369\html\counter\includes\counterh.php on line 218

Warning: fgets(): supplied argument is not a valid stream resource in D:\Hosting\3410369\html\counter\includes\counterh.php on line 220

Warning: feof(): supplied argument is not a valid stream resource in D:\Hosting\3410369\html\counter\includes\counterh.php on line 218

Warning: fgets(): supplied argument is not a valid stream resource in D:\Hosting\3410369\html\counter\includes\counterh.php on line 220

Warning: feof(): supplied argument is not a valid stream resource in D:\Hosting\3410369\html\counter\includes\counterh.php on line 218

Warning: fgets(): supplied argument is not a valid stream resource in D:\Hosting\3410369\html\counter\includes\counterh.php on line 220

Warning: feof(): supplied argument is not a valid stream resource in D:\Hosting\3410369\html\counter\includes\counterh.php on line 218

Warning: fgets(): supplied argument is not a valid stream resource in D:\Hosting\3410369\html\counter\includes\counterh.php on line 220

Warning: feof(): supplied argument is not a valid stream resource in D:\Hosting\3410369\html\counter\includes\counterh.php on line 218

Warning: fgets(): supplied argument is not a valid stream resource in D:\Hosting\3410369\html\counter\includes\counterh.php on line 220

Warning: feof(): supplied argument is not a valid stream resource in D:\Hosting\3410369\html\counter\includes\counterh.php on line 218

Warning: fgets(): supplied argument is not a valid stream resource in D:\Hosting\3410369\html\counter\includes\counterh.php on line 220

Warning: feof(): supplied argument is not a valid stream resource in D:\Hosting\3410369\html\counter\includes\counterh.php on line 218

Warning: fgets(): supplied argument is not a valid stream resource in D:\Hosting\3410369\html\counter\includes\counterh.php on line 220

Warning: feof(): supplied argument is not a valid stream resource in D:\Hosting\3410369\html\counter\includes\counterh.php on line 218

Warning: fgets(): supplied argument is not a valid stream resource in D:\Hosting\3410369\html\counter\includes\counterh.php on line 220

Warning: feof(): supplied argument is not a valid stream resource in D:\Hosting\3410369\html\counter\includes\counterh.php on line 218

Warning: fgets(): supplied argument is not a valid stream resource in D:\Hosting\3410369\html\counter\includes\counterh.php on line 220

Warning: feof(): supplied argument is not a valid stream resource in D:\Hosting\3410369\html\counter\includes\counterh.php on line 218

Warning: fgets(): supplied argument is not a valid stream resource in D:\Hosting\3410369\html\counter\includes\counterh.php on line 220

Warning: feof(): supplied argument is not a valid stream resource in D:\Hosting\3410369\html\counter\includes\counterh.php on line 218

Warning: fgets(): supplied argument is not a valid stream resource in D:\Hosting\3410369\html\counter\includes\counterh.php on line 220

Warning: feof(): supplied argument is not a valid stream resource in D:\Hosting\3410369\html\counter\includes\counterh.php on line 218

Warning: fgets(): supplied argument is not a valid stream resource in D:\Hosting\3410369\html\counter\includes\counterh.php on line 220

Warning: feof(): supplied argument is not a valid stream resource in D:\Hosting\3410369\html\counter\includes\counterh.php on line 218

Warning: fgets(): supplied argument is not a valid stream resource in D:\Hosting\3410369\html\counter\includes\counterh.php on line 220

Warning: feof(): supplied argument is not a valid stream resource in D:\Hosting\3410369\html\counter\includes\counterh.php on line 218

Warning: fgets(): supplied argument is not a valid stream resource in D:\Hosting\3410369\html\counter\includes\counterh.php on line 220

Warning: feof(): supplied argument is not a valid stream resource in D:\Hosting\3410369\html\counter\includes\counterh.php on line 218

Warning: fgets(): supplied argument is not a valid stream resource in D:\Hosting\3410369\html\counter\includes\counterh.php on line 220

Warning: feof(): supplied argument is not a valid stream resource in D:\Hosting\3410369\html\counter\includes\counterh.php on line 218

Warning: fgets(): supplied argument is not a valid stream resource in D:\Hosting\3410369\html\counter\includes\counterh.php on line 220

Warning: feof(): supplied argument is not a valid stream resource in D:\Hosting\3410369\html\counter\includes\counterh.php on line 218

Warning: fgets(): supplied argument is not a valid stream resource in D:\Hosting\3410369\html\counter\includes\counterh.php on line 220

Warning: feof(): supplied argument is not a valid stream resource in D:\Hosting\3410369\html\counter\includes\counterh.php on line 218

Warning: fgets(): supplied argument is not a valid stream resource in D:\Hosting\3410369\html\counter\includes\counterh.php on line 220

Warning: feof(): supplied argument is not a valid stream resource in D:\Hosting\3410369\html\counter\includes\counterh.php on line 218

Warning: fgets(): supplied argument is not a valid stream resource in D:\Hosting\3410369\html\counter\includes\counterh.php on line 220

Warning: feof(): supplied argument is not a valid stream resource in D:\Hosting\3410369\html\counter\includes\counterh.php on line 218

Warning: fgets(): supplied argument is not a valid stream resource in D:\Hosting\3410369\html\counter\includes\counterh.php on line 220

Warning: feof(): supplied argument is not a valid stream resource in D:\Hosting\3410369\html\counter\includes\counterh.php on line 218

Warning: fgets(): supplied argument is not a valid stream resource in D:\Hosting\3410369\html\counter\includes\counterh.php on line 220

Warning: feof(): supplied argument is not a valid stream resource in D:\Hosting\3410369\html\counter\includes\counterh.php on line 218

Warning: fgets(): supplied argument is not a valid stream resource in D:\Hosting\3410369\html\counter\includes\counterh.php on line 220

Warning: feof(): supplied argument is not a valid stream resource in D:\Hosting\3410369\html\counter\includes\counterh.php on line 218

Warning: fgets(): supplied argument is not a valid stream resource in D:\Hosting\3410369\html\counter\includes\counterh.php on line 220

Warning: feof(): supplied argument is not a valid stream resource in D:\Hosting\3410369\html\counter\includes\counterh.php on line 218

Warning: fgets(): supplied argument is not a valid stream resource in D:\Hosting\3410369\html\counter\includes\counterh.php on line 220

Warning: feof(): supplied argument is not a valid stream resource in D:\Hosting\3410369\html\counter\includes\counterh.php on line 218

Warning: fgets(): supplied argument is not a valid stream resource in D:\Hosting\3410369\html\counter\includes\counterh.php on line 220

Warning: feof(): supplied argument is not a valid stream resource in D:\Hosting\3410369\html\counter\includes\counterh.php on line 218

Warning: fgets(): supplied argument is not a valid stream resource in D:\Hosting\3410369\html\counter\includes\counterh.php on line 220

Warning: feof(): supplied argument is not a valid stream resource in D:\Hosting\3410369\html\counter\includes\counterh.php on line 218

Warning: fgets(): supplied argument is not a valid stream resource in D:\Hosting\3410369\html\counter\includes\counterh.php on line 220

Warning: feof(): supplied argument is not a valid stream resource in D:\Hosting\3410369\html\counter\includes\counterh.php on line 218

Warning: fgets(): supplied argument is not a valid stream resource in D:\Hosting\3410369\html\counter\includes\counterh.php on line 220

Warning: feof(): supplied argument is not a valid stream resource in D:\Hosting\3410369\html\counter\includes\counterh.php on line 218

Warning: fgets(): supplied argument is not a valid stream resource in D:\Hosting\3410369\html\counter\includes\counterh.php on line 220

Warning: feof(): supplied argument is not a valid stream resource in D:\Hosting\3410369\html\counter\includes\counterh.php on line 218

Warning: fgets(): supplied argument is not a valid stream resource in D:\Hosting\3410369\html\counter\includes\counterh.php on line 220

Warning: feof(): supplied argument is not a valid stream resource in D:\Hosting\3410369\html\counter\includes\counterh.php on line 218

Warning: fgets(): supplied argument is not a valid stream resource in D:\Hosting\3410369\html\counter\includes\counterh.php on line 220

Warning: feof(): supplied argument is not a valid stream resource in D:\Hosting\3410369\html\counter\includes\counterh.php on line 218

Warning: fgets(): supplied argument is not a valid stream resource in D:\Hosting\3410369\html\counter\includes\counterh.php on line 220

Warning: feof(): supplied argument is not a valid stream resource in D:\Hosting\3410369\html\counter\includes\counterh.php on line 218

Warning: fgets(): supplied argument is not a valid stream resource in D:\Hosting\3410369\html\counter\includes\counterh.php on line 220

Warning: feof(): supplied argument is not a valid stream resource in D:\Hosting\3410369\html\counter\includes\counterh.php on line 218

Warning: fgets(): supplied argument is not a valid stream resource in D:\Hosting\3410369\html\counter\includes\counterh.php on line 220

Warning: feof(): supplied argument is not a valid stream resource in D:\Hosting\3410369\html\counter\includes\counterh.php on line 218

Warning: fgets(): supplied argument is not a valid stream resource in D:\Hosting\3410369\html\counter\includes\counterh.php on line 220

Warning: feof(): supplied argument is not a valid stream resource in D:\Hosting\3410369\html\counter\includes\counterh.php on line 218

Warning: fgets(): supplied argument is not a valid stream resource in D:\Hosting\3410369\html\counter\includes\counterh.php on line 220

Warning: feof(): supplied argument is not a valid stream resource in D:\Hosting\3410369\html\counter\includes\counterh.php on line 218

Warning: fgets(): supplied argument is not a valid stream resource in D:\Hosting\3410369\html\counter\includes\counterh.php on line 220

Warning: feof(): supplied argument is not a valid stream resource in D:\Hosting\3410369\html\counter\includes\counterh.php on line 218

Warning: fgets(): supplied argument is not a valid stream resource in D:\Hosting\3410369\html\counter\includes\counterh.php on line 220

Warning: feof(): supplied argument is not a valid stream resource in D:\Hosting\3410369\html\counter\includes\counterh.php on line 218

Warning: fgets(): supplied argument is not a valid stream resource in D:\Hosting\3410369\html\counter\includes\counterh.php on line 220

Warning: feof(): supplied argument is not a valid stream resource in D:\Hosting\3410369\html\counter\includes\counterh.php on line 218

Warning: fgets(): supplied argument is not a valid stream resource in D:\Hosting\3410369\html\counter\includes\counterh.php on line 220

Warning: feof(): supplied argument is not a valid stream resource in D:\Hosting\3410369\html\counter\includes\counterh.php on line 218

Warning: fgets(): supplied argument is not a valid stream resource in D:\Hosting\3410369\html\counter\includes\counterh.php on line 220

Warning: feof(): supplied argument is not a valid stream resource in D:\Hosting\3410369\html\counter\includes\counterh.php on line 218

Warning: fgets(): supplied argument is not a valid stream resource in D:\Hosting\3410369\html\counter\includes\counterh.php on line 220

Warning: feof(): supplied argument is not a valid stream resource in D:\Hosting\3410369\html\counter\includes\counterh.php on line 218

Warning: fgets(): supplied argument is not a valid stream resource in D:\Hosting\3410369\html\counter\includes\counterh.php on line 220

Warning: feof(): supplied argument is not a valid stream resource in D:\Hosting\3410369\html\counter\includes\counterh.php on line 218

Warning: fgets(): supplied argument is not a valid stream resource in D:\Hosting\3410369\html\counter\includes\counterh.php on line 220

Warning: feof(): supplied argument is not a valid stream resource in D:\Hosting\3410369\html\counter\includes\counterh.php on line 218

Warning: fgets(): supplied argument is not a valid stream resource in D:\Hosting\3410369\html\counter\includes\counterh.php on line 220

Warning: feof(): supplied argument is not a valid stream resource in D:\Hosting\3410369\html\counter\includes\counterh.php on line 218

Warning: fgets(): supplied argument is not a valid stream resource in D:\Hosting\3410369\html\counter\includes\counterh.php on line 220

Warning: feof(): supplied argument is not a valid stream resource in D:\Hosting\3410369\html\counter\includes\counterh.php on line 218

Warning: fgets(): supplied argument is not a valid stream resource in D:\Hosting\3410369\html\counter\includes\counterh.php on line 220

Warning: feof(): supplied argument is not a valid stream resource in D:\Hosting\3410369\html\counter\includes\counterh.php on line 218

Warning: fgets(): supplied argument is not a valid stream resource in D:\Hosting\3410369\html\counter\includes\counterh.php on line 220

Warning: feof(): supplied argument is not a valid stream resource in D:\Hosting\3410369\html\counter\includes\counterh.php on line 218

Warning: fgets(): supplied argument is not a valid stream resource in D:\Hosting\3410369\html\counter\includes\counterh.php on line 220

Warning: feof(): supplied argument is not a valid stream resource in D:\Hosting\3410369\html\counter\includes\counterh.php on line 218

Warning: fgets(): supplied argument is not a valid stream resource in D:\Hosting\3410369\html\counter\includes\counterh.php on line 220

Warning: feof(): supplied argument is not a valid stream resource in D:\Hosting\3410369\html\counter\includes\counterh.php on line 218

Warning: fgets(): supplied argument is not a valid stream resource in D:\Hosting\3410369\html\counter\includes\counterh.php on line 220

Warning: feof(): supplied argument is not a valid stream resource in D:\Hosting\3410369\html\counter\includes\counterh.php on line 218

Warning: fgets(): supplied argument is not a valid stream resource in D:\Hosting\3410369\html\counter\includes\counterh.php on line 220

Warning: feof(): supplied argument is not a valid stream resource in D:\Hosting\3410369\html\counter\includes\counterh.php on line 218

Warning: fgets(): supplied argument is not a valid stream resource in D:\Hosting\3410369\html\counter\includes\counterh.php on line 220

Warning: feof(): supplied argument is not a valid stream resource in D:\Hosting\3410369\html\counter\includes\counterh.php on line 218

Warning: fgets(): supplied argument is not a valid stream resource in D:\Hosting\3410369\html\counter\includes\counterh.php on line 220

Warning: feof(): supplied argument is not a valid stream resource in D:\Hosting\3410369\html\counter\includes\counterh.php on line 218

Warning: fgets(): supplied argument is not a valid stream resource in D:\Hosting\3410369\html\counter\includes\counterh.php on line 220

Warning: feof(): supplied argument is not a valid stream resource in D:\Hosting\3410369\html\counter\includes\counterh.php on line 218

Warning: fgets(): supplied argument is not a valid stream resource in D:\Hosting\3410369\html\counter\includes\counterh.php on line 220

Warning: feof(): supplied argument is not a valid stream resource in D:\Hosting\3410369\html\counter\includes\counterh.php on line 218

Warning: fgets(): supplied argument is not a valid stream resource in D:\Hosting\3410369\html\counter\includes\counterh.php on line 220

Warning: feof(): supplied argument is not a valid stream resource in D:\Hosting\3410369\html\counter\includes\counterh.php on line 218

Warning: fgets(): supplied argument is not a valid stream resource in D:\Hosting\3410369\html\counter\includes\counterh.php on line 220

Warning: feof(): supplied argument is not a valid stream resource in D:\Hosting\3410369\html\counter\includes\counterh.php on line 218

Warning: fgets(): supplied argument is not a valid stream resource in D:\Hosting\3410369\html\counter\includes\counterh.php on line 220

Warning: feof(): supplied argument is not a valid stream resource in D:\Hosting\3410369\html\counter\includes\counterh.php on line 218

Warning: fgets(): supplied argument is not a valid stream resource in D:\Hosting\3410369\html\counter\includes\counterh.php on line 220

Warning: feof(): supplied argument is not a valid stream resource in D:\Hosting\3410369\html\counter\includes\counterh.php on line 218

Warning: fgets(): supplied argument is not a valid stream resource in D:\Hosting\3410369\html\counter\includes\counterh.php on line 220

Warning: feof(): supplied argument is not a valid stream resource in D:\Hosting\3410369\html\counter\includes\counterh.php on line 218

Warning: fgets(): supplied argument is not a valid stream resource in D:\Hosting\3410369\html\counter\includes\counterh.php on line 220

Warning: feof(): supplied argument is not a valid stream resource in D:\Hosting\3410369\html\counter\includes\counterh.php on line 218

Warning: fgets(): supplied argument is not a valid stream resource in D:\Hosting\3410369\html\counter\includes\counterh.php on line 220

Warning: feof(): supplied argument is not a valid stream resource in D:\Hosting\3410369\html\counter\includes\counterh.php on line 218

Warning: fgets(): supplied argument is not a valid stream resource in D:\Hosting\3410369\html\counter\includes\counterh.php on line 220

Warning: feof(): supplied argument is not a valid stream resource in D:\Hosting\3410369\html\counter\includes\counterh.php on line 218

Warning: fgets(): supplied argument is not a valid stream resource in D:\Hosting\3410369\html\counter\includes\counterh.php on line 220

Warning: feof(): supplied argument is not a valid stream resource in D:\Hosting\3410369\html\counter\includes\counterh.php on line 218

Warning: fgets(): supplied argument is not a valid stream resource in D:\Hosting\3410369\html\counter\includes\counterh.php on line 220

Warning: feof(): supplied argument is not a valid stream resource in D:\Hosting\3410369\html\counter\includes\counterh.php on line 218

Warning: fgets(): supplied argument is not a valid stream resource in D:\Hosting\3410369\html\counter\includes\counterh.php on line 220

Warning: feof(): supplied argument is not a valid stream resource in D:\Hosting\3410369\html\counter\includes\counterh.php on line 218

Warning: fgets(): supplied argument is not a valid stream resource in D:\Hosting\3410369\html\counter\includes\counterh.php on line 220

Warning: feof(): supplied argument is not a valid stream resource in D:\Hosting\3410369\html\counter\includes\counterh.php on line 218

Warning: fgets(): supplied argument is not a valid stream resource in D:\Hosting\3410369\html\counter\includes\counterh.php on line 220

Warning: feof(): supplied argument is not a valid stream resource in D:\Hosting\3410369\html\counter\includes\counterh.php on line 218

Warning: fgets(): supplied argument is not a valid stream resource in D:\Hosting\3410369\html\counter\includes\counterh.php on line 220

Warning: feof(): supplied argument is not a valid stream resource in D:\Hosting\3410369\html\counter\includes\counterh.php on line 218

Warning: fgets(): supplied argument is not a valid stream resource in D:\Hosting\3410369\html\counter\includes\counterh.php on line 220

Warning: feof(): supplied argument is not a valid stream resource in D:\Hosting\3410369\html\counter\includes\counterh.php on line 218

Warning: fgets(): supplied argument is not a valid stream resource in D:\Hosting\3410369\html\counter\includes\counterh.php on line 220

Warning: feof(): supplied argument is not a valid stream resource in D:\Hosting\3410369\html\counter\includes\counterh.php on line 218

Warning: fgets(): supplied argument is not a valid stream resource in D:\Hosting\3410369\html\counter\includes\counterh.php on line 220

Warning: feof(): supplied argument is not a valid stream resource in D:\Hosting\3410369\html\counter\includes\counterh.php on line 218

Warning: fgets(): supplied argument is not a valid stream resource in D:\Hosting\3410369\html\counter\includes\counterh.php on line 220

Warning: feof(): supplied argument is not a valid stream resource in D:\Hosting\3410369\html\counter\includes\counterh.php on line 218

Warning: fgets(): supplied argument is not a valid stream resource in D:\Hosting\3410369\html\counter\includes\counterh.php on line 220

Warning: feof(): supplied argument is not a valid stream resource in D:\Hosting\3410369\html\counter\includes\counterh.php on line 218

Warning: fgets(): supplied argument is not a valid stream resource in D:\Hosting\3410369\html\counter\includes\counterh.php on line 220

Warning: feof(): supplied argument is not a valid stream resource in D:\Hosting\3410369\html\counter\includes\counterh.php on line 218

Warning: fgets(): supplied argument is not a valid stream resource in D:\Hosting\3410369\html\counter\includes\counterh.php on line 220

Warning: feof(): supplied argument is not a valid stream resource in D:\Hosting\3410369\html\counter\includes\counterh.php on line 218

Warning: fgets(): supplied argument is not a valid stream resource in D:\Hosting\3410369\html\counter\includes\counterh.php on line 220

Warning: feof(): supplied argument is not a valid stream resource in D:\Hosting\3410369\html\counter\includes\counterh.php on line 218

Warning: fgets(): supplied argument is not a valid stream resource in D:\Hosting\3410369\html\counter\includes\counterh.php on line 220

Warning: feof(): supplied argument is not a valid stream resource in D:\Hosting\3410369\html\counter\includes\counterh.php on line 218

Warning: fgets(): supplied argument is not a valid stream resource in D:\Hosting\3410369\html\counter\includes\counterh.php on line 220

Warning: feof(): supplied argument is not a valid stream resource in D:\Hosting\3410369\html\counter\includes\counterh.php on line 218

Warning: fgets(): supplied argument is not a valid stream resource in D:\Hosting\3410369\html\counter\includes\counterh.php on line 220

Warning: feof(): supplied argument is not a valid stream resource in D:\Hosting\3410369\html\counter\includes\counterh.php on line 218

Warning: fgets(): supplied argument is not a valid stream resource in D:\Hosting\3410369\html\counter\includes\counterh.php on line 220

Warning: feof(): supplied argument is not a valid stream resource in D:\Hosting\3410369\html\counter\includes\counterh.php on line 218

Warning: fgets(): supplied argument is not a valid stream resource in D:\Hosting\3410369\html\counter\includes\counterh.php on line 220

Warning: feof(): supplied argument is not a valid stream resource in D:\Hosting\3410369\html\counter\includes\counterh.php on line 218

Warning: fgets(): supplied argument is not a valid stream resource in D:\Hosting\3410369\html\counter\includes\counterh.php on line 220

Warning: feof(): supplied argument is not a valid stream resource in D:\Hosting\3410369\html\counter\includes\counterh.php on line 218

Warning: fgets(): supplied argument is not a valid stream resource in D:\Hosting\3410369\html\counter\includes\counterh.php on line 220

Warning: feof(): supplied argument is not a valid stream resource in D:\Hosting\3410369\html\counter\includes\counterh.php on line 218

Warning: fgets(): supplied argument is not a valid stream resource in D:\Hosting\3410369\html\counter\includes\counterh.php on line 220

Warning: feof(): supplied argument is not a valid stream resource in D:\Hosting\3410369\html\counter\includes\counterh.php on line 218

Warning: fgets(): supplied argument is not a valid stream resource in D:\Hosting\3410369\html\counter\includes\counterh.php on line 220

Warning: feof(): supplied argument is not a valid stream resource in D:\Hosting\3410369\html\counter\includes\counterh.php on line 218

Warning: fgets(): supplied argument is not a valid stream resource in D:\Hosting\3410369\html\counter\includes\counterh.php on line 220

Warning: feof(): supplied argument is not a valid stream resource in D:\Hosting\3410369\html\counter\includes\counterh.php on line 218

Warning: fgets(): supplied argument is not a valid stream resource in D:\Hosting\3410369\html\counter\includes\counterh.php on line 220

Warning: feof(): supplied argument is not a valid stream resource in D:\Hosting\3410369\html\counter\includes\counterh.php on line 218

Warning: fgets(): supplied argument is not a valid stream resource in D:\Hosting\3410369\html\counter\includes\counterh.php on line 220

Warning: feof(): supplied argument is not a valid stream resource in D:\Hosting\3410369\html\counter\includes\counterh.php on line 218

Warning: fgets(): supplied argument is not a valid stream resource in D:\Hosting\3410369\html\counter\includes\counterh.php on line 220

Warning: feof(): supplied argument is not a valid stream resource in D:\Hosting\3410369\html\counter\includes\counterh.php on line 218

Warning: fgets(): supplied argument is not a valid stream resource in D:\Hosting\3410369\html\counter\includes\counterh.php on line 220

Warning: feof(): supplied argument is not a valid stream resource in D:\Hosting\3410369\html\counter\includes\counterh.php on line 218

Warning: fgets(): supplied argument is not a valid stream resource in D:\Hosting\3410369\html\counter\includes\counterh.php on line 220

Warning: feof(): supplied argument is not a valid stream resource in D:\Hosting\3410369\html\counter\includes\counterh.php on line 218

Warning: fgets(): supplied argument is not a valid stream resource in D:\Hosting\3410369\html\counter\includes\counterh.php on line 220

Warning: feof(): supplied argument is not a valid stream resource in D:\Hosting\3410369\html\counter\includes\counterh.php on line 218

Warning: fgets(): supplied argument is not a valid stream resource in D:\Hosting\3410369\html\counter\includes\counterh.php on line 220

Warning: feof(): supplied argument is not a valid stream resource in D:\Hosting\3410369\html\counter\includes\counterh.php on line 218

Warning: fgets(): supplied argument is not a valid stream resource in D:\Hosting\3410369\html\counter\includes\counterh.php on line 220

Warning: feof(): supplied argument is not a valid stream resource in D:\Hosting\3410369\html\counter\includes\counterh.php on line 218

Warning: fgets(): supplied argument is not a valid stream resource in D:\Hosting\3410369\html\counter\includes\counterh.php on line 220

Warning: feof(): supplied argument is not a valid stream resource in D:\Hosting\3410369\html\counter\includes\counterh.php on line 218

Warning: fgets(): supplied argument is not a valid stream resource in D:\Hosting\3410369\html\counter\includes\counterh.php on line 220

Warning: feof(): supplied argument is not a valid stream resource in D:\Hosting\3410369\html\counter\includes\counterh.php on line 218

Warning: fgets(): supplied argument is not a valid stream resource in D:\Hosting\3410369\html\counter\includes\counterh.php on line 220

Warning: feof(): supplied argument is not a valid stream resource in D:\Hosting\3410369\html\counter\includes\counterh.php on line 218

Warning: fgets(): supplied argument is not a valid stream resource in D:\Hosting\3410369\html\counter\includes\counterh.php on line 220

Warning: feof(): supplied argument is not a valid stream resource in D:\Hosting\3410369\html\counter\includes\counterh.php on line 218

Warning: fgets(): supplied argument is not a valid stream resource in D:\Hosting\3410369\html\counter\includes\counterh.php on line 220

Warning: feof(): supplied argument is not a valid stream resource in D:\Hosting\3410369\html\counter\includes\counterh.php on line 218

Warning: fgets(): supplied argument is not a valid stream resource in D:\Hosting\3410369\html\counter\includes\counterh.php on line 220

Warning: feof(): supplied argument is not a valid stream resource in D:\Hosting\3410369\html\counter\includes\counterh.php on line 218

Warning: fgets(): supplied argument is not a valid stream resource in D:\Hosting\3410369\html\counter\includes\counterh.php on line 220

Warning: feof(): supplied argument is not a valid stream resource in D:\Hosting\3410369\html\counter\includes\counterh.php on line 218

Warning: fgets(): supplied argument is not a valid stream resource in D:\Hosting\3410369\html\counter\includes\counterh.php on line 220

Warning: feof(): supplied argument is not a valid stream resource in D:\Hosting\3410369\html\counter\includes\counterh.php on line 218

Warning: fgets(): supplied argument is not a valid stream resource in D:\Hosting\3410369\html\counter\includes\counterh.php on line 220

Warning: feof(): supplied argument is not a valid stream resource in D:\Hosting\3410369\html\counter\includes\counterh.php on line 218

Warning: fgets(): supplied argument is not a valid stream resource in D:\Hosting\3410369\html\counter\includes\counterh.php on line 220

Warning: feof(): supplied argument is not a valid stream resource in D:\Hosting\3410369\html\counter\includes\counterh.php on line 218

Warning: fgets(): supplied argument is not a valid stream resource in D:\Hosting\3410369\html\counter\includes\counterh.php on line 220

Warning: feof(): supplied argument is not a valid stream resource in D:\Hosting\3410369\html\counter\includes\counterh.php on line 218

Warning: fgets(): supplied argument is not a valid stream resource in D:\Hosting\3410369\html\counter\includes\counterh.php on line 220

Warning: feof(): supplied argument is not a valid stream resource in D:\Hosting\3410369\html\counter\includes\counterh.php on line 218

Warning: fgets(): supplied argument is not a valid stream resource in D:\Hosting\3410369\html\counter\includes\counterh.php on line 220

Warning: feof(): supplied argument is not a valid stream resource in D:\Hosting\3410369\html\counter\includes\counterh.php on line 218

Warning: fgets(): supplied argument is not a valid stream resource in D:\Hosting\3410369\html\counter\includes\counterh.php on line 220

Warning: feof(): supplied argument is not a valid stream resource in D:\Hosting\3410369\html\counter\includes\counterh.php on line 218

Warning: fgets(): supplied argument is not a valid stream resource in D:\Hosting\3410369\html\counter\includes\counterh.php on line 220

Warning: feof(): supplied argument is not a valid stream resource in D:\Hosting\3410369\html\counter\includes\counterh.php on line 218

Warning: fgets(): supplied argument is not a valid stream resource in D:\Hosting\3410369\html\counter\includes\counterh.php on line 220

Warning: feof(): supplied argument is not a valid stream resource in D:\Hosting\3410369\html\counter\includes\counterh.php on line 218

Warning: fgets(): supplied argument is not a valid stream resource in D:\Hosting\3410369\html\counter\includes\counterh.php on line 220

Warning: feof(): supplied argument is not a valid stream resource in D:\Hosting\3410369\html\counter\includes\counterh.php on line 218

Warning: fgets(): supplied argument is not a valid stream resource in D:\Hosting\3410369\html\counter\includes\counterh.php on line 220

Warning: feof(): supplied argument is not a valid stream resource in D:\Hosting\3410369\html\counter\includes\counterh.php on line 218

Warning: fgets(): supplied argument is not a valid stream resource in D:\Hosting\3410369\html\counter\includes\counterh.php on line 220

Warning: feof(): supplied argument is not a valid stream resource in D:\Hosting\3410369\html\counter\includes\counterh.php on line 218

Warning: fgets(): supplied argument is not a valid stream resource in D:\Hosting\3410369\html\counter\includes\counterh.php on line 220

Warning: feof(): supplied argument is not a valid stream resource in D:\Hosting\3410369\html\counter\includes\counterh.php on line 218

Warning: fgets(): supplied argument is not a valid stream resource in D:\Hosting\3410369\html\counter\includes\counterh.php on line 220

Warning: feof(): supplied argument is not a valid stream resource in D:\Hosting\3410369\html\counter\includes\counterh.php on line 218

Warning: fgets(): supplied argument is not a valid stream resource in D:\Hosting\3410369\html\counter\includes\counterh.php on line 220

Warning: feof(): supplied argument is not a valid stream resource in D:\Hosting\3410369\html\counter\includes\counterh.php on line 218

Warning: fgets(): supplied argument is not a valid stream resource in D:\Hosting\3410369\html\counter\includes\counterh.php on line 220

Warning: feof(): supplied argument is not a valid stream resource in D:\Hosting\3410369\html\counter\includes\counterh.php on line 218

Warning: fgets(): supplied argument is not a valid stream resource in D:\Hosting\3410369\html\counter\includes\counterh.php on line 220

Warning: feof(): supplied argument is not a valid stream resource in D:\Hosting\3410369\html\counter\includes\counterh.php on line 218

Warning: fgets(): supplied argument is not a valid stream resource in D:\Hosting\3410369\html\counter\includes\counterh.php on line 220

Warning: feof(): supplied argument is not a valid stream resource in D:\Hosting\3410369\html\counter\includes\counterh.php on line 218

Warning: fgets(): supplied argument is not a valid stream resource in D:\Hosting\3410369\html\counter\includes\counterh.php on line 220

Warning: feof(): supplied argument is not a valid stream resource in D:\Hosting\3410369\html\counter\includes\counterh.php on line 218

Warning: fgets(): supplied argument is not a valid stream resource in D:\Hosting\3410369\html\counter\includes\counterh.php on line 220

Warning: feof(): supplied argument is not a valid stream resource in D:\Hosting\3410369\html\counter\includes\counterh.php on line 218

Warning: fgets(): supplied argument is not a valid stream resource in D:\Hosting\3410369\html\counter\includes\counterh.php on line 220

Warning: feof(): supplied argument is not a valid stream resource in D:\Hosting\3410369\html\counter\includes\counterh.php on line 218

Warning: fgets(): supplied argument is not a valid stream resource in D:\Hosting\3410369\html\counter\includes\counterh.php on line 220

Warning: feof(): supplied argument is not a valid stream resource in D:\Hosting\3410369\html\counter\includes\counterh.php on line 218

Warning: fgets(): supplied argument is not a valid stream resource in D:\Hosting\3410369\html\counter\includes\counterh.php on line 220

Warning: feof(): supplied argument is not a valid stream resource in D:\Hosting\3410369\html\counter\includes\counterh.php on line 218

Warning: fgets(): supplied argument is not a valid stream resource in D:\Hosting\3410369\html\counter\includes\counterh.php on line 220

Warning: feof(): supplied argument is not a valid stream resource in D:\Hosting\3410369\html\counter\includes\counterh.php on line 218

Warning: fgets(): supplied argument is not a valid stream resource in D:\Hosting\3410369\html\counter\includes\counterh.php on line 220

Warning: feof(): supplied argument is not a valid stream resource in D:\Hosting\3410369\html\counter\includes\counterh.php on line 218

Warning: fgets(): supplied argument is not a valid stream resource in D:\Hosting\3410369\html\counter\includes\counterh.php on line 220

Warning: feof(): supplied argument is not a valid stream resource in D:\Hosting\3410369\html\counter\includes\counterh.php on line 218

Warning: fgets(): supplied argument is not a valid stream resource in D:\Hosting\3410369\html\counter\includes\counterh.php on line 220

Warning: feof(): supplied argument is not a valid stream resource in D:\Hosting\3410369\html\counter\includes\counterh.php on line 218

Warning: fgets(): supplied argument is not a valid stream resource in D:\Hosting\3410369\html\counter\includes\counterh.php on line 220

Warning: feof(): supplied argument is not a valid stream resource in D:\Hosting\3410369\html\counter\includes\counterh.php on line 218

Warning: fgets(): supplied argument is not a valid stream resource in D:\Hosting\3410369\html\counter\includes\counterh.php on line 220

Warning: feof(): supplied argument is not a valid stream resource in D:\Hosting\3410369\html\counter\includes\counterh.php on line 218

Warning: fgets(): supplied argument is not a valid stream resource in D:\Hosting\3410369\html\counter\includes\counterh.php on line 220

Warning: feof(): supplied argument is not a valid stream resource in D:\Hosting\3410369\html\counter\includes\counterh.php on line 218

Warning: fgets(): supplied argument is not a valid stream resource in D:\Hosting\3410369\html\counter\includes\counterh.php on line 220

Warning: feof(): supplied argument is not a valid stream resource in D:\Hosting\3410369\html\counter\includes\counterh.php on line 218

Warning: fgets(): supplied argument is not a valid stream resource in D:\Hosting\3410369\html\counter\includes\counterh.php on line 220

Warning: feof(): supplied argument is not a valid stream resource in D:\Hosting\3410369\html\counter\includes\counterh.php on line 218

Warning: fgets(): supplied argument is not a valid stream resource in D:\Hosting\3410369\html\counter\includes\counterh.php on line 220

Warning: feof(): supplied argument is not a valid stream resource in D:\Hosting\3410369\html\counter\includes\counterh.php on line 218

Warning: fgets(): supplied argument is not a valid stream resource in D:\Hosting\3410369\html\counter\includes\counterh.php on line 220

Warning: feof(): supplied argument is not a valid stream resource in D:\Hosting\3410369\html\counter\includes\counterh.php on line 218

Warning: fgets(): supplied argument is not a valid stream resource in D:\Hosting\3410369\html\counter\includes\counterh.php on line 220

Warning: feof(): supplied argument is not a valid stream resource in D:\Hosting\3410369\html\counter\includes\counterh.php on line 218

Warning: fgets(): supplied argument is not a valid stream resource in D:\Hosting\3410369\html\counter\includes\counterh.php on line 220

Warning: feof(): supplied argument is not a valid stream resource in D:\Hosting\3410369\html\counter\includes\counterh.php on line 218

Warning: fgets(): supplied argument is not a valid stream resource in D:\Hosting\3410369\html\counter\includes\counterh.php on line 220

Warning: feof(): supplied argument is not a valid stream resource in D:\Hosting\3410369\html\counter\includes\counterh.php on line 218

Warning: fgets(): supplied argument is not a valid stream resource in D:\Hosting\3410369\html\counter\includes\counterh.php on line 220

Warning: feof(): supplied argument is not a valid stream resource in D:\Hosting\3410369\html\counter\includes\counterh.php on line 218

Warning: fgets(): supplied argument is not a valid stream resource in D:\Hosting\3410369\html\counter\includes\counterh.php on line 220

Warning: feof(): supplied argument is not a valid stream resource in D:\Hosting\3410369\html\counter\includes\counterh.php on line 218

Warning: fgets(): supplied argument is not a valid stream resource in D:\Hosting\3410369\html\counter\includes\counterh.php on line 220

Warning: feof(): supplied argument is not a valid stream resource in D:\Hosting\3410369\html\counter\includes\counterh.php on line 218

Warning: fgets(): supplied argument is not a valid stream resource in D:\Hosting\3410369\html\counter\includes\counterh.php on line 220

Warning: feof(): supplied argument is not a valid stream resource in D:\Hosting\3410369\html\counter\includes\counterh.php on line 218

Warning: fgets(): supplied argument is not a valid stream resource in D:\Hosting\3410369\html\counter\includes\counterh.php on line 220

Warning: feof(): supplied argument is not a valid stream resource in D:\Hosting\3410369\html\counter\includes\counterh.php on line 218

Warning: fgets(): supplied argument is not a valid stream resource in D:\Hosting\3410369\html\counter\includes\counterh.php on line 220

Warning: feof(): supplied argument is not a valid stream resource in D:\Hosting\3410369\html\counter\includes\counterh.php on line 218

Warning: fgets(): supplied argument is not a valid stream resource in D:\Hosting\3410369\html\counter\includes\counterh.php on line 220

Warning: feof(): supplied argument is not a valid stream resource in D:\Hosting\3410369\html\counter\includes\counterh.php on line 218

Warning: fgets(): supplied argument is not a valid stream resource in D:\Hosting\3410369\html\counter\includes\counterh.php on line 220

Warning: feof(): supplied argument is not a valid stream resource in D:\Hosting\3410369\html\counter\includes\counterh.php on line 218

Warning: fgets(): supplied argument is not a valid stream resource in D:\Hosting\3410369\html\counter\includes\counterh.php on line 220

Warning: feof(): supplied argument is not a valid stream resource in D:\Hosting\3410369\html\counter\includes\counterh.php on line 218

Warning: fgets(): supplied argument is not a valid stream resource in D:\Hosting\3410369\html\counter\includes\counterh.php on line 220

Warning: feof(): supplied argument is not a valid stream resource in D:\Hosting\3410369\html\counter\includes\counterh.php on line 218

Warning: fgets(): supplied argument is not a valid stream resource in D:\Hosting\3410369\html\counter\includes\counterh.php on line 220

Warning: feof(): supplied argument is not a valid stream resource in D:\Hosting\3410369\html\counter\includes\counterh.php on line 218

Warning: fgets(): supplied argument is not a valid stream resource in D:\Hosting\3410369\html\counter\includes\counterh.php on line 220

Warning: feof(): supplied argument is not a valid stream resource in D:\Hosting\3410369\html\counter\includes\counterh.php on line 218

Warning: fgets(): supplied argument is not a valid stream resource in D:\Hosting\3410369\html\counter\includes\counterh.php on line 220

Warning: feof(): supplied argument is not a valid stream resource in D:\Hosting\3410369\html\counter\includes\counterh.php on line 218

Warning: fgets(): supplied argument is not a valid stream resource in D:\Hosting\3410369\html\counter\includes\counterh.php on line 220

Warning: feof(): supplied argument is not a valid stream resource in D:\Hosting\3410369\html\counter\includes\counterh.php on line 218

Warning: fgets(): supplied argument is not a valid stream resource in D:\Hosting\3410369\html\counter\includes\counterh.php on line 220

Warning: feof(): supplied argument is not a valid stream resource in D:\Hosting\3410369\html\counter\includes\counterh.php on line 218

Warning: fgets(): supplied argument is not a valid stream resource in D:\Hosting\3410369\html\counter\includes\counterh.php on line 220

Warning: feof(): supplied argument is not a valid stream resource in D:\Hosting\3410369\html\counter\includes\counterh.php on line 218

Warning: fgets(): supplied argument is not a valid stream resource in D:\Hosting\3410369\html\counter\includes\counterh.php on line 220

Warning: feof(): supplied argument is not a valid stream resource in D:\Hosting\3410369\html\counter\includes\counterh.php on line 218

Warning: fgets(): supplied argument is not a valid stream resource in D:\Hosting\3410369\html\counter\includes\counterh.php on line 220

Warning: feof(): supplied argument is not a valid stream resource in D:\Hosting\3410369\html\counter\includes\counterh.php on line 218

Warning: fgets(): supplied argument is not a valid stream resource in D:\Hosting\3410369\html\counter\includes\counterh.php on line 220

Warning: feof(): supplied argument is not a valid stream resource in D:\Hosting\3410369\html\counter\includes\counterh.php on line 218

Warning: fgets(): supplied argument is not a valid stream resource in D:\Hosting\3410369\html\counter\includes\counterh.php on line 220

Warning: feof(): supplied argument is not a valid stream resource in D:\Hosting\3410369\html\counter\includes\counterh.php on line 218

Warning: fgets(): supplied argument is not a valid stream resource in D:\Hosting\3410369\html\counter\includes\counterh.php on line 220

Warning: feof(): supplied argument is not a valid stream resource in D:\Hosting\3410369\html\counter\includes\counterh.php on line 218

Warning: fgets(): supplied argument is not a valid stream resource in D:\Hosting\3410369\html\counter\includes\counterh.php on line 220

Warning: feof(): supplied argument is not a valid stream resource in D:\Hosting\3410369\html\counter\includes\counterh.php on line 218

Warning: fgets(): supplied argument is not a valid stream resource in D:\Hosting\3410369\html\counter\includes\counterh.php on line 220

Warning: feof(): supplied argument is not a valid stream resource in D:\Hosting\3410369\html\counter\includes\counterh.php on line 218

Warning: fgets(): supplied argument is not a valid stream resource in D:\Hosting\3410369\html\counter\includes\counterh.php on line 220

Warning: feof(): supplied argument is not a valid stream resource in D:\Hosting\3410369\html\counter\includes\counterh.php on line 218

Warning: fgets(): supplied argument is not a valid stream resource in D:\Hosting\3410369\html\counter\includes\counterh.php on line 220

Warning: feof(): supplied argument is not a valid stream resource in D:\Hosting\3410369\html\counter\includes\counterh.php on line 218

Warning: fgets(): supplied argument is not a valid stream resource in D:\Hosting\3410369\html\counter\includes\counterh.php on line 220

Warning: feof(): supplied argument is not a valid stream resource in D:\Hosting\3410369\html\counter\includes\counterh.php on line 218

Warning: fgets(): supplied argument is not a valid stream resource in D:\Hosting\3410369\html\counter\includes\counterh.php on line 220

Warning: feof(): supplied argument is not a valid stream resource in D:\Hosting\3410369\html\counter\includes\counterh.php on line 218

Warning: fgets(): supplied argument is not a valid stream resource in D:\Hosting\3410369\html\counter\includes\counterh.php on line 220

Warning: feof(): supplied argument is not a valid stream resource in D:\Hosting\3410369\html\counter\includes\counterh.php on line 218

Warning: fgets(): supplied argument is not a valid stream resource in D:\Hosting\3410369\html\counter\includes\counterh.php on line 220

Warning: feof(): supplied argument is not a valid stream resource in D:\Hosting\3410369\html\counter\includes\counterh.php on line 218

Warning: fgets(): supplied argument is not a valid stream resource in D:\Hosting\3410369\html\counter\includes\counterh.php on line 220

Warning: feof(): supplied argument is not a valid stream resource in D:\Hosting\3410369\html\counter\includes\counterh.php on line 218

Warning: fgets(): supplied argument is not a valid stream resource in D:\Hosting\3410369\html\counter\includes\counterh.php on line 220

Warning: feof(): supplied argument is not a valid stream resource in D:\Hosting\3410369\html\counter\includes\counterh.php on line 218

Warning: fgets(): supplied argument is not a valid stream resource in D:\Hosting\3410369\html\counter\includes\counterh.php on line 220

Warning: feof(): supplied argument is not a valid stream resource in D:\Hosting\3410369\html\counter\includes\counterh.php on line 218

Warning: fgets(): supplied argument is not a valid stream resource in D:\Hosting\3410369\html\counter\includes\counterh.php on line 220

Warning: feof(): supplied argument is not a valid stream resource in D:\Hosting\3410369\html\counter\includes\counterh.php on line 218

Warning: fgets(): supplied argument is not a valid stream resource in D:\Hosting\3410369\html\counter\includes\counterh.php on line 220

Warning: feof(): supplied argument is not a valid stream resource in D:\Hosting\3410369\html\counter\includes\counterh.php on line 218

Warning: fgets(): supplied argument is not a valid stream resource in D:\Hosting\3410369\html\counter\includes\counterh.php on line 220

Warning: feof(): supplied argument is not a valid stream resource in D:\Hosting\3410369\html\counter\includes\counterh.php on line 218

Warning: fgets(): supplied argument is not a valid stream resource in D:\Hosting\3410369\html\counter\includes\counterh.php on line 220

Warning: feof(): supplied argument is not a valid stream resource in D:\Hosting\3410369\html\counter\includes\counterh.php on line 218

Warning: fgets(): supplied argument is not a valid stream resource in D:\Hosting\3410369\html\counter\includes\counterh.php on line 220

Warning: feof(): supplied argument is not a valid stream resource in D:\Hosting\3410369\html\counter\includes\counterh.php on line 218

Warning: fgets(): supplied argument is not a valid stream resource in D:\Hosting\3410369\html\counter\includes\counterh.php on line 220

Warning: feof(): supplied argument is not a valid stream resource in D:\Hosting\3410369\html\counter\includes\counterh.php on line 218

Warning: fgets(): supplied argument is not a valid stream resource in D:\Hosting\3410369\html\counter\includes\counterh.php on line 220

Warning: feof(): supplied argument is not a valid stream resource in D:\Hosting\3410369\html\counter\includes\counterh.php on line 218

Warning: fgets(): supplied argument is not a valid stream resource in D:\Hosting\3410369\html\counter\includes\counterh.php on line 220

Warning: feof(): supplied argument is not a valid stream resource in D:\Hosting\3410369\html\counter\includes\counterh.php on line 218

Warning: fgets(): supplied argument is not a valid stream resource in D:\Hosting\3410369\html\counter\includes\counterh.php on line 220

Warning: feof(): supplied argument is not a valid stream resource in D:\Hosting\3410369\html\counter\includes\counterh.php on line 218

Warning: fgets(): supplied argument is not a valid stream resource in D:\Hosting\3410369\html\counter\includes\counterh.php on line 220

Warning: feof(): supplied argument is not a valid stream resource in D:\Hosting\3410369\html\counter\includes\counterh.php on line 218

Warning: fgets(): supplied argument is not a valid stream resource in D:\Hosting\3410369\html\counter\includes\counterh.php on line 220

Warning: feof(): supplied argument is not a valid stream resource in D:\Hosting\3410369\html\counter\includes\counterh.php on line 218

Warning: fgets(): supplied argument is not a valid stream resource in D:\Hosting\3410369\html\counter\includes\counterh.php on line 220

Warning: feof(): supplied argument is not a valid stream resource in D:\Hosting\3410369\html\counter\includes\counterh.php on line 218

Warning: fgets(): supplied argument is not a valid stream resource in D:\Hosting\3410369\html\counter\includes\counterh.php on line 220

Warning: feof(): supplied argument is not a valid stream resource in D:\Hosting\3410369\html\counter\includes\counterh.php on line 218

Warning: fgets(): supplied argument is not a valid stream resource in D:\Hosting\3410369\html\counter\includes\counterh.php on line 220

Warning: feof(): supplied argument is not a valid stream resource in D:\Hosting\3410369\html\counter\includes\counterh.php on line 218

Warning: fgets(): supplied argument is not a valid stream resource in D:\Hosting\3410369\html\counter\includes\counterh.php on line 220

Warning: feof(): supplied argument is not a valid stream resource in D:\Hosting\3410369\html\counter\includes\counterh.php on line 218

Warning: fgets(): supplied argument is not a valid stream resource in D:\Hosting\3410369\html\counter\includes\counterh.php on line 220

Warning: feof(): supplied argument is not a valid stream resource in D:\Hosting\3410369\html\counter\includes\counterh.php on line 218

Warning: fgets(): supplied argument is not a valid stream resource in D:\Hosting\3410369\html\counter\includes\counterh.php on line 220

Warning: feof(): supplied argument is not a valid stream resource in D:\Hosting\3410369\html\counter\includes\counterh.php on line 218

Warning: fgets(): supplied argument is not a valid stream resource in D:\Hosting\3410369\html\counter\includes\counterh.php on line 220

Warning: feof(): supplied argument is not a valid stream resource in D:\Hosting\3410369\html\counter\includes\counterh.php on line 218

Warning: fgets(): supplied argument is not a valid stream resource in D:\Hosting\3410369\html\counter\includes\counterh.php on line 220

Warning: feof(): supplied argument is not a valid stream resource in D:\Hosting\3410369\html\counter\includes\counterh.php on line 218

Warning: fgets(): supplied argument is not a valid stream resource in D:\Hosting\3410369\html\counter\includes\counterh.php on line 220

Warning: feof(): supplied argument is not a valid stream resource in D:\Hosting\3410369\html\counter\includes\counterh.php on line 218

Warning: fgets(): supplied argument is not a valid stream resource in D:\Hosting\3410369\html\counter\includes\counterh.php on line 220

Warning: feof(): supplied argument is not a valid stream resource in D:\Hosting\3410369\html\counter\includes\counterh.php on line 218

Warning: fgets(): supplied argument is not a valid stream resource in D:\Hosting\3410369\html\counter\includes\counterh.php on line 220

Warning: feof(): supplied argument is not a valid stream resource in D:\Hosting\3410369\html\counter\includes\counterh.php on line 218

Warning: fgets(): supplied argument is not a valid stream resource in D:\Hosting\3410369\html\counter\includes\counterh.php on line 220

Warning: feof(): supplied argument is not a valid stream resource in D:\Hosting\3410369\html\counter\includes\counterh.php on line 218

Warning: fgets(): supplied argument is not a valid stream resource in D:\Hosting\3410369\html\counter\includes\counterh.php on line 220

Warning: feof(): supplied argument is not a valid stream resource in D:\Hosting\3410369\html\counter\includes\counterh.php on line 218

Warning: fgets(): supplied argument is not a valid stream resource in D:\Hosting\3410369\html\counter\includes\counterh.php on line 220

Warning: feof(): supplied argument is not a valid stream resource in D:\Hosting\3410369\html\counter\includes\counterh.php on line 218

Warning: fgets(): supplied argument is not a valid stream resource in D:\Hosting\3410369\html\counter\includes\counterh.php on line 220

Warning: feof(): supplied argument is not a valid stream resource in D:\Hosting\3410369\html\counter\includes\counterh.php on line 218

Warning: fgets(): supplied argument is not a valid stream resource in D:\Hosting\3410369\html\counter\includes\counterh.php on line 220

Warning: feof(): supplied argument is not a valid stream resource in D:\Hosting\3410369\html\counter\includes\counterh.php on line 218

Warning: fgets(): supplied argument is not a valid stream resource in D:\Hosting\3410369\html\counter\includes\counterh.php on line 220

Warning: feof(): supplied argument is not a valid stream resource in D:\Hosting\3410369\html\counter\includes\counterh.php on line 218

Warning: fgets(): supplied argument is not a valid stream resource in D:\Hosting\3410369\html\counter\includes\counterh.php on line 220

Warning: feof(): supplied argument is not a valid stream resource in D:\Hosting\3410369\html\counter\includes\counterh.php on line 218

Warning: fgets(): supplied argument is not a valid stream resource in D:\Hosting\3410369\html\counter\includes\counterh.php on line 220

Warning: feof(): supplied argument is not a valid stream resource in D:\Hosting\3410369\html\counter\includes\counterh.php on line 218

Warning: fgets(): supplied argument is not a valid stream resource in D:\Hosting\3410369\html\counter\includes\counterh.php on line 220

Warning: feof(): supplied argument is not a valid stream resource in D:\Hosting\3410369\html\counter\includes\counterh.php on line 218

Warning: fgets(): supplied argument is not a valid stream resource in D:\Hosting\3410369\html\counter\includes\counterh.php on line 220

Warning: feof(): supplied argument is not a valid stream resource in D:\Hosting\3410369\html\counter\includes\counterh.php on line 218

Warning: fgets(): supplied argument is not a valid stream resource in D:\Hosting\3410369\html\counter\includes\counterh.php on line 220

Warning: feof(): supplied argument is not a valid stream resource in D:\Hosting\3410369\html\counter\includes\counterh.php on line 218

Warning: fgets(): supplied argument is not a valid stream resource in D:\Hosting\3410369\html\counter\includes\counterh.php on line 220

Warning: feof(): supplied argument is not a valid stream resource in D:\Hosting\3410369\html\counter\includes\counterh.php on line 218

Warning: fgets(): supplied argument is not a valid stream resource in D:\Hosting\3410369\html\counter\includes\counterh.php on line 220

Warning: feof(): supplied argument is not a valid stream resource in D:\Hosting\3410369\html\counter\includes\counterh.php on line 218

Warning: fgets(): supplied argument is not a valid stream resource in D:\Hosting\3410369\html\counter\includes\counterh.php on line 220

Warning: feof(): supplied argument is not a valid stream resource in D:\Hosting\3410369\html\counter\includes\counterh.php on line 218

Warning: fgets(): supplied argument is not a valid stream resource in D:\Hosting\3410369\html\counter\includes\counterh.php on line 220

Warning: feof(): supplied argument is not a valid stream resource in D:\Hosting\3410369\html\counter\includes\counterh.php on line 218

Warning: fgets(): supplied argument is not a valid stream resource in D:\Hosting\3410369\html\counter\includes\counterh.php on line 220

Warning: feof(): supplied argument is not a valid stream resource in D:\Hosting\3410369\html\counter\includes\counterh.php on line 218

Warning: fgets(): supplied argument is not a valid stream resource in D:\Hosting\3410369\html\counter\includes\counterh.php on line 220

Warning: feof(): supplied argument is not a valid stream resource in D:\Hosting\3410369\html\counter\includes\counterh.php on line 218

Warning: fgets(): supplied argument is not a valid stream resource in D:\Hosting\3410369\html\counter\includes\counterh.php on line 220

Warning: feof(): supplied argument is not a valid stream resource in D:\Hosting\3410369\html\counter\includes\counterh.php on line 218

Warning: fgets(): supplied argument is not a valid stream resource in D:\Hosting\3410369\html\counter\includes\counterh.php on line 220

Warning: feof(): supplied argument is not a valid stream resource in D:\Hosting\3410369\html\counter\includes\counterh.php on line 218

Warning: fgets(): supplied argument is not a valid stream resource in D:\Hosting\3410369\html\counter\includes\counterh.php on line 220

Warning: feof(): supplied argument is not a valid stream resource in D:\Hosting\3410369\html\counter\includes\counterh.php on line 218

Warning: fgets(): supplied argument is not a valid stream resource in D:\Hosting\3410369\html\counter\includes\counterh.php on line 220

Warning: feof(): supplied argument is not a valid stream resource in D:\Hosting\3410369\html\counter\includes\counterh.php on line 218

Warning: fgets(): supplied argument is not a valid stream resource in D:\Hosting\3410369\html\counter\includes\counterh.php on line 220

Warning: feof(): supplied argument is not a valid stream resource in D:\Hosting\3410369\html\counter\includes\counterh.php on line 218

Warning: fgets(): supplied argument is not a valid stream resource in D:\Hosting\3410369\html\counter\includes\counterh.php on line 220

Warning: feof(): supplied argument is not a valid stream resource in D:\Hosting\3410369\html\counter\includes\counterh.php on line 218

Warning: fgets(): supplied argument is not a valid stream resource in D:\Hosting\3410369\html\counter\includes\counterh.php on line 220

Warning: feof(): supplied argument is not a valid stream resource in D:\Hosting\3410369\html\counter\includes\counterh.php on line 218

Warning: fgets(): supplied argument is not a valid stream resource in D:\Hosting\3410369\html\counter\includes\counterh.php on line 220

Warning: feof(): supplied argument is not a valid stream resource in D:\Hosting\3410369\html\counter\includes\counterh.php on line 218

Warning: fgets(): supplied argument is not a valid stream resource in D:\Hosting\3410369\html\counter\includes\counterh.php on line 220

Warning: feof(): supplied argument is not a valid stream resource in D:\Hosting\3410369\html\counter\includes\counterh.php on line 218

Warning: fgets(): supplied argument is not a valid stream resource in D:\Hosting\3410369\html\counter\includes\counterh.php on line 220

Warning: feof(): supplied argument is not a valid stream resource in D:\Hosting\3410369\html\counter\includes\counterh.php on line 218

Warning: fgets(): supplied argument is not a valid stream resource in D:\Hosting\3410369\html\counter\includes\counterh.php on line 220

Warning: feof(): supplied argument is not a valid stream resource in D:\Hosting\3410369\html\counter\includes\counterh.php on line 218

Warning: fgets(): supplied argument is not a valid stream resource in D:\Hosting\3410369\html\counter\includes\counterh.php on line 220

Warning: feof(): supplied argument is not a valid stream resource in D:\Hosting\3410369\html\counter\includes\counterh.php on line 218

Warning: fgets(): supplied argument is not a valid stream resource in D:\Hosting\3410369\html\counter\includes\counterh.php on line 220

Warning: feof(): supplied argument is not a valid stream resource in D:\Hosting\3410369\html\counter\includes\counterh.php on line 218

Warning: fgets(): supplied argument is not a valid stream resource in D:\Hosting\3410369\html\counter\includes\counterh.php on line 220

Warning: feof(): supplied argument is not a valid stream resource in D:\Hosting\3410369\html\counter\includes\counterh.php on line 218

Warning: fgets(): supplied argument is not a valid stream resource in D:\Hosting\3410369\html\counter\includes\counterh.php on line 220

Warning: feof(): supplied argument is not a valid stream resource in D:\Hosting\3410369\html\counter\includes\counterh.php on line 218

Warning: fgets(): supplied argument is not a valid stream resource in D:\Hosting\3410369\html\counter\includes\counterh.php on line 220

Warning: feof(): supplied argument is not a valid stream resource in D:\Hosting\3410369\html\counter\includes\counterh.php on line 218

Warning: fgets(): supplied argument is not a valid stream resource in D:\Hosting\3410369\html\counter\includes\counterh.php on line 220

Warning: feof(): supplied argument is not a valid stream resource in D:\Hosting\3410369\html\counter\includes\counterh.php on line 218

Warning: fgets(): supplied argument is not a valid stream resource in D:\Hosting\3410369\html\counter\includes\counterh.php on line 220

Warning: feof(): supplied argument is not a valid stream resource in D:\Hosting\3410369\html\counter\includes\counterh.php on line 218

Warning: fgets(): supplied argument is not a valid stream resource in D:\Hosting\3410369\html\counter\includes\counterh.php on line 220

Warning: feof(): supplied argument is not a valid stream resource in D:\Hosting\3410369\html\counter\includes\counterh.php on line 218

Warning: fgets(): supplied argument is not a valid stream resource in D:\Hosting\3410369\html\counter\includes\counterh.php on line 220

Warning: feof(): supplied argument is not a valid stream resource in D:\Hosting\3410369\html\counter\includes\counterh.php on line 218

Warning: fgets(): supplied argument is not a valid stream resource in D:\Hosting\3410369\html\counter\includes\counterh.php on line 220

Warning: feof(): supplied argument is not a valid stream resource in D:\Hosting\3410369\html\counter\includes\counterh.php on line 218

Warning: fgets(): supplied argument is not a valid stream resource in D:\Hosting\3410369\html\counter\includes\counterh.php on line 220

Warning: feof(): supplied argument is not a valid stream resource in D:\Hosting\3410369\html\counter\includes\counterh.php on line 218

Warning: fgets(): supplied argument is not a valid stream resource in D:\Hosting\3410369\html\counter\includes\counterh.php on line 220

Warning: feof(): supplied argument is not a valid stream resource in D:\Hosting\3410369\html\counter\includes\counterh.php on line 218

Warning: fgets(): supplied argument is not a valid stream resource in D:\Hosting\3410369\html\counter\includes\counterh.php on line 220

Warning: feof(): supplied argument is not a valid stream resource in D:\Hosting\3410369\html\counter\includes\counterh.php on line 218

Warning: fgets(): supplied argument is not a valid stream resource in D:\Hosting\3410369\html\counter\includes\counterh.php on line 220

Warning: feof(): supplied argument is not a valid stream resource in D:\Hosting\3410369\html\counter\includes\counterh.php on line 218

Warning: fgets(): supplied argument is not a valid stream resource in D:\Hosting\3410369\html\counter\includes\counterh.php on line 220

Warning: feof(): supplied argument is not a valid stream resource in D:\Hosting\3410369\html\counter\includes\counterh.php on line 218

Warning: fgets(): supplied argument is not a valid stream resource in D:\Hosting\3410369\html\counter\includes\counterh.php on line 220

Warning: feof(): supplied argument is not a valid stream resource in D:\Hosting\3410369\html\counter\includes\counterh.php on line 218

Warning: fgets(): supplied argument is not a valid stream resource in D:\Hosting\3410369\html\counter\includes\counterh.php on line 220

Warning: feof(): supplied argument is not a valid stream resource in D:\Hosting\3410369\html\counter\includes\counterh.php on line 218

Warning: fgets(): supplied argument is not a valid stream resource in D:\Hosting\3410369\html\counter\includes\counterh.php on line 220

Warning: feof(): supplied argument is not a valid stream resource in D:\Hosting\3410369\html\counter\includes\counterh.php on line 218

Warning: fgets(): supplied argument is not a valid stream resource in D:\Hosting\3410369\html\counter\includes\counterh.php on line 220

Warning: feof(): supplied argument is not a valid stream resource in D:\Hosting\3410369\html\counter\includes\counterh.php on line 218

Warning: fgets(): supplied argument is not a valid stream resource in D:\Hosting\3410369\html\counter\includes\counterh.php on line 220

Warning: feof(): supplied argument is not a valid stream resource in D:\Hosting\3410369\html\counter\includes\counterh.php on line 218

Warning: fgets(): supplied argument is not a valid stream resource in D:\Hosting\3410369\html\counter\includes\counterh.php on line 220

Warning: feof(): supplied argument is not a valid stream resource in D:\Hosting\3410369\html\counter\includes\counterh.php on line 218

Warning: fgets(): supplied argument is not a valid stream resource in D:\Hosting\3410369\html\counter\includes\counterh.php on line 220

Warning: feof(): supplied argument is not a valid stream resource in D:\Hosting\3410369\html\counter\includes\counterh.php on line 218

Warning: fgets(): supplied argument is not a valid stream resource in D:\Hosting\3410369\html\counter\includes\counterh.php on line 220

Warning: feof(): supplied argument is not a valid stream resource in D:\Hosting\3410369\html\counter\includes\counterh.php on line 218

Warning: fgets(): supplied argument is not a valid stream resource in D:\Hosting\3410369\html\counter\includes\counterh.php on line 220

Warning: feof(): supplied argument is not a valid stream resource in D:\Hosting\3410369\html\counter\includes\counterh.php on line 218

Warning: fgets(): supplied argument is not a valid stream resource in D:\Hosting\3410369\html\counter\includes\counterh.php on line 220

Warning: feof(): supplied argument is not a valid stream resource in D:\Hosting\3410369\html\counter\includes\counterh.php on line 218

Warning: fgets(): supplied argument is not a valid stream resource in D:\Hosting\3410369\html\counter\includes\counterh.php on line 220

Warning: feof(): supplied argument is not a valid stream resource in D:\Hosting\3410369\html\counter\includes\counterh.php on line 218

Warning: fgets(): supplied argument is not a valid stream resource in D:\Hosting\3410369\html\counter\includes\counterh.php on line 220

Warning: feof(): supplied argument is not a valid stream resource in D:\Hosting\3410369\html\counter\includes\counterh.php on line 218

Warning: fgets(): supplied argument is not a valid stream resource in D:\Hosting\3410369\html\counter\includes\counterh.php on line 220

Warning: feof(): supplied argument is not a valid stream resource in D:\Hosting\3410369\html\counter\includes\counterh.php on line 218

Warning: fgets(): supplied argument is not a valid stream resource in D:\Hosting\3410369\html\counter\includes\counterh.php on line 220

Warning: feof(): supplied argument is not a valid stream resource in D:\Hosting\3410369\html\counter\includes\counterh.php on line 218

Warning: fgets(): supplied argument is not a valid stream resource in D:\Hosting\3410369\html\counter\includes\counterh.php on line 220

Warning: feof(): supplied argument is not a valid stream resource in D:\Hosting\3410369\html\counter\includes\counterh.php on line 218

Warning: fgets(): supplied argument is not a valid stream resource in D:\Hosting\3410369\html\counter\includes\counterh.php on line 220

Warning: feof(): supplied argument is not a valid stream resource in D:\Hosting\3410369\html\counter\includes\counterh.php on line 218

Warning: fgets(): supplied argument is not a valid stream resource in D:\Hosting\3410369\html\counter\includes\counterh.php on line 220

Warning: feof(): supplied argument is not a valid stream resource in D:\Hosting\3410369\html\counter\includes\counterh.php on line 218

Warning: fgets(): supplied argument is not a valid stream resource in D:\Hosting\3410369\html\counter\includes\counterh.php on line 220

Warning: feof(): supplied argument is not a valid stream resource in D:\Hosting\3410369\html\counter\includes\counterh.php on line 218

Warning: fgets(): supplied argument is not a valid stream resource in D:\Hosting\3410369\html\counter\includes\counterh.php on line 220

Warning: feof(): supplied argument is not a valid stream resource in D:\Hosting\3410369\html\counter\includes\counterh.php on line 218

Warning: fgets(): supplied argument is not a valid stream resource in D:\Hosting\3410369\html\counter\includes\counterh.php on line 220

Warning: feof(): supplied argument is not a valid stream resource in D:\Hosting\3410369\html\counter\includes\counterh.php on line 218

Warning: fgets(): supplied argument is not a valid stream resource in D:\Hosting\3410369\html\counter\includes\counterh.php on line 220

Warning: feof(): supplied argument is not a valid stream resource in D:\Hosting\3410369\html\counter\includes\counterh.php on line 218

Warning: fgets(): supplied argument is not a valid stream resource in D:\Hosting\3410369\html\counter\includes\counterh.php on line 220

Warning: feof(): supplied argument is not a valid stream resource in D:\Hosting\3410369\html\counter\includes\counterh.php on line 218

Warning: fgets(): supplied argument is not a valid stream resource in D:\Hosting\3410369\html\counter\includes\counterh.php on line 220

Warning: feof(): supplied argument is not a valid stream resource in D:\Hosting\3410369\html\counter\includes\counterh.php on line 218

Warning: fgets(): supplied argument is not a valid stream resource in D:\Hosting\3410369\html\counter\includes\counterh.php on line 220

Warning: feof(): supplied argument is not a valid stream resource in D:\Hosting\3410369\html\counter\includes\counterh.php on line 218

Warning: fgets(): supplied argument is not a valid stream resource in D:\Hosting\3410369\html\counter\includes\counterh.php on line 220

Warning: feof(): supplied argument is not a valid stream resource in D:\Hosting\3410369\html\counter\includes\counterh.php on line 218

Warning: fgets(): supplied argument is not a valid stream resource in D:\Hosting\3410369\html\counter\includes\counterh.php on line 220

Warning: feof(): supplied argument is not a valid stream resource in D:\Hosting\3410369\html\counter\includes\counterh.php on line 218

Warning: fgets(): supplied argument is not a valid stream resource in D:\Hosting\3410369\html\counter\includes\counterh.php on line 220

Warning: feof(): supplied argument is not a valid stream resource in D:\Hosting\3410369\html\counter\includes\counterh.php on line 218

Warning: fgets(): supplied argument is not a valid stream resource in D:\Hosting\3410369\html\counter\includes\counterh.php on line 220

Warning: feof(): supplied argument is not a valid stream resource in D:\Hosting\3410369\html\counter\includes\counterh.php on line 218

Warning: fgets(): supplied argument is not a valid stream resource in D:\Hosting\3410369\html\counter\includes\counterh.php on line 220

Warning: feof(): supplied argument is not a valid stream resource in D:\Hosting\3410369\html\counter\includes\counterh.php on line 218

Warning: fgets(): supplied argument is not a valid stream resource in D:\Hosting\3410369\html\counter\includes\counterh.php on line 220

Warning: feof(): supplied argument is not a valid stream resource in D:\Hosting\3410369\html\counter\includes\counterh.php on line 218

Warning: fgets(): supplied argument is not a valid stream resource in D:\Hosting\3410369\html\counter\includes\counterh.php on line 220

Warning: feof(): supplied argument is not a valid stream resource in D:\Hosting\3410369\html\counter\includes\counterh.php on line 218

Warning: fgets(): supplied argument is not a valid stream resource in D:\Hosting\3410369\html\counter\includes\counterh.php on line 220

Warning: feof(): supplied argument is not a valid stream resource in D:\Hosting\3410369\html\counter\includes\counterh.php on line 218

Warning: fgets(): supplied argument is not a valid stream resource in D:\Hosting\3410369\html\counter\includes\counterh.php on line 220

Warning: feof(): supplied argument is not a valid stream resource in D:\Hosting\3410369\html\counter\includes\counterh.php on line 218

Warning: fgets(): supplied argument is not a valid stream resource in D:\Hosting\3410369\html\counter\includes\counterh.php on line 220

Warning: feof(): supplied argument is not a valid stream resource in D:\Hosting\3410369\html\counter\includes\counterh.php on line 218

Warning: fgets(): supplied argument is not a valid stream resource in D:\Hosting\3410369\html\counter\includes\counterh.php on line 220

Warning: feof(): supplied argument is not a valid stream resource in D:\Hosting\3410369\html\counter\includes\counterh.php on line 218

Warning: fgets(): supplied argument is not a valid stream resource in D:\Hosting\3410369\html\counter\includes\counterh.php on line 220

Warning: feof(): supplied argument is not a valid stream resource in D:\Hosting\3410369\html\counter\includes\counterh.php on line 218

Warning: fgets(): supplied argument is not a valid stream resource in D:\Hosting\3410369\html\counter\includes\counterh.php on line 220

Warning: feof(): supplied argument is not a valid stream resource in D:\Hosting\3410369\html\counter\includes\counterh.php on line 218

Warning: fgets(): supplied argument is not a valid stream resource in D:\Hosting\3410369\html\counter\includes\counterh.php on line 220

Warning: feof(): supplied argument is not a valid stream resource in D:\Hosting\3410369\html\counter\includes\counterh.php on line 218

Warning: fgets(): supplied argument is not a valid stream resource in D:\Hosting\3410369\html\counter\includes\counterh.php on line 220

Warning: feof(): supplied argument is not a valid stream resource in D:\Hosting\3410369\html\counter\includes\counterh.php on line 218

Warning: fgets(): supplied argument is not a valid stream resource in D:\Hosting\3410369\html\counter\includes\counterh.php on line 220

Warning: feof(): supplied argument is not a valid stream resource in D:\Hosting\3410369\html\counter\includes\counterh.php on line 218

Warning: fgets(): supplied argument is not a valid stream resource in D:\Hosting\3410369\html\counter\includes\counterh.php on line 220

Warning: feof(): supplied argument is not a valid stream resource in D:\Hosting\3410369\html\counter\includes\counterh.php on line 218

Warning: fgets(): supplied argument is not a valid stream resource in D:\Hosting\3410369\html\counter\includes\counterh.php on line 220

Warning: feof(): supplied argument is not a valid stream resource in D:\Hosting\3410369\html\counter\includes\counterh.php on line 218

Warning: fgets(): supplied argument is not a valid stream resource in D:\Hosting\3410369\html\counter\includes\counterh.php on line 220

Warning: feof(): supplied argument is not a valid stream resource in D:\Hosting\3410369\html\counter\includes\counterh.php on line 218

Warning: fgets(): supplied argument is not a valid stream resource in D:\Hosting\3410369\html\counter\includes\counterh.php on line 220

Warning: feof(): supplied argument is not a valid stream resource in D:\Hosting\3410369\html\counter\includes\counterh.php on line 218

Warning: fgets(): supplied argument is not a valid stream resource in D:\Hosting\3410369\html\counter\includes\counterh.php on line 220

Warning: feof(): supplied argument is not a valid stream resource in D:\Hosting\3410369\html\counter\includes\counterh.php on line 218

Warning: fgets(): supplied argument is not a valid stream resource in D:\Hosting\3410369\html\counter\includes\counterh.php on line 220

Warning: feof(): supplied argument is not a valid stream resource in D:\Hosting\3410369\html\counter\includes\counterh.php on line 218

Warning: fgets(): supplied argument is not a valid stream resource in D:\Hosting\3410369\html\counter\includes\counterh.php on line 220

Warning: feof(): supplied argument is not a valid stream resource in D:\Hosting\3410369\html\counter\includes\counterh.php on line 218

Warning: fgets(): supplied argument is not a valid stream resource in D:\Hosting\3410369\html\counter\includes\counterh.php on line 220

Warning: feof(): supplied argument is not a valid stream resource in D:\Hosting\3410369\html\counter\includes\counterh.php on line 218

Warning: fgets(): supplied argument is not a valid stream resource in D:\Hosting\3410369\html\counter\includes\counterh.php on line 220

Warning: feof(): supplied argument is not a valid stream resource in D:\Hosting\3410369\html\counter\includes\counterh.php on line 218

Warning: fgets(): supplied argument is not a valid stream resource in D:\Hosting\3410369\html\counter\includes\counterh.php on line 220

Warning: feof(): supplied argument is not a valid stream resource in D:\Hosting\3410369\html\counter\includes\counterh.php on line 218

Warning: fgets(): supplied argument is not a valid stream resource in D:\Hosting\3410369\html\counter\includes\counterh.php on line 220

Warning: feof(): supplied argument is not a valid stream resource in D:\Hosting\3410369\html\counter\includes\counterh.php on line 218

Warning: fgets(): supplied argument is not a valid stream resource in D:\Hosting\3410369\html\counter\includes\counterh.php on line 220

Warning: feof(): supplied argument is not a valid stream resource in D:\Hosting\3410369\html\counter\includes\counterh.php on line 218

Warning: fgets(): supplied argument is not a valid stream resource in D:\Hosting\3410369\html\counter\includes\counterh.php on line 220

Warning: feof(): supplied argument is not a valid stream resource in D:\Hosting\3410369\html\counter\includes\counterh.php on line 218

Warning: fgets(): supplied argument is not a valid stream resource in D:\Hosting\3410369\html\counter\includes\counterh.php on line 220

Warning: feof(): supplied argument is not a valid stream resource in D:\Hosting\3410369\html\counter\includes\counterh.php on line 218

Warning: fgets(): supplied argument is not a valid stream resource in D:\Hosting\3410369\html\counter\includes\counterh.php on line 220

Warning: feof(): supplied argument is not a valid stream resource in D:\Hosting\3410369\html\counter\includes\counterh.php on line 218

Warning: fgets(): supplied argument is not a valid stream resource in D:\Hosting\3410369\html\counter\includes\counterh.php on line 220

Warning: feof(): supplied argument is not a valid stream resource in D:\Hosting\3410369\html\counter\includes\counterh.php on line 218

Warning: fgets(): supplied argument is not a valid stream resource in D:\Hosting\3410369\html\counter\includes\counterh.php on line 220

Warning: feof(): supplied argument is not a valid stream resource in D:\Hosting\3410369\html\counter\includes\counterh.php on line 218

Warning: fgets(): supplied argument is not a valid stream resource in D:\Hosting\3410369\html\counter\includes\counterh.php on line 220

Warning: feof(): supplied argument is not a valid stream resource in D:\Hosting\3410369\html\counter\includes\counterh.php on line 218

Warning: fgets(): supplied argument is not a valid stream resource in D:\Hosting\3410369\html\counter\includes\counterh.php on line 220

Warning: feof(): supplied argument is not a valid stream resource in D:\Hosting\3410369\html\counter\includes\counterh.php on line 218

Warning: fgets(): supplied argument is not a valid stream resource in D:\Hosting\3410369\html\counter\includes\counterh.php on line 220

Warning: feof(): supplied argument is not a valid stream resource in D:\Hosting\3410369\html\counter\includes\counterh.php on line 218

Warning: fgets(): supplied argument is not a valid stream resource in D:\Hosting\3410369\html\counter\includes\counterh.php on line 220

Warning: feof(): supplied argument is not a valid stream resource in D:\Hosting\3410369\html\counter\includes\counterh.php on line 218

Warning: fgets(): supplied argument is not a valid stream resource in D:\Hosting\3410369\html\counter\includes\counterh.php on line 220

Warning: feof(): supplied argument is not a valid stream resource in D:\Hosting\3410369\html\counter\includes\counterh.php on line 218

Warning: fgets(): supplied argument is not a valid stream resource in D:\Hosting\3410369\html\counter\includes\counterh.php on line 220

Warning: feof(): supplied argument is not a valid stream resource in D:\Hosting\3410369\html\counter\includes\counterh.php on line 218

Warning: fgets(): supplied argument is not a valid stream resource in D:\Hosting\3410369\html\counter\includes\counterh.php on line 220

Warning: feof(): supplied argument is not a valid stream resource in D:\Hosting\3410369\html\counter\includes\counterh.php on line 218

Warning: fgets(): supplied argument is not a valid stream resource in D:\Hosting\3410369\html\counter\includes\counterh.php on line 220

Warning: feof(): supplied argument is not a valid stream resource in D:\Hosting\3410369\html\counter\includes\counterh.php on line 218

Warning: fgets(): supplied argument is not a valid stream resource in D:\Hosting\3410369\html\counter\includes\counterh.php on line 220

Warning: feof(): supplied argument is not a valid stream resource in D:\Hosting\3410369\html\counter\includes\counterh.php on line 218

Warning: fgets(): supplied argument is not a valid stream resource in D:\Hosting\3410369\html\counter\includes\counterh.php on line 220

Warning: feof(): supplied argument is not a valid stream resource in D:\Hosting\3410369\html\counter\includes\counterh.php on line 218

Warning: fgets(): supplied argument is not a valid stream resource in D:\Hosting\3410369\html\counter\includes\counterh.php on line 220

Warning: feof(): supplied argument is not a valid stream resource in D:\Hosting\3410369\html\counter\includes\counterh.php on line 218

Warning: fgets(): supplied argument is not a valid stream resource in D:\Hosting\3410369\html\counter\includes\counterh.php on line 220

Warning: feof(): supplied argument is not a valid stream resource in D:\Hosting\3410369\html\counter\includes\counterh.php on line 218

Warning: fgets(): supplied argument is not a valid stream resource in D:\Hosting\3410369\html\counter\includes\counterh.php on line 220

Warning: feof(): supplied argument is not a valid stream resource in D:\Hosting\3410369\html\counter\includes\counterh.php on line 218

Warning: fgets(): supplied argument is not a valid stream resource in D:\Hosting\3410369\html\counter\includes\counterh.php on line 220

Warning: feof(): supplied argument is not a valid stream resource in D:\Hosting\3410369\html\counter\includes\counterh.php on line 218

Warning: fgets(): supplied argument is not a valid stream resource in D:\Hosting\3410369\html\counter\includes\counterh.php on line 220

Warning: feof(): supplied argument is not a valid stream resource in D:\Hosting\3410369\html\counter\includes\counterh.php on line 218

Warning: fgets(): supplied argument is not a valid stream resource in D:\Hosting\3410369\html\counter\includes\counterh.php on line 220

Warning: feof(): supplied argument is not a valid stream resource in D:\Hosting\3410369\html\counter\includes\counterh.php on line 218

Warning: fgets(): supplied argument is not a valid stream resource in D:\Hosting\3410369\html\counter\includes\counterh.php on line 220

Warning: feof(): supplied argument is not a valid stream resource in D:\Hosting\3410369\html\counter\includes\counterh.php on line 218

Warning: fgets(): supplied argument is not a valid stream resource in D:\Hosting\3410369\html\counter\includes\counterh.php on line 220

Warning: feof(): supplied argument is not a valid stream resource in D:\Hosting\3410369\html\counter\includes\counterh.php on line 218

Warning: fgets(): supplied argument is not a valid stream resource in D:\Hosting\3410369\html\counter\includes\counterh.php on line 220

Warning: feof(): supplied argument is not a valid stream resource in D:\Hosting\3410369\html\counter\includes\counterh.php on line 218

Warning: fgets(): supplied argument is not a valid stream resource in D:\Hosting\3410369\html\counter\includes\counterh.php on line 220

Warning: feof(): supplied argument is not a valid stream resource in D:\Hosting\3410369\html\counter\includes\counterh.php on line 218

Warning: fgets(): supplied argument is not a valid stream resource in D:\Hosting\3410369\html\counter\includes\counterh.php on line 220

Warning: feof(): supplied argument is not a valid stream resource in D:\Hosting\3410369\html\counter\includes\counterh.php on line 218

Warning: fgets(): supplied argument is not a valid stream resource in D:\Hosting\3410369\html\counter\includes\counterh.php on line 220

Warning: feof(): supplied argument is not a valid stream resource in D:\Hosting\3410369\html\counter\includes\counterh.php on line 218

Warning: fgets(): supplied argument is not a valid stream resource in D:\Hosting\3410369\html\counter\includes\counterh.php on line 220

Warning: feof(): supplied argument is not a valid stream resource in D:\Hosting\3410369\html\counter\includes\counterh.php on line 218

Warning: fgets(): supplied argument is not a valid stream resource in D:\Hosting\3410369\html\counter\includes\counterh.php on line 220

Warning: feof(): supplied argument is not a valid stream resource in D:\Hosting\3410369\html\counter\includes\counterh.php on line 218

Warning: fgets(): supplied argument is not a valid stream resource in D:\Hosting\3410369\html\counter\includes\counterh.php on line 220

Warning: feof(): supplied argument is not a valid stream resource in D:\Hosting\3410369\html\counter\includes\counterh.php on line 218

Warning: fgets(): supplied argument is not a valid stream resource in D:\Hosting\3410369\html\counter\includes\counterh.php on line 220

Warning: feof(): supplied argument is not a valid stream resource in D:\Hosting\3410369\html\counter\includes\counterh.php on line 218

Warning: fgets(): supplied argument is not a valid stream resource in D:\Hosting\3410369\html\counter\includes\counterh.php on line 220

Warning: feof(): supplied argument is not a valid stream resource in D:\Hosting\3410369\html\counter\includes\counterh.php on line 218

Warning: fgets(): supplied argument is not a valid stream resource in D:\Hosting\3410369\html\counter\includes\counterh.php on line 220

Warning: feof(): supplied argument is not a valid stream resource in D:\Hosting\3410369\html\counter\includes\counterh.php on line 218

Warning: fgets(): supplied argument is not a valid stream resource in D:\Hosting\3410369\html\counter\includes\counterh.php on line 220

Warning: feof(): supplied argument is not a valid stream resource in D:\Hosting\3410369\html\counter\includes\counterh.php on line 218

Warning: fgets(): supplied argument is not a valid stream resource in D:\Hosting\3410369\html\counter\includes\counterh.php on line 220

Warning: feof(): supplied argument is not a valid stream resource in D:\Hosting\3410369\html\counter\includes\counterh.php on line 218

Warning: fgets(): supplied argument is not a valid stream resource in D:\Hosting\3410369\html\counter\includes\counterh.php on line 220

Warning: feof(): supplied argument is not a valid stream resource in D:\Hosting\3410369\html\counter\includes\counterh.php on line 218

Warning: fgets(): supplied argument is not a valid stream resource in D:\Hosting\3410369\html\counter\includes\counterh.php on line 220

Warning: feof(): supplied argument is not a valid stream resource in D:\Hosting\3410369\html\counter\includes\counterh.php on line 218

Warning: fgets(): supplied argument is not a valid stream resource in D:\Hosting\3410369\html\counter\includes\counterh.php on line 220

Warning: feof(): supplied argument is not a valid stream resource in D:\Hosting\3410369\html\counter\includes\counterh.php on line 218

Warning: fgets(): supplied argument is not a valid stream resource in D:\Hosting\3410369\html\counter\includes\counterh.php on line 220

Warning: feof(): supplied argument is not a valid stream resource in D:\Hosting\3410369\html\counter\includes\counterh.php on line 218

Warning: fgets(): supplied argument is not a valid stream resource in D:\Hosting\3410369\html\counter\includes\counterh.php on line 220

Warning: feof(): supplied argument is not a valid stream resource in D:\Hosting\3410369\html\counter\includes\counterh.php on line 218

Warning: fgets(): supplied argument is not a valid stream resource in D:\Hosting\3410369\html\counter\includes\counterh.php on line 220

Warning: feof(): supplied argument is not a valid stream resource in D:\Hosting\3410369\html\counter\includes\counterh.php on line 218

Warning: fgets(): supplied argument is not a valid stream resource in D:\Hosting\3410369\html\counter\includes\counterh.php on line 220

Warning: feof(): supplied argument is not a valid stream resource in D:\Hosting\3410369\html\counter\includes\counterh.php on line 218

Warning: fgets(): supplied argument is not a valid stream resource in D:\Hosting\3410369\html\counter\includes\counterh.php on line 220

Warning: feof(): supplied argument is not a valid stream resource in D:\Hosting\3410369\html\counter\includes\counterh.php on line 218

Warning: fgets(): supplied argument is not a valid stream resource in D:\Hosting\3410369\html\counter\includes\counterh.php on line 220

Warning: feof(): supplied argument is not a valid stream resource in D:\Hosting\3410369\html\counter\includes\counterh.php on line 218

Warning: fgets(): supplied argument is not a valid stream resource in D:\Hosting\3410369\html\counter\includes\counterh.php on line 220

Warning: feof(): supplied argument is not a valid stream resource in D:\Hosting\3410369\html\counter\includes\counterh.php on line 218

Warning: fgets(): supplied argument is not a valid stream resource in D:\Hosting\3410369\html\counter\includes\counterh.php on line 220

Warning: feof(): supplied argument is not a valid stream resource in D:\Hosting\3410369\html\counter\includes\counterh.php on line 218

Warning: fgets(): supplied argument is not a valid stream resource in D:\Hosting\3410369\html\counter\includes\counterh.php on line 220

Warning: feof(): supplied argument is not a valid stream resource in D:\Hosting\3410369\html\counter\includes\counterh.php on line 218

Warning: fgets(): supplied argument is not a valid stream resource in D:\Hosting\3410369\html\counter\includes\counterh.php on line 220

Warning: feof(): supplied argument is not a valid stream resource in D:\Hosting\3410369\html\counter\includes\counterh.php on line 218

Warning: fgets(): supplied argument is not a valid stream resource in D:\Hosting\3410369\html\counter\includes\counterh.php on line 220

Warning: feof(): supplied argument is not a valid stream resource in D:\Hosting\3410369\html\counter\includes\counterh.php on line 218

Warning: fgets(): supplied argument is not a valid stream resource in D:\Hosting\3410369\html\counter\includes\counterh.php on line 220

Warning: feof(): supplied argument is not a valid stream resource in D:\Hosting\3410369\html\counter\includes\counterh.php on line 218

Warning: fgets(): supplied argument is not a valid stream resource in D:\Hosting\3410369\html\counter\includes\counterh.php on line 220

Warning: feof(): supplied argument is not a valid stream resource in D:\Hosting\3410369\html\counter\includes\counterh.php on line 218

Warning: fgets(): supplied argument is not a valid stream resource in D:\Hosting\3410369\html\counter\includes\counterh.php on line 220

Warning: feof(): supplied argument is not a valid stream resource in D:\Hosting\3410369\html\counter\includes\counterh.php on line 218

Warning: fgets(): supplied argument is not a valid stream resource in D:\Hosting\3410369\html\counter\includes\counterh.php on line 220

Warning: feof(): supplied argument is not a valid stream resource in D:\Hosting\3410369\html\counter\includes\counterh.php on line 218

Warning: fgets(): supplied argument is not a valid stream resource in D:\Hosting\3410369\html\counter\includes\counterh.php on line 220

Warning: feof(): supplied argument is not a valid stream resource in D:\Hosting\3410369\html\counter\includes\counterh.php on line 218

Warning: fgets(): supplied argument is not a valid stream resource in D:\Hosting\3410369\html\counter\includes\counterh.php on line 220

Warning: feof(): supplied argument is not a valid stream resource in D:\Hosting\3410369\html\counter\includes\counterh.php on line 218

Warning: fgets(): supplied argument is not a valid stream resource in D:\Hosting\3410369\html\counter\includes\counterh.php on line 220

Warning: feof(): supplied argument is not a valid stream resource in D:\Hosting\3410369\html\counter\includes\counterh.php on line 218

Warning: fgets(): supplied argument is not a valid stream resource in D:\Hosting\3410369\html\counter\includes\counterh.php on line 220

Warning: feof(): supplied argument is not a valid stream resource in D:\Hosting\3410369\html\counter\includes\counterh.php on line 218

Warning: fgets(): supplied argument is not a valid stream resource in D:\Hosting\3410369\html\counter\includes\counterh.php on line 220

Warning: feof(): supplied argument is not a valid stream resource in D:\Hosting\3410369\html\counter\includes\counterh.php on line 218

Warning: fgets(): supplied argument is not a valid stream resource in D:\Hosting\3410369\html\counter\includes\counterh.php on line 220

Warning: feof(): supplied argument is not a valid stream resource in D:\Hosting\3410369\html\counter\includes\counterh.php on line 218

Warning: fgets(): supplied argument is not a valid stream resource in D:\Hosting\3410369\html\counter\includes\counterh.php on line 220

Warning: feof(): supplied argument is not a valid stream resource in D:\Hosting\3410369\html\counter\includes\counterh.php on line 218

Warning: fgets(): supplied argument is not a valid stream resource in D:\Hosting\3410369\html\counter\includes\counterh.php on line 220

Warning: feof(): supplied argument is not a valid stream resource in D:\Hosting\3410369\html\counter\includes\counterh.php on line 218

Warning: fgets(): supplied argument is not a valid stream resource in D:\Hosting\3410369\html\counter\includes\counterh.php on line 220

Warning: feof(): supplied argument is not a valid stream resource in D:\Hosting\3410369\html\counter\includes\counterh.php on line 218

Warning: fgets(): supplied argument is not a valid stream resource in D:\Hosting\3410369\html\counter\includes\counterh.php on line 220

Warning: feof(): supplied argument is not a valid stream resource in D:\Hosting\3410369\html\counter\includes\counterh.php on line 218

Warning: fgets(): supplied argument is not a valid stream resource in D:\Hosting\3410369\html\counter\includes\counterh.php on line 220

Warning: feof(): supplied argument is not a valid stream resource in D:\Hosting\3410369\html\counter\includes\counterh.php on line 218

Warning: fgets(): supplied argument is not a valid stream resource in D:\Hosting\3410369\html\counter\includes\counterh.php on line 220

Warning: feof(): supplied argument is not a valid stream resource in D:\Hosting\3410369\html\counter\includes\counterh.php on line 218

Warning: fgets(): supplied argument is not a valid stream resource in D:\Hosting\3410369\html\counter\includes\counterh.php on line 220

Warning: feof(): supplied argument is not a valid stream resource in D:\Hosting\3410369\html\counter\includes\counterh.php on line 218

Warning: fgets(): supplied argument is not a valid stream resource in D:\Hosting\3410369\html\counter\includes\counterh.php on line 220

Warning: feof(): supplied argument is not a valid stream resource in D:\Hosting\3410369\html\counter\includes\counterh.php on line 218

Warning: fgets(): supplied argument is not a valid stream resource in D:\Hosting\3410369\html\counter\includes\counterh.php on line 220

Warning: feof(): supplied argument is not a valid stream resource in D:\Hosting\3410369\html\counter\includes\counterh.php on line 218

Warning: fgets(): supplied argument is not a valid stream resource in D:\Hosting\3410369\html\counter\includes\counterh.php on line 220

Warning: feof(): supplied argument is not a valid stream resource in D:\Hosting\3410369\html\counter\includes\counterh.php on line 218

Warning: fgets(): supplied argument is not a valid stream resource in D:\Hosting\3410369\html\counter\includes\counterh.php on line 220

Warning: feof(): supplied argument is not a valid stream resource in D:\Hosting\3410369\html\counter\includes\counterh.php on line 218

Warning: fgets(): supplied argument is not a valid stream resource in D:\Hosting\3410369\html\counter\includes\counterh.php on line 220

Warning: feof(): supplied argument is not a valid stream resource in D:\Hosting\3410369\html\counter\includes\counterh.php on line 218

Warning: fgets(): supplied argument is not a valid stream resource in D:\Hosting\3410369\html\counter\includes\counterh.php on line 220

Warning: feof(): supplied argument is not a valid stream resource in D:\Hosting\3410369\html\counter\includes\counterh.php on line 218

Warning: fgets(): supplied argument is not a valid stream resource in D:\Hosting\3410369\html\counter\includes\counterh.php on line 220

Warning: feof(): supplied argument is not a valid stream resource in D:\Hosting\3410369\html\counter\includes\counterh.php on line 218

Warning: fgets(): supplied argument is not a valid stream resource in D:\Hosting\3410369\html\counter\includes\counterh.php on line 220

Warning: feof(): supplied argument is not a valid stream resource in D:\Hosting\3410369\html\counter\includes\counterh.php on line 218

Warning: fgets(): supplied argument is not a valid stream resource in D:\Hosting\3410369\html\counter\includes\counterh.php on line 220

Warning: feof(): supplied argument is not a valid stream resource in D:\Hosting\3410369\html\counter\includes\counterh.php on line 218

Warning: fgets(): supplied argument is not a valid stream resource in D:\Hosting\3410369\html\counter\includes\counterh.php on line 220

Warning: feof(): supplied argument is not a valid stream resource in D:\Hosting\3410369\html\counter\includes\counterh.php on line 218

Warning: fgets(): supplied argument is not a valid stream resource in D:\Hosting\3410369\html\counter\includes\counterh.php on line 220

Warning: feof(): supplied argument is not a valid stream resource in D:\Hosting\3410369\html\counter\includes\counterh.php on line 218

Warning: fgets(): supplied argument is not a valid stream resource in D:\Hosting\3410369\html\counter\includes\counterh.php on line 220

Warning: feof(): supplied argument is not a valid stream resource in D:\Hosting\3410369\html\counter\includes\counterh.php on line 218

Warning: fgets(): supplied argument is not a valid stream resource in D:\Hosting\3410369\html\counter\includes\counterh.php on line 220

Warning: feof(): supplied argument is not a valid stream resource in D:\Hosting\3410369\html\counter\includes\counterh.php on line 218

Warning: fgets(): supplied argument is not a valid stream resource in D:\Hosting\3410369\html\counter\includes\counterh.php on line 220

Warning: feof(): supplied argument is not a valid stream resource in D:\Hosting\3410369\html\counter\includes\counterh.php on line 218

Warning: fgets(): supplied argument is not a valid stream resource in D:\Hosting\3410369\html\counter\includes\counterh.php on line 220

Warning: feof(): supplied argument is not a valid stream resource in D:\Hosting\3410369\html\counter\includes\counterh.php on line 218

Warning: fgets(): supplied argument is not a valid stream resource in D:\Hosting\3410369\html\counter\includes\counterh.php on line 220

Warning: feof(): supplied argument is not a valid stream resource in D:\Hosting\3410369\html\counter\includes\counterh.php on line 218

Warning: fgets(): supplied argument is not a valid stream resource in D:\Hosting\3410369\html\counter\includes\counterh.php on line 220

Warning: feof(): supplied argument is not a valid stream resource in D:\Hosting\3410369\html\counter\includes\counterh.php on line 218

Warning: fgets(): supplied argument is not a valid stream resource in D:\Hosting\3410369\html\counter\includes\counterh.php on line 220

Warning: feof(): supplied argument is not a valid stream resource in D:\Hosting\3410369\html\counter\includes\counterh.php on line 218

Warning: fgets(): supplied argument is not a valid stream resource in D:\Hosting\3410369\html\counter\includes\counterh.php on line 220

Warning: feof(): supplied argument is not a valid stream resource in D:\Hosting\3410369\html\counter\includes\counterh.php on line 218

Warning: fgets(): supplied argument is not a valid stream resource in D:\Hosting\3410369\html\counter\includes\counterh.php on line 220

Warning: feof(): supplied argument is not a valid stream resource in D:\Hosting\3410369\html\counter\includes\counterh.php on line 218

Warning: fgets(): supplied argument is not a valid stream resource in D:\Hosting\3410369\html\counter\includes\counterh.php on line 220

Warning: feof(): supplied argument is not a valid stream resource in D:\Hosting\3410369\html\counter\includes\counterh.php on line 218

Warning: fgets(): supplied argument is not a valid stream resource in D:\Hosting\3410369\html\counter\includes\counterh.php on line 220

Warning: feof(): supplied argument is not a valid stream resource in D:\Hosting\3410369\html\counter\includes\counterh.php on line 218

Warning: fgets(): supplied argument is not a valid stream resource in D:\Hosting\3410369\html\counter\includes\counterh.php on line 220

Warning: feof(): supplied argument is not a valid stream resource in D:\Hosting\3410369\html\counter\includes\counterh.php on line 218

Warning: fgets(): supplied argument is not a valid stream resource in D:\Hosting\3410369\html\counter\includes\counterh.php on line 220

Warning: feof(): supplied argument is not a valid stream resource in D:\Hosting\3410369\html\counter\includes\counterh.php on line 218

Warning: fgets(): supplied argument is not a valid stream resource in D:\Hosting\3410369\html\counter\includes\counterh.php on line 220

Warning: feof(): supplied argument is not a valid stream resource in D:\Hosting\3410369\html\counter\includes\counterh.php on line 218

Warning: fgets(): supplied argument is not a valid stream resource in D:\Hosting\3410369\html\counter\includes\counterh.php on line 220

Warning: feof(): supplied argument is not a valid stream resource in D:\Hosting\3410369\html\counter\includes\counterh.php on line 218

Warning: fgets(): supplied argument is not a valid stream resource in D:\Hosting\3410369\html\counter\includes\counterh.php on line 220

Warning: feof(): supplied argument is not a valid stream resource in D:\Hosting\3410369\html\counter\includes\counterh.php on line 218

Warning: fgets(): supplied argument is not a valid stream resource in D:\Hosting\3410369\html\counter\includes\counterh.php on line 220

Warning: feof(): supplied argument is not a valid stream resource in D:\Hosting\3410369\html\counter\includes\counterh.php on line 218

Warning: fgets(): supplied argument is not a valid stream resource in D:\Hosting\3410369\html\counter\includes\counterh.php on line 220

Warning: feof(): supplied argument is not a valid stream resource in D:\Hosting\3410369\html\counter\includes\counterh.php on line 218

Warning: fgets(): supplied argument is not a valid stream resource in D:\Hosting\3410369\html\counter\includes\counterh.php on line 220

Warning: feof(): supplied argument is not a valid stream resource in D:\Hosting\3410369\html\counter\includes\counterh.php on line 218

Warning: fgets(): supplied argument is not a valid stream resource in D:\Hosting\3410369\html\counter\includes\counterh.php on line 220

Warning: feof(): supplied argument is not a valid stream resource in D:\Hosting\3410369\html\counter\includes\counterh.php on line 218

Warning: fgets(): supplied argument is not a valid stream resource in D:\Hosting\3410369\html\counter\includes\counterh.php on line 220

Warning: feof(): supplied argument is not a valid stream resource in D:\Hosting\3410369\html\counter\includes\counterh.php on line 218

Warning: fgets(): supplied argument is not a valid stream resource in D:\Hosting\3410369\html\counter\includes\counterh.php on line 220

Warning: feof(): supplied argument is not a valid stream resource in D:\Hosting\3410369\html\counter\includes\counterh.php on line 218

Warning: fgets(): supplied argument is not a valid stream resource in D:\Hosting\3410369\html\counter\includes\counterh.php on line 220

Warning: feof(): supplied argument is not a valid stream resource in D:\Hosting\3410369\html\counter\includes\counterh.php on line 218

Warning: fgets(): supplied argument is not a valid stream resource in D:\Hosting\3410369\html\counter\includes\counterh.php on line 220

Warning: feof(): supplied argument is not a valid stream resource in D:\Hosting\3410369\html\counter\includes\counterh.php on line 218

Warning: fgets(): supplied argument is not a valid stream resource in D:\Hosting\3410369\html\counter\includes\counterh.php on line 220

Warning: feof(): supplied argument is not a valid stream resource in D:\Hosting\3410369\html\counter\includes\counterh.php on line 218

Warning: fgets(): supplied argument is not a valid stream resource in D:\Hosting\3410369\html\counter\includes\counterh.php on line 220

Warning: feof(): supplied argument is not a valid stream resource in D:\Hosting\3410369\html\counter\includes\counterh.php on line 218

Warning: fgets(): supplied argument is not a valid stream resource in D:\Hosting\3410369\html\counter\includes\counterh.php on line 220

Warning: feof(): supplied argument is not a valid stream resource in D:\Hosting\3410369\html\counter\includes\counterh.php on line 218

Warning: fgets(): supplied argument is not a valid stream resource in D:\Hosting\3410369\html\counter\includes\counterh.php on line 220

Warning: feof(): supplied argument is not a valid stream resource in D:\Hosting\3410369\html\counter\includes\counterh.php on line 218

Warning: fgets(): supplied argument is not a valid stream resource in D:\Hosting\3410369\html\counter\includes\counterh.php on line 220

Warning: feof(): supplied argument is not a valid stream resource in D:\Hosting\3410369\html\counter\includes\counterh.php on line 218

Warning: fgets(): supplied argument is not a valid stream resource in D:\Hosting\3410369\html\counter\includes\counterh.php on line 220

Warning: feof(): supplied argument is not a valid stream resource in D:\Hosting\3410369\html\counter\includes\counterh.php on line 218

Warning: fgets(): supplied argument is not a valid stream resource in D:\Hosting\3410369\html\counter\includes\counterh.php on line 220

Warning: feof(): supplied argument is not a valid stream resource in D:\Hosting\3410369\html\counter\includes\counterh.php on line 218

Warning: fgets(): supplied argument is not a valid stream resource in D:\Hosting\3410369\html\counter\includes\counterh.php on line 220

Warning: feof(): supplied argument is not a valid stream resource in D:\Hosting\3410369\html\counter\includes\counterh.php on line 218

Warning: fgets(): supplied argument is not a valid stream resource in D:\Hosting\3410369\html\counter\includes\counterh.php on line 220

Warning: feof(): supplied argument is not a valid stream resource in D:\Hosting\3410369\html\counter\includes\counterh.php on line 218

Warning: fgets(): supplied argument is not a valid stream resource in D:\Hosting\3410369\html\counter\includes\counterh.php on line 220

Warning: feof(): supplied argument is not a valid stream resource in D:\Hosting\3410369\html\counter\includes\counterh.php on line 218

Warning: fgets(): supplied argument is not a valid stream resource in D:\Hosting\3410369\html\counter\includes\counterh.php on line 220

Warning: feof(): supplied argument is not a valid stream resource in D:\Hosting\3410369\html\counter\includes\counterh.php on line 218

Warning: fgets(): supplied argument is not a valid stream resource in D:\Hosting\3410369\html\counter\includes\counterh.php on line 220

Warning: feof(): supplied argument is not a valid stream resource in D:\Hosting\3410369\html\counter\includes\counterh.php on line 218

Warning: fgets(): supplied argument is not a valid stream resource in D:\Hosting\3410369\html\counter\includes\counterh.php on line 220

Warning: feof(): supplied argument is not a valid stream resource in D:\Hosting\3410369\html\counter\includes\counterh.php on line 218

Warning: fgets(): supplied argument is not a valid stream resource in D:\Hosting\3410369\html\counter\includes\counterh.php on line 220

Warning: feof(): supplied argument is not a valid stream resource in D:\Hosting\3410369\html\counter\includes\counterh.php on line 218

Warning: fgets(): supplied argument is not a valid stream resource in D:\Hosting\3410369\html\counter\includes\counterh.php on line 220

Warning: feof(): supplied argument is not a valid stream resource in D:\Hosting\3410369\html\counter\includes\counterh.php on line 218

Warning: fgets(): supplied argument is not a valid stream resource in D:\Hosting\3410369\html\counter\includes\counterh.php on line 220

Warning: feof(): supplied argument is not a valid stream resource in D:\Hosting\3410369\html\counter\includes\counterh.php on line 218

Warning: fgets(): supplied argument is not a valid stream resource in D:\Hosting\3410369\html\counter\includes\counterh.php on line 220

Warning: feof(): supplied argument is not a valid stream resource in D:\Hosting\3410369\html\counter\includes\counterh.php on line 218

Warning: fgets(): supplied argument is not a valid stream resource in D:\Hosting\3410369\html\counter\includes\counterh.php on line 220

Warning: feof(): supplied argument is not a valid stream resource in D:\Hosting\3410369\html\counter\includes\counterh.php on line 218

Warning: fgets(): supplied argument is not a valid stream resource in D:\Hosting\3410369\html\counter\includes\counterh.php on line 220

Warning: feof(): supplied argument is not a valid stream resource in D:\Hosting\3410369\html\counter\includes\counterh.php on line 218

Warning: fgets(): supplied argument is not a valid stream resource in D:\Hosting\3410369\html\counter\includes\counterh.php on line 220

Warning: feof(): supplied argument is not a valid stream resource in D:\Hosting\3410369\html\counter\includes\counterh.php on line 218

Warning: fgets(): supplied argument is not a valid stream resource in D:\Hosting\3410369\html\counter\includes\counterh.php on line 220

Warning: feof(): supplied argument is not a valid stream resource in D:\Hosting\3410369\html\counter\includes\counterh.php on line 218

Warning: fgets(): supplied argument is not a valid stream resource in D:\Hosting\3410369\html\counter\includes\counterh.php on line 220

Warning: feof(): supplied argument is not a valid stream resource in D:\Hosting\3410369\html\counter\includes\counterh.php on line 218

Warning: fgets(): supplied argument is not a valid stream resource in D:\Hosting\3410369\html\counter\includes\counterh.php on line 220

Warning: feof(): supplied argument is not a valid stream resource in D:\Hosting\3410369\html\counter\includes\counterh.php on line 218

Warning: fgets(): supplied argument is not a valid stream resource in D:\Hosting\3410369\html\counter\includes\counterh.php on line 220

Warning: feof(): supplied argument is not a valid stream resource in D:\Hosting\3410369\html\counter\includes\counterh.php on line 218

Warning: fgets(): supplied argument is not a valid stream resource in D:\Hosting\3410369\html\counter\includes\counterh.php on line 220

Warning: feof(): supplied argument is not a valid stream resource in D:\Hosting\3410369\html\counter\includes\counterh.php on line 218

Warning: fgets(): supplied argument is not a valid stream resource in D:\Hosting\3410369\html\counter\includes\counterh.php on line 220

Warning: feof(): supplied argument is not a valid stream resource in D:\Hosting\3410369\html\counter\includes\counterh.php on line 218

Warning: fgets(): supplied argument is not a valid stream resource in D:\Hosting\3410369\html\counter\includes\counterh.php on line 220

Warning: feof(): supplied argument is not a valid stream resource in D:\Hosting\3410369\html\counter\includes\counterh.php on line 218

Warning: fgets(): supplied argument is not a valid stream resource in D:\Hosting\3410369\html\counter\includes\counterh.php on line 220

Warning: feof(): supplied argument is not a valid stream resource in D:\Hosting\3410369\html\counter\includes\counterh.php on line 218

Warning: fgets(): supplied argument is not a valid stream resource in D:\Hosting\3410369\html\counter\includes\counterh.php on line 220

Warning: feof(): supplied argument is not a valid stream resource in D:\Hosting\3410369\html\counter\includes\counterh.php on line 218

Warning: fgets(): supplied argument is not a valid stream resource in D:\Hosting\3410369\html\counter\includes\counterh.php on line 220

Warning: feof(): supplied argument is not a valid stream resource in D:\Hosting\3410369\html\counter\includes\counterh.php on line 218

Warning: fgets(): supplied argument is not a valid stream resource in D:\Hosting\3410369\html\counter\includes\counterh.php on line 220

Warning: feof(): supplied argument is not a valid stream resource in D:\Hosting\3410369\html\counter\includes\counterh.php on line 218

Warning: fgets(): supplied argument is not a valid stream resource in D:\Hosting\3410369\html\counter\includes\counterh.php on line 220

Warning: feof(): supplied argument is not a valid stream resource in D:\Hosting\3410369\html\counter\includes\counterh.php on line 218

Warning: fgets(): supplied argument is not a valid stream resource in D:\Hosting\3410369\html\counter\includes\counterh.php on line 220

Warning: feof(): supplied argument is not a valid stream resource in D:\Hosting\3410369\html\counter\includes\counterh.php on line 218

Warning: fgets(): supplied argument is not a valid stream resource in D:\Hosting\3410369\html\counter\includes\counterh.php on line 220

Warning: feof(): supplied argument is not a valid stream resource in D:\Hosting\3410369\html\counter\includes\counterh.php on line 218

Warning: fgets(): supplied argument is not a valid stream resource in D:\Hosting\3410369\html\counter\includes\counterh.php on line 220

Warning: feof(): supplied argument is not a valid stream resource in D:\Hosting\3410369\html\counter\includes\counterh.php on line 218

Warning: fgets(): supplied argument is not a valid stream resource in D:\Hosting\3410369\html\counter\includes\counterh.php on line 220

Warning: feof(): supplied argument is not a valid stream resource in D:\Hosting\3410369\html\counter\includes\counterh.php on line 218

Warning: fgets(): supplied argument is not a valid stream resource in D:\Hosting\3410369\html\counter\includes\counterh.php on line 220

Warning: feof(): supplied argument is not a valid stream resource in D:\Hosting\3410369\html\counter\includes\counterh.php on line 218

Warning: fgets(): supplied argument is not a valid stream resource in D:\Hosting\3410369\html\counter\includes\counterh.php on line 220

Warning: feof(): supplied argument is not a valid stream resource in D:\Hosting\3410369\html\counter\includes\counterh.php on line 218

Warning: fgets(): supplied argument is not a valid stream resource in D:\Hosting\3410369\html\counter\includes\counterh.php on line 220

Warning: feof(): supplied argument is not a valid stream resource in D:\Hosting\3410369\html\counter\includes\counterh.php on line 218

Warning: fgets(): supplied argument is not a valid stream resource in D:\Hosting\3410369\html\counter\includes\counterh.php on line 220

Warning: feof(): supplied argument is not a valid stream resource in D:\Hosting\3410369\html\counter\includes\counterh.php on line 218

Warning: fgets(): supplied argument is not a valid stream resource in D:\Hosting\3410369\html\counter\includes\counterh.php on line 220

Warning: feof(): supplied argument is not a valid stream resource in D:\Hosting\3410369\html\counter\includes\counterh.php on line 218

Warning: fgets(): supplied argument is not a valid stream resource in D:\Hosting\3410369\html\counter\includes\counterh.php on line 220

Warning: feof(): supplied argument is not a valid stream resource in D:\Hosting\3410369\html\counter\includes\counterh.php on line 218

Warning: fgets(): supplied argument is not a valid stream resource in D:\Hosting\3410369\html\counter\includes\counterh.php on line 220

Warning: feof(): supplied argument is not a valid stream resource in D:\Hosting\3410369\html\counter\includes\counterh.php on line 218

Warning: fgets(): supplied argument is not a valid stream resource in D:\Hosting\3410369\html\counter\includes\counterh.php on line 220

Warning: feof(): supplied argument is not a valid stream resource in D:\Hosting\3410369\html\counter\includes\counterh.php on line 218

Warning: fgets(): supplied argument is not a valid stream resource in D:\Hosting\3410369\html\counter\includes\counterh.php on line 220

Warning: feof(): supplied argument is not a valid stream resource in D:\Hosting\3410369\html\counter\includes\counterh.php on line 218

Warning: fgets(): supplied argument is not a valid stream resource in D:\Hosting\3410369\html\counter\includes\counterh.php on line 220

Warning: feof(): supplied argument is not a valid stream resource in D:\Hosting\3410369\html\counter\includes\counterh.php on line 218

Warning: fgets(): supplied argument is not a valid stream resource in D:\Hosting\3410369\html\counter\includes\counterh.php on line 220

Warning: feof(): supplied argument is not a valid stream resource in D:\Hosting\3410369\html\counter\includes\counterh.php on line 218

Warning: fgets(): supplied argument is not a valid stream resource in D:\Hosting\3410369\html\counter\includes\counterh.php on line 220

Warning: feof(): supplied argument is not a valid stream resource in D:\Hosting\3410369\html\counter\includes\counterh.php on line 218

Warning: fgets(): supplied argument is not a valid stream resource in D:\Hosting\3410369\html\counter\includes\counterh.php on line 220

Warning: feof(): supplied argument is not a valid stream resource in D:\Hosting\3410369\html\counter\includes\counterh.php on line 218

Warning: fgets(): supplied argument is not a valid stream resource in D:\Hosting\3410369\html\counter\includes\counterh.php on line 220

Warning: feof(): supplied argument is not a valid stream resource in D:\Hosting\3410369\html\counter\includes\counterh.php on line 218

Warning: fgets(): supplied argument is not a valid stream resource in D:\Hosting\3410369\html\counter\includes\counterh.php on line 220

Warning: feof(): supplied argument is not a valid stream resource in D:\Hosting\3410369\html\counter\includes\counterh.php on line 218

Warning: fgets(): supplied argument is not a valid stream resource in D:\Hosting\3410369\html\counter\includes\counterh.php on line 220

Warning: feof(): supplied argument is not a valid stream resource in D:\Hosting\3410369\html\counter\includes\counterh.php on line 218

Warning: fgets(): supplied argument is not a valid stream resource in D:\Hosting\3410369\html\counter\includes\counterh.php on line 220

Warning: feof(): supplied argument is not a valid stream resource in D:\Hosting\3410369\html\counter\includes\counterh.php on line 218

Warning: fgets(): supplied argument is not a valid stream resource in D:\Hosting\3410369\html\counter\includes\counterh.php on line 220

Warning: feof(): supplied argument is not a valid stream resource in D:\Hosting\3410369\html\counter\includes\counterh.php on line 218

Warning: fgets(): supplied argument is not a valid stream resource in D:\Hosting\3410369\html\counter\includes\counterh.php on line 220

Warning: feof(): supplied argument is not a valid stream resource in D:\Hosting\3410369\html\counter\includes\counterh.php on line 218

Warning: fgets(): supplied argument is not a valid stream resource in D:\Hosting\3410369\html\counter\includes\counterh.php on line 220

Warning: feof(): supplied argument is not a valid stream resource in D:\Hosting\3410369\html\counter\includes\counterh.php on line 218

Warning: fgets(): supplied argument is not a valid stream resource in D:\Hosting\3410369\html\counter\includes\counterh.php on line 220

Warning: feof(): supplied argument is not a valid stream resource in D:\Hosting\3410369\html\counter\includes\counterh.php on line 218

Warning: fgets(): supplied argument is not a valid stream resource in D:\Hosting\3410369\html\counter\includes\counterh.php on line 220

Warning: feof(): supplied argument is not a valid stream resource in D:\Hosting\3410369\html\counter\includes\counterh.php on line 218

Warning: fgets(): supplied argument is not a valid stream resource in D:\Hosting\3410369\html\counter\includes\counterh.php on line 220

Warning: feof(): supplied argument is not a valid stream resource in D:\Hosting\3410369\html\counter\includes\counterh.php on line 218

Warning: fgets(): supplied argument is not a valid stream resource in D:\Hosting\3410369\html\counter\includes\counterh.php on line 220

Warning: feof(): supplied argument is not a valid stream resource in D:\Hosting\3410369\html\counter\includes\counterh.php on line 218

Warning: fgets(): supplied argument is not a valid stream resource in D:\Hosting\3410369\html\counter\includes\counterh.php on line 220

Warning: feof(): supplied argument is not a valid stream resource in D:\Hosting\3410369\html\counter\includes\counterh.php on line 218

Warning: fgets(): supplied argument is not a valid stream resource in D:\Hosting\3410369\html\counter\includes\counterh.php on line 220

Warning: feof(): supplied argument is not a valid stream resource in D:\Hosting\3410369\html\counter\includes\counterh.php on line 218

Warning: fgets(): supplied argument is not a valid stream resource in D:\Hosting\3410369\html\counter\includes\counterh.php on line 220

Warning: feof(): supplied argument is not a valid stream resource in D:\Hosting\3410369\html\counter\includes\counterh.php on line 218

Warning: fgets(): supplied argument is not a valid stream resource in D:\Hosting\3410369\html\counter\includes\counterh.php on line 220

Warning: feof(): supplied argument is not a valid stream resource in D:\Hosting\3410369\html\counter\includes\counterh.php on line 218

Warning: fgets(): supplied argument is not a valid stream resource in D:\Hosting\3410369\html\counter\includes\counterh.php on line 220

Warning: feof(): supplied argument is not a valid stream resource in D:\Hosting\3410369\html\counter\includes\counterh.php on line 218

Warning: fgets(): supplied argument is not a valid stream resource in D:\Hosting\3410369\html\counter\includes\counterh.php on line 220

Warning: feof(): supplied argument is not a valid stream resource in D:\Hosting\3410369\html\counter\includes\counterh.php on line 218

Warning: fgets(): supplied argument is not a valid stream resource in D:\Hosting\3410369\html\counter\includes\counterh.php on line 220

Warning: feof(): supplied argument is not a valid stream resource in D:\Hosting\3410369\html\counter\includes\counterh.php on line 218

Warning: fgets(): supplied argument is not a valid stream resource in D:\Hosting\3410369\html\counter\includes\counterh.php on line 220

Warning: feof(): supplied argument is not a valid stream resource in D:\Hosting\3410369\html\counter\includes\counterh.php on line 218

Warning: fgets(): supplied argument is not a valid stream resource in D:\Hosting\3410369\html\counter\includes\counterh.php on line 220

Warning: feof(): supplied argument is not a valid stream resource in D:\Hosting\3410369\html\counter\includes\counterh.php on line 218

Warning: fgets(): supplied argument is not a valid stream resource in D:\Hosting\3410369\html\counter\includes\counterh.php on line 220

Warning: feof(): supplied argument is not a valid stream resource in D:\Hosting\3410369\html\counter\includes\counterh.php on line 218

Warning: fgets(): supplied argument is not a valid stream resource in D:\Hosting\3410369\html\counter\includes\counterh.php on line 220

Warning: feof(): supplied argument is not a valid stream resource in D:\Hosting\3410369\html\counter\includes\counterh.php on line 218

Warning: fgets(): supplied argument is not a valid stream resource in D:\Hosting\3410369\html\counter\includes\counterh.php on line 220

Warning: feof(): supplied argument is not a valid stream resource in D:\Hosting\3410369\html\counter\includes\counterh.php on line 218

Warning: fgets(): supplied argument is not a valid stream resource in D:\Hosting\3410369\html\counter\includes\counterh.php on line 220

Warning: feof(): supplied argument is not a valid stream resource in D:\Hosting\3410369\html\counter\includes\counterh.php on line 218

Warning: fgets(): supplied argument is not a valid stream resource in D:\Hosting\3410369\html\counter\includes\counterh.php on line 220

Warning: feof(): supplied argument is not a valid stream resource in D:\Hosting\3410369\html\counter\includes\counterh.php on line 218

Warning: fgets(): supplied argument is not a valid stream resource in D:\Hosting\3410369\html\counter\includes\counterh.php on line 220

Warning: feof(): supplied argument is not a valid stream resource in D:\Hosting\3410369\html\counter\includes\counterh.php on line 218

Warning: fgets(): supplied argument is not a valid stream resource in D:\Hosting\3410369\html\counter\includes\counterh.php on line 220

Warning: feof(): supplied argument is not a valid stream resource in D:\Hosting\3410369\html\counter\includes\counterh.php on line 218

Warning: fgets(): supplied argument is not a valid stream resource in D:\Hosting\3410369\html\counter\includes\counterh.php on line 220

Warning: feof(): supplied argument is not a valid stream resource in D:\Hosting\3410369\html\counter\includes\counterh.php on line 218

Warning: fgets(): supplied argument is not a valid stream resource in D:\Hosting\3410369\html\counter\includes\counterh.php on line 220

Warning: feof(): supplied argument is not a valid stream resource in D:\Hosting\3410369\html\counter\includes\counterh.php on line 218

Warning: fgets(): supplied argument is not a valid stream resource in D:\Hosting\3410369\html\counter\includes\counterh.php on line 220

Warning: feof(): supplied argument is not a valid stream resource in D:\Hosting\3410369\html\counter\includes\counterh.php on line 218

Warning: fgets(): supplied argument is not a valid stream resource in D:\Hosting\3410369\html\counter\includes\counterh.php on line 220

Warning: feof(): supplied argument is not a valid stream resource in D:\Hosting\3410369\html\counter\includes\counterh.php on line 218

Warning: fgets(): supplied argument is not a valid stream resource in D:\Hosting\3410369\html\counter\includes\counterh.php on line 220

Warning: feof(): supplied argument is not a valid stream resource in D:\Hosting\3410369\html\counter\includes\counterh.php on line 218

Warning: fgets(): supplied argument is not a valid stream resource in D:\Hosting\3410369\html\counter\includes\counterh.php on line 220

Warning: feof(): supplied argument is not a valid stream resource in D:\Hosting\3410369\html\counter\includes\counterh.php on line 218

Warning: fgets(): supplied argument is not a valid stream resource in D:\Hosting\3410369\html\counter\includes\counterh.php on line 220

Warning: feof(): supplied argument is not a valid stream resource in D:\Hosting\3410369\html\counter\includes\counterh.php on line 218

Warning: fgets(): supplied argument is not a valid stream resource in D:\Hosting\3410369\html\counter\includes\counterh.php on line 220

Warning: feof(): supplied argument is not a valid stream resource in D:\Hosting\3410369\html\counter\includes\counterh.php on line 218

Warning: fgets(): supplied argument is not a valid stream resource in D:\Hosting\3410369\html\counter\includes\counterh.php on line 220

Warning: feof(): supplied argument is not a valid stream resource in D:\Hosting\3410369\html\counter\includes\counterh.php on line 218

Warning: fgets(): supplied argument is not a valid stream resource in D:\Hosting\3410369\html\counter\includes\counterh.php on line 220

Warning: feof(): supplied argument is not a valid stream resource in D:\Hosting\3410369\html\counter\includes\counterh.php on line 218

Warning: fgets(): supplied argument is not a valid stream resource in D:\Hosting\3410369\html\counter\includes\counterh.php on line 220

Warning: feof(): supplied argument is not a valid stream resource in D:\Hosting\3410369\html\counter\includes\counterh.php on line 218

Warning: fgets(): supplied argument is not a valid stream resource in D:\Hosting\3410369\html\counter\includes\counterh.php on line 220

Warning: feof(): supplied argument is not a valid stream resource in D:\Hosting\3410369\html\counter\includes\counterh.php on line 218

Warning: fgets(): supplied argument is not a valid stream resource in D:\Hosting\3410369\html\counter\includes\counterh.php on line 220

Warning: feof(): supplied argument is not a valid stream resource in D:\Hosting\3410369\html\counter\includes\counterh.php on line 218

Warning: fgets(): supplied argument is not a valid stream resource in D:\Hosting\3410369\html\counter\includes\counterh.php on line 220

Warning: feof(): supplied argument is not a valid stream resource in D:\Hosting\3410369\html\counter\includes\counterh.php on line 218

Warning: fgets(): supplied argument is not a valid stream resource in D:\Hosting\3410369\html\counter\includes\counterh.php on line 220

Warning: feof(): supplied argument is not a valid stream resource in D:\Hosting\3410369\html\counter\includes\counterh.php on line 218

Warning: fgets(): supplied argument is not a valid stream resource in D:\Hosting\3410369\html\counter\includes\counterh.php on line 220

Warning: feof(): supplied argument is not a valid stream resource in D:\Hosting\3410369\html\counter\includes\counterh.php on line 218

Warning: fgets(): supplied argument is not a valid stream resource in D:\Hosting\3410369\html\counter\includes\counterh.php on line 220

Warning: feof(): supplied argument is not a valid stream resource in D:\Hosting\3410369\html\counter\includes\counterh.php on line 218

Warning: fgets(): supplied argument is not a valid stream resource in D:\Hosting\3410369\html\counter\includes\counterh.php on line 220

Warning: feof(): supplied argument is not a valid stream resource in D:\Hosting\3410369\html\counter\includes\counterh.php on line 218

Warning: fgets(): supplied argument is not a valid stream resource in D:\Hosting\3410369\html\counter\includes\counterh.php on line 220

Warning: feof(): supplied argument is not a valid stream resource in D:\Hosting\3410369\html\counter\includes\counterh.php on line 218

Warning: fgets(): supplied argument is not a valid stream resource in D:\Hosting\3410369\html\counter\includes\counterh.php on line 220

Warning: feof(): supplied argument is not a valid stream resource in D:\Hosting\3410369\html\counter\includes\counterh.php on line 218

Warning: fgets(): supplied argument is not a valid stream resource in D:\Hosting\3410369\html\counter\includes\counterh.php on line 220

Warning: feof(): supplied argument is not a valid stream resource in D:\Hosting\3410369\html\counter\includes\counterh.php on line 218

Warning: fgets(): supplied argument is not a valid stream resource in D:\Hosting\3410369\html\counter\includes\counterh.php on line 220

Warning: feof(): supplied argument is not a valid stream resource in D:\Hosting\3410369\html\counter\includes\counterh.php on line 218

Warning: fgets(): supplied argument is not a valid stream resource in D:\Hosting\3410369\html\counter\includes\counterh.php on line 220

Warning: feof(): supplied argument is not a valid stream resource in D:\Hosting\3410369\html\counter\includes\counterh.php on line 218

Warning: fgets(): supplied argument is not a valid stream resource in D:\Hosting\3410369\html\counter\includes\counterh.php on line 220

Warning: feof(): supplied argument is not a valid stream resource in D:\Hosting\3410369\html\counter\includes\counterh.php on line 218

Warning: fgets(): supplied argument is not a valid stream resource in D:\Hosting\3410369\html\counter\includes\counterh.php on line 220

Warning: feof(): supplied argument is not a valid stream resource in D:\Hosting\3410369\html\counter\includes\counterh.php on line 218

Warning: fgets(): supplied argument is not a valid stream resource in D:\Hosting\3410369\html\counter\includes\counterh.php on line 220

Warning: feof(): supplied argument is not a valid stream resource in D:\Hosting\3410369\html\counter\includes\counterh.php on line 218

Warning: fgets(): supplied argument is not a valid stream resource in D:\Hosting\3410369\html\counter\includes\counterh.php on line 220

Warning: feof(): supplied argument is not a valid stream resource in D:\Hosting\3410369\html\counter\includes\counterh.php on line 218

Warning: fgets(): supplied argument is not a valid stream resource in D:\Hosting\3410369\html\counter\includes\counterh.php on line 220

Warning: feof(): supplied argument is not a valid stream resource in D:\Hosting\3410369\html\counter\includes\counterh.php on line 218

Warning: fgets(): supplied argument is not a valid stream resource in D:\Hosting\3410369\html\counter\includes\counterh.php on line 220

Warning: feof(): supplied argument is not a valid stream resource in D:\Hosting\3410369\html\counter\includes\counterh.php on line 218

Warning: fgets(): supplied argument is not a valid stream resource in D:\Hosting\3410369\html\counter\includes\counterh.php on line 220

Warning: feof(): supplied argument is not a valid stream resource in D:\Hosting\3410369\html\counter\includes\counterh.php on line 218

Warning: fgets(): supplied argument is not a valid stream resource in D:\Hosting\3410369\html\counter\includes\counterh.php on line 220

Warning: feof(): supplied argument is not a valid stream resource in D:\Hosting\3410369\html\counter\includes\counterh.php on line 218

Warning: fgets(): supplied argument is not a valid stream resource in D:\Hosting\3410369\html\counter\includes\counterh.php on line 220

Warning: feof(): supplied argument is not a valid stream resource in D:\Hosting\3410369\html\counter\includes\counterh.php on line 218

Warning: fgets(): supplied argument is not a valid stream resource in D:\Hosting\3410369\html\counter\includes\counterh.php on line 220

Warning: feof(): supplied argument is not a valid stream resource in D:\Hosting\3410369\html\counter\includes\counterh.php on line 218

Warning: fgets(): supplied argument is not a valid stream resource in D:\Hosting\3410369\html\counter\includes\counterh.php on line 220

Warning: feof(): supplied argument is not a valid stream resource in D:\Hosting\3410369\html\counter\includes\counterh.php on line 218

Warning: fgets(): supplied argument is not a valid stream resource in D:\Hosting\3410369\html\counter\includes\counterh.php on line 220

Warning: feof(): supplied argument is not a valid stream resource in D:\Hosting\3410369\html\counter\includes\counterh.php on line 218

Warning: fgets(): supplied argument is not a valid stream resource in D:\Hosting\3410369\html\counter\includes\counterh.php on line 220

Warning: feof(): supplied argument is not a valid stream resource in D:\Hosting\3410369\html\counter\includes\counterh.php on line 218

Warning: fgets(): supplied argument is not a valid stream resource in D:\Hosting\3410369\html\counter\includes\counterh.php on line 220

Warning: feof(): supplied argument is not a valid stream resource in D:\Hosting\3410369\html\counter\includes\counterh.php on line 218

Warning: fgets(): supplied argument is not a valid stream resource in D:\Hosting\3410369\html\counter\includes\counterh.php on line 220

Warning: feof(): supplied argument is not a valid stream resource in D:\Hosting\3410369\html\counter\includes\counterh.php on line 218

Warning: fgets(): supplied argument is not a valid stream resource in D:\Hosting\3410369\html\counter\includes\counterh.php on line 220

Warning: feof(): supplied argument is not a valid stream resource in D:\Hosting\3410369\html\counter\includes\counterh.php on line 218

Warning: fgets(): supplied argument is not a valid stream resource in D:\Hosting\3410369\html\counter\includes\counterh.php on line 220

Warning: feof(): supplied argument is not a valid stream resource in D:\Hosting\3410369\html\counter\includes\counterh.php on line 218

Warning: fgets(): supplied argument is not a valid stream resource in D:\Hosting\3410369\html\counter\includes\counterh.php on line 220

Warning: feof(): supplied argument is not a valid stream resource in D:\Hosting\3410369\html\counter\includes\counterh.php on line 218

Warning: fgets(): supplied argument is not a valid stream resource in D:\Hosting\3410369\html\counter\includes\counterh.php on line 220

Warning: feof(): supplied argument is not a valid stream resource in D:\Hosting\3410369\html\counter\includes\counterh.php on line 218

Warning: fgets(): supplied argument is not a valid stream resource in D:\Hosting\3410369\html\counter\includes\counterh.php on line 220

Warning: feof(): supplied argument is not a valid stream resource in D:\Hosting\3410369\html\counter\includes\counterh.php on line 218

Warning: fgets(): supplied argument is not a valid stream resource in D:\Hosting\3410369\html\counter\includes\counterh.php on line 220

Warning: feof(): supplied argument is not a valid stream resource in D:\Hosting\3410369\html\counter\includes\counterh.php on line 218

Warning: fgets(): supplied argument is not a valid stream resource in D:\Hosting\3410369\html\counter\includes\counterh.php on line 220

Warning: feof(): supplied argument is not a valid stream resource in D:\Hosting\3410369\html\counter\includes\counterh.php on line 218

Warning: fgets(): supplied argument is not a valid stream resource in D:\Hosting\3410369\html\counter\includes\counterh.php on line 220

Warning: feof(): supplied argument is not a valid stream resource in D:\Hosting\3410369\html\counter\includes\counterh.php on line 218

Warning: fgets(): supplied argument is not a valid stream resource in D:\Hosting\3410369\html\counter\includes\counterh.php on line 220

Warning: feof(): supplied argument is not a valid stream resource in D:\Hosting\3410369\html\counter\includes\counterh.php on line 218

Warning: fgets(): supplied argument is not a valid stream resource in D:\Hosting\3410369\html\counter\includes\counterh.php on line 220

Warning: feof(): supplied argument is not a valid stream resource in D:\Hosting\3410369\html\counter\includes\counterh.php on line 218

Warning: fgets(): supplied argument is not a valid stream resource in D:\Hosting\3410369\html\counter\includes\counterh.php on line 220

Warning: feof(): supplied argument is not a valid stream resource in D:\Hosting\3410369\html\counter\includes\counterh.php on line 218

Warning: fgets(): supplied argument is not a valid stream resource in D:\Hosting\3410369\html\counter\includes\counterh.php on line 220

Warning: feof(): supplied argument is not a valid stream resource in D:\Hosting\3410369\html\counter\includes\counterh.php on line 218

Warning: fgets(): supplied argument is not a valid stream resource in D:\Hosting\3410369\html\counter\includes\counterh.php on line 220

Warning: feof(): supplied argument is not a valid stream resource in D:\Hosting\3410369\html\counter\includes\counterh.php on line 218

Warning: fgets(): supplied argument is not a valid stream resource in D:\Hosting\3410369\html\counter\includes\counterh.php on line 220

Warning: feof(): supplied argument is not a valid stream resource in D:\Hosting\3410369\html\counter\includes\counterh.php on line 218

Warning: fgets(): supplied argument is not a valid stream resource in D:\Hosting\3410369\html\counter\includes\counterh.php on line 220

Warning: feof(): supplied argument is not a valid stream resource in D:\Hosting\3410369\html\counter\includes\counterh.php on line 218

Warning: fgets(): supplied argument is not a valid stream resource in D:\Hosting\3410369\html\counter\includes\counterh.php on line 220

Warning: feof(): supplied argument is not a valid stream resource in D:\Hosting\3410369\html\counter\includes\counterh.php on line 218

Warning: fgets(): supplied argument is not a valid stream resource in D:\Hosting\3410369\html\counter\includes\counterh.php on line 220

Warning: feof(): supplied argument is not a valid stream resource in D:\Hosting\3410369\html\counter\includes\counterh.php on line 218

Warning: fgets(): supplied argument is not a valid stream resource in D:\Hosting\3410369\html\counter\includes\counterh.php on line 220

Warning: feof(): supplied argument is not a valid stream resource in D:\Hosting\3410369\html\counter\includes\counterh.php on line 218

Warning: fgets(): supplied argument is not a valid stream resource in D:\Hosting\3410369\html\counter\includes\counterh.php on line 220

Warning: feof(): supplied argument is not a valid stream resource in D:\Hosting\3410369\html\counter\includes\counterh.php on line 218

Warning: fgets(): supplied argument is not a valid stream resource in D:\Hosting\3410369\html\counter\includes\counterh.php on line 220

Warning: feof(): supplied argument is not a valid stream resource in D:\Hosting\3410369\html\counter\includes\counterh.php on line 218

Warning: fgets(): supplied argument is not a valid stream resource in D:\Hosting\3410369\html\counter\includes\counterh.php on line 220

Warning: feof(): supplied argument is not a valid stream resource in D:\Hosting\3410369\html\counter\includes\counterh.php on line 218

Warning: fgets(): supplied argument is not a valid stream resource in D:\Hosting\3410369\html\counter\includes\counterh.php on line 220

Warning: feof(): supplied argument is not a valid stream resource in D:\Hosting\3410369\html\counter\includes\counterh.php on line 218

Warning: fgets(): supplied argument is not a valid stream resource in D:\Hosting\3410369\html\counter\includes\counterh.php on line 220

Warning: feof(): supplied argument is not a valid stream resource in D:\Hosting\3410369\html\counter\includes\counterh.php on line 218

Warning: fgets(): supplied argument is not a valid stream resource in D:\Hosting\3410369\html\counter\includes\counterh.php on line 220

Warning: feof(): supplied argument is not a valid stream resource in D:\Hosting\3410369\html\counter\includes\counterh.php on line 218

Warning: fgets(): supplied argument is not a valid stream resource in D:\Hosting\3410369\html\counter\includes\counterh.php on line 220

Warning: feof(): supplied argument is not a valid stream resource in D:\Hosting\3410369\html\counter\includes\counterh.php on line 218

Warning: fgets(): supplied argument is not a valid stream resource in D:\Hosting\3410369\html\counter\includes\counterh.php on line 220

Warning: feof(): supplied argument is not a valid stream resource in D:\Hosting\3410369\html\counter\includes\counterh.php on line 218

Warning: fgets(): supplied argument is not a valid stream resource in D:\Hosting\3410369\html\counter\includes\counterh.php on line 220

Warning: feof(): supplied argument is not a valid stream resource in D:\Hosting\3410369\html\counter\includes\counterh.php on line 218

Warning: fgets(): supplied argument is not a valid stream resource in D:\Hosting\3410369\html\counter\includes\counterh.php on line 220

Warning: feof(): supplied argument is not a valid stream resource in D:\Hosting\3410369\html\counter\includes\counterh.php on line 218

Warning: fgets(): supplied argument is not a valid stream resource in D:\Hosting\3410369\html\counter\includes\counterh.php on line 220

Warning: feof(): supplied argument is not a valid stream resource in D:\Hosting\3410369\html\counter\includes\counterh.php on line 218

Warning: fgets(): supplied argument is not a valid stream resource in D:\Hosting\3410369\html\counter\includes\counterh.php on line 220

Warning: feof(): supplied argument is not a valid stream resource in D:\Hosting\3410369\html\counter\includes\counterh.php on line 218

Warning: fgets(): supplied argument is not a valid stream resource in D:\Hosting\3410369\html\counter\includes\counterh.php on line 220

Warning: feof(): supplied argument is not a valid stream resource in D:\Hosting\3410369\html\counter\includes\counterh.php on line 218

Warning: fgets(): supplied argument is not a valid stream resource in D:\Hosting\3410369\html\counter\includes\counterh.php on line 220

Warning: feof(): supplied argument is not a valid stream resource in D:\Hosting\3410369\html\counter\includes\counterh.php on line 218

Warning: fgets(): supplied argument is not a valid stream resource in D:\Hosting\3410369\html\counter\includes\counterh.php on line 220

Warning: feof(): supplied argument is not a valid stream resource in D:\Hosting\3410369\html\counter\includes\counterh.php on line 218

Warning: fgets(): supplied argument is not a valid stream resource in D:\Hosting\3410369\html\counter\includes\counterh.php on line 220

Warning: feof(): supplied argument is not a valid stream resource in D:\Hosting\3410369\html\counter\includes\counterh.php on line 218

Warning: fgets(): supplied argument is not a valid stream resource in D:\Hosting\3410369\html\counter\includes\counterh.php on line 220

Warning: feof(): supplied argument is not a valid stream resource in D:\Hosting\3410369\html\counter\includes\counterh.php on line 218

Warning: fgets(): supplied argument is not a valid stream resource in D:\Hosting\3410369\html\counter\includes\counterh.php on line 220

Warning: feof(): supplied argument is not a valid stream resource in D:\Hosting\3410369\html\counter\includes\counterh.php on line 218

Warning: fgets(): supplied argument is not a valid stream resource in D:\Hosting\3410369\html\counter\includes\counterh.php on line 220

Warning: feof(): supplied argument is not a valid stream resource in D:\Hosting\3410369\html\counter\includes\counterh.php on line 218

Warning: fgets(): supplied argument is not a valid stream resource in D:\Hosting\3410369\html\counter\includes\counterh.php on line 220

Warning: feof(): supplied argument is not a valid stream resource in D:\Hosting\3410369\html\counter\includes\counterh.php on line 218

Warning: fgets(): supplied argument is not a valid stream resource in D:\Hosting\3410369\html\counter\includes\counterh.php on line 220

Warning: feof(): supplied argument is not a valid stream resource in D:\Hosting\3410369\html\counter\includes\counterh.php on line 218

Warning: fgets(): supplied argument is not a valid stream resource in D:\Hosting\3410369\html\counter\includes\counterh.php on line 220

Warning: feof(): supplied argument is not a valid stream resource in D:\Hosting\3410369\html\counter\includes\counterh.php on line 218

Warning: fgets(): supplied argument is not a valid stream resource in D:\Hosting\3410369\html\counter\includes\counterh.php on line 220

Warning: feof(): supplied argument is not a valid stream resource in D:\Hosting\3410369\html\counter\includes\counterh.php on line 218

Warning: fgets(): supplied argument is not a valid stream resource in D:\Hosting\3410369\html\counter\includes\counterh.php on line 220

Warning: feof(): supplied argument is not a valid stream resource in D:\Hosting\3410369\html\counter\includes\counterh.php on line 218

Warning: fgets(): supplied argument is not a valid stream resource in D:\Hosting\3410369\html\counter\includes\counterh.php on line 220

Warning: feof(): supplied argument is not a valid stream resource in D:\Hosting\3410369\html\counter\includes\counterh.php on line 218

Warning: fgets(): supplied argument is not a valid stream resource in D:\Hosting\3410369\html\counter\includes\counterh.php on line 220

Warning: feof(): supplied argument is not a valid stream resource in D:\Hosting\3410369\html\counter\includes\counterh.php on line 218

Warning: fgets(): supplied argument is not a valid stream resource in D:\Hosting\3410369\html\counter\includes\counterh.php on line 220

Warning: feof(): supplied argument is not a valid stream resource in D:\Hosting\3410369\html\counter\includes\counterh.php on line 218

Warning: fgets(): supplied argument is not a valid stream resource in D:\Hosting\3410369\html\counter\includes\counterh.php on line 220

Warning: feof(): supplied argument is not a valid stream resource in D:\Hosting\3410369\html\counter\includes\counterh.php on line 218

Warning: fgets(): supplied argument is not a valid stream resource in D:\Hosting\3410369\html\counter\includes\counterh.php on line 220

Warning: feof(): supplied argument is not a valid stream resource in D:\Hosting\3410369\html\counter\includes\counterh.php on line 218

Warning: fgets(): supplied argument is not a valid stream resource in D:\Hosting\3410369\html\counter\includes\counterh.php on line 220

Warning: feof(): supplied argument is not a valid stream resource in D:\Hosting\3410369\html\counter\includes\counterh.php on line 218

Warning: fgets(): supplied argument is not a valid stream resource in D:\Hosting\3410369\html\counter\includes\counterh.php on line 220

Warning: feof(): supplied argument is not a valid stream resource in D:\Hosting\3410369\html\counter\includes\counterh.php on line 218

Warning: fgets(): supplied argument is not a valid stream resource in D:\Hosting\3410369\html\counter\includes\counterh.php on line 220

Warning: feof(): supplied argument is not a valid stream resource in D:\Hosting\3410369\html\counter\includes\counterh.php on line 218

Warning: fgets(): supplied argument is not a valid stream resource in D:\Hosting\3410369\html\counter\includes\counterh.php on line 220

Warning: feof(): supplied argument is not a valid stream resource in D:\Hosting\3410369\html\counter\includes\counterh.php on line 218

Warning: fgets(): supplied argument is not a valid stream resource in D:\Hosting\3410369\html\counter\includes\counterh.php on line 220

Warning: feof(): supplied argument is not a valid stream resource in D:\Hosting\3410369\html\counter\includes\counterh.php on line 218

Warning: fgets(): supplied argument is not a valid stream resource in D:\Hosting\3410369\html\counter\includes\counterh.php on line 220

Warning: feof(): supplied argument is not a valid stream resource in D:\Hosting\3410369\html\counter\includes\counterh.php on line 218

Warning: fgets(): supplied argument is not a valid stream resource in D:\Hosting\3410369\html\counter\includes\counterh.php on line 220

Warning: feof(): supplied argument is not a valid stream resource in D:\Hosting\3410369\html\counter\includes\counterh.php on line 218

Warning: fgets(): supplied argument is not a valid stream resource in D:\Hosting\3410369\html\counter\includes\counterh.php on line 220

Warning: feof(): supplied argument is not a valid stream resource in D:\Hosting\3410369\html\counter\includes\counterh.php on line 218

Warning: fgets(): supplied argument is not a valid stream resource in D:\Hosting\3410369\html\counter\includes\counterh.php on line 220

Warning: feof(): supplied argument is not a valid stream resource in D:\Hosting\3410369\html\counter\includes\counterh.php on line 218

Warning: fgets(): supplied argument is not a valid stream resource in D:\Hosting\3410369\html\counter\includes\counterh.php on line 220

Warning: feof(): supplied argument is not a valid stream resource in D:\Hosting\3410369\html\counter\includes\counterh.php on line 218

Warning: fgets(): supplied argument is not a valid stream resource in D:\Hosting\3410369\html\counter\includes\counterh.php on line 220

Warning: feof(): supplied argument is not a valid stream resource in D:\Hosting\3410369\html\counter\includes\counterh.php on line 218

Warning: fgets(): supplied argument is not a valid stream resource in D:\Hosting\3410369\html\counter\includes\counterh.php on line 220

Warning: feof(): supplied argument is not a valid stream resource in D:\Hosting\3410369\html\counter\includes\counterh.php on line 218

Warning: fgets(): supplied argument is not a valid stream resource in D:\Hosting\3410369\html\counter\includes\counterh.php on line 220

Warning: feof(): supplied argument is not a valid stream resource in D:\Hosting\3410369\html\counter\includes\counterh.php on line 218

Warning: fgets(): supplied argument is not a valid stream resource in D:\Hosting\3410369\html\counter\includes\counterh.php on line 220

Warning: feof(): supplied argument is not a valid stream resource in D:\Hosting\3410369\html\counter\includes\counterh.php on line 218

Warning: fgets(): supplied argument is not a valid stream resource in D:\Hosting\3410369\html\counter\includes\counterh.php on line 220

Warning: feof(): supplied argument is not a valid stream resource in D:\Hosting\3410369\html\counter\includes\counterh.php on line 218

Warning: fgets(): supplied argument is not a valid stream resource in D:\Hosting\3410369\html\counter\includes\counterh.php on line 220

Warning: feof(): supplied argument is not a valid stream resource in D:\Hosting\3410369\html\counter\includes\counterh.php on line 218

Warning: fgets(): supplied argument is not a valid stream resource in D:\Hosting\3410369\html\counter\includes\counterh.php on line 220

Warning: feof(): supplied argument is not a valid stream resource in D:\Hosting\3410369\html\counter\includes\counterh.php on line 218

Warning: fgets(): supplied argument is not a valid stream resource in D:\Hosting\3410369\html\counter\includes\counterh.php on line 220

Warning: feof(): supplied argument is not a valid stream resource in D:\Hosting\3410369\html\counter\includes\counterh.php on line 218

Warning: fgets(): supplied argument is not a valid stream resource in D:\Hosting\3410369\html\counter\includes\counterh.php on line 220

Warning: feof(): supplied argument is not a valid stream resource in D:\Hosting\3410369\html\counter\includes\counterh.php on line 218

Warning: fgets(): supplied argument is not a valid stream resource in D:\Hosting\3410369\html\counter\includes\counterh.php on line 220

Warning: feof(): supplied argument is not a valid stream resource in D:\Hosting\3410369\html\counter\includes\counterh.php on line 218

Warning: fgets(): supplied argument is not a valid stream resource in D:\Hosting\3410369\html\counter\includes\counterh.php on line 220

Warning: feof(): supplied argument is not a valid stream resource in D:\Hosting\3410369\html\counter\includes\counterh.php on line 218

Warning: fgets(): supplied argument is not a valid stream resource in D:\Hosting\3410369\html\counter\includes\counterh.php on line 220

Warning: feof(): supplied argument is not a valid stream resource in D:\Hosting\3410369\html\counter\includes\counterh.php on line 218

Warning: fgets(): supplied argument is not a valid stream resource in D:\Hosting\3410369\html\counter\includes\counterh.php on line 220

Warning: feof(): supplied argument is not a valid stream resource in D:\Hosting\3410369\html\counter\includes\counterh.php on line 218

Warning: fgets(): supplied argument is not a valid stream resource in D:\Hosting\3410369\html\counter\includes\counterh.php on line 220

Warning: feof(): supplied argument is not a valid stream resource in D:\Hosting\3410369\html\counter\includes\counterh.php on line 218

Warning: fgets(): supplied argument is not a valid stream resource in D:\Hosting\3410369\html\counter\includes\counterh.php on line 220

Warning: feof(): supplied argument is not a valid stream resource in D:\Hosting\3410369\html\counter\includes\counterh.php on line 218

Warning: fgets(): supplied argument is not a valid stream resource in D:\Hosting\3410369\html\counter\includes\counterh.php on line 220

Warning: feof(): supplied argument is not a valid stream resource in D:\Hosting\3410369\html\counter\includes\counterh.php on line 218

Warning: fgets(): supplied argument is not a valid stream resource in D:\Hosting\3410369\html\counter\includes\counterh.php on line 220

Warning: feof(): supplied argument is not a valid stream resource in D:\Hosting\3410369\html\counter\includes\counterh.php on line 218

Warning: fgets(): supplied argument is not a valid stream resource in D:\Hosting\3410369\html\counter\includes\counterh.php on line 220

Warning: feof(): supplied argument is not a valid stream resource in D:\Hosting\3410369\html\counter\includes\counterh.php on line 218

Warning: fgets(): supplied argument is not a valid stream resource in D:\Hosting\3410369\html\counter\includes\counterh.php on line 220

Warning: feof(): supplied argument is not a valid stream resource in D:\Hosting\3410369\html\counter\includes\counterh.php on line 218

Warning: fgets(): supplied argument is not a valid stream resource in D:\Hosting\3410369\html\counter\includes\counterh.php on line 220

Warning: feof(): supplied argument is not a valid stream resource in D:\Hosting\3410369\html\counter\includes\counterh.php on line 218

Warning: fgets(): supplied argument is not a valid stream resource in D:\Hosting\3410369\html\counter\includes\counterh.php on line 220

Warning: feof(): supplied argument is not a valid stream resource in D:\Hosting\3410369\html\counter\includes\counterh.php on line 218

Warning: fgets(): supplied argument is not a valid stream resource in D:\Hosting\3410369\html\counter\includes\counterh.php on line 220

Warning: feof(): supplied argument is not a valid stream resource in D:\Hosting\3410369\html\counter\includes\counterh.php on line 218

Warning: fgets(): supplied argument is not a valid stream resource in D:\Hosting\3410369\html\counter\includes\counterh.php on line 220

Warning: feof(): supplied argument is not a valid stream resource in D:\Hosting\3410369\html\counter\includes\counterh.php on line 218

Warning: fgets(): supplied argument is not a valid stream resource in D:\Hosting\3410369\html\counter\includes\counterh.php on line 220

Warning: feof(): supplied argument is not a valid stream resource in D:\Hosting\3410369\html\counter\includes\counterh.php on line 218

Warning: fgets(): supplied argument is not a valid stream resource in D:\Hosting\3410369\html\counter\includes\counterh.php on line 220

Warning: feof(): supplied argument is not a valid stream resource in D:\Hosting\3410369\html\counter\includes\counterh.php on line 218

Warning: fgets(): supplied argument is not a valid stream resource in D:\Hosting\3410369\html\counter\includes\counterh.php on line 220

Warning: feof(): supplied argument is not a valid stream resource in D:\Hosting\3410369\html\counter\includes\counterh.php on line 218

Warning: fgets(): supplied argument is not a valid stream resource in D:\Hosting\3410369\html\counter\includes\counterh.php on line 220

Warning: feof(): supplied argument is not a valid stream resource in D:\Hosting\3410369\html\counter\includes\counterh.php on line 218

Warning: fgets(): supplied argument is not a valid stream resource in D:\Hosting\3410369\html\counter\includes\counterh.php on line 220

Warning: feof(): supplied argument is not a valid stream resource in D:\Hosting\3410369\html\counter\includes\counterh.php on line 218

Warning: fgets(): supplied argument is not a valid stream resource in D:\Hosting\3410369\html\counter\includes\counterh.php on line 220

Warning: feof(): supplied argument is not a valid stream resource in D:\Hosting\3410369\html\counter\includes\counterh.php on line 218

Warning: fgets(): supplied argument is not a valid stream resource in D:\Hosting\3410369\html\counter\includes\counterh.php on line 220

Warning: feof(): supplied argument is not a valid stream resource in D:\Hosting\3410369\html\counter\includes\counterh.php on line 218

Warning: fgets(): supplied argument is not a valid stream resource in D:\Hosting\3410369\html\counter\includes\counterh.php on line 220

Warning: feof(): supplied argument is not a valid stream resource in D:\Hosting\3410369\html\counter\includes\counterh.php on line 218

Warning: fgets(): supplied argument is not a valid stream resource in D:\Hosting\3410369\html\counter\includes\counterh.php on line 220

Warning: feof(): supplied argument is not a valid stream resource in D:\Hosting\3410369\html\counter\includes\counterh.php on line 218

Warning: fgets(): supplied argument is not a valid stream resource in D:\Hosting\3410369\html\counter\includes\counterh.php on line 220

Warning: feof(): supplied argument is not a valid stream resource in D:\Hosting\3410369\html\counter\includes\counterh.php on line 218

Warning: fgets(): supplied argument is not a valid stream resource in D:\Hosting\3410369\html\counter\includes\counterh.php on line 220

Warning: feof(): supplied argument is not a valid stream resource in D:\Hosting\3410369\html\counter\includes\counterh.php on line 218

Warning: fgets(): supplied argument is not a valid stream resource in D:\Hosting\3410369\html\counter\includes\counterh.php on line 220

Warning: feof(): supplied argument is not a valid stream resource in D:\Hosting\3410369\html\counter\includes\counterh.php on line 218

Warning: fgets(): supplied argument is not a valid stream resource in D:\Hosting\3410369\html\counter\includes\counterh.php on line 220

Warning: feof(): supplied argument is not a valid stream resource in D:\Hosting\3410369\html\counter\includes\counterh.php on line 218

Warning: fgets(): supplied argument is not a valid stream resource in D:\Hosting\3410369\html\counter\includes\counterh.php on line 220

Warning: feof(): supplied argument is not a valid stream resource in D:\Hosting\3410369\html\counter\includes\counterh.php on line 218

Warning: fgets(): supplied argument is not a valid stream resource in D:\Hosting\3410369\html\counter\includes\counterh.php on line 220

Warning: feof(): supplied argument is not a valid stream resource in D:\Hosting\3410369\html\counter\includes\counterh.php on line 218

Warning: fgets(): supplied argument is not a valid stream resource in D:\Hosting\3410369\html\counter\includes\counterh.php on line 220

Warning: feof(): supplied argument is not a valid stream resource in D:\Hosting\3410369\html\counter\includes\counterh.php on line 218

Warning: fgets(): supplied argument is not a valid stream resource in D:\Hosting\3410369\html\counter\includes\counterh.php on line 220

Warning: feof(): supplied argument is not a valid stream resource in D:\Hosting\3410369\html\counter\includes\counterh.php on line 218

Warning: fgets(): supplied argument is not a valid stream resource in D:\Hosting\3410369\html\counter\includes\counterh.php on line 220

Warning: feof(): supplied argument is not a valid stream resource in D:\Hosting\3410369\html\counter\includes\counterh.php on line 218

Warning: fgets(): supplied argument is not a valid stream resource in D:\Hosting\3410369\html\counter\includes\counterh.php on line 220

Warning: feof(): supplied argument is not a valid stream resource in D:\Hosting\3410369\html\counter\includes\counterh.php on line 218

Warning: fgets(): supplied argument is not a valid stream resource in D:\Hosting\3410369\html\counter\includes\counterh.php on line 220

Warning: feof(): supplied argument is not a valid stream resource in D:\Hosting\3410369\html\counter\includes\counterh.php on line 218

Warning: fgets(): supplied argument is not a valid stream resource in D:\Hosting\3410369\html\counter\includes\counterh.php on line 220

Warning: feof(): supplied argument is not a valid stream resource in D:\Hosting\3410369\html\counter\includes\counterh.php on line 218

Warning: fgets(): supplied argument is not a valid stream resource in D:\Hosting\3410369\html\counter\includes\counterh.php on line 220

Warning: feof(): supplied argument is not a valid stream resource in D:\Hosting\3410369\html\counter\includes\counterh.php on line 218

Warning: fgets(): supplied argument is not a valid stream resource in D:\Hosting\3410369\html\counter\includes\counterh.php on line 220

Warning: feof(): supplied argument is not a valid stream resource in D:\Hosting\3410369\html\counter\includes\counterh.php on line 218

Warning: fgets(): supplied argument is not a valid stream resource in D:\Hosting\3410369\html\counter\includes\counterh.php on line 220

Warning: feof(): supplied argument is not a valid stream resource in D:\Hosting\3410369\html\counter\includes\counterh.php on line 218

Warning: fgets(): supplied argument is not a valid stream resource in D:\Hosting\3410369\html\counter\includes\counterh.php on line 220

Warning: feof(): supplied argument is not a valid stream resource in D:\Hosting\3410369\html\counter\includes\counterh.php on line 218

Warning: fgets(): supplied argument is not a valid stream resource in D:\Hosting\3410369\html\counter\includes\counterh.php on line 220

Warning: feof(): supplied argument is not a valid stream resource in D:\Hosting\3410369\html\counter\includes\counterh.php on line 218

Warning: fgets(): supplied argument is not a valid stream resource in D:\Hosting\3410369\html\counter\includes\counterh.php on line 220

Warning: feof(): supplied argument is not a valid stream resource in D:\Hosting\3410369\html\counter\includes\counterh.php on line 218

Warning: fgets(): supplied argument is not a valid stream resource in D:\Hosting\3410369\html\counter\includes\counterh.php on line 220

Warning: feof(): supplied argument is not a valid stream resource in D:\Hosting\3410369\html\counter\includes\counterh.php on line 218

Warning: fgets(): supplied argument is not a valid stream resource in D:\Hosting\3410369\html\counter\includes\counterh.php on line 220

Warning: feof(): supplied argument is not a valid stream resource in D:\Hosting\3410369\html\counter\includes\counterh.php on line 218

Warning: fgets(): supplied argument is not a valid stream resource in D:\Hosting\3410369\html\counter\includes\counterh.php on line 220

Warning: feof(): supplied argument is not a valid stream resource in D:\Hosting\3410369\html\counter\includes\counterh.php on line 218

Warning: fgets(): supplied argument is not a valid stream resource in D:\Hosting\3410369\html\counter\includes\counterh.php on line 220

Warning: feof(): supplied argument is not a valid stream resource in D:\Hosting\3410369\html\counter\includes\counterh.php on line 218

Warning: fgets(): supplied argument is not a valid stream resource in D:\Hosting\3410369\html\counter\includes\counterh.php on line 220

Warning: feof(): supplied argument is not a valid stream resource in D:\Hosting\3410369\html\counter\includes\counterh.php on line 218

Warning: fgets(): supplied argument is not a valid stream resource in D:\Hosting\3410369\html\counter\includes\counterh.php on line 220

Warning: feof(): supplied argument is not a valid stream resource in D:\Hosting\3410369\html\counter\includes\counterh.php on line 218

Warning: fgets(): supplied argument is not a valid stream resource in D:\Hosting\3410369\html\counter\includes\counterh.php on line 220

Warning: feof(): supplied argument is not a valid stream resource in D:\Hosting\3410369\html\counter\includes\counterh.php on line 218

Warning: fgets(): supplied argument is not a valid stream resource in D:\Hosting\3410369\html\counter\includes\counterh.php on line 220

Warning: feof(): supplied argument is not a valid stream resource in D:\Hosting\3410369\html\counter\includes\counterh.php on line 218

Warning: fgets(): supplied argument is not a valid stream resource in D:\Hosting\3410369\html\counter\includes\counterh.php on line 220

Warning: feof(): supplied argument is not a valid stream resource in D:\Hosting\3410369\html\counter\includes\counterh.php on line 218

Warning: fgets(): supplied argument is not a valid stream resource in D:\Hosting\3410369\html\counter\includes\counterh.php on line 220

Warning: feof(): supplied argument is not a valid stream resource in D:\Hosting\3410369\html\counter\includes\counterh.php on line 218

Warning: fgets(): supplied argument is not a valid stream resource in D:\Hosting\3410369\html\counter\includes\counterh.php on line 220

Warning: feof(): supplied argument is not a valid stream resource in D:\Hosting\3410369\html\counter\includes\counterh.php on line 218

Warning: fgets(): supplied argument is not a valid stream resource in D:\Hosting\3410369\html\counter\includes\counterh.php on line 220

Warning: feof(): supplied argument is not a valid stream resource in D:\Hosting\3410369\html\counter\includes\counterh.php on line 218

Warning: fgets(): supplied argument is not a valid stream resource in D:\Hosting\3410369\html\counter\includes\counterh.php on line 220

Warning: feof(): supplied argument is not a valid stream resource in D:\Hosting\3410369\html\counter\includes\counterh.php on line 218

Warning: fgets(): supplied argument is not a valid stream resource in D:\Hosting\3410369\html\counter\includes\counterh.php on line 220

Warning: feof(): supplied argument is not a valid stream resource in D:\Hosting\3410369\html\counter\includes\counterh.php on line 218

Warning: fgets(): supplied argument is not a valid stream resource in D:\Hosting\3410369\html\counter\includes\counterh.php on line 220

Warning: feof(): supplied argument is not a valid stream resource in D:\Hosting\3410369\html\counter\includes\counterh.php on line 218

Warning: fgets(): supplied argument is not a valid stream resource in D:\Hosting\3410369\html\counter\includes\counterh.php on line 220

Warning: feof(): supplied argument is not a valid stream resource in D:\Hosting\3410369\html\counter\includes\counterh.php on line 218

Warning: fgets(): supplied argument is not a valid stream resource in D:\Hosting\3410369\html\counter\includes\counterh.php on line 220

Warning: feof(): supplied argument is not a valid stream resource in D:\Hosting\3410369\html\counter\includes\counterh.php on line 218

Warning: fgets(): supplied argument is not a valid stream resource in D:\Hosting\3410369\html\counter\includes\counterh.php on line 220

Warning: feof(): supplied argument is not a valid stream resource in D:\Hosting\3410369\html\counter\includes\counterh.php on line 218

Warning: fgets(): supplied argument is not a valid stream resource in D:\Hosting\3410369\html\counter\includes\counterh.php on line 220

Warning: feof(): supplied argument is not a valid stream resource in D:\Hosting\3410369\html\counter\includes\counterh.php on line 218

Warning: fgets(): supplied argument is not a valid stream resource in D:\Hosting\3410369\html\counter\includes\counterh.php on line 220

Warning: feof(): supplied argument is not a valid stream resource in D:\Hosting\3410369\html\counter\includes\counterh.php on line 218

Warning: fgets(): supplied argument is not a valid stream resource in D:\Hosting\3410369\html\counter\includes\counterh.php on line 220

Warning: feof(): supplied argument is not a valid stream resource in D:\Hosting\3410369\html\counter\includes\counterh.php on line 218

Warning: fgets(): supplied argument is not a valid stream resource in D:\Hosting\3410369\html\counter\includes\counterh.php on line 220

Warning: feof(): supplied argument is not a valid stream resource in D:\Hosting\3410369\html\counter\includes\counterh.php on line 218

Warning: fgets(): supplied argument is not a valid stream resource in D:\Hosting\3410369\html\counter\includes\counterh.php on line 220

Warning: feof(): supplied argument is not a valid stream resource in D:\Hosting\3410369\html\counter\includes\counterh.php on line 218

Warning: fgets(): supplied argument is not a valid stream resource in D:\Hosting\3410369\html\counter\includes\counterh.php on line 220

Warning: feof(): supplied argument is not a valid stream resource in D:\Hosting\3410369\html\counter\includes\counterh.php on line 218

Warning: fgets(): supplied argument is not a valid stream resource in D:\Hosting\3410369\html\counter\includes\counterh.php on line 220

Warning: feof(): supplied argument is not a valid stream resource in D:\Hosting\3410369\html\counter\includes\counterh.php on line 218

Warning: fgets(): supplied argument is not a valid stream resource in D:\Hosting\3410369\html\counter\includes\counterh.php on line 220

Warning: feof(): supplied argument is not a valid stream resource in D:\Hosting\3410369\html\counter\includes\counterh.php on line 218

Warning: fgets(): supplied argument is not a valid stream resource in D:\Hosting\3410369\html\counter\includes\counterh.php on line 220

Warning: feof(): supplied argument is not a valid stream resource in D:\Hosting\3410369\html\counter\includes\counterh.php on line 218

Warning: fgets(): supplied argument is not a valid stream resource in D:\Hosting\3410369\html\counter\includes\counterh.php on line 220

Warning: feof(): supplied argument is not a valid stream resource in D:\Hosting\3410369\html\counter\includes\counterh.php on line 218

Warning: fgets(): supplied argument is not a valid stream resource in D:\Hosting\3410369\html\counter\includes\counterh.php on line 220

Warning: feof(): supplied argument is not a valid stream resource in D:\Hosting\3410369\html\counter\includes\counterh.php on line 218

Warning: fgets(): supplied argument is not a valid stream resource in D:\Hosting\3410369\html\counter\includes\counterh.php on line 220

Warning: feof(): supplied argument is not a valid stream resource in D:\Hosting\3410369\html\counter\includes\counterh.php on line 218

Warning: fgets(): supplied argument is not a valid stream resource in D:\Hosting\3410369\html\counter\includes\counterh.php on line 220

Warning: feof(): supplied argument is not a valid stream resource in D:\Hosting\3410369\html\counter\includes\counterh.php on line 218

Warning: fgets(): supplied argument is not a valid stream resource in D:\Hosting\3410369\html\counter\includes\counterh.php on line 220

Warning: feof(): supplied argument is not a valid stream resource in D:\Hosting\3410369\html\counter\includes\counterh.php on line 218

Warning: fgets(): supplied argument is not a valid stream resource in D:\Hosting\3410369\html\counter\includes\counterh.php on line 220

Warning: feof(): supplied argument is not a valid stream resource in D:\Hosting\3410369\html\counter\includes\counterh.php on line 218

Warning: fgets(): supplied argument is not a valid stream resource in D:\Hosting\3410369\html\counter\includes\counterh.php on line 220

Warning: feof(): supplied argument is not a valid stream resource in D:\Hosting\3410369\html\counter\includes\counterh.php on line 218

Warning: fgets(): supplied argument is not a valid stream resource in D:\Hosting\3410369\html\counter\includes\counterh.php on line 220

Warning: feof(): supplied argument is not a valid stream resource in D:\Hosting\3410369\html\counter\includes\counterh.php on line 218

Warning: fgets(): supplied argument is not a valid stream resource in D:\Hosting\3410369\html\counter\includes\counterh.php on line 220

Warning: feof(): supplied argument is not a valid stream resource in D:\Hosting\3410369\html\counter\includes\counterh.php on line 218

Warning: fgets(): supplied argument is not a valid stream resource in D:\Hosting\3410369\html\counter\includes\counterh.php on line 220

Warning: feof(): supplied argument is not a valid stream resource in D:\Hosting\3410369\html\counter\includes\counterh.php on line 218

Warning: fgets(): supplied argument is not a valid stream resource in D:\Hosting\3410369\html\counter\includes\counterh.php on line 220

Warning: feof(): supplied argument is not a valid stream resource in D:\Hosting\3410369\html\counter\includes\counterh.php on line 218

Warning: fgets(): supplied argument is not a valid stream resource in D:\Hosting\3410369\html\counter\includes\counterh.php on line 220

Warning: feof(): supplied argument is not a valid stream resource in D:\Hosting\3410369\html\counter\includes\counterh.php on line 218

Warning: fgets(): supplied argument is not a valid stream resource in D:\Hosting\3410369\html\counter\includes\counterh.php on line 220

Warning: feof(): supplied argument is not a valid stream resource in D:\Hosting\3410369\html\counter\includes\counterh.php on line 218

Warning: fgets(): supplied argument is not a valid stream resource in D:\Hosting\3410369\html\counter\includes\counterh.php on line 220

Warning: feof(): supplied argument is not a valid stream resource in D:\Hosting\3410369\html\counter\includes\counterh.php on line 218

Warning: fgets(): supplied argument is not a valid stream resource in D:\Hosting\3410369\html\counter\includes\counterh.php on line 220

Warning: feof(): supplied argument is not a valid stream resource in D:\Hosting\3410369\html\counter\includes\counterh.php on line 218

Warning: fgets(): supplied argument is not a valid stream resource in D:\Hosting\3410369\html\counter\includes\counterh.php on line 220

Warning: feof(): supplied argument is not a valid stream resource in D:\Hosting\3410369\html\counter\includes\counterh.php on line 218

Warning: fgets(): supplied argument is not a valid stream resource in D:\Hosting\3410369\html\counter\includes\counterh.php on line 220

Warning: feof(): supplied argument is not a valid stream resource in D:\Hosting\3410369\html\counter\includes\counterh.php on line 218

Warning: fgets(): supplied argument is not a valid stream resource in D:\Hosting\3410369\html\counter\includes\counterh.php on line 220

Warning: feof(): supplied argument is not a valid stream resource in D:\Hosting\3410369\html\counter\includes\counterh.php on line 218

Warning: fgets(): supplied argument is not a valid stream resource in D:\Hosting\3410369\html\counter\includes\counterh.php on line 220

Warning: feof(): supplied argument is not a valid stream resource in D:\Hosting\3410369\html\counter\includes\counterh.php on line 218

Warning: fgets(): supplied argument is not a valid stream resource in D:\Hosting\3410369\html\counter\includes\counterh.php on line 220

Warning: feof(): supplied argument is not a valid stream resource in D:\Hosting\3410369\html\counter\includes\counterh.php on line 218

Warning: fgets(): supplied argument is not a valid stream resource in D:\Hosting\3410369\html\counter\includes\counterh.php on line 220

Warning: feof(): supplied argument is not a valid stream resource in D:\Hosting\3410369\html\counter\includes\counterh.php on line 218

Warning: fgets(): supplied argument is not a valid stream resource in D:\Hosting\3410369\html\counter\includes\counterh.php on line 220

Warning: feof(): supplied argument is not a valid stream resource in D:\Hosting\3410369\html\counter\includes\counterh.php on line 218

Warning: fgets(): supplied argument is not a valid stream resource in D:\Hosting\3410369\html\counter\includes\counterh.php on line 220

Warning: feof(): supplied argument is not a valid stream resource in D:\Hosting\3410369\html\counter\includes\counterh.php on line 218

Warning: fgets(): supplied argument is not a valid stream resource in D:\Hosting\3410369\html\counter\includes\counterh.php on line 220

Warning: feof(): supplied argument is not a valid stream resource in D:\Hosting\3410369\html\counter\includes\counterh.php on line 218

Warning: fgets(): supplied argument is not a valid stream resource in D:\Hosting\3410369\html\counter\includes\counterh.php on line 220

Warning: feof(): supplied argument is not a valid stream resource in D:\Hosting\3410369\html\counter\includes\counterh.php on line 218

Warning: fgets(): supplied argument is not a valid stream resource in D:\Hosting\3410369\html\counter\includes\counterh.php on line 220

Warning: feof(): supplied argument is not a valid stream resource in D:\Hosting\3410369\html\counter\includes\counterh.php on line 218

Warning: fgets(): supplied argument is not a valid stream resource in D:\Hosting\3410369\html\counter\includes\counterh.php on line 220

Warning: feof(): supplied argument is not a valid stream resource in D:\Hosting\3410369\html\counter\includes\counterh.php on line 218

Warning: fgets(): supplied argument is not a valid stream resource in D:\Hosting\3410369\html\counter\includes\counterh.php on line 220

Warning: feof(): supplied argument is not a valid stream resource in D:\Hosting\3410369\html\counter\includes\counterh.php on line 218

Warning: fgets(): supplied argument is not a valid stream resource in D:\Hosting\3410369\html\counter\includes\counterh.php on line 220

Warning: feof(): supplied argument is not a valid stream resource in D:\Hosting\3410369\html\counter\includes\counterh.php on line 218

Warning: fgets(): supplied argument is not a valid stream resource in D:\Hosting\3410369\html\counter\includes\counterh.php on line 220

Warning: feof(): supplied argument is not a valid stream resource in D:\Hosting\3410369\html\counter\includes\counterh.php on line 218

Warning: fgets(): supplied argument is not a valid stream resource in D:\Hosting\3410369\html\counter\includes\counterh.php on line 220

Warning: feof(): supplied argument is not a valid stream resource in D:\Hosting\3410369\html\counter\includes\counterh.php on line 218

Warning: fgets(): supplied argument is not a valid stream resource in D:\Hosting\3410369\html\counter\includes\counterh.php on line 220

Warning: feof(): supplied argument is not a valid stream resource in D:\Hosting\3410369\html\counter\includes\counterh.php on line 218

Warning: fgets(): supplied argument is not a valid stream resource in D:\Hosting\3410369\html\counter\includes\counterh.php on line 220

Warning: feof(): supplied argument is not a valid stream resource in D:\Hosting\3410369\html\counter\includes\counterh.php on line 218

Warning: fgets(): supplied argument is not a valid stream resource in D:\Hosting\3410369\html\counter\includes\counterh.php on line 220

Warning: feof(): supplied argument is not a valid stream resource in D:\Hosting\3410369\html\counter\includes\counterh.php on line 218

Warning: fgets(): supplied argument is not a valid stream resource in D:\Hosting\3410369\html\counter\includes\counterh.php on line 220

Warning: feof(): supplied argument is not a valid stream resource in D:\Hosting\3410369\html\counter\includes\counterh.php on line 218

Warning: fgets(): supplied argument is not a valid stream resource in D:\Hosting\3410369\html\counter\includes\counterh.php on line 220

Warning: feof(): supplied argument is not a valid stream resource in D:\Hosting\3410369\html\counter\includes\counterh.php on line 218

Warning: fgets(): supplied argument is not a valid stream resource in D:\Hosting\3410369\html\counter\includes\counterh.php on line 220

Warning: feof(): supplied argument is not a valid stream resource in D:\Hosting\3410369\html\counter\includes\counterh.php on line 218

Warning: fgets(): supplied argument is not a valid stream resource in D:\Hosting\3410369\html\counter\includes\counterh.php on line 220

Warning: feof(): supplied argument is not a valid stream resource in D:\Hosting\3410369\html\counter\includes\counterh.php on line 218

Warning: fgets(): supplied argument is not a valid stream resource in D:\Hosting\3410369\html\counter\includes\counterh.php on line 220

Warning: feof(): supplied argument is not a valid stream resource in D:\Hosting\3410369\html\counter\includes\counterh.php on line 218

Warning: fgets(): supplied argument is not a valid stream resource in D:\Hosting\3410369\html\counter\includes\counterh.php on line 220

Warning: feof(): supplied argument is not a valid stream resource in D:\Hosting\3410369\html\counter\includes\counterh.php on line 218

Warning: fgets(): supplied argument is not a valid stream resource in D:\Hosting\3410369\html\counter\includes\counterh.php on line 220

Warning: feof(): supplied argument is not a valid stream resource in D:\Hosting\3410369\html\counter\includes\counterh.php on line 218

Warning: fgets(): supplied argument is not a valid stream resource in D:\Hosting\3410369\html\counter\includes\counterh.php on line 220

Warning: feof(): supplied argument is not a valid stream resource in D:\Hosting\3410369\html\counter\includes\counterh.php on line 218

Warning: fgets(): supplied argument is not a valid stream resource in D:\Hosting\3410369\html\counter\includes\counterh.php on line 220

Warning: feof(): supplied argument is not a valid stream resource in D:\Hosting\3410369\html\counter\includes\counterh.php on line 218

Warning: fgets(): supplied argument is not a valid stream resource in D:\Hosting\3410369\html\counter\includes\counterh.php on line 220

Warning: feof(): supplied argument is not a valid stream resource in D:\Hosting\3410369\html\counter\includes\counterh.php on line 218

Warning: fgets(): supplied argument is not a valid stream resource in D:\Hosting\3410369\html\counter\includes\counterh.php on line 220

Warning: feof(): supplied argument is not a valid stream resource in D:\Hosting\3410369\html\counter\includes\counterh.php on line 218

Warning: fgets(): supplied argument is not a valid stream resource in D:\Hosting\3410369\html\counter\includes\counterh.php on line 220

Warning: feof(): supplied argument is not a valid stream resource in D:\Hosting\3410369\html\counter\includes\counterh.php on line 218

Warning: fgets(): supplied argument is not a valid stream resource in D:\Hosting\3410369\html\counter\includes\counterh.php on line 220

Warning: feof(): supplied argument is not a valid stream resource in D:\Hosting\3410369\html\counter\includes\counterh.php on line 218

Warning: fgets(): supplied argument is not a valid stream resource in D:\Hosting\3410369\html\counter\includes\counterh.php on line 220

Warning: feof(): supplied argument is not a valid stream resource in D:\Hosting\3410369\html\counter\includes\counterh.php on line 218

Warning: fgets(): supplied argument is not a valid stream resource in D:\Hosting\3410369\html\counter\includes\counterh.php on line 220

Warning: feof(): supplied argument is not a valid stream resource in D:\Hosting\3410369\html\counter\includes\counterh.php on line 218

Warning: fgets(): supplied argument is not a valid stream resource in D:\Hosting\3410369\html\counter\includes\counterh.php on line 220

Warning: feof(): supplied argument is not a valid stream resource in D:\Hosting\3410369\html\counter\includes\counterh.php on line 218

Warning: fgets(): supplied argument is not a valid stream resource in D:\Hosting\3410369\html\counter\includes\counterh.php on line 220

Warning: feof(): supplied argument is not a valid stream resource in D:\Hosting\3410369\html\counter\includes\counterh.php on line 218

Warning: fgets(): supplied argument is not a valid stream resource in D:\Hosting\3410369\html\counter\includes\counterh.php on line 220

Warning: feof(): supplied argument is not a valid stream resource in D:\Hosting\3410369\html\counter\includes\counterh.php on line 218

Warning: fgets(): supplied argument is not a valid stream resource in D:\Hosting\3410369\html\counter\includes\counterh.php on line 220

Warning: feof(): supplied argument is not a valid stream resource in D:\Hosting\3410369\html\counter\includes\counterh.php on line 218

Warning: fgets(): supplied argument is not a valid stream resource in D:\Hosting\3410369\html\counter\includes\counterh.php on line 220

Warning: feof(): supplied argument is not a valid stream resource in D:\Hosting\3410369\html\counter\includes\counterh.php on line 218

Warning: fgets(): supplied argument is not a valid stream resource in D:\Hosting\3410369\html\counter\includes\counterh.php on line 220

Warning: feof(): supplied argument is not a valid stream resource in D:\Hosting\3410369\html\counter\includes\counterh.php on line 218

Warning: fgets(): supplied argument is not a valid stream resource in D:\Hosting\3410369\html\counter\includes\counterh.php on line 220

Warning: feof(): supplied argument is not a valid stream resource in D:\Hosting\3410369\html\counter\includes\counterh.php on line 218

Warning: fgets(): supplied argument is not a valid stream resource in D:\Hosting\3410369\html\counter\includes\counterh.php on line 220

Warning: feof(): supplied argument is not a valid stream resource in D:\Hosting\3410369\html\counter\includes\counterh.php on line 218

Warning: fgets(): supplied argument is not a valid stream resource in D:\Hosting\3410369\html\counter\includes\counterh.php on line 220

Warning: feof(): supplied argument is not a valid stream resource in D:\Hosting\3410369\html\counter\includes\counterh.php on line 218

Warning: fgets(): supplied argument is not a valid stream resource in D:\Hosting\3410369\html\counter\includes\counterh.php on line 220

Warning: feof(): supplied argument is not a valid stream resource in D:\Hosting\3410369\html\counter\includes\counterh.php on line 218

Warning: fgets(): supplied argument is not a valid stream resource in D:\Hosting\3410369\html\counter\includes\counterh.php on line 220

Warning: feof(): supplied argument is not a valid stream resource in D:\Hosting\3410369\html\counter\includes\counterh.php on line 218

Warning: fgets(): supplied argument is not a valid stream resource in D:\Hosting\3410369\html\counter\includes\counterh.php on line 220

Warning: feof(): supplied argument is not a valid stream resource in D:\Hosting\3410369\html\counter\includes\counterh.php on line 218

Warning: fgets(): supplied argument is not a valid stream resource in D:\Hosting\3410369\html\counter\includes\counterh.php on line 220

Warning: feof(): supplied argument is not a valid stream resource in D:\Hosting\3410369\html\counter\includes\counterh.php on line 218

Warning: fgets(): supplied argument is not a valid stream resource in D:\Hosting\3410369\html\counter\includes\counterh.php on line 220

Warning: feof(): supplied argument is not a valid stream resource in D:\Hosting\3410369\html\counter\includes\counterh.php on line 218

Warning: fgets(): supplied argument is not a valid stream resource in D:\Hosting\3410369\html\counter\includes\counterh.php on line 220

Warning: feof(): supplied argument is not a valid stream resource in D:\Hosting\3410369\html\counter\includes\counterh.php on line 218

Warning: fgets(): supplied argument is not a valid stream resource in D:\Hosting\3410369\html\counter\includes\counterh.php on line 220

Warning: feof(): supplied argument is not a valid stream resource in D:\Hosting\3410369\html\counter\includes\counterh.php on line 218

Warning: fgets(): supplied argument is not a valid stream resource in D:\Hosting\3410369\html\counter\includes\counterh.php on line 220

Warning: feof(): supplied argument is not a valid stream resource in D:\Hosting\3410369\html\counter\includes\counterh.php on line 218

Warning: fgets(): supplied argument is not a valid stream resource in D:\Hosting\3410369\html\counter\includes\counterh.php on line 220

Warning: feof(): supplied argument is not a valid stream resource in D:\Hosting\3410369\html\counter\includes\counterh.php on line 218

Warning: fgets(): supplied argument is not a valid stream resource in D:\Hosting\3410369\html\counter\includes\counterh.php on line 220

Warning: feof(): supplied argument is not a valid stream resource in D:\Hosting\3410369\html\counter\includes\counterh.php on line 218

Warning: fgets(): supplied argument is not a valid stream resource in D:\Hosting\3410369\html\counter\includes\counterh.php on line 220

Warning: feof(): supplied argument is not a valid stream resource in D:\Hosting\3410369\html\counter\includes\counterh.php on line 218

Warning: fgets(): supplied argument is not a valid stream resource in D:\Hosting\3410369\html\counter\includes\counterh.php on line 220

Warning: feof(): supplied argument is not a valid stream resource in D:\Hosting\3410369\html\counter\includes\counterh.php on line 218

Warning: fgets(): supplied argument is not a valid stream resource in D:\Hosting\3410369\html\counter\includes\counterh.php on line 220

Warning: feof(): supplied argument is not a valid stream resource in D:\Hosting\3410369\html\counter\includes\counterh.php on line 218

Warning: fgets(): supplied argument is not a valid stream resource in D:\Hosting\3410369\html\counter\includes\counterh.php on line 220

Warning: feof(): supplied argument is not a valid stream resource in D:\Hosting\3410369\html\counter\includes\counterh.php on line 218

Warning: fgets(): supplied argument is not a valid stream resource in D:\Hosting\3410369\html\counter\includes\counterh.php on line 220

Warning: feof(): supplied argument is not a valid stream resource in D:\Hosting\3410369\html\counter\includes\counterh.php on line 218

Warning: fgets(): supplied argument is not a valid stream resource in D:\Hosting\3410369\html\counter\includes\counterh.php on line 220

Warning: feof(): supplied argument is not a valid stream resource in D:\Hosting\3410369\html\counter\includes\counterh.php on line 218

Warning: fgets(): supplied argument is not a valid stream resource in D:\Hosting\3410369\html\counter\includes\counterh.php on line 220

Warning: feof(): supplied argument is not a valid stream resource in D:\Hosting\3410369\html\counter\includes\counterh.php on line 218

Warning: fgets(): supplied argument is not a valid stream resource in D:\Hosting\3410369\html\counter\includes\counterh.php on line 220

Warning: feof(): supplied argument is not a valid stream resource in D:\Hosting\3410369\html\counter\includes\counterh.php on line 218

Warning: fgets(): supplied argument is not a valid stream resource in D:\Hosting\3410369\html\counter\includes\counterh.php on line 220

Warning: feof(): supplied argument is not a valid stream resource in D:\Hosting\3410369\html\counter\includes\counterh.php on line 218

Warning: fgets(): supplied argument is not a valid stream resource in D:\Hosting\3410369\html\counter\includes\counterh.php on line 220

Warning: feof(): supplied argument is not a valid stream resource in D:\Hosting\3410369\html\counter\includes\counterh.php on line 218

Warning: fgets(): supplied argument is not a valid stream resource in D:\Hosting\3410369\html\counter\includes\counterh.php on line 220

Warning: feof(): supplied argument is not a valid stream resource in D:\Hosting\3410369\html\counter\includes\counterh.php on line 218

Warning: fgets(): supplied argument is not a valid stream resource in D:\Hosting\3410369\html\counter\includes\counterh.php on line 220

Warning: feof(): supplied argument is not a valid stream resource in D:\Hosting\3410369\html\counter\includes\counterh.php on line 218

Warning: fgets(): supplied argument is not a valid stream resource in D:\Hosting\3410369\html\counter\includes\counterh.php on line 220

Warning: feof(): supplied argument is not a valid stream resource in D:\Hosting\3410369\html\counter\includes\counterh.php on line 218

Warning: fgets(): supplied argument is not a valid stream resource in D:\Hosting\3410369\html\counter\includes\counterh.php on line 220

Warning: feof(): supplied argument is not a valid stream resource in D:\Hosting\3410369\html\counter\includes\counterh.php on line 218

Warning: fgets(): supplied argument is not a valid stream resource in D:\Hosting\3410369\html\counter\includes\counterh.php on line 220

Warning: feof(): supplied argument is not a valid stream resource in D:\Hosting\3410369\html\counter\includes\counterh.php on line 218

Warning: fgets(): supplied argument is not a valid stream resource in D:\Hosting\3410369\html\counter\includes\counterh.php on line 220

Warning: feof(): supplied argument is not a valid stream resource in D:\Hosting\3410369\html\counter\includes\counterh.php on line 218

Warning: fgets(): supplied argument is not a valid stream resource in D:\Hosting\3410369\html\counter\includes\counterh.php on line 220

Warning: feof(): supplied argument is not a valid stream resource in D:\Hosting\3410369\html\counter\includes\counterh.php on line 218

Warning: fgets(): supplied argument is not a valid stream resource in D:\Hosting\3410369\html\counter\includes\counterh.php on line 220

Warning: feof(): supplied argument is not a valid stream resource in D:\Hosting\3410369\html\counter\includes\counterh.php on line 218

Warning: fgets(): supplied argument is not a valid stream resource in D:\Hosting\3410369\html\counter\includes\counterh.php on line 220

Warning: feof(): supplied argument is not a valid stream resource in D:\Hosting\3410369\html\counter\includes\counterh.php on line 218

Warning: fgets(): supplied argument is not a valid stream resource in D:\Hosting\3410369\html\counter\includes\counterh.php on line 220

Warning: feof(): supplied argument is not a valid stream resource in D:\Hosting\3410369\html\counter\includes\counterh.php on line 218

Warning: fgets(): supplied argument is not a valid stream resource in D:\Hosting\3410369\html\counter\includes\counterh.php on line 220

Warning: feof(): supplied argument is not a valid stream resource in D:\Hosting\3410369\html\counter\includes\counterh.php on line 218

Warning: fgets(): supplied argument is not a valid stream resource in D:\Hosting\3410369\html\counter\includes\counterh.php on line 220

Warning: feof(): supplied argument is not a valid stream resource in D:\Hosting\3410369\html\counter\includes\counterh.php on line 218

Warning: fgets(): supplied argument is not a valid stream resource in D:\Hosting\3410369\html\counter\includes\counterh.php on line 220

Warning: feof(): supplied argument is not a valid stream resource in D:\Hosting\3410369\html\counter\includes\counterh.php on line 218

Warning: fgets(): supplied argument is not a valid stream resource in D:\Hosting\3410369\html\counter\includes\counterh.php on line 220

Warning: feof(): supplied argument is not a valid stream resource in D:\Hosting\3410369\html\counter\includes\counterh.php on line 218

Warning: fgets(): supplied argument is not a valid stream resource in D:\Hosting\3410369\html\counter\includes\counterh.php on line 220

Warning: feof(): supplied argument is not a valid stream resource in D:\Hosting\3410369\html\counter\includes\counterh.php on line 218

Warning: fgets(): supplied argument is not a valid stream resource in D:\Hosting\3410369\html\counter\includes\counterh.php on line 220

Warning: feof(): supplied argument is not a valid stream resource in D:\Hosting\3410369\html\counter\includes\counterh.php on line 218

Warning: fgets(): supplied argument is not a valid stream resource in D:\Hosting\3410369\html\counter\includes\counterh.php on line 220

Warning: feof(): supplied argument is not a valid stream resource in D:\Hosting\3410369\html\counter\includes\counterh.php on line 218

Warning: fgets(): supplied argument is not a valid stream resource in D:\Hosting\3410369\html\counter\includes\counterh.php on line 220

Warning: feof(): supplied argument is not a valid stream resource in D:\Hosting\3410369\html\counter\includes\counterh.php on line 218

Warning: fgets(): supplied argument is not a valid stream resource in D:\Hosting\3410369\html\counter\includes\counterh.php on line 220

Warning: feof(): supplied argument is not a valid stream resource in D:\Hosting\3410369\html\counter\includes\counterh.php on line 218

Warning: fgets(): supplied argument is not a valid stream resource in D:\Hosting\3410369\html\counter\includes\counterh.php on line 220

Warning: feof(): supplied argument is not a valid stream resource in D:\Hosting\3410369\html\counter\includes\counterh.php on line 218

Warning: fgets(): supplied argument is not a valid stream resource in D:\Hosting\3410369\html\counter\includes\counterh.php on line 220

Warning: feof(): supplied argument is not a valid stream resource in D:\Hosting\3410369\html\counter\includes\counterh.php on line 218

Warning: fgets(): supplied argument is not a valid stream resource in D:\Hosting\3410369\html\counter\includes\counterh.php on line 220

Warning: feof(): supplied argument is not a valid stream resource in D:\Hosting\3410369\html\counter\includes\counterh.php on line 218

Warning: fgets(): supplied argument is not a valid stream resource in D:\Hosting\3410369\html\counter\includes\counterh.php on line 220

Warning: feof(): supplied argument is not a valid stream resource in D:\Hosting\3410369\html\counter\includes\counterh.php on line 218

Warning: fgets(): supplied argument is not a valid stream resource in D:\Hosting\3410369\html\counter\includes\counterh.php on line 220

Warning: feof(): supplied argument is not a valid stream resource in D:\Hosting\3410369\html\counter\includes\counterh.php on line 218

Warning: fgets(): supplied argument is not a valid stream resource in D:\Hosting\3410369\html\counter\includes\counterh.php on line 220

Warning: feof(): supplied argument is not a valid stream resource in D:\Hosting\3410369\html\counter\includes\counterh.php on line 218

Warning: fgets(): supplied argument is not a valid stream resource in D:\Hosting\3410369\html\counter\includes\counterh.php on line 220

Warning: feof(): supplied argument is not a valid stream resource in D:\Hosting\3410369\html\counter\includes\counterh.php on line 218

Warning: fgets(): supplied argument is not a valid stream resource in D:\Hosting\3410369\html\counter\includes\counterh.php on line 220

Warning: feof(): supplied argument is not a valid stream resource in D:\Hosting\3410369\html\counter\includes\counterh.php on line 218

Warning: fgets(): supplied argument is not a valid stream resource in D:\Hosting\3410369\html\counter\includes\counterh.php on line 220

Warning: feof(): supplied argument is not a valid stream resource in D:\Hosting\3410369\html\counter\includes\counterh.php on line 218

Warning: fgets(): supplied argument is not a valid stream resource in D:\Hosting\3410369\html\counter\includes\counterh.php on line 220

Warning: feof(): supplied argument is not a valid stream resource in D:\Hosting\3410369\html\counter\includes\counterh.php on line 218

Warning: fgets(): supplied argument is not a valid stream resource in D:\Hosting\3410369\html\counter\includes\counterh.php on line 220

Warning: feof(): supplied argument is not a valid stream resource in D:\Hosting\3410369\html\counter\includes\counterh.php on line 218

Warning: fgets(): supplied argument is not a valid stream resource in D:\Hosting\3410369\html\counter\includes\counterh.php on line 220

Warning: feof(): supplied argument is not a valid stream resource in D:\Hosting\3410369\html\counter\includes\counterh.php on line 218

Warning: fgets(): supplied argument is not a valid stream resource in D:\Hosting\3410369\html\counter\includes\counterh.php on line 220

Warning: feof(): supplied argument is not a valid stream resource in D:\Hosting\3410369\html\counter\includes\counterh.php on line 218

Warning: fgets(): supplied argument is not a valid stream resource in D:\Hosting\3410369\html\counter\includes\counterh.php on line 220

Warning: feof(): supplied argument is not a valid stream resource in D:\Hosting\3410369\html\counter\includes\counterh.php on line 218

Warning: fgets(): supplied argument is not a valid stream resource in D:\Hosting\3410369\html\counter\includes\counterh.php on line 220

Warning: feof(): supplied argument is not a valid stream resource in D:\Hosting\3410369\html\counter\includes\counterh.php on line 218

Warning: fgets(): supplied argument is not a valid stream resource in D:\Hosting\3410369\html\counter\includes\counterh.php on line 220

Warning: feof(): supplied argument is not a valid stream resource in D:\Hosting\3410369\html\counter\includes\counterh.php on line 218

Warning: fgets(): supplied argument is not a valid stream resource in D:\Hosting\3410369\html\counter\includes\counterh.php on line 220

Warning: feof(): supplied argument is not a valid stream resource in D:\Hosting\3410369\html\counter\includes\counterh.php on line 218

Warning: fgets(): supplied argument is not a valid stream resource in D:\Hosting\3410369\html\counter\includes\counterh.php on line 220

Warning: feof(): supplied argument is not a valid stream resource in D:\Hosting\3410369\html\counter\includes\counterh.php on line 218

Warning: fgets(): supplied argument is not a valid stream resource in D:\Hosting\3410369\html\counter\includes\counterh.php on line 220

Warning: feof(): supplied argument is not a valid stream resource in D:\Hosting\3410369\html\counter\includes\counterh.php on line 218

Warning: fgets(): supplied argument is not a valid stream resource in D:\Hosting\3410369\html\counter\includes\counterh.php on line 220

Warning: feof(): supplied argument is not a valid stream resource in D:\Hosting\3410369\html\counter\includes\counterh.php on line 218

Warning: fgets(): supplied argument is not a valid stream resource in D:\Hosting\3410369\html\counter\includes\counterh.php on line 220

Warning: feof(): supplied argument is not a valid stream resource in D:\Hosting\3410369\html\counter\includes\counterh.php on line 218

Warning: fgets(): supplied argument is not a valid stream resource in D:\Hosting\3410369\html\counter\includes\counterh.php on line 220

Warning: feof(): supplied argument is not a valid stream resource in D:\Hosting\3410369\html\counter\includes\counterh.php on line 218

Warning: fgets(): supplied argument is not a valid stream resource in D:\Hosting\3410369\html\counter\includes\counterh.php on line 220

Warning: feof(): supplied argument is not a valid stream resource in D:\Hosting\3410369\html\counter\includes\counterh.php on line 218

Warning: fgets(): supplied argument is not a valid stream resource in D:\Hosting\3410369\html\counter\includes\counterh.php on line 220

Warning: feof(): supplied argument is not a valid stream resource in D:\Hosting\3410369\html\counter\includes\counterh.php on line 218

Warning: fgets(): supplied argument is not a valid stream resource in D:\Hosting\3410369\html\counter\includes\counterh.php on line 220

Warning: feof(): supplied argument is not a valid stream resource in D:\Hosting\3410369\html\counter\includes\counterh.php on line 218

Warning: fgets(): supplied argument is not a valid stream resource in D:\Hosting\3410369\html\counter\includes\counterh.php on line 220

Warning: feof(): supplied argument is not a valid stream resource in D:\Hosting\3410369\html\counter\includes\counterh.php on line 218

Warning: fgets(): supplied argument is not a valid stream resource in D:\Hosting\3410369\html\counter\includes\counterh.php on line 220

Warning: feof(): supplied argument is not a valid stream resource in D:\Hosting\3410369\html\counter\includes\counterh.php on line 218

Warning: fgets(): supplied argument is not a valid stream resource in D:\Hosting\3410369\html\counter\includes\counterh.php on line 220

Warning: feof(): supplied argument is not a valid stream resource in D:\Hosting\3410369\html\counter\includes\counterh.php on line 218

Warning: fgets(): supplied argument is not a valid stream resource in D:\Hosting\3410369\html\counter\includes\counterh.php on line 220

Warning: feof(): supplied argument is not a valid stream resource in D:\Hosting\3410369\html\counter\includes\counterh.php on line 218

Warning: fgets(): supplied argument is not a valid stream resource in D:\Hosting\3410369\html\counter\includes\counterh.php on line 220

Warning: feof(): supplied argument is not a valid stream resource in D:\Hosting\3410369\html\counter\includes\counterh.php on line 218

Warning: fgets(): supplied argument is not a valid stream resource in D:\Hosting\3410369\html\counter\includes\counterh.php on line 220

Warning: feof(): supplied argument is not a valid stream resource in D:\Hosting\3410369\html\counter\includes\counterh.php on line 218

Warning: fgets(): supplied argument is not a valid stream resource in D:\Hosting\3410369\html\counter\includes\counterh.php on line 220

Warning: feof(): supplied argument is not a valid stream resource in D:\Hosting\3410369\html\counter\includes\counterh.php on line 218

Warning: fgets(): supplied argument is not a valid stream resource in D:\Hosting\3410369\html\counter\includes\counterh.php on line 220

Warning: feof(): supplied argument is not a valid stream resource in D:\Hosting\3410369\html\counter\includes\counterh.php on line 218

Warning: fgets(): supplied argument is not a valid stream resource in D:\Hosting\3410369\html\counter\includes\counterh.php on line 220

Warning: feof(): supplied argument is not a valid stream resource in D:\Hosting\3410369\html\counter\includes\counterh.php on line 218

Warning: fgets(): supplied argument is not a valid stream resource in D:\Hosting\3410369\html\counter\includes\counterh.php on line 220

Warning: feof(): supplied argument is not a valid stream resource in D:\Hosting\3410369\html\counter\includes\counterh.php on line 218

Warning: fgets(): supplied argument is not a valid stream resource in D:\Hosting\3410369\html\counter\includes\counterh.php on line 220

Warning: feof(): supplied argument is not a valid stream resource in D:\Hosting\3410369\html\counter\includes\counterh.php on line 218

Warning: fgets(): supplied argument is not a valid stream resource in D:\Hosting\3410369\html\counter\includes\counterh.php on line 220

Warning: feof(): supplied argument is not a valid stream resource in D:\Hosting\3410369\html\counter\includes\counterh.php on line 218

Warning: fgets(): supplied argument is not a valid stream resource in D:\Hosting\3410369\html\counter\includes\counterh.php on line 220

Warning: feof(): supplied argument is not a valid stream resource in D:\Hosting\3410369\html\counter\includes\counterh.php on line 218

Warning: fgets(): supplied argument is not a valid stream resource in D:\Hosting\3410369\html\counter\includes\counterh.php on line 220

Warning: feof(): supplied argument is not a valid stream resource in D:\Hosting\3410369\html\counter\includes\counterh.php on line 218

Warning: fgets(): supplied argument is not a valid stream resource in D:\Hosting\3410369\html\counter\includes\counterh.php on line 220

Warning: feof(): supplied argument is not a valid stream resource in D:\Hosting\3410369\html\counter\includes\counterh.php on line 218

Warning: fgets(): supplied argument is not a valid stream resource in D:\Hosting\3410369\html\counter\includes\counterh.php on line 220

Warning: feof(): supplied argument is not a valid stream resource in D:\Hosting\3410369\html\counter\includes\counterh.php on line 218

Warning: fgets(): supplied argument is not a valid stream resource in D:\Hosting\3410369\html\counter\includes\counterh.php on line 220

Warning: feof(): supplied argument is not a valid stream resource in D:\Hosting\3410369\html\counter\includes\counterh.php on line 218

Warning: fgets(): supplied argument is not a valid stream resource in D:\Hosting\3410369\html\counter\includes\counterh.php on line 220

Warning: feof(): supplied argument is not a valid stream resource in D:\Hosting\3410369\html\counter\includes\counterh.php on line 218

Warning: fgets(): supplied argument is not a valid stream resource in D:\Hosting\3410369\html\counter\includes\counterh.php on line 220

Warning: feof(): supplied argument is not a valid stream resource in D:\Hosting\3410369\html\counter\includes\counterh.php on line 218

Warning: fgets(): supplied argument is not a valid stream resource in D:\Hosting\3410369\html\counter\includes\counterh.php on line 220

Warning: feof(): supplied argument is not a valid stream resource in D:\Hosting\3410369\html\counter\includes\counterh.php on line 218

Warning: fgets(): supplied argument is not a valid stream resource in D:\Hosting\3410369\html\counter\includes\counterh.php on line 220

Warning: feof(): supplied argument is not a valid stream resource in D:\Hosting\3410369\html\counter\includes\counterh.php on line 218

Warning: fgets(): supplied argument is not a valid stream resource in D:\Hosting\3410369\html\counter\includes\counterh.php on line 220

Warning: feof(): supplied argument is not a valid stream resource in D:\Hosting\3410369\html\counter\includes\counterh.php on line 218

Warning: fgets(): supplied argument is not a valid stream resource in D:\Hosting\3410369\html\counter\includes\counterh.php on line 220

Warning: feof(): supplied argument is not a valid stream resource in D:\Hosting\3410369\html\counter\includes\counterh.php on line 218

Warning: fgets(): supplied argument is not a valid stream resource in D:\Hosting\3410369\html\counter\includes\counterh.php on line 220

Warning: feof(): supplied argument is not a valid stream resource in D:\Hosting\3410369\html\counter\includes\counterh.php on line 218

Warning: fgets(): supplied argument is not a valid stream resource in D:\Hosting\3410369\html\counter\includes\counterh.php on line 220

Warning: feof(): supplied argument is not a valid stream resource in D:\Hosting\3410369\html\counter\includes\counterh.php on line 218

Warning: fgets(): supplied argument is not a valid stream resource in D:\Hosting\3410369\html\counter\includes\counterh.php on line 220

Warning: feof(): supplied argument is not a valid stream resource in D:\Hosting\3410369\html\counter\includes\counterh.php on line 218

Warning: fgets(): supplied argument is not a valid stream resource in D:\Hosting\3410369\html\counter\includes\counterh.php on line 220

Warning: feof(): supplied argument is not a valid stream resource in D:\Hosting\3410369\html\counter\includes\counterh.php on line 218

Warning: fgets(): supplied argument is not a valid stream resource in D:\Hosting\3410369\html\counter\includes\counterh.php on line 220

Warning: feof(): supplied argument is not a valid stream resource in D:\Hosting\3410369\html\counter\includes\counterh.php on line 218

Warning: fgets(): supplied argument is not a valid stream resource in D:\Hosting\3410369\html\counter\includes\counterh.php on line 220

Warning: feof(): supplied argument is not a valid stream resource in D:\Hosting\3410369\html\counter\includes\counterh.php on line 218

Warning: fgets(): supplied argument is not a valid stream resource in D:\Hosting\3410369\html\counter\includes\counterh.php on line 220

Warning: feof(): supplied argument is not a valid stream resource in D:\Hosting\3410369\html\counter\includes\counterh.php on line 218

Warning: fgets(): supplied argument is not a valid stream resource in D:\Hosting\3410369\html\counter\includes\counterh.php on line 220

Warning: feof(): supplied argument is not a valid stream resource in D:\Hosting\3410369\html\counter\includes\counterh.php on line 218

Warning: fgets(): supplied argument is not a valid stream resource in D:\Hosting\3410369\html\counter\includes\counterh.php on line 220

Warning: feof(): supplied argument is not a valid stream resource in D:\Hosting\3410369\html\counter\includes\counterh.php on line 218

Warning: fgets(): supplied argument is not a valid stream resource in D:\Hosting\3410369\html\counter\includes\counterh.php on line 220

Warning: feof(): supplied argument is not a valid stream resource in D:\Hosting\3410369\html\counter\includes\counterh.php on line 218

Warning: fgets(): supplied argument is not a valid stream resource in D:\Hosting\3410369\html\counter\includes\counterh.php on line 220

Warning: feof(): supplied argument is not a valid stream resource in D:\Hosting\3410369\html\counter\includes\counterh.php on line 218

Warning: fgets(): supplied argument is not a valid stream resource in D:\Hosting\3410369\html\counter\includes\counterh.php on line 220

Warning: feof(): supplied argument is not a valid stream resource in D:\Hosting\3410369\html\counter\includes\counterh.php on line 218

Warning: fgets(): supplied argument is not a valid stream resource in D:\Hosting\3410369\html\counter\includes\counterh.php on line 220

Warning: feof(): supplied argument is not a valid stream resource in D:\Hosting\3410369\html\counter\includes\counterh.php on line 218

Warning: fgets(): supplied argument is not a valid stream resource in D:\Hosting\3410369\html\counter\includes\counterh.php on line 220

Warning: feof(): supplied argument is not a valid stream resource in D:\Hosting\3410369\html\counter\includes\counterh.php on line 218

Warning: fgets(): supplied argument is not a valid stream resource in D:\Hosting\3410369\html\counter\includes\counterh.php on line 220

Warning: feof(): supplied argument is not a valid stream resource in D:\Hosting\3410369\html\counter\includes\counterh.php on line 218

Warning: fgets(): supplied argument is not a valid stream resource in D:\Hosting\3410369\html\counter\includes\counterh.php on line 220

Warning: feof(): supplied argument is not a valid stream resource in D:\Hosting\3410369\html\counter\includes\counterh.php on line 218

Warning: fgets(): supplied argument is not a valid stream resource in D:\Hosting\3410369\html\counter\includes\counterh.php on line 220

Warning: feof(): supplied argument is not a valid stream resource in D:\Hosting\3410369\html\counter\includes\counterh.php on line 218

Warning: fgets(): supplied argument is not a valid stream resource in D:\Hosting\3410369\html\counter\includes\counterh.php on line 220

Warning: feof(): supplied argument is not a valid stream resource in D:\Hosting\3410369\html\counter\includes\counterh.php on line 218

Warning: fgets(): supplied argument is not a valid stream resource in D:\Hosting\3410369\html\counter\includes\counterh.php on line 220

Warning: feof(): supplied argument is not a valid stream resource in D:\Hosting\3410369\html\counter\includes\counterh.php on line 218

Warning: fgets(): supplied argument is not a valid stream resource in D:\Hosting\3410369\html\counter\includes\counterh.php on line 220

Warning: feof(): supplied argument is not a valid stream resource in D:\Hosting\3410369\html\counter\includes\counterh.php on line 218

Warning: fgets(): supplied argument is not a valid stream resource in D:\Hosting\3410369\html\counter\includes\counterh.php on line 220

Warning: feof(): supplied argument is not a valid stream resource in D:\Hosting\3410369\html\counter\includes\counterh.php on line 218

Warning: fgets(): supplied argument is not a valid stream resource in D:\Hosting\3410369\html\counter\includes\counterh.php on line 220

Warning: feof(): supplied argument is not a valid stream resource in D:\Hosting\3410369\html\counter\includes\counterh.php on line 218

Warning: fgets(): supplied argument is not a valid stream resource in D:\Hosting\3410369\html\counter\includes\counterh.php on line 220

Warning: feof(): supplied argument is not a valid stream resource in D:\Hosting\3410369\html\counter\includes\counterh.php on line 218

Warning: fgets(): supplied argument is not a valid stream resource in D:\Hosting\3410369\html\counter\includes\counterh.php on line 220

Warning: feof(): supplied argument is not a valid stream resource in D:\Hosting\3410369\html\counter\includes\counterh.php on line 218

Warning: fgets(): supplied argument is not a valid stream resource in D:\Hosting\3410369\html\counter\includes\counterh.php on line 220

Warning: feof(): supplied argument is not a valid stream resource in D:\Hosting\3410369\html\counter\includes\counterh.php on line 218

Warning: fgets(): supplied argument is not a valid stream resource in D:\Hosting\3410369\html\counter\includes\counterh.php on line 220

Warning: feof(): supplied argument is not a valid stream resource in D:\Hosting\3410369\html\counter\includes\counterh.php on line 218

Warning: fgets(): supplied argument is not a valid stream resource in D:\Hosting\3410369\html\counter\includes\counterh.php on line 220

Warning: feof(): supplied argument is not a valid stream resource in D:\Hosting\3410369\html\counter\includes\counterh.php on line 218

Warning: fgets(): supplied argument is not a valid stream resource in D:\Hosting\3410369\html\counter\includes\counterh.php on line 220

Warning: feof(): supplied argument is not a valid stream resource in D:\Hosting\3410369\html\counter\includes\counterh.php on line 218

Warning: fgets(): supplied argument is not a valid stream resource in D:\Hosting\3410369\html\counter\includes\counterh.php on line 220

Warning: feof(): supplied argument is not a valid stream resource in D:\Hosting\3410369\html\counter\includes\counterh.php on line 218

Warning: fgets(): supplied argument is not a valid stream resource in D:\Hosting\3410369\html\counter\includes\counterh.php on line 220

Warning: feof(): supplied argument is not a valid stream resource in D:\Hosting\3410369\html\counter\includes\counterh.php on line 218

Warning: fgets(): supplied argument is not a valid stream resource in D:\Hosting\3410369\html\counter\includes\counterh.php on line 220

Warning: feof(): supplied argument is not a valid stream resource in D:\Hosting\3410369\html\counter\includes\counterh.php on line 218

Warning: fgets(): supplied argument is not a valid stream resource in D:\Hosting\3410369\html\counter\includes\counterh.php on line 220

Warning: feof(): supplied argument is not a valid stream resource in D:\Hosting\3410369\html\counter\includes\counterh.php on line 218

Warning: fgets(): supplied argument is not a valid stream resource in D:\Hosting\3410369\html\counter\includes\counterh.php on line 220

Warning: feof(): supplied argument is not a valid stream resource in D:\Hosting\3410369\html\counter\includes\counterh.php on line 218

Warning: fgets(): supplied argument is not a valid stream resource in D:\Hosting\3410369\html\counter\includes\counterh.php on line 220

Warning: feof(): supplied argument is not a valid stream resource in D:\Hosting\3410369\html\counter\includes\counterh.php on line 218

Warning: fgets(): supplied argument is not a valid stream resource in D:\Hosting\3410369\html\counter\includes\counterh.php on line 220

Warning: feof(): supplied argument is not a valid stream resource in D:\Hosting\3410369\html\counter\includes\counterh.php on line 218

Warning: fgets(): supplied argument is not a valid stream resource in D:\Hosting\3410369\html\counter\includes\counterh.php on line 220

Warning: feof(): supplied argument is not a valid stream resource in D:\Hosting\3410369\html\counter\includes\counterh.php on line 218

Warning: fgets(): supplied argument is not a valid stream resource in D:\Hosting\3410369\html\counter\includes\counterh.php on line 220

Warning: feof(): supplied argument is not a valid stream resource in D:\Hosting\3410369\html\counter\includes\counterh.php on line 218

Warning: fgets(): supplied argument is not a valid stream resource in D:\Hosting\3410369\html\counter\includes\counterh.php on line 220

Warning: feof(): supplied argument is not a valid stream resource in D:\Hosting\3410369\html\counter\includes\counterh.php on line 218

Warning: fgets(): supplied argument is not a valid stream resource in D:\Hosting\3410369\html\counter\includes\counterh.php on line 220

Warning: feof(): supplied argument is not a valid stream resource in D:\Hosting\3410369\html\counter\includes\counterh.php on line 218

Warning: fgets(): supplied argument is not a valid stream resource in D:\Hosting\3410369\html\counter\includes\counterh.php on line 220

Warning: feof(): supplied argument is not a valid stream resource in D:\Hosting\3410369\html\counter\includes\counterh.php on line 218

Warning: fgets(): supplied argument is not a valid stream resource in D:\Hosting\3410369\html\counter\includes\counterh.php on line 220

Warning: feof(): supplied argument is not a valid stream resource in D:\Hosting\3410369\html\counter\includes\counterh.php on line 218

Warning: fgets(): supplied argument is not a valid stream resource in D:\Hosting\3410369\html\counter\includes\counterh.php on line 220

Warning: feof(): supplied argument is not a valid stream resource in D:\Hosting\3410369\html\counter\includes\counterh.php on line 218

Warning: fgets(): supplied argument is not a valid stream resource in D:\Hosting\3410369\html\counter\includes\counterh.php on line 220

Warning: feof(): supplied argument is not a valid stream resource in D:\Hosting\3410369\html\counter\includes\counterh.php on line 218

Warning: fgets(): supplied argument is not a valid stream resource in D:\Hosting\3410369\html\counter\includes\counterh.php on line 220

Warning: feof(): supplied argument is not a valid stream resource in D:\Hosting\3410369\html\counter\includes\counterh.php on line 218

Warning: fgets(): supplied argument is not a valid stream resource in D:\Hosting\3410369\html\counter\includes\counterh.php on line 220

Warning: feof(): supplied argument is not a valid stream resource in D:\Hosting\3410369\html\counter\includes\counterh.php on line 218

Warning: fgets(): supplied argument is not a valid stream resource in D:\Hosting\3410369\html\counter\includes\counterh.php on line 220

Warning: feof(): supplied argument is not a valid stream resource in D:\Hosting\3410369\html\counter\includes\counterh.php on line 218

Warning: fgets(): supplied argument is not a valid stream resource in D:\Hosting\3410369\html\counter\includes\counterh.php on line 220

Warning: feof(): supplied argument is not a valid stream resource in D:\Hosting\3410369\html\counter\includes\counterh.php on line 218

Warning: fgets(): supplied argument is not a valid stream resource in D:\Hosting\3410369\html\counter\includes\counterh.php on line 220

Warning: feof(): supplied argument is not a valid stream resource in D:\Hosting\3410369\html\counter\includes\counterh.php on line 218

Warning: fgets(): supplied argument is not a valid stream resource in D:\Hosting\3410369\html\counter\includes\counterh.php on line 220

Warning: feof(): supplied argument is not a valid stream resource in D:\Hosting\3410369\html\counter\includes\counterh.php on line 218

Warning: fgets(): supplied argument is not a valid stream resource in D:\Hosting\3410369\html\counter\includes\counterh.php on line 220

Warning: feof(): supplied argument is not a valid stream resource in D:\Hosting\3410369\html\counter\includes\counterh.php on line 218

Warning: fgets(): supplied argument is not a valid stream resource in D:\Hosting\3410369\html\counter\includes\counterh.php on line 220

Warning: feof(): supplied argument is not a valid stream resource in D:\Hosting\3410369\html\counter\includes\counterh.php on line 218

Warning: fgets(): supplied argument is not a valid stream resource in D:\Hosting\3410369\html\counter\includes\counterh.php on line 220

Warning: feof(): supplied argument is not a valid stream resource in D:\Hosting\3410369\html\counter\includes\counterh.php on line 218

Warning: fgets(): supplied argument is not a valid stream resource in D:\Hosting\3410369\html\counter\includes\counterh.php on line 220

Warning: feof(): supplied argument is not a valid stream resource in D:\Hosting\3410369\html\counter\includes\counterh.php on line 218

Warning: fgets(): supplied argument is not a valid stream resource in D:\Hosting\3410369\html\counter\includes\counterh.php on line 220

Warning: feof(): supplied argument is not a valid stream resource in D:\Hosting\3410369\html\counter\includes\counterh.php on line 218

Warning: fgets(): supplied argument is not a valid stream resource in D:\Hosting\3410369\html\counter\includes\counterh.php on line 220

Warning: feof(): supplied argument is not a valid stream resource in D:\Hosting\3410369\html\counter\includes\counterh.php on line 218

Warning: fgets(): supplied argument is not a valid stream resource in D:\Hosting\3410369\html\counter\includes\counterh.php on line 220

Warning: feof(): supplied argument is not a valid stream resource in D:\Hosting\3410369\html\counter\includes\counterh.php on line 218

Warning: fgets(): supplied argument is not a valid stream resource in D:\Hosting\3410369\html\counter\includes\counterh.php on line 220

Warning: feof(): supplied argument is not a valid stream resource in D:\Hosting\3410369\html\counter\includes\counterh.php on line 218

Warning: fgets(): supplied argument is not a valid stream resource in D:\Hosting\3410369\html\counter\includes\counterh.php on line 220

Warning: feof(): supplied argument is not a valid stream resource in D:\Hosting\3410369\html\counter\includes\counterh.php on line 218

Warning: fgets(): supplied argument is not a valid stream resource in D:\Hosting\3410369\html\counter\includes\counterh.php on line 220

Warning: feof(): supplied argument is not a valid stream resource in D:\Hosting\3410369\html\counter\includes\counterh.php on line 218

Warning: fgets(): supplied argument is not a valid stream resource in D:\Hosting\3410369\html\counter\includes\counterh.php on line 220

Warning: feof(): supplied argument is not a valid stream resource in D:\Hosting\3410369\html\counter\includes\counterh.php on line 218

Warning: fgets(): supplied argument is not a valid stream resource in D:\Hosting\3410369\html\counter\includes\counterh.php on line 220

Warning: feof(): supplied argument is not a valid stream resource in D:\Hosting\3410369\html\counter\includes\counterh.php on line 218

Warning: fgets(): supplied argument is not a valid stream resource in D:\Hosting\3410369\html\counter\includes\counterh.php on line 220

Warning: feof(): supplied argument is not a valid stream resource in D:\Hosting\3410369\html\counter\includes\counterh.php on line 218

Warning: fgets(): supplied argument is not a valid stream resource in D:\Hosting\3410369\html\counter\includes\counterh.php on line 220

Warning: feof(): supplied argument is not a valid stream resource in D:\Hosting\3410369\html\counter\includes\counterh.php on line 218

Warning: fgets(): supplied argument is not a valid stream resource in D:\Hosting\3410369\html\counter\includes\counterh.php on line 220

Warning: feof(): supplied argument is not a valid stream resource in D:\Hosting\3410369\html\counter\includes\counterh.php on line 218

Warning: fgets(): supplied argument is not a valid stream resource in D:\Hosting\3410369\html\counter\includes\counterh.php on line 220

Warning: feof(): supplied argument is not a valid stream resource in D:\Hosting\3410369\html\counter\includes\counterh.php on line 218

Warning: fgets(): supplied argument is not a valid stream resource in D:\Hosting\3410369\html\counter\includes\counterh.php on line 220

Warning: feof(): supplied argument is not a valid stream resource in D:\Hosting\3410369\html\counter\includes\counterh.php on line 218

Warning: fgets(): supplied argument is not a valid stream resource in D:\Hosting\3410369\html\counter\includes\counterh.php on line 220

Warning: feof(): supplied argument is not a valid stream resource in D:\Hosting\3410369\html\counter\includes\counterh.php on line 218

Warning: fgets(): supplied argument is not a valid stream resource in D:\Hosting\3410369\html\counter\includes\counterh.php on line 220

Warning: feof(): supplied argument is not a valid stream resource in D:\Hosting\3410369\html\counter\includes\counterh.php on line 218

Warning: fgets(): supplied argument is not a valid stream resource in D:\Hosting\3410369\html\counter\includes\counterh.php on line 220

Warning: feof(): supplied argument is not a valid stream resource in D:\Hosting\3410369\html\counter\includes\counterh.php on line 218

Warning: fgets(): supplied argument is not a valid stream resource in D:\Hosting\3410369\html\counter\includes\counterh.php on line 220

Warning: feof(): supplied argument is not a valid stream resource in D:\Hosting\3410369\html\counter\includes\counterh.php on line 218

Warning: fgets(): supplied argument is not a valid stream resource in D:\Hosting\3410369\html\counter\includes\counterh.php on line 220

Warning: feof(): supplied argument is not a valid stream resource in D:\Hosting\3410369\html\counter\includes\counterh.php on line 218

Warning: fgets(): supplied argument is not a valid stream resource in D:\Hosting\3410369\html\counter\includes\counterh.php on line 220

Warning: feof(): supplied argument is not a valid stream resource in D:\Hosting\3410369\html\counter\includes\counterh.php on line 218

Warning: fgets(): supplied argument is not a valid stream resource in D:\Hosting\3410369\html\counter\includes\counterh.php on line 220

Warning: feof(): supplied argument is not a valid stream resource in D:\Hosting\3410369\html\counter\includes\counterh.php on line 218

Warning: fgets(): supplied argument is not a valid stream resource in D:\Hosting\3410369\html\counter\includes\counterh.php on line 220

Warning: feof(): supplied argument is not a valid stream resource in D:\Hosting\3410369\html\counter\includes\counterh.php on line 218

Warning: fgets(): supplied argument is not a valid stream resource in D:\Hosting\3410369\html\counter\includes\counterh.php on line 220

Warning: feof(): supplied argument is not a valid stream resource in D:\Hosting\3410369\html\counter\includes\counterh.php on line 218

Warning: fgets(): supplied argument is not a valid stream resource in D:\Hosting\3410369\html\counter\includes\counterh.php on line 220

Warning: feof(): supplied argument is not a valid stream resource in D:\Hosting\3410369\html\counter\includes\counterh.php on line 218

Warning: fgets(): supplied argument is not a valid stream resource in D:\Hosting\3410369\html\counter\includes\counterh.php on line 220

Warning: feof(): supplied argument is not a valid stream resource in D:\Hosting\3410369\html\counter\includes\counterh.php on line 218

Warning: fgets(): supplied argument is not a valid stream resource in D:\Hosting\3410369\html\counter\includes\counterh.php on line 220

Warning: feof(): supplied argument is not a valid stream resource in D:\Hosting\3410369\html\counter\includes\counterh.php on line 218

Warning: fgets(): supplied argument is not a valid stream resource in D:\Hosting\3410369\html\counter\includes\counterh.php on line 220

Warning: feof(): supplied argument is not a valid stream resource in D:\Hosting\3410369\html\counter\includes\counterh.php on line 218

Warning: fgets(): supplied argument is not a valid stream resource in D:\Hosting\3410369\html\counter\includes\counterh.php on line 220

Warning: feof(): supplied argument is not a valid stream resource in D:\Hosting\3410369\html\counter\includes\counterh.php on line 218

Warning: fgets(): supplied argument is not a valid stream resource in D:\Hosting\3410369\html\counter\includes\counterh.php on line 220

Warning: feof(): supplied argument is not a valid stream resource in D:\Hosting\3410369\html\counter\includes\counterh.php on line 218

Warning: fgets(): supplied argument is not a valid stream resource in D:\Hosting\3410369\html\counter\includes\counterh.php on line 220

Warning: feof(): supplied argument is not a valid stream resource in D:\Hosting\3410369\html\counter\includes\counterh.php on line 218

Warning: fgets(): supplied argument is not a valid stream resource in D:\Hosting\3410369\html\counter\includes\counterh.php on line 220

Warning: feof(): supplied argument is not a valid stream resource in D:\Hosting\3410369\html\counter\includes\counterh.php on line 218

Warning: fgets(): supplied argument is not a valid stream resource in D:\Hosting\3410369\html\counter\includes\counterh.php on line 220

Warning: feof(): supplied argument is not a valid stream resource in D:\Hosting\3410369\html\counter\includes\counterh.php on line 218

Warning: fgets(): supplied argument is not a valid stream resource in D:\Hosting\3410369\html\counter\includes\counterh.php on line 220

Warning: feof(): supplied argument is not a valid stream resource in D:\Hosting\3410369\html\counter\includes\counterh.php on line 218

Warning: fgets(): supplied argument is not a valid stream resource in D:\Hosting\3410369\html\counter\includes\counterh.php on line 220

Warning: feof(): supplied argument is not a valid stream resource in D:\Hosting\3410369\html\counter\includes\counterh.php on line 218

Warning: fgets(): supplied argument is not a valid stream resource in D:\Hosting\3410369\html\counter\includes\counterh.php on line 220

Warning: feof(): supplied argument is not a valid stream resource in D:\Hosting\3410369\html\counter\includes\counterh.php on line 218

Warning: fgets(): supplied argument is not a valid stream resource in D:\Hosting\3410369\html\counter\includes\counterh.php on line 220

Warning: feof(): supplied argument is not a valid stream resource in D:\Hosting\3410369\html\counter\includes\counterh.php on line 218

Warning: fgets(): supplied argument is not a valid stream resource in D:\Hosting\3410369\html\counter\includes\counterh.php on line 220

Warning: feof(): supplied argument is not a valid stream resource in D:\Hosting\3410369\html\counter\includes\counterh.php on line 218

Warning: fgets(): supplied argument is not a valid stream resource in D:\Hosting\3410369\html\counter\includes\counterh.php on line 220

Warning: feof(): supplied argument is not a valid stream resource in D:\Hosting\3410369\html\counter\includes\counterh.php on line 218

Warning: fgets(): supplied argument is not a valid stream resource in D:\Hosting\3410369\html\counter\includes\counterh.php on line 220

Warning: feof(): supplied argument is not a valid stream resource in D:\Hosting\3410369\html\counter\includes\counterh.php on line 218

Warning: fgets(): supplied argument is not a valid stream resource in D:\Hosting\3410369\html\counter\includes\counterh.php on line 220

Warning: feof(): supplied argument is not a valid stream resource in D:\Hosting\3410369\html\counter\includes\counterh.php on line 218

Warning: fgets(): supplied argument is not a valid stream resource in D:\Hosting\3410369\html\counter\includes\counterh.php on line 220

Warning: feof(): supplied argument is not a valid stream resource in D:\Hosting\3410369\html\counter\includes\counterh.php on line 218

Warning: fgets(): supplied argument is not a valid stream resource in D:\Hosting\3410369\html\counter\includes\counterh.php on line 220

Warning: feof(): supplied argument is not a valid stream resource in D:\Hosting\3410369\html\counter\includes\counterh.php on line 218

Warning: fgets(): supplied argument is not a valid stream resource in D:\Hosting\3410369\html\counter\includes\counterh.php on line 220

Warning: feof(): supplied argument is not a valid stream resource in D:\Hosting\3410369\html\counter\includes\counterh.php on line 218

Warning: fgets(): supplied argument is not a valid stream resource in D:\Hosting\3410369\html\counter\includes\counterh.php on line 220

Warning: feof(): supplied argument is not a valid stream resource in D:\Hosting\3410369\html\counter\includes\counterh.php on line 218

Warning: fgets(): supplied argument is not a valid stream resource in D:\Hosting\3410369\html\counter\includes\counterh.php on line 220

Warning: feof(): supplied argument is not a valid stream resource in D:\Hosting\3410369\html\counter\includes\counterh.php on line 218

Warning: fgets(): supplied argument is not a valid stream resource in D:\Hosting\3410369\html\counter\includes\counterh.php on line 220

Warning: feof(): supplied argument is not a valid stream resource in D:\Hosting\3410369\html\counter\includes\counterh.php on line 218

Warning: fgets(): supplied argument is not a valid stream resource in D:\Hosting\3410369\html\counter\includes\counterh.php on line 220

Warning: feof(): supplied argument is not a valid stream resource in D:\Hosting\3410369\html\counter\includes\counterh.php on line 218

Warning: fgets(): supplied argument is not a valid stream resource in D:\Hosting\3410369\html\counter\includes\counterh.php on line 220

Warning: feof(): supplied argument is not a valid stream resource in D:\Hosting\3410369\html\counter\includes\counterh.php on line 218

Warning: fgets(): supplied argument is not a valid stream resource in D:\Hosting\3410369\html\counter\includes\counterh.php on line 220

Warning: feof(): supplied argument is not a valid stream resource in D:\Hosting\3410369\html\counter\includes\counterh.php on line 218

Warning: fgets(): supplied argument is not a valid stream resource in D:\Hosting\3410369\html\counter\includes\counterh.php on line 220

Warning: feof(): supplied argument is not a valid stream resource in D:\Hosting\3410369\html\counter\includes\counterh.php on line 218

Warning: fgets(): supplied argument is not a valid stream resource in D:\Hosting\3410369\html\counter\includes\counterh.php on line 220

Warning: feof(): supplied argument is not a valid stream resource in D:\Hosting\3410369\html\counter\includes\counterh.php on line 218

Warning: fgets(): supplied argument is not a valid stream resource in D:\Hosting\3410369\html\counter\includes\counterh.php on line 220

Warning: feof(): supplied argument is not a valid stream resource in D:\Hosting\3410369\html\counter\includes\counterh.php on line 218

Warning: fgets(): supplied argument is not a valid stream resource in D:\Hosting\3410369\html\counter\includes\counterh.php on line 220

Warning: feof(): supplied argument is not a valid stream resource in D:\Hosting\3410369\html\counter\includes\counterh.php on line 218

Warning: fgets(): supplied argument is not a valid stream resource in D:\Hosting\3410369\html\counter\includes\counterh.php on line 220

Warning: feof(): supplied argument is not a valid stream resource in D:\Hosting\3410369\html\counter\includes\counterh.php on line 218

Warning: fgets(): supplied argument is not a valid stream resource in D:\Hosting\3410369\html\counter\includes\counterh.php on line 220

Warning: feof(): supplied argument is not a valid stream resource in D:\Hosting\3410369\html\counter\includes\counterh.php on line 218

Warning: fgets(): supplied argument is not a valid stream resource in D:\Hosting\3410369\html\counter\includes\counterh.php on line 220

Warning: feof(): supplied argument is not a valid stream resource in D:\Hosting\3410369\html\counter\includes\counterh.php on line 218

Warning: fgets(): supplied argument is not a valid stream resource in D:\Hosting\3410369\html\counter\includes\counterh.php on line 220

Warning: feof(): supplied argument is not a valid stream resource in D:\Hosting\3410369\html\counter\includes\counterh.php on line 218

Warning: fgets(): supplied argument is not a valid stream resource in D:\Hosting\3410369\html\counter\includes\counterh.php on line 220

Warning: feof(): supplied argument is not a valid stream resource in D:\Hosting\3410369\html\counter\includes\counterh.php on line 218

Warning: fgets(): supplied argument is not a valid stream resource in D:\Hosting\3410369\html\counter\includes\counterh.php on line 220

Warning: feof(): supplied argument is not a valid stream resource in D:\Hosting\3410369\html\counter\includes\counterh.php on line 218

Warning: fgets(): supplied argument is not a valid stream resource in D:\Hosting\3410369\html\counter\includes\counterh.php on line 220

Warning: feof(): supplied argument is not a valid stream resource in D:\Hosting\3410369\html\counter\includes\counterh.php on line 218

Warning: fgets(): supplied argument is not a valid stream resource in D:\Hosting\3410369\html\counter\includes\counterh.php on line 220

Warning: feof(): supplied argument is not a valid stream resource in D:\Hosting\3410369\html\counter\includes\counterh.php on line 218

Warning: fgets(): supplied argument is not a valid stream resource in D:\Hosting\3410369\html\counter\includes\counterh.php on line 220

Warning: feof(): supplied argument is not a valid stream resource in D:\Hosting\3410369\html\counter\includes\counterh.php on line 218

Warning: fgets(): supplied argument is not a valid stream resource in D:\Hosting\3410369\html\counter\includes\counterh.php on line 220

Warning: feof(): supplied argument is not a valid stream resource in D:\Hosting\3410369\html\counter\includes\counterh.php on line 218

Warning: fgets(): supplied argument is not a valid stream resource in D:\Hosting\3410369\html\counter\includes\counterh.php on line 220

Warning: feof(): supplied argument is not a valid stream resource in D:\Hosting\3410369\html\counter\includes\counterh.php on line 218

Warning: fgets(): supplied argument is not a valid stream resource in D:\Hosting\3410369\html\counter\includes\counterh.php on line 220

Warning: feof(): supplied argument is not a valid stream resource in D:\Hosting\3410369\html\counter\includes\counterh.php on line 218

Warning: fgets(): supplied argument is not a valid stream resource in D:\Hosting\3410369\html\counter\includes\counterh.php on line 220

Warning: feof(): supplied argument is not a valid stream resource in D:\Hosting\3410369\html\counter\includes\counterh.php on line 218

Warning: fgets(): supplied argument is not a valid stream resource in D:\Hosting\3410369\html\counter\includes\counterh.php on line 220

Warning: feof(): supplied argument is not a valid stream resource in D:\Hosting\3410369\html\counter\includes\counterh.php on line 218

Warning: fgets(): supplied argument is not a valid stream resource in D:\Hosting\3410369\html\counter\includes\counterh.php on line 220

Warning: feof(): supplied argument is not a valid stream resource in D:\Hosting\3410369\html\counter\includes\counterh.php on line 218

Warning: fgets(): supplied argument is not a valid stream resource in D:\Hosting\3410369\html\counter\includes\counterh.php on line 220

Warning: feof(): supplied argument is not a valid stream resource in D:\Hosting\3410369\html\counter\includes\counterh.php on line 218

Warning: fgets(): supplied argument is not a valid stream resource in D:\Hosting\3410369\html\counter\includes\counterh.php on line 220

Warning: feof(): supplied argument is not a valid stream resource in D:\Hosting\3410369\html\counter\includes\counterh.php on line 218

Warning: fgets(): supplied argument is not a valid stream resource in D:\Hosting\3410369\html\counter\includes\counterh.php on line 220

Warning: feof(): supplied argument is not a valid stream resource in D:\Hosting\3410369\html\counter\includes\counterh.php on line 218

Warning: fgets(): supplied argument is not a valid stream resource in D:\Hosting\3410369\html\counter\includes\counterh.php on line 220

Warning: feof(): supplied argument is not a valid stream resource in D:\Hosting\3410369\html\counter\includes\counterh.php on line 218

Warning: fgets(): supplied argument is not a valid stream resource in D:\Hosting\3410369\html\counter\includes\counterh.php on line 220

Warning: feof(): supplied argument is not a valid stream resource in D:\Hosting\3410369\html\counter\includes\counterh.php on line 218

Warning: fgets(): supplied argument is not a valid stream resource in D:\Hosting\3410369\html\counter\includes\counterh.php on line 220

Warning: feof(): supplied argument is not a valid stream resource in D:\Hosting\3410369\html\counter\includes\counterh.php on line 218

Warning: fgets(): supplied argument is not a valid stream resource in D:\Hosting\3410369\html\counter\includes\counterh.php on line 220

Warning: feof(): supplied argument is not a valid stream resource in D:\Hosting\3410369\html\counter\includes\counterh.php on line 218

Warning: fgets(): supplied argument is not a valid stream resource in D:\Hosting\3410369\html\counter\includes\counterh.php on line 220

Warning: feof(): supplied argument is not a valid stream resource in D:\Hosting\3410369\html\counter\includes\counterh.php on line 218

Warning: fgets(): supplied argument is not a valid stream resource in D:\Hosting\3410369\html\counter\includes\counterh.php on line 220

Warning: feof(): supplied argument is not a valid stream resource in D:\Hosting\3410369\html\counter\includes\counterh.php on line 218

Warning: fgets(): supplied argument is not a valid stream resource in D:\Hosting\3410369\html\counter\includes\counterh.php on line 220

Warning: feof(): supplied argument is not a valid stream resource in D:\Hosting\3410369\html\counter\includes\counterh.php on line 218

Warning: fgets(): supplied argument is not a valid stream resource in D:\Hosting\3410369\html\counter\includes\counterh.php on line 220

Warning: feof(): supplied argument is not a valid stream resource in D:\Hosting\3410369\html\counter\includes\counterh.php on line 218

Warning: fgets(): supplied argument is not a valid stream resource in D:\Hosting\3410369\html\counter\includes\counterh.php on line 220

Warning: feof(): supplied argument is not a valid stream resource in D:\Hosting\3410369\html\counter\includes\counterh.php on line 218

Warning: fgets(): supplied argument is not a valid stream resource in D:\Hosting\3410369\html\counter\includes\counterh.php on line 220

Warning: feof(): supplied argument is not a valid stream resource in D:\Hosting\3410369\html\counter\includes\counterh.php on line 218

Warning: fgets(): supplied argument is not a valid stream resource in D:\Hosting\3410369\html\counter\includes\counterh.php on line 220

Warning: feof(): supplied argument is not a valid stream resource in D:\Hosting\3410369\html\counter\includes\counterh.php on line 218

Warning: fgets(): supplied argument is not a valid stream resource in D:\Hosting\3410369\html\counter\includes\counterh.php on line 220

Warning: feof(): supplied argument is not a valid stream resource in D:\Hosting\3410369\html\counter\includes\counterh.php on line 218

Warning: fgets(): supplied argument is not a valid stream resource in D:\Hosting\3410369\html\counter\includes\counterh.php on line 220

Warning: feof(): supplied argument is not a valid stream resource in D:\Hosting\3410369\html\counter\includes\counterh.php on line 218

Warning: fgets(): supplied argument is not a valid stream resource in D:\Hosting\3410369\html\counter\includes\counterh.php on line 220

Warning: feof(): supplied argument is not a valid stream resource in D:\Hosting\3410369\html\counter\includes\counterh.php on line 218

Warning: fgets(): supplied argument is not a valid stream resource in D:\Hosting\3410369\html\counter\includes\counterh.php on line 220

Warning: feof(): supplied argument is not a valid stream resource in D:\Hosting\3410369\html\counter\includes\counterh.php on line 218

Warning: fgets(): supplied argument is not a valid stream resource in D:\Hosting\3410369\html\counter\includes\counterh.php on line 220

Warning: feof(): supplied argument is not a valid stream resource in D:\Hosting\3410369\html\counter\includes\counterh.php on line 218

Warning: fgets(): supplied argument is not a valid stream resource in D:\Hosting\3410369\html\counter\includes\counterh.php on line 220

Warning: feof(): supplied argument is not a valid stream resource in D:\Hosting\3410369\html\counter\includes\counterh.php on line 218

Warning: fgets(): supplied argument is not a valid stream resource in D:\Hosting\3410369\html\counter\includes\counterh.php on line 220

Warning: feof(): supplied argument is not a valid stream resource in D:\Hosting\3410369\html\counter\includes\counterh.php on line 218

Warning: fgets(): supplied argument is not a valid stream resource in D:\Hosting\3410369\html\counter\includes\counterh.php on line 220

Warning: feof(): supplied argument is not a valid stream resource in D:\Hosting\3410369\html\counter\includes\counterh.php on line 218

Warning: fgets(): supplied argument is not a valid stream resource in D:\Hosting\3410369\html\counter\includes\counterh.php on line 220

Warning: feof(): supplied argument is not a valid stream resource in D:\Hosting\3410369\html\counter\includes\counterh.php on line 218

Warning: fgets(): supplied argument is not a valid stream resource in D:\Hosting\3410369\html\counter\includes\counterh.php on line 220

Warning: feof(): supplied argument is not a valid stream resource in D:\Hosting\3410369\html\counter\includes\counterh.php on line 218

Warning: fgets(): supplied argument is not a valid stream resource in D:\Hosting\3410369\html\counter\includes\counterh.php on line 220

Warning: feof(): supplied argument is not a valid stream resource in D:\Hosting\3410369\html\counter\includes\counterh.php on line 218

Warning: fgets(): supplied argument is not a valid stream resource in D:\Hosting\3410369\html\counter\includes\counterh.php on line 220

Warning: feof(): supplied argument is not a valid stream resource in D:\Hosting\3410369\html\counter\includes\counterh.php on line 218

Warning: fgets(): supplied argument is not a valid stream resource in D:\Hosting\3410369\html\counter\includes\counterh.php on line 220

Warning: feof(): supplied argument is not a valid stream resource in D:\Hosting\3410369\html\counter\includes\counterh.php on line 218

Warning: fgets(): supplied argument is not a valid stream resource in D:\Hosting\3410369\html\counter\includes\counterh.php on line 220

Warning: feof(): supplied argument is not a valid stream resource in D:\Hosting\3410369\html\counter\includes\counterh.php on line 218

Warning: fgets(): supplied argument is not a valid stream resource in D:\Hosting\3410369\html\counter\includes\counterh.php on line 220

Warning: feof(): supplied argument is not a valid stream resource in D:\Hosting\3410369\html\counter\includes\counterh.php on line 218

Warning: fgets(): supplied argument is not a valid stream resource in D:\Hosting\3410369\html\counter\includes\counterh.php on line 220

Warning: feof(): supplied argument is not a valid stream resource in D:\Hosting\3410369\html\counter\includes\counterh.php on line 218

Warning: fgets(): supplied argument is not a valid stream resource in D:\Hosting\3410369\html\counter\includes\counterh.php on line 220

Warning: feof(): supplied argument is not a valid stream resource in D:\Hosting\3410369\html\counter\includes\counterh.php on line 218

Warning: fgets(): supplied argument is not a valid stream resource in D:\Hosting\3410369\html\counter\includes\counterh.php on line 220

Warning: feof(): supplied argument is not a valid stream resource in D:\Hosting\3410369\html\counter\includes\counterh.php on line 218

Warning: fgets(): supplied argument is not a valid stream resource in D:\Hosting\3410369\html\counter\includes\counterh.php on line 220

Warning: feof(): supplied argument is not a valid stream resource in D:\Hosting\3410369\html\counter\includes\counterh.php on line 218

Warning: fgets(): supplied argument is not a valid stream resource in D:\Hosting\3410369\html\counter\includes\counterh.php on line 220

Warning: feof(): supplied argument is not a valid stream resource in D:\Hosting\3410369\html\counter\includes\counterh.php on line 218

Warning: fgets(): supplied argument is not a valid stream resource in D:\Hosting\3410369\html\counter\includes\counterh.php on line 220

Warning: feof(): supplied argument is not a valid stream resource in D:\Hosting\3410369\html\counter\includes\counterh.php on line 218

Warning: fgets(): supplied argument is not a valid stream resource in D:\Hosting\3410369\html\counter\includes\counterh.php on line 220

Warning: feof(): supplied argument is not a valid stream resource in D:\Hosting\3410369\html\counter\includes\counterh.php on line 218

Warning: fgets(): supplied argument is not a valid stream resource in D:\Hosting\3410369\html\counter\includes\counterh.php on line 220

Warning: feof(): supplied argument is not a valid stream resource in D:\Hosting\3410369\html\counter\includes\counterh.php on line 218

Warning: fgets(): supplied argument is not a valid stream resource in D:\Hosting\3410369\html\counter\includes\counterh.php on line 220

Warning: feof(): supplied argument is not a valid stream resource in D:\Hosting\3410369\html\counter\includes\counterh.php on line 218

Warning: fgets(): supplied argument is not a valid stream resource in D:\Hosting\3410369\html\counter\includes\counterh.php on line 220

Warning: feof(): supplied argument is not a valid stream resource in D:\Hosting\3410369\html\counter\includes\counterh.php on line 218

Warning: fgets(): supplied argument is not a valid stream resource in D:\Hosting\3410369\html\counter\includes\counterh.php on line 220

Warning: feof(): supplied argument is not a valid stream resource in D:\Hosting\3410369\html\counter\includes\counterh.php on line 218

Warning: fgets(): supplied argument is not a valid stream resource in D:\Hosting\3410369\html\counter\includes\counterh.php on line 220

Warning: feof(): supplied argument is not a valid stream resource in D:\Hosting\3410369\html\counter\includes\counterh.php on line 218

Warning: fgets(): supplied argument is not a valid stream resource in D:\Hosting\3410369\html\counter\includes\counterh.php on line 220

Warning: feof(): supplied argument is not a valid stream resource in D:\Hosting\3410369\html\counter\includes\counterh.php on line 218

Warning: fgets(): supplied argument is not a valid stream resource in D:\Hosting\3410369\html\counter\includes\counterh.php on line 220

Warning: feof(): supplied argument is not a valid stream resource in D:\Hosting\3410369\html\counter\includes\counterh.php on line 218

Warning: fgets(): supplied argument is not a valid stream resource in D:\Hosting\3410369\html\counter\includes\counterh.php on line 220

Warning: feof(): supplied argument is not a valid stream resource in D:\Hosting\3410369\html\counter\includes\counterh.php on line 218

Warning: fgets(): supplied argument is not a valid stream resource in D:\Hosting\3410369\html\counter\includes\counterh.php on line 220

Warning: feof(): supplied argument is not a valid stream resource in D:\Hosting\3410369\html\counter\includes\counterh.php on line 218

Warning: fgets(): supplied argument is not a valid stream resource in D:\Hosting\3410369\html\counter\includes\counterh.php on line 220

Warning: feof(): supplied argument is not a valid stream resource in D:\Hosting\3410369\html\counter\includes\counterh.php on line 218

Warning: fgets(): supplied argument is not a valid stream resource in D:\Hosting\3410369\html\counter\includes\counterh.php on line 220

Warning: feof(): supplied argument is not a valid stream resource in D:\Hosting\3410369\html\counter\includes\counterh.php on line 218

Warning: fgets(): supplied argument is not a valid stream resource in D:\Hosting\3410369\html\counter\includes\counterh.php on line 220

Warning: feof(): supplied argument is not a valid stream resource in D:\Hosting\3410369\html\counter\includes\counterh.php on line 218

Warning: fgets(): supplied argument is not a valid stream resource in D:\Hosting\3410369\html\counter\includes\counterh.php on line 220

Warning: feof(): supplied argument is not a valid stream resource in D:\Hosting\3410369\html\counter\includes\counterh.php on line 218

Warning: fgets(): supplied argument is not a valid stream resource in D:\Hosting\3410369\html\counter\includes\counterh.php on line 220

Warning: feof(): supplied argument is not a valid stream resource in D:\Hosting\3410369\html\counter\includes\counterh.php on line 218

Warning: fgets(): supplied argument is not a valid stream resource in D:\Hosting\3410369\html\counter\includes\counterh.php on line 220

Warning: feof(): supplied argument is not a valid stream resource in D:\Hosting\3410369\html\counter\includes\counterh.php on line 218

Warning: fgets(): supplied argument is not a valid stream resource in D:\Hosting\3410369\html\counter\includes\counterh.php on line 220

Warning: feof(): supplied argument is not a valid stream resource in D:\Hosting\3410369\html\counter\includes\counterh.php on line 218

Warning: fgets(): supplied argument is not a valid stream resource in D:\Hosting\3410369\html\counter\includes\counterh.php on line 220

Warning: feof(): supplied argument is not a valid stream resource in D:\Hosting\3410369\html\counter\includes\counterh.php on line 218

Warning: fgets(): supplied argument is not a valid stream resource in D:\Hosting\3410369\html\counter\includes\counterh.php on line 220

Warning: feof(): supplied argument is not a valid stream resource in D:\Hosting\3410369\html\counter\includes\counterh.php on line 218

Warning: fgets(): supplied argument is not a valid stream resource in D:\Hosting\3410369\html\counter\includes\counterh.php on line 220

Warning: feof(): supplied argument is not a valid stream resource in D:\Hosting\3410369\html\counter\includes\counterh.php on line 218

Warning: fgets(): supplied argument is not a valid stream resource in D:\Hosting\3410369\html\counter\includes\counterh.php on line 220

Warning: feof(): supplied argument is not a valid stream resource in D:\Hosting\3410369\html\counter\includes\counterh.php on line 218

Warning: fgets(): supplied argument is not a valid stream resource in D:\Hosting\3410369\html\counter\includes\counterh.php on line 220

Warning: feof(): supplied argument is not a valid stream resource in D:\Hosting\3410369\html\counter\includes\counterh.php on line 218

Warning: fgets(): supplied argument is not a valid stream resource in D:\Hosting\3410369\html\counter\includes\counterh.php on line 220

Warning: feof(): supplied argument is not a valid stream resource in D:\Hosting\3410369\html\counter\includes\counterh.php on line 218

Warning: fgets(): supplied argument is not a valid stream resource in D:\Hosting\3410369\html\counter\includes\counterh.php on line 220

Warning: feof(): supplied argument is not a valid stream resource in D:\Hosting\3410369\html\counter\includes\counterh.php on line 218

Warning: fgets(): supplied argument is not a valid stream resource in D:\Hosting\3410369\html\counter\includes\counterh.php on line 220

Warning: feof(): supplied argument is not a valid stream resource in D:\Hosting\3410369\html\counter\includes\counterh.php on line 218

Warning: fgets(): supplied argument is not a valid stream resource in D:\Hosting\3410369\html\counter\includes\counterh.php on line 220

Warning: feof(): supplied argument is not a valid stream resource in D:\Hosting\3410369\html\counter\includes\counterh.php on line 218

Warning: fgets(): supplied argument is not a valid stream resource in D:\Hosting\3410369\html\counter\includes\counterh.php on line 220

Warning: feof(): supplied argument is not a valid stream resource in D:\Hosting\3410369\html\counter\includes\counterh.php on line 218

Warning: fgets(): supplied argument is not a valid stream resource in D:\Hosting\3410369\html\counter\includes\counterh.php on line 220

Warning: feof(): supplied argument is not a valid stream resource in D:\Hosting\3410369\html\counter\includes\counterh.php on line 218

Warning: fgets(): supplied argument is not a valid stream resource in D:\Hosting\3410369\html\counter\includes\counterh.php on line 220

Warning: feof(): supplied argument is not a valid stream resource in D:\Hosting\3410369\html\counter\includes\counterh.php on line 218

Warning: fgets(): supplied argument is not a valid stream resource in D:\Hosting\3410369\html\counter\includes\counterh.php on line 220

Warning: feof(): supplied argument is not a valid stream resource in D:\Hosting\3410369\html\counter\includes\counterh.php on line 218

Warning: fgets(): supplied argument is not a valid stream resource in D:\Hosting\3410369\html\counter\includes\counterh.php on line 220

Warning: feof(): supplied argument is not a valid stream resource in D:\Hosting\3410369\html\counter\includes\counterh.php on line 218

Warning: fgets(): supplied argument is not a valid stream resource in D:\Hosting\3410369\html\counter\includes\counterh.php on line 220

Warning: feof(): supplied argument is not a valid stream resource in D:\Hosting\3410369\html\counter\includes\counterh.php on line 218

Warning: fgets(): supplied argument is not a valid stream resource in D:\Hosting\3410369\html\counter\includes\counterh.php on line 220

Warning: feof(): supplied argument is not a valid stream resource in D:\Hosting\3410369\html\counter\includes\counterh.php on line 218

Warning: fgets(): supplied argument is not a valid stream resource in D:\Hosting\3410369\html\counter\includes\counterh.php on line 220

Warning: feof(): supplied argument is not a valid stream resource in D:\Hosting\3410369\html\counter\includes\counterh.php on line 218

Warning: fgets(): supplied argument is not a valid stream resource in D:\Hosting\3410369\html\counter\includes\counterh.php on line 220

Warning: feof(): supplied argument is not a valid stream resource in D:\Hosting\3410369\html\counter\includes\counterh.php on line 218

Warning: fgets(): supplied argument is not a valid stream resource in D:\Hosting\3410369\html\counter\includes\counterh.php on line 220

Warning: feof(): supplied argument is not a valid stream resource in D:\Hosting\3410369\html\counter\includes\counterh.php on line 218

Warning: fgets(): supplied argument is not a valid stream resource in D:\Hosting\3410369\html\counter\includes\counterh.php on line 220

Warning: feof(): supplied argument is not a valid stream resource in D:\Hosting\3410369\html\counter\includes\counterh.php on line 218

Warning: fgets(): supplied argument is not a valid stream resource in D:\Hosting\3410369\html\counter\includes\counterh.php on line 220

Warning: feof(): supplied argument is not a valid stream resource in D:\Hosting\3410369\html\counter\includes\counterh.php on line 218

Warning: fgets(): supplied argument is not a valid stream resource in D:\Hosting\3410369\html\counter\includes\counterh.php on line 220

Warning: feof(): supplied argument is not a valid stream resource in D:\Hosting\3410369\html\counter\includes\counterh.php on line 218

Warning: fgets(): supplied argument is not a valid stream resource in D:\Hosting\3410369\html\counter\includes\counterh.php on line 220

Warning: feof(): supplied argument is not a valid stream resource in D:\Hosting\3410369\html\counter\includes\counterh.php on line 218

Warning: fgets(): supplied argument is not a valid stream resource in D:\Hosting\3410369\html\counter\includes\counterh.php on line 220

Warning: feof(): supplied argument is not a valid stream resource in D:\Hosting\3410369\html\counter\includes\counterh.php on line 218

Warning: fgets(): supplied argument is not a valid stream resource in D:\Hosting\3410369\html\counter\includes\counterh.php on line 220

Warning: feof(): supplied argument is not a valid stream resource in D:\Hosting\3410369\html\counter\includes\counterh.php on line 218

Warning: fgets(): supplied argument is not a valid stream resource in D:\Hosting\3410369\html\counter\includes\counterh.php on line 220

Warning: feof(): supplied argument is not a valid stream resource in D:\Hosting\3410369\html\counter\includes\counterh.php on line 218

Warning: fgets(): supplied argument is not a valid stream resource in D:\Hosting\3410369\html\counter\includes\counterh.php on line 220

Warning: feof(): supplied argument is not a valid stream resource in D:\Hosting\3410369\html\counter\includes\counterh.php on line 218

Warning: fgets(): supplied argument is not a valid stream resource in D:\Hosting\3410369\html\counter\includes\counterh.php on line 220

Warning: feof(): supplied argument is not a valid stream resource in D:\Hosting\3410369\html\counter\includes\counterh.php on line 218

Warning: fgets(): supplied argument is not a valid stream resource in D:\Hosting\3410369\html\counter\includes\counterh.php on line 220

Warning: feof(): supplied argument is not a valid stream resource in D:\Hosting\3410369\html\counter\includes\counterh.php on line 218

Warning: fgets(): supplied argument is not a valid stream resource in D:\Hosting\3410369\html\counter\includes\counterh.php on line 220

Warning: feof(): supplied argument is not a valid stream resource in D:\Hosting\3410369\html\counter\includes\counterh.php on line 218

Warning: fgets(): supplied argument is not a valid stream resource in D:\Hosting\3410369\html\counter\includes\counterh.php on line 220

Warning: feof(): supplied argument is not a valid stream resource in D:\Hosting\3410369\html\counter\includes\counterh.php on line 218

Warning: fgets(): supplied argument is not a valid stream resource in D:\Hosting\3410369\html\counter\includes\counterh.php on line 220

Warning: feof(): supplied argument is not a valid stream resource in D:\Hosting\3410369\html\counter\includes\counterh.php on line 218

Warning: fgets(): supplied argument is not a valid stream resource in D:\Hosting\3410369\html\counter\includes\counterh.php on line 220

Warning: feof(): supplied argument is not a valid stream resource in D:\Hosting\3410369\html\counter\includes\counterh.php on line 218

Warning: fgets(): supplied argument is not a valid stream resource in D:\Hosting\3410369\html\counter\includes\counterh.php on line 220

Warning: feof(): supplied argument is not a valid stream resource in D:\Hosting\3410369\html\counter\includes\counterh.php on line 218

Warning: fgets(): supplied argument is not a valid stream resource in D:\Hosting\3410369\html\counter\includes\counterh.php on line 220

Warning: feof(): supplied argument is not a valid stream resource in D:\Hosting\3410369\html\counter\includes\counterh.php on line 218

Warning: fgets(): supplied argument is not a valid stream resource in D:\Hosting\3410369\html\counter\includes\counterh.php on line 220

Warning: feof(): supplied argument is not a valid stream resource in D:\Hosting\3410369\html\counter\includes\counterh.php on line 218

Warning: fgets(): supplied argument is not a valid stream resource in D:\Hosting\3410369\html\counter\includes\counterh.php on line 220

Warning: feof(): supplied argument is not a valid stream resource in D:\Hosting\3410369\html\counter\includes\counterh.php on line 218

Warning: fgets(): supplied argument is not a valid stream resource in D:\Hosting\3410369\html\counter\includes\counterh.php on line 220

Warning: feof(): supplied argument is not a valid stream resource in D:\Hosting\3410369\html\counter\includes\counterh.php on line 218

Warning: fgets(): supplied argument is not a valid stream resource in D:\Hosting\3410369\html\counter\includes\counterh.php on line 220

Warning: feof(): supplied argument is not a valid stream resource in D:\Hosting\3410369\html\counter\includes\counterh.php on line 218

Warning: fgets(): supplied argument is not a valid stream resource in D:\Hosting\3410369\html\counter\includes\counterh.php on line 220

Warning: feof(): supplied argument is not a valid stream resource in D:\Hosting\3410369\html\counter\includes\counterh.php on line 218

Warning: fgets(): supplied argument is not a valid stream resource in D:\Hosting\3410369\html\counter\includes\counterh.php on line 220

Warning: feof(): supplied argument is not a valid stream resource in D:\Hosting\3410369\html\counter\includes\counterh.php on line 218

Warning: fgets(): supplied argument is not a valid stream resource in D:\Hosting\3410369\html\counter\includes\counterh.php on line 220

Warning: feof(): supplied argument is not a valid stream resource in D:\Hosting\3410369\html\counter\includes\counterh.php on line 218

Warning: fgets(): supplied argument is not a valid stream resource in D:\Hosting\3410369\html\counter\includes\counterh.php on line 220

Warning: feof(): supplied argument is not a valid stream resource in D:\Hosting\3410369\html\counter\includes\counterh.php on line 218

Warning: fgets(): supplied argument is not a valid stream resource in D:\Hosting\3410369\html\counter\includes\counterh.php on line 220

Warning: feof(): supplied argument is not a valid stream resource in D:\Hosting\3410369\html\counter\includes\counterh.php on line 218

Warning: fgets(): supplied argument is not a valid stream resource in D:\Hosting\3410369\html\counter\includes\counterh.php on line 220

Warning: feof(): supplied argument is not a valid stream resource in D:\Hosting\3410369\html\counter\includes\counterh.php on line 218

Warning: fgets(): supplied argument is not a valid stream resource in D:\Hosting\3410369\html\counter\includes\counterh.php on line 220

Warning: feof(): supplied argument is not a valid stream resource in D:\Hosting\3410369\html\counter\includes\counterh.php on line 218

Warning: fgets(): supplied argument is not a valid stream resource in D:\Hosting\3410369\html\counter\includes\counterh.php on line 220

Warning: feof(): supplied argument is not a valid stream resource in D:\Hosting\3410369\html\counter\includes\counterh.php on line 218

Warning: fgets(): supplied argument is not a valid stream resource in D:\Hosting\3410369\html\counter\includes\counterh.php on line 220

Warning: feof(): supplied argument is not a valid stream resource in D:\Hosting\3410369\html\counter\includes\counterh.php on line 218

Warning: fgets(): supplied argument is not a valid stream resource in D:\Hosting\3410369\html\counter\includes\counterh.php on line 220

Warning: feof(): supplied argument is not a valid stream resource in D:\Hosting\3410369\html\counter\includes\counterh.php on line 218

Warning: fgets(): supplied argument is not a valid stream resource in D:\Hosting\3410369\html\counter\includes\counterh.php on line 220

Warning: feof(): supplied argument is not a valid stream resource in D:\Hosting\3410369\html\counter\includes\counterh.php on line 218

Warning: fgets(): supplied argument is not a valid stream resource in D:\Hosting\3410369\html\counter\includes\counterh.php on line 220

Warning: feof(): supplied argument is not a valid stream resource in D:\Hosting\3410369\html\counter\includes\counterh.php on line 218

Warning: fgets(): supplied argument is not a valid stream resource in D:\Hosting\3410369\html\counter\includes\counterh.php on line 220

Warning: feof(): supplied argument is not a valid stream resource in D:\Hosting\3410369\html\counter\includes\counterh.php on line 218

Warning: fgets(): supplied argument is not a valid stream resource in D:\Hosting\3410369\html\counter\includes\counterh.php on line 220

Warning: feof(): supplied argument is not a valid stream resource in D:\Hosting\3410369\html\counter\includes\counterh.php on line 218

Warning: fgets(): supplied argument is not a valid stream resource in D:\Hosting\3410369\html\counter\includes\counterh.php on line 220

Warning: feof(): supplied argument is not a valid stream resource in D:\Hosting\3410369\html\counter\includes\counterh.php on line 218

Warning: fgets(): supplied argument is not a valid stream resource in D:\Hosting\3410369\html\counter\includes\counterh.php on line 220

Warning: feof(): supplied argument is not a valid stream resource in D:\Hosting\3410369\html\counter\includes\counterh.php on line 218

Warning: fgets(): supplied argument is not a valid stream resource in D:\Hosting\3410369\html\counter\includes\counterh.php on line 220

Warning: feof(): supplied argument is not a valid stream resource in D:\Hosting\3410369\html\counter\includes\counterh.php on line 218

Warning: fgets(): supplied argument is not a valid stream resource in D:\Hosting\3410369\html\counter\includes\counterh.php on line 220

Warning: feof(): supplied argument is not a valid stream resource in D:\Hosting\3410369\html\counter\includes\counterh.php on line 218

Warning: fgets(): supplied argument is not a valid stream resource in D:\Hosting\3410369\html\counter\includes\counterh.php on line 220

Warning: feof(): supplied argument is not a valid stream resource in D:\Hosting\3410369\html\counter\includes\counterh.php on line 218

Warning: fgets(): supplied argument is not a valid stream resource in D:\Hosting\3410369\html\counter\includes\counterh.php on line 220

Warning: feof(): supplied argument is not a valid stream resource in D:\Hosting\3410369\html\counter\includes\counterh.php on line 218

Warning: fgets(): supplied argument is not a valid stream resource in D:\Hosting\3410369\html\counter\includes\counterh.php on line 220

Warning: feof(): supplied argument is not a valid stream resource in D:\Hosting\3410369\html\counter\includes\counterh.php on line 218

Warning: fgets(): supplied argument is not a valid stream resource in D:\Hosting\3410369\html\counter\includes\counterh.php on line 220

Warning: feof(): supplied argument is not a valid stream resource in D:\Hosting\3410369\html\counter\includes\counterh.php on line 218

Warning: fgets(): supplied argument is not a valid stream resource in D:\Hosting\3410369\html\counter\includes\counterh.php on line 220

Warning: feof(): supplied argument is not a valid stream resource in D:\Hosting\3410369\html\counter\includes\counterh.php on line 218

Warning: fgets(): supplied argument is not a valid stream resource in D:\Hosting\3410369\html\counter\includes\counterh.php on line 220

Warning: feof(): supplied argument is not a valid stream resource in D:\Hosting\3410369\html\counter\includes\counterh.php on line 218

Warning: fgets(): supplied argument is not a valid stream resource in D:\Hosting\3410369\html\counter\includes\counterh.php on line 220

Warning: feof(): supplied argument is not a valid stream resource in D:\Hosting\3410369\html\counter\includes\counterh.php on line 218

Warning: fgets(): supplied argument is not a valid stream resource in D:\Hosting\3410369\html\counter\includes\counterh.php on line 220

Warning: feof(): supplied argument is not a valid stream resource in D:\Hosting\3410369\html\counter\includes\counterh.php on line 218

Warning: fgets(): supplied argument is not a valid stream resource in D:\Hosting\3410369\html\counter\includes\counterh.php on line 220

Warning: feof(): supplied argument is not a valid stream resource in D:\Hosting\3410369\html\counter\includes\counterh.php on line 218

Warning: fgets(): supplied argument is not a valid stream resource in D:\Hosting\3410369\html\counter\includes\counterh.php on line 220

Warning: feof(): supplied argument is not a valid stream resource in D:\Hosting\3410369\html\counter\includes\counterh.php on line 218

Warning: fgets(): supplied argument is not a valid stream resource in D:\Hosting\3410369\html\counter\includes\counterh.php on line 220

Warning: feof(): supplied argument is not a valid stream resource in D:\Hosting\3410369\html\counter\includes\counterh.php on line 218

Warning: fgets(): supplied argument is not a valid stream resource in D:\Hosting\3410369\html\counter\includes\counterh.php on line 220

Warning: feof(): supplied argument is not a valid stream resource in D:\Hosting\3410369\html\counter\includes\counterh.php on line 218

Warning: fgets(): supplied argument is not a valid stream resource in D:\Hosting\3410369\html\counter\includes\counterh.php on line 220

Warning: feof(): supplied argument is not a valid stream resource in D:\Hosting\3410369\html\counter\includes\counterh.php on line 218

Warning: fgets(): supplied argument is not a valid stream resource in D:\Hosting\3410369\html\counter\includes\counterh.php on line 220

Warning: feof(): supplied argument is not a valid stream resource in D:\Hosting\3410369\html\counter\includes\counterh.php on line 218

Warning: fgets(): supplied argument is not a valid stream resource in D:\Hosting\3410369\html\counter\includes\counterh.php on line 220

Warning: feof(): supplied argument is not a valid stream resource in D:\Hosting\3410369\html\counter\includes\counterh.php on line 218

Warning: fgets(): supplied argument is not a valid stream resource in D:\Hosting\3410369\html\counter\includes\counterh.php on line 220

Warning: feof(): supplied argument is not a valid stream resource in D:\Hosting\3410369\html\counter\includes\counterh.php on line 218

Warning: fgets(): supplied argument is not a valid stream resource in D:\Hosting\3410369\html\counter\includes\counterh.php on line 220

Warning: feof(): supplied argument is not a valid stream resource in D:\Hosting\3410369\html\counter\includes\counterh.php on line 218

Warning: fgets(): supplied argument is not a valid stream resource in D:\Hosting\3410369\html\counter\includes\counterh.php on line 220

Warning: feof(): supplied argument is not a valid stream resource in D:\Hosting\3410369\html\counter\includes\counterh.php on line 218

Warning: fgets(): supplied argument is not a valid stream resource in D:\Hosting\3410369\html\counter\includes\counterh.php on line 220

Warning: feof(): supplied argument is not a valid stream resource in D:\Hosting\3410369\html\counter\includes\counterh.php on line 218

Warning: fgets(): supplied argument is not a valid stream resource in D:\Hosting\3410369\html\counter\includes\counterh.php on line 220

Warning: feof(): supplied argument is not a valid stream resource in D:\Hosting\3410369\html\counter\includes\counterh.php on line 218

Warning: fgets(): supplied argument is not a valid stream resource in D:\Hosting\3410369\html\counter\includes\counterh.php on line 220

Warning: feof(): supplied argument is not a valid stream resource in D:\Hosting\3410369\html\counter\includes\counterh.php on line 218

Warning: fgets(): supplied argument is not a valid stream resource in D:\Hosting\3410369\html\counter\includes\counterh.php on line 220

Warning: feof(): supplied argument is not a valid stream resource in D:\Hosting\3410369\html\counter\includes\counterh.php on line 218

Warning: fgets(): supplied argument is not a valid stream resource in D:\Hosting\3410369\html\counter\includes\counterh.php on line 220

Warning: feof(): supplied argument is not a valid stream resource in D:\Hosting\3410369\html\counter\includes\counterh.php on line 218

Warning: fgets(): supplied argument is not a valid stream resource in D:\Hosting\3410369\html\counter\includes\counterh.php on line 220

Warning: feof(): supplied argument is not a valid stream resource in D:\Hosting\3410369\html\counter\includes\counterh.php on line 218

Warning: fgets(): supplied argument is not a valid stream resource in D:\Hosting\3410369\html\counter\includes\counterh.php on line 220

Warning: feof(): supplied argument is not a valid stream resource in D:\Hosting\3410369\html\counter\includes\counterh.php on line 218

Warning: fgets(): supplied argument is not a valid stream resource in D:\Hosting\3410369\html\counter\includes\counterh.php on line 220

Warning: feof(): supplied argument is not a valid stream resource in D:\Hosting\3410369\html\counter\includes\counterh.php on line 218

Warning: fgets(): supplied argument is not a valid stream resource in D:\Hosting\3410369\html\counter\includes\counterh.php on line 220

Warning: feof(): supplied argument is not a valid stream resource in D:\Hosting\3410369\html\counter\includes\counterh.php on line 218

Warning: fgets(): supplied argument is not a valid stream resource in D:\Hosting\3410369\html\counter\includes\counterh.php on line 220

Warning: feof(): supplied argument is not a valid stream resource in D:\Hosting\3410369\html\counter\includes\counterh.php on line 218

Warning: fgets(): supplied argument is not a valid stream resource in D:\Hosting\3410369\html\counter\includes\counterh.php on line 220

Warning: feof(): supplied argument is not a valid stream resource in D:\Hosting\3410369\html\counter\includes\counterh.php on line 218

Warning: fgets(): supplied argument is not a valid stream resource in D:\Hosting\3410369\html\counter\includes\counterh.php on line 220

Warning: feof(): supplied argument is not a valid stream resource in D:\Hosting\3410369\html\counter\includes\counterh.php on line 218

Warning: fgets(): supplied argument is not a valid stream resource in D:\Hosting\3410369\html\counter\includes\counterh.php on line 220

Warning: feof(): supplied argument is not a valid stream resource in D:\Hosting\3410369\html\counter\includes\counterh.php on line 218

Warning: fgets(): supplied argument is not a valid stream resource in D:\Hosting\3410369\html\counter\includes\counterh.php on line 220

Warning: feof(): supplied argument is not a valid stream resource in D:\Hosting\3410369\html\counter\includes\counterh.php on line 218

Warning: fgets(): supplied argument is not a valid stream resource in D:\Hosting\3410369\html\counter\includes\counterh.php on line 220

Warning: feof(): supplied argument is not a valid stream resource in D:\Hosting\3410369\html\counter\includes\counterh.php on line 218

Warning: fgets(): supplied argument is not a valid stream resource in D:\Hosting\3410369\html\counter\includes\counterh.php on line 220

Warning: feof(): supplied argument is not a valid stream resource in D:\Hosting\3410369\html\counter\includes\counterh.php on line 218

Warning: fgets(): supplied argument is not a valid stream resource in D:\Hosting\3410369\html\counter\includes\counterh.php on line 220

Warning: feof(): supplied argument is not a valid stream resource in D:\Hosting\3410369\html\counter\includes\counterh.php on line 218

Warning: fgets(): supplied argument is not a valid stream resource in D:\Hosting\3410369\html\counter\includes\counterh.php on line 220

Warning: feof(): supplied argument is not a valid stream resource in D:\Hosting\3410369\html\counter\includes\counterh.php on line 218

Warning: fgets(): supplied argument is not a valid stream resource in D:\Hosting\3410369\html\counter\includes\counterh.php on line 220

Warning: feof(): supplied argument is not a valid stream resource in D:\Hosting\3410369\html\counter\includes\counterh.php on line 218

Warning: fgets(): supplied argument is not a valid stream resource in D:\Hosting\3410369\html\counter\includes\counterh.php on line 220

Warning: feof(): supplied argument is not a valid stream resource in D:\Hosting\3410369\html\counter\includes\counterh.php on line 218

Warning: fgets(): supplied argument is not a valid stream resource in D:\Hosting\3410369\html\counter\includes\counterh.php on line 220

Warning: feof(): supplied argument is not a valid stream resource in D:\Hosting\3410369\html\counter\includes\counterh.php on line 218

Warning: fgets(): supplied argument is not a valid stream resource in D:\Hosting\3410369\html\counter\includes\counterh.php on line 220

Warning: feof(): supplied argument is not a valid stream resource in D:\Hosting\3410369\html\counter\includes\counterh.php on line 218

Warning: fgets(): supplied argument is not a valid stream resource in D:\Hosting\3410369\html\counter\includes\counterh.php on line 220

Warning: feof(): supplied argument is not a valid stream resource in D:\Hosting\3410369\html\counter\includes\counterh.php on line 218

Warning: fgets(): supplied argument is not a valid stream resource in D:\Hosting\3410369\html\counter\includes\counterh.php on line 220

Warning: feof(): supplied argument is not a valid stream resource in D:\Hosting\3410369\html\counter\includes\counterh.php on line 218

Warning: fgets(): supplied argument is not a valid stream resource in D:\Hosting\3410369\html\counter\includes\counterh.php on line 220

Warning: feof(): supplied argument is not a valid stream resource in D:\Hosting\3410369\html\counter\includes\counterh.php on line 218

Warning: fgets(): supplied argument is not a valid stream resource in D:\Hosting\3410369\html\counter\includes\counterh.php on line 220

Warning: feof(): supplied argument is not a valid stream resource in D:\Hosting\3410369\html\counter\includes\counterh.php on line 218

Warning: fgets(): supplied argument is not a valid stream resource in D:\Hosting\3410369\html\counter\includes\counterh.php on line 220

Warning: feof(): supplied argument is not a valid stream resource in D:\Hosting\3410369\html\counter\includes\counterh.php on line 218

Warning: fgets(): supplied argument is not a valid stream resource in D:\Hosting\3410369\html\counter\includes\counterh.php on line 220

Warning: feof(): supplied argument is not a valid stream resource in D:\Hosting\3410369\html\counter\includes\counterh.php on line 218

Warning: fgets(): supplied argument is not a valid stream resource in D:\Hosting\3410369\html\counter\includes\counterh.php on line 220

Warning: feof(): supplied argument is not a valid stream resource in D:\Hosting\3410369\html\counter\includes\counterh.php on line 218

Warning: fgets(): supplied argument is not a valid stream resource in D:\Hosting\3410369\html\counter\includes\counterh.php on line 220

Warning: feof(): supplied argument is not a valid stream resource in D:\Hosting\3410369\html\counter\includes\counterh.php on line 218

Warning: fgets(): supplied argument is not a valid stream resource in D:\Hosting\3410369\html\counter\includes\counterh.php on line 220

Warning: feof(): supplied argument is not a valid stream resource in D:\Hosting\3410369\html\counter\includes\counterh.php on line 218

Warning: fgets(): supplied argument is not a valid stream resource in D:\Hosting\3410369\html\counter\includes\counterh.php on line 220

Warning: feof(): supplied argument is not a valid stream resource in D:\Hosting\3410369\html\counter\includes\counterh.php on line 218

Warning: fgets(): supplied argument is not a valid stream resource in D:\Hosting\3410369\html\counter\includes\counterh.php on line 220

Warning: feof(): supplied argument is not a valid stream resource in D:\Hosting\3410369\html\counter\includes\counterh.php on line 218

Warning: fgets(): supplied argument is not a valid stream resource in D:\Hosting\3410369\html\counter\includes\counterh.php on line 220

Warning: feof(): supplied argument is not a valid stream resource in D:\Hosting\3410369\html\counter\includes\counterh.php on line 218

Warning: fgets(): supplied argument is not a valid stream resource in D:\Hosting\3410369\html\counter\includes\counterh.php on line 220

Warning: feof(): supplied argument is not a valid stream resource in D:\Hosting\3410369\html\counter\includes\counterh.php on line 218

Warning: fgets(): supplied argument is not a valid stream resource in D:\Hosting\3410369\html\counter\includes\counterh.php on line 220

Warning: feof(): supplied argument is not a valid stream resource in D:\Hosting\3410369\html\counter\includes\counterh.php on line 218

Warning: fgets(): supplied argument is not a valid stream resource in D:\Hosting\3410369\html\counter\includes\counterh.php on line 220

Warning: feof(): supplied argument is not a valid stream resource in D:\Hosting\3410369\html\counter\includes\counterh.php on line 218

Warning: fgets(): supplied argument is not a valid stream resource in D:\Hosting\3410369\html\counter\includes\counterh.php on line 220

Warning: feof(): supplied argument is not a valid stream resource in D:\Hosting\3410369\html\counter\includes\counterh.php on line 218

Warning: fgets(): supplied argument is not a valid stream resource in D:\Hosting\3410369\html\counter\includes\counterh.php on line 220

Warning: feof(): supplied argument is not a valid stream resource in D:\Hosting\3410369\html\counter\includes\counterh.php on line 218

Warning: fgets(): supplied argument is not a valid stream resource in D:\Hosting\3410369\html\counter\includes\counterh.php on line 220

Warning: feof(): supplied argument is not a valid stream resource in D:\Hosting\3410369\html\counter\includes\counterh.php on line 218

Warning: fgets(): supplied argument is not a valid stream resource in D:\Hosting\3410369\html\counter\includes\counterh.php on line 220

Warning: feof(): supplied argument is not a valid stream resource in D:\Hosting\3410369\html\counter\includes\counterh.php on line 218

Warning: fgets(): supplied argument is not a valid stream resource in D:\Hosting\3410369\html\counter\includes\counterh.php on line 220

Warning: feof(): supplied argument is not a valid stream resource in D:\Hosting\3410369\html\counter\includes\counterh.php on line 218

Warning: fgets(): supplied argument is not a valid stream resource in D:\Hosting\3410369\html\counter\includes\counterh.php on line 220

Warning: feof(): supplied argument is not a valid stream resource in D:\Hosting\3410369\html\counter\includes\counterh.php on line 218

Warning: fgets(): supplied argument is not a valid stream resource in D:\Hosting\3410369\html\counter\includes\counterh.php on line 220

Warning: feof(): supplied argument is not a valid stream resource in D:\Hosting\3410369\html\counter\includes\counterh.php on line 218

Warning: fgets(): supplied argument is not a valid stream resource in D:\Hosting\3410369\html\counter\includes\counterh.php on line 220

Warning: feof(): supplied argument is not a valid stream resource in D:\Hosting\3410369\html\counter\includes\counterh.php on line 218

Warning: fgets(): supplied argument is not a valid stream resource in D:\Hosting\3410369\html\counter\includes\counterh.php on line 220

Warning: feof(): supplied argument is not a valid stream resource in D:\Hosting\3410369\html\counter\includes\counterh.php on line 218

Warning: fgets(): supplied argument is not a valid stream resource in D:\Hosting\3410369\html\counter\includes\counterh.php on line 220

Warning: feof(): supplied argument is not a valid stream resource in D:\Hosting\3410369\html\counter\includes\counterh.php on line 218

Warning: fgets(): supplied argument is not a valid stream resource in D:\Hosting\3410369\html\counter\includes\counterh.php on line 220

Warning: feof(): supplied argument is not a valid stream resource in D:\Hosting\3410369\html\counter\includes\counterh.php on line 218

Warning: fgets(): supplied argument is not a valid stream resource in D:\Hosting\3410369\html\counter\includes\counterh.php on line 220

Warning: feof(): supplied argument is not a valid stream resource in D:\Hosting\3410369\html\counter\includes\counterh.php on line 218

Warning: fgets(): supplied argument is not a valid stream resource in D:\Hosting\3410369\html\counter\includes\counterh.php on line 220

Warning: feof(): supplied argument is not a valid stream resource in D:\Hosting\3410369\html\counter\includes\counterh.php on line 218

Warning: fgets(): supplied argument is not a valid stream resource in D:\Hosting\3410369\html\counter\includes\counterh.php on line 220

Warning: feof(): supplied argument is not a valid stream resource in D:\Hosting\3410369\html\counter\includes\counterh.php on line 218

Warning: fgets(): supplied argument is not a valid stream resource in D:\Hosting\3410369\html\counter\includes\counterh.php on line 220

Warning: feof(): supplied argument is not a valid stream resource in D:\Hosting\3410369\html\counter\includes\counterh.php on line 218

Warning: fgets(): supplied argument is not a valid stream resource in D:\Hosting\3410369\html\counter\includes\counterh.php on line 220

Warning: feof(): supplied argument is not a valid stream resource in D:\Hosting\3410369\html\counter\includes\counterh.php on line 218

Warning: fgets(): supplied argument is not a valid stream resource in D:\Hosting\3410369\html\counter\includes\counterh.php on line 220

Warning: feof(): supplied argument is not a valid stream resource in D:\Hosting\3410369\html\counter\includes\counterh.php on line 218

Warning: fgets(): supplied argument is not a valid stream resource in D:\Hosting\3410369\html\counter\includes\counterh.php on line 220

Warning: feof(): supplied argument is not a valid stream resource in D:\Hosting\3410369\html\counter\includes\counterh.php on line 218

Warning: fgets(): supplied argument is not a valid stream resource in D:\Hosting\3410369\html\counter\includes\counterh.php on line 220

Warning: feof(): supplied argument is not a valid stream resource in D:\Hosting\3410369\html\counter\includes\counterh.php on line 218

Warning: fgets(): supplied argument is not a valid stream resource in D:\Hosting\3410369\html\counter\includes\counterh.php on line 220

Warning: feof(): supplied argument is not a valid stream resource in D:\Hosting\3410369\html\counter\includes\counterh.php on line 218

Warning: fgets(): supplied argument is not a valid stream resource in D:\Hosting\3410369\html\counter\includes\counterh.php on line 220

Warning: feof(): supplied argument is not a valid stream resource in D:\Hosting\3410369\html\counter\includes\counterh.php on line 218

Warning: fgets(): supplied argument is not a valid stream resource in D:\Hosting\3410369\html\counter\includes\counterh.php on line 220

Warning: feof(): supplied argument is not a valid stream resource in D:\Hosting\3410369\html\counter\includes\counterh.php on line 218

Warning: fgets(): supplied argument is not a valid stream resource in D:\Hosting\3410369\html\counter\includes\counterh.php on line 220

Warning: feof(): supplied argument is not a valid stream resource in D:\Hosting\3410369\html\counter\includes\counterh.php on line 218

Warning: fgets(): supplied argument is not a valid stream resource in D:\Hosting\3410369\html\counter\includes\counterh.php on line 220

Warning: feof(): supplied argument is not a valid stream resource in D:\Hosting\3410369\html\counter\includes\counterh.php on line 218

Warning: fgets(): supplied argument is not a valid stream resource in D:\Hosting\3410369\html\counter\includes\counterh.php on line 220

Warning: feof(): supplied argument is not a valid stream resource in D:\Hosting\3410369\html\counter\includes\counterh.php on line 218

Warning: fgets(): supplied argument is not a valid stream resource in D:\Hosting\3410369\html\counter\includes\counterh.php on line 220

Warning: feof(): supplied argument is not a valid stream resource in D:\Hosting\3410369\html\counter\includes\counterh.php on line 218

Warning: fgets(): supplied argument is not a valid stream resource in D:\Hosting\3410369\html\counter\includes\counterh.php on line 220

Warning: feof(): supplied argument is not a valid stream resource in D:\Hosting\3410369\html\counter\includes\counterh.php on line 218

Warning: fgets(): supplied argument is not a valid stream resource in D:\Hosting\3410369\html\counter\includes\counterh.php on line 220

Warning: feof(): supplied argument is not a valid stream resource in D:\Hosting\3410369\html\counter\includes\counterh.php on line 218

Warning: fgets(): supplied argument is not a valid stream resource in D:\Hosting\3410369\html\counter\includes\counterh.php on line 220

Warning: feof(): supplied argument is not a valid stream resource in D:\Hosting\3410369\html\counter\includes\counterh.php on line 218

Warning: fgets(): supplied argument is not a valid stream resource in D:\Hosting\3410369\html\counter\includes\counterh.php on line 220

Warning: feof(): supplied argument is not a valid stream resource in D:\Hosting\3410369\html\counter\includes\counterh.php on line 218

Warning: fgets(): supplied argument is not a valid stream resource in D:\Hosting\3410369\html\counter\includes\counterh.php on line 220

Warning: feof(): supplied argument is not a valid stream resource in D:\Hosting\3410369\html\counter\includes\counterh.php on line 218

Warning: fgets(): supplied argument is not a valid stream resource in D:\Hosting\3410369\html\counter\includes\counterh.php on line 220

Warning: feof(): supplied argument is not a valid stream resource in D:\Hosting\3410369\html\counter\includes\counterh.php on line 218

Warning: fgets(): supplied argument is not a valid stream resource in D:\Hosting\3410369\html\counter\includes\counterh.php on line 220

Warning: feof(): supplied argument is not a valid stream resource in D:\Hosting\3410369\html\counter\includes\counterh.php on line 218

Warning: fgets(): supplied argument is not a valid stream resource in D:\Hosting\3410369\html\counter\includes\counterh.php on line 220

Warning: feof(): supplied argument is not a valid stream resource in D:\Hosting\3410369\html\counter\includes\counterh.php on line 218

Warning: fgets(): supplied argument is not a valid stream resource in D:\Hosting\3410369\html\counter\includes\counterh.php on line 220

Warning: feof(): supplied argument is not a valid stream resource in D:\Hosting\3410369\html\counter\includes\counterh.php on line 218

Warning: fgets(): supplied argument is not a valid stream resource in D:\Hosting\3410369\html\counter\includes\counterh.php on line 220

Warning: feof(): supplied argument is not a valid stream resource in D:\Hosting\3410369\html\counter\includes\counterh.php on line 218

Warning: fgets(): supplied argument is not a valid stream resource in D:\Hosting\3410369\html\counter\includes\counterh.php on line 220

Warning: feof(): supplied argument is not a valid stream resource in D:\Hosting\3410369\html\counter\includes\counterh.php on line 218

Warning: fgets(): supplied argument is not a valid stream resource in D:\Hosting\3410369\html\counter\includes\counterh.php on line 220

Warning: feof(): supplied argument is not a valid stream resource in D:\Hosting\3410369\html\counter\includes\counterh.php on line 218

Warning: fgets(): supplied argument is not a valid stream resource in D:\Hosting\3410369\html\counter\includes\counterh.php on line 220

Warning: feof(): supplied argument is not a valid stream resource in D:\Hosting\3410369\html\counter\includes\counterh.php on line 218

Warning: fgets(): supplied argument is not a valid stream resource in D:\Hosting\3410369\html\counter\includes\counterh.php on line 220

Warning: feof(): supplied argument is not a valid stream resource in D:\Hosting\3410369\html\counter\includes\counterh.php on line 218

Warning: fgets(): supplied argument is not a valid stream resource in D:\Hosting\3410369\html\counter\includes\counterh.php on line 220

Warning: feof(): supplied argument is not a valid stream resource in D:\Hosting\3410369\html\counter\includes\counterh.php on line 218

Warning: fgets(): supplied argument is not a valid stream resource in D:\Hosting\3410369\html\counter\includes\counterh.php on line 220

Warning: feof(): supplied argument is not a valid stream resource in D:\Hosting\3410369\html\counter\includes\counterh.php on line 218

Warning: fgets(): supplied argument is not a valid stream resource in D:\Hosting\3410369\html\counter\includes\counterh.php on line 220

Warning: feof(): supplied argument is not a valid stream resource in D:\Hosting\3410369\html\counter\includes\counterh.php on line 218

Warning: fgets(): supplied argument is not a valid stream resource in D:\Hosting\3410369\html\counter\includes\counterh.php on line 220

Warning: feof(): supplied argument is not a valid stream resource in D:\Hosting\3410369\html\counter\includes\counterh.php on line 218

Warning: fgets(): supplied argument is not a valid stream resource in D:\Hosting\3410369\html\counter\includes\counterh.php on line 220

Warning: feof(): supplied argument is not a valid stream resource in D:\Hosting\3410369\html\counter\includes\counterh.php on line 218

Warning: fgets(): supplied argument is not a valid stream resource in D:\Hosting\3410369\html\counter\includes\counterh.php on line 220

Warning: feof(): supplied argument is not a valid stream resource in D:\Hosting\3410369\html\counter\includes\counterh.php on line 218

Warning: fgets(): supplied argument is not a valid stream resource in D:\Hosting\3410369\html\counter\includes\counterh.php on line 220

Warning: feof(): supplied argument is not a valid stream resource in D:\Hosting\3410369\html\counter\includes\counterh.php on line 218

Warning: fgets(): supplied argument is not a valid stream resource in D:\Hosting\3410369\html\counter\includes\counterh.php on line 220

Warning: feof(): supplied argument is not a valid stream resource in D:\Hosting\3410369\html\counter\includes\counterh.php on line 218

Warning: fgets(): supplied argument is not a valid stream resource in D:\Hosting\3410369\html\counter\includes\counterh.php on line 220

Warning: feof(): supplied argument is not a valid stream resource in D:\Hosting\3410369\html\counter\includes\counterh.php on line 218

Warning: fgets(): supplied argument is not a valid stream resource in D:\Hosting\3410369\html\counter\includes\counterh.php on line 220

Warning: feof(): supplied argument is not a valid stream resource in D:\Hosting\3410369\html\counter\includes\counterh.php on line 218

Warning: fgets(): supplied argument is not a valid stream resource in D:\Hosting\3410369\html\counter\includes\counterh.php on line 220

Warning: feof(): supplied argument is not a valid stream resource in D:\Hosting\3410369\html\counter\includes\counterh.php on line 218

Warning: fgets(): supplied argument is not a valid stream resource in D:\Hosting\3410369\html\counter\includes\counterh.php on line 220

Warning: feof(): supplied argument is not a valid stream resource in D:\Hosting\3410369\html\counter\includes\counterh.php on line 218

Warning: fgets(): supplied argument is not a valid stream resource in D:\Hosting\3410369\html\counter\includes\counterh.php on line 220

Warning: feof(): supplied argument is not a valid stream resource in D:\Hosting\3410369\html\counter\includes\counterh.php on line 218

Warning: fgets(): supplied argument is not a valid stream resource in D:\Hosting\3410369\html\counter\includes\counterh.php on line 220

Warning: feof(): supplied argument is not a valid stream resource in D:\Hosting\3410369\html\counter\includes\counterh.php on line 218

Warning: fgets(): supplied argument is not a valid stream resource in D:\Hosting\3410369\html\counter\includes\counterh.php on line 220

Warning: feof(): supplied argument is not a valid stream resource in D:\Hosting\3410369\html\counter\includes\counterh.php on line 218

Warning: fgets(): supplied argument is not a valid stream resource in D:\Hosting\3410369\html\counter\includes\counterh.php on line 220

Warning: feof(): supplied argument is not a valid stream resource in D:\Hosting\3410369\html\counter\includes\counterh.php on line 218

Warning: fgets(): supplied argument is not a valid stream resource in D:\Hosting\3410369\html\counter\includes\counterh.php on line 220

Warning: feof(): supplied argument is not a valid stream resource in D:\Hosting\3410369\html\counter\includes\counterh.php on line 218

Warning: fgets(): supplied argument is not a valid stream resource in D:\Hosting\3410369\html\counter\includes\counterh.php on line 220

Warning: feof(): supplied argument is not a valid stream resource in D:\Hosting\3410369\html\counter\includes\counterh.php on line 218

Warning: fgets(): supplied argument is not a valid stream resource in D:\Hosting\3410369\html\counter\includes\counterh.php on line 220

Warning: feof(): supplied argument is not a valid stream resource in D:\Hosting\3410369\html\counter\includes\counterh.php on line 218

Warning: fgets(): supplied argument is not a valid stream resource in D:\Hosting\3410369\html\counter\includes\counterh.php on line 220

Warning: feof(): supplied argument is not a valid stream resource in D:\Hosting\3410369\html\counter\includes\counterh.php on line 218

Warning: fgets(): supplied argument is not a valid stream resource in D:\Hosting\3410369\html\counter\includes\counterh.php on line 220

Warning: feof(): supplied argument is not a valid stream resource in D:\Hosting\3410369\html\counter\includes\counterh.php on line 218

Warning: fgets(): supplied argument is not a valid stream resource in D:\Hosting\3410369\html\counter\includes\counterh.php on line 220

Warning: feof(): supplied argument is not a valid stream resource in D:\Hosting\3410369\html\counter\includes\counterh.php on line 218

Warning: fgets(): supplied argument is not a valid stream resource in D:\Hosting\3410369\html\counter\includes\counterh.php on line 220

Warning: feof(): supplied argument is not a valid stream resource in D:\Hosting\3410369\html\counter\includes\counterh.php on line 218

Warning: fgets(): supplied argument is not a valid stream resource in D:\Hosting\3410369\html\counter\includes\counterh.php on line 220

Warning: feof(): supplied argument is not a valid stream resource in D:\Hosting\3410369\html\counter\includes\counterh.php on line 218

Warning: fgets(): supplied argument is not a valid stream resource in D:\Hosting\3410369\html\counter\includes\counterh.php on line 220

Warning: feof(): supplied argument is not a valid stream resource in D:\Hosting\3410369\html\counter\includes\counterh.php on line 218

Warning: fgets(): supplied argument is not a valid stream resource in D:\Hosting\3410369\html\counter\includes\counterh.php on line 220

Warning: feof(): supplied argument is not a valid stream resource in D:\Hosting\3410369\html\counter\includes\counterh.php on line 218

Warning: fgets(): supplied argument is not a valid stream resource in D:\Hosting\3410369\html\counter\includes\counterh.php on line 220

Warning: feof(): supplied argument is not a valid stream resource in D:\Hosting\3410369\html\counter\includes\counterh.php on line 218

Warning: fgets(): supplied argument is not a valid stream resource in D:\Hosting\3410369\html\counter\includes\counterh.php on line 220

Warning: feof(): supplied argument is not a valid stream resource in D:\Hosting\3410369\html\counter\includes\counterh.php on line 218

Warning: fgets(): supplied argument is not a valid stream resource in D:\Hosting\3410369\html\counter\includes\counterh.php on line 220

Warning: feof(): supplied argument is not a valid stream resource in D:\Hosting\3410369\html\counter\includes\counterh.php on line 218

Warning: fgets(): supplied argument is not a valid stream resource in D:\Hosting\3410369\html\counter\includes\counterh.php on line 220

Warning: feof(): supplied argument is not a valid stream resource in D:\Hosting\3410369\html\counter\includes\counterh.php on line 218

Warning: fgets(): supplied argument is not a valid stream resource in D:\Hosting\3410369\html\counter\includes\counterh.php on line 220

Warning: feof(): supplied argument is not a valid stream resource in D:\Hosting\3410369\html\counter\includes\counterh.php on line 218

Warning: fgets(): supplied argument is not a valid stream resource in D:\Hosting\3410369\html\counter\includes\counterh.php on line 220

Warning: feof(): supplied argument is not a valid stream resource in D:\Hosting\3410369\html\counter\includes\counterh.php on line 218

Warning: fgets(): supplied argument is not a valid stream resource in D:\Hosting\3410369\html\counter\includes\counterh.php on line 220

Warning: feof(): supplied argument is not a valid stream resource in D:\Hosting\3410369\html\counter\includes\counterh.php on line 218

Warning: fgets(): supplied argument is not a valid stream resource in D:\Hosting\3410369\html\counter\includes\counterh.php on line 220

Warning: feof(): supplied argument is not a valid stream resource in D:\Hosting\3410369\html\counter\includes\counterh.php on line 218

Warning: fgets(): supplied argument is not a valid stream resource in D:\Hosting\3410369\html\counter\includes\counterh.php on line 220

Warning: feof(): supplied argument is not a valid stream resource in D:\Hosting\3410369\html\counter\includes\counterh.php on line 218

Warning: fgets(): supplied argument is not a valid stream resource in D:\Hosting\3410369\html\counter\includes\counterh.php on line 220

Warning: feof(): supplied argument is not a valid stream resource in D:\Hosting\3410369\html\counter\includes\counterh.php on line 218

Warning: fgets(): supplied argument is not a valid stream resource in D:\Hosting\3410369\html\counter\includes\counterh.php on line 220

Warning: feof(): supplied argument is not a valid stream resource in D:\Hosting\3410369\html\counter\includes\counterh.php on line 218

Warning: fgets(): supplied argument is not a valid stream resource in D:\Hosting\3410369\html\counter\includes\counterh.php on line 220

Warning: feof(): supplied argument is not a valid stream resource in D:\Hosting\3410369\html\counter\includes\counterh.php on line 218

Warning: fgets(): supplied argument is not a valid stream resource in D:\Hosting\3410369\html\counter\includes\counterh.php on line 220

Warning: feof(): supplied argument is not a valid stream resource in D:\Hosting\3410369\html\counter\includes\counterh.php on line 218

Warning: fgets(): supplied argument is not a valid stream resource in D:\Hosting\3410369\html\counter\includes\counterh.php on line 220

Warning: feof(): supplied argument is not a valid stream resource in D:\Hosting\3410369\html\counter\includes\counterh.php on line 218

Warning: fgets(): supplied argument is not a valid stream resource in D:\Hosting\3410369\html\counter\includes\counterh.php on line 220

Warning: feof(): supplied argument is not a valid stream resource in D:\Hosting\3410369\html\counter\includes\counterh.php on line 218

Warning: fgets(): supplied argument is not a valid stream resource in D:\Hosting\3410369\html\counter\includes\counterh.php on line 220

Warning: feof(): supplied argument is not a valid stream resource in D:\Hosting\3410369\html\counter\includes\counterh.php on line 218

Warning: fgets(): supplied argument is not a valid stream resource in D:\Hosting\3410369\html\counter\includes\counterh.php on line 220

Warning: feof(): supplied argument is not a valid stream resource in D:\Hosting\3410369\html\counter\includes\counterh.php on line 218

Warning: fgets(): supplied argument is not a valid stream resource in D:\Hosting\3410369\html\counter\includes\counterh.php on line 220

Warning: feof(): supplied argument is not a valid stream resource in D:\Hosting\3410369\html\counter\includes\counterh.php on line 218

Warning: fgets(): supplied argument is not a valid stream resource in D:\Hosting\3410369\html\counter\includes\counterh.php on line 220

Warning: feof(): supplied argument is not a valid stream resource in D:\Hosting\3410369\html\counter\includes\counterh.php on line 218

Warning: fgets(): supplied argument is not a valid stream resource in D:\Hosting\3410369\html\counter\includes\counterh.php on line 220

Warning: feof(): supplied argument is not a valid stream resource in D:\Hosting\3410369\html\counter\includes\counterh.php on line 218

Warning: fgets(): supplied argument is not a valid stream resource in D:\Hosting\3410369\html\counter\includes\counterh.php on line 220

Warning: feof(): supplied argument is not a valid stream resource in D:\Hosting\3410369\html\counter\includes\counterh.php on line 218

Warning: fgets(): supplied argument is not a valid stream resource in D:\Hosting\3410369\html\counter\includes\counterh.php on line 220

Warning: feof(): supplied argument is not a valid stream resource in D:\Hosting\3410369\html\counter\includes\counterh.php on line 218

Warning: fgets(): supplied argument is not a valid stream resource in D:\Hosting\3410369\html\counter\includes\counterh.php on line 220

Warning: feof(): supplied argument is not a valid stream resource in D:\Hosting\3410369\html\counter\includes\counterh.php on line 218

Warning: fgets(): supplied argument is not a valid stream resource in D:\Hosting\3410369\html\counter\includes\counterh.php on line 220

Warning: feof(): supplied argument is not a valid stream resource in D:\Hosting\3410369\html\counter\includes\counterh.php on line 218

Warning: fgets(): supplied argument is not a valid stream resource in D:\Hosting\3410369\html\counter\includes\counterh.php on line 220

Warning: feof(): supplied argument is not a valid stream resource in D:\Hosting\3410369\html\counter\includes\counterh.php on line 218

Warning: fgets(): supplied argument is not a valid stream resource in D:\Hosting\3410369\html\counter\includes\counterh.php on line 220

Warning: feof(): supplied argument is not a valid stream resource in D:\Hosting\3410369\html\counter\includes\counterh.php on line 218

Warning: fgets(): supplied argument is not a valid stream resource in D:\Hosting\3410369\html\counter\includes\counterh.php on line 220

Warning: feof(): supplied argument is not a valid stream resource in D:\Hosting\3410369\html\counter\includes\counterh.php on line 218

Warning: fgets(): supplied argument is not a valid stream resource in D:\Hosting\3410369\html\counter\includes\counterh.php on line 220

Warning: feof(): supplied argument is not a valid stream resource in D:\Hosting\3410369\html\counter\includes\counterh.php on line 218

Warning: fgets(): supplied argument is not a valid stream resource in D:\Hosting\3410369\html\counter\includes\counterh.php on line 220

Warning: feof(): supplied argument is not a valid stream resource in D:\Hosting\3410369\html\counter\includes\counterh.php on line 218

Warning: fgets(): supplied argument is not a valid stream resource in D:\Hosting\3410369\html\counter\includes\counterh.php on line 220

Warning: feof(): supplied argument is not a valid stream resource in D:\Hosting\3410369\html\counter\includes\counterh.php on line 218

Warning: fgets(): supplied argument is not a valid stream resource in D:\Hosting\3410369\html\counter\includes\counterh.php on line 220

Warning: feof(): supplied argument is not a valid stream resource in D:\Hosting\3410369\html\counter\includes\counterh.php on line 218

Warning: fgets(): supplied argument is not a valid stream resource in D:\Hosting\3410369\html\counter\includes\counterh.php on line 220

Warning: feof(): supplied argument is not a valid stream resource in D:\Hosting\3410369\html\counter\includes\counterh.php on line 218

Warning: fgets(): supplied argument is not a valid stream resource in D:\Hosting\3410369\html\counter\includes\counterh.php on line 220

Warning: feof(): supplied argument is not a valid stream resource in D:\Hosting\3410369\html\counter\includes\counterh.php on line 218

Warning: fgets(): supplied argument is not a valid stream resource in D:\Hosting\3410369\html\counter\includes\counterh.php on line 220

Warning: feof(): supplied argument is not a valid stream resource in D:\Hosting\3410369\html\counter\includes\counterh.php on line 218

Warning: fgets(): supplied argument is not a valid stream resource in D:\Hosting\3410369\html\counter\includes\counterh.php on line 220

Warning: feof(): supplied argument is not a valid stream resource in D:\Hosting\3410369\html\counter\includes\counterh.php on line 218

Warning: fgets(): supplied argument is not a valid stream resource in D:\Hosting\3410369\html\counter\includes\counterh.php on line 220

Warning: feof(): supplied argument is not a valid stream resource in D:\Hosting\3410369\html\counter\includes\counterh.php on line 218

Warning: fgets(): supplied argument is not a valid stream resource in D:\Hosting\3410369\html\counter\includes\counterh.php on line 220

Warning: feof(): supplied argument is not a valid stream resource in D:\Hosting\3410369\html\counter\includes\counterh.php on line 218

Warning: fgets(): supplied argument is not a valid stream resource in D:\Hosting\3410369\html\counter\includes\counterh.php on line 220

Warning: feof(): supplied argument is not a valid stream resource in D:\Hosting\3410369\html\counter\includes\counterh.php on line 218

Warning: fgets(): supplied argument is not a valid stream resource in D:\Hosting\3410369\html\counter\includes\counterh.php on line 220

Warning: feof(): supplied argument is not a valid stream resource in D:\Hosting\3410369\html\counter\includes\counterh.php on line 218

Warning: fgets(): supplied argument is not a valid stream resource in D:\Hosting\3410369\html\counter\includes\counterh.php on line 220

Warning: feof(): supplied argument is not a valid stream resource in D:\Hosting\3410369\html\counter\includes\counterh.php on line 218

Warning: fgets(): supplied argument is not a valid stream resource in D:\Hosting\3410369\html\counter\includes\counterh.php on line 220

Warning: feof(): supplied argument is not a valid stream resource in D:\Hosting\3410369\html\counter\includes\counterh.php on line 218

Warning: fgets(): supplied argument is not a valid stream resource in D:\Hosting\3410369\html\counter\includes\counterh.php on line 220

Warning: feof(): supplied argument is not a valid stream resource in D:\Hosting\3410369\html\counter\includes\counterh.php on line 218

Warning: fgets(): supplied argument is not a valid stream resource in D:\Hosting\3410369\html\counter\includes\counterh.php on line 220

Warning: feof(): supplied argument is not a valid stream resource in D:\Hosting\3410369\html\counter\includes\counterh.php on line 218

Warning: fgets(): supplied argument is not a valid stream resource in D:\Hosting\3410369\html\counter\includes\counterh.php on line 220

Warning: feof(): supplied argument is not a valid stream resource in D:\Hosting\3410369\html\counter\includes\counterh.php on line 218

Warning: fgets(): supplied argument is not a valid stream resource in D:\Hosting\3410369\html\counter\includes\counterh.php on line 220

Warning: feof(): supplied argument is not a valid stream resource in D:\Hosting\3410369\html\counter\includes\counterh.php on line 218

Warning: fgets(): supplied argument is not a valid stream resource in D:\Hosting\3410369\html\counter\includes\counterh.php on line 220

Warning: feof(): supplied argument is not a valid stream resource in D:\Hosting\3410369\html\counter\includes\counterh.php on line 218

Warning: fgets(): supplied argument is not a valid stream resource in D:\Hosting\3410369\html\counter\includes\counterh.php on line 220

Warning: feof(): supplied argument is not a valid stream resource in D:\Hosting\3410369\html\counter\includes\counterh.php on line 218

Warning: fgets(): supplied argument is not a valid stream resource in D:\Hosting\3410369\html\counter\includes\counterh.php on line 220

Warning: feof(): supplied argument is not a valid stream resource in D:\Hosting\3410369\html\counter\includes\counterh.php on line 218

Warning: fgets(): supplied argument is not a valid stream resource in D:\Hosting\3410369\html\counter\includes\counterh.php on line 220

Warning: feof(): supplied argument is not a valid stream resource in D:\Hosting\3410369\html\counter\includes\counterh.php on line 218

Warning: fgets(): supplied argument is not a valid stream resource in D:\Hosting\3410369\html\counter\includes\counterh.php on line 220

Warning: feof(): supplied argument is not a valid stream resource in D:\Hosting\3410369\html\counter\includes\counterh.php on line 218

Warning: fgets(): supplied argument is not a valid stream resource in D:\Hosting\3410369\html\counter\includes\counterh.php on line 220

Warning: feof(): supplied argument is not a valid stream resource in D:\Hosting\3410369\html\counter\includes\counterh.php on line 218

Warning: fgets(): supplied argument is not a valid stream resource in D:\Hosting\3410369\html\counter\includes\counterh.php on line 220

Warning: feof(): supplied argument is not a valid stream resource in D:\Hosting\3410369\html\counter\includes\counterh.php on line 218

Warning: fgets(): supplied argument is not a valid stream resource in D:\Hosting\3410369\html\counter\includes\counterh.php on line 220

Warning: feof(): supplied argument is not a valid stream resource in D:\Hosting\3410369\html\counter\includes\counterh.php on line 218

Warning: fgets(): supplied argument is not a valid stream resource in D:\Hosting\3410369\html\counter\includes\counterh.php on line 220

Warning: feof(): supplied argument is not a valid stream resource in D:\Hosting\3410369\html\counter\includes\counterh.php on line 218

Warning: fgets(): supplied argument is not a valid stream resource in D:\Hosting\3410369\html\counter\includes\counterh.php on line 220

Warning: feof(): supplied argument is not a valid stream resource in D:\Hosting\3410369\html\counter\includes\counterh.php on line 218

Warning: fgets(): supplied argument is not a valid stream resource in D:\Hosting\3410369\html\counter\includes\counterh.php on line 220

Warning: feof(): supplied argument is not a valid stream resource in D:\Hosting\3410369\html\counter\includes\counterh.php on line 218

Warning: fgets(): supplied argument is not a valid stream resource in D:\Hosting\3410369\html\counter\includes\counterh.php on line 220

Warning: feof(): supplied argument is not a valid stream resource in D:\Hosting\3410369\html\counter\includes\counterh.php on line 218

Warning: fgets(): supplied argument is not a valid stream resource in D:\Hosting\3410369\html\counter\includes\counterh.php on line 220

Warning: feof(): supplied argument is not a valid stream resource in D:\Hosting\3410369\html\counter\includes\counterh.php on line 218

Warning: fgets(): supplied argument is not a valid stream resource in D:\Hosting\3410369\html\counter\includes\counterh.php on line 220

Warning: feof(): supplied argument is not a valid stream resource in D:\Hosting\3410369\html\counter\includes\counterh.php on line 218

Warning: fgets(): supplied argument is not a valid stream resource in D:\Hosting\3410369\html\counter\includes\counterh.php on line 220

Warning: feof(): supplied argument is not a valid stream resource in D:\Hosting\3410369\html\counter\includes\counterh.php on line 218

Warning: fgets(): supplied argument is not a valid stream resource in D:\Hosting\3410369\html\counter\includes\counterh.php on line 220

Warning: feof(): supplied argument is not a valid stream resource in D:\Hosting\3410369\html\counter\includes\counterh.php on line 218

Warning: fgets(): supplied argument is not a valid stream resource in D:\Hosting\3410369\html\counter\includes\counterh.php on line 220

Warning: feof(): supplied argument is not a valid stream resource in D:\Hosting\3410369\html\counter\includes\counterh.php on line 218

Warning: fgets(): supplied argument is not a valid stream resource in D:\Hosting\3410369\html\counter\includes\counterh.php on line 220

Warning: feof(): supplied argument is not a valid stream resource in D:\Hosting\3410369\html\counter\includes\counterh.php on line 218

Warning: fgets(): supplied argument is not a valid stream resource in D:\Hosting\3410369\html\counter\includes\counterh.php on line 220

Warning: feof(): supplied argument is not a valid stream resource in D:\Hosting\3410369\html\counter\includes\counterh.php on line 218

Warning: fgets(): supplied argument is not a valid stream resource in D:\Hosting\3410369\html\counter\includes\counterh.php on line 220

Warning: feof(): supplied argument is not a valid stream resource in D:\Hosting\3410369\html\counter\includes\counterh.php on line 218

Warning: fgets(): supplied argument is not a valid stream resource in D:\Hosting\3410369\html\counter\includes\counterh.php on line 220

Warning: feof(): supplied argument is not a valid stream resource in D:\Hosting\3410369\html\counter\includes\counterh.php on line 218

Warning: fgets(): supplied argument is not a valid stream resource in D:\Hosting\3410369\html\counter\includes\counterh.php on line 220

Warning: feof(): supplied argument is not a valid stream resource in D:\Hosting\3410369\html\counter\includes\counterh.php on line 218

Warning: fgets(): supplied argument is not a valid stream resource in D:\Hosting\3410369\html\counter\includes\counterh.php on line 220

Warning: feof(): supplied argument is not a valid stream resource in D:\Hosting\3410369\html\counter\includes\counterh.php on line 218

Warning: fgets(): supplied argument is not a valid stream resource in D:\Hosting\3410369\html\counter\includes\counterh.php on line 220

Warning: feof(): supplied argument is not a valid stream resource in D:\Hosting\3410369\html\counter\includes\counterh.php on line 218

Warning: fgets(): supplied argument is not a valid stream resource in D:\Hosting\3410369\html\counter\includes\counterh.php on line 220

Warning: feof(): supplied argument is not a valid stream resource in D:\Hosting\3410369\html\counter\includes\counterh.php on line 218

Warning: fgets(): supplied argument is not a valid stream resource in D:\Hosting\3410369\html\counter\includes\counterh.php on line 220

Warning: feof(): supplied argument is not a valid stream resource in D:\Hosting\3410369\html\counter\includes\counterh.php on line 218

Warning: fgets(): supplied argument is not a valid stream resource in D:\Hosting\3410369\html\counter\includes\counterh.php on line 220

Warning: feof(): supplied argument is not a valid stream resource in D:\Hosting\3410369\html\counter\includes\counterh.php on line 218

Warning: fgets(): supplied argument is not a valid stream resource in D:\Hosting\3410369\html\counter\includes\counterh.php on line 220

Warning: feof(): supplied argument is not a valid stream resource in D:\Hosting\3410369\html\counter\includes\counterh.php on line 218

Warning: fgets(): supplied argument is not a valid stream resource in D:\Hosting\3410369\html\counter\includes\counterh.php on line 220

Warning: feof(): supplied argument is not a valid stream resource in D:\Hosting\3410369\html\counter\includes\counterh.php on line 218

Warning: fgets(): supplied argument is not a valid stream resource in D:\Hosting\3410369\html\counter\includes\counterh.php on line 220

Warning: feof(): supplied argument is not a valid stream resource in D:\Hosting\3410369\html\counter\includes\counterh.php on line 218

Warning: fgets(): supplied argument is not a valid stream resource in D:\Hosting\3410369\html\counter\includes\counterh.php on line 220

Warning: feof(): supplied argument is not a valid stream resource in D:\Hosting\3410369\html\counter\includes\counterh.php on line 218

Warning: fgets(): supplied argument is not a valid stream resource in D:\Hosting\3410369\html\counter\includes\counterh.php on line 220

Warning: feof(): supplied argument is not a valid stream resource in D:\Hosting\3410369\html\counter\includes\counterh.php on line 218

Warning: fgets(): supplied argument is not a valid stream resource in D:\Hosting\3410369\html\counter\includes\counterh.php on line 220

Warning: feof(): supplied argument is not a valid stream resource in D:\Hosting\3410369\html\counter\includes\counterh.php on line 218

Warning: fgets(): supplied argument is not a valid stream resource in D:\Hosting\3410369\html\counter\includes\counterh.php on line 220

Warning: feof(): supplied argument is not a valid stream resource in D:\Hosting\3410369\html\counter\includes\counterh.php on line 218

Warning: fgets(): supplied argument is not a valid stream resource in D:\Hosting\3410369\html\counter\includes\counterh.php on line 220

Warning: feof(): supplied argument is not a valid stream resource in D:\Hosting\3410369\html\counter\includes\counterh.php on line 218

Warning: fgets(): supplied argument is not a valid stream resource in D:\Hosting\3410369\html\counter\includes\counterh.php on line 220

Warning: feof(): supplied argument is not a valid stream resource in D:\Hosting\3410369\html\counter\includes\counterh.php on line 218

Warning: fgets(): supplied argument is not a valid stream resource in D:\Hosting\3410369\html\counter\includes\counterh.php on line 220

Warning: feof(): supplied argument is not a valid stream resource in D:\Hosting\3410369\html\counter\includes\counterh.php on line 218

Warning: fgets(): supplied argument is not a valid stream resource in D:\Hosting\3410369\html\counter\includes\counterh.php on line 220

Warning: feof(): supplied argument is not a valid stream resource in D:\Hosting\3410369\html\counter\includes\counterh.php on line 218

Warning: fgets(): supplied argument is not a valid stream resource in D:\Hosting\3410369\html\counter\includes\counterh.php on line 220

Warning: feof(): supplied argument is not a valid stream resource in D:\Hosting\3410369\html\counter\includes\counterh.php on line 218

Warning: fgets(): supplied argument is not a valid stream resource in D:\Hosting\3410369\html\counter\includes\counterh.php on line 220

Warning: feof(): supplied argument is not a valid stream resource in D:\Hosting\3410369\html\counter\includes\counterh.php on line 218

Warning: fgets(): supplied argument is not a valid stream resource in D:\Hosting\3410369\html\counter\includes\counterh.php on line 220

Warning: feof(): supplied argument is not a valid stream resource in D:\Hosting\3410369\html\counter\includes\counterh.php on line 218

Warning: fgets(): supplied argument is not a valid stream resource in D:\Hosting\3410369\html\counter\includes\counterh.php on line 220

Warning: feof(): supplied argument is not a valid stream resource in D:\Hosting\3410369\html\counter\includes\counterh.php on line 218

Warning: fgets(): supplied argument is not a valid stream resource in D:\Hosting\3410369\html\counter\includes\counterh.php on line 220

Warning: feof(): supplied argument is not a valid stream resource in D:\Hosting\3410369\html\counter\includes\counterh.php on line 218

Warning: fgets(): supplied argument is not a valid stream resource in D:\Hosting\3410369\html\counter\includes\counterh.php on line 220

Warning: feof(): supplied argument is not a valid stream resource in D:\Hosting\3410369\html\counter\includes\counterh.php on line 218

Warning: fgets(): supplied argument is not a valid stream resource in D:\Hosting\3410369\html\counter\includes\counterh.php on line 220

Warning: feof(): supplied argument is not a valid stream resource in D:\Hosting\3410369\html\counter\includes\counterh.php on line 218

Warning: fgets(): supplied argument is not a valid stream resource in D:\Hosting\3410369\html\counter\includes\counterh.php on line 220

Warning: feof(): supplied argument is not a valid stream resource in D:\Hosting\3410369\html\counter\includes\counterh.php on line 218

Warning: fgets(): supplied argument is not a valid stream resource in D:\Hosting\3410369\html\counter\includes\counterh.php on line 220

Warning: feof(): supplied argument is not a valid stream resource in D:\Hosting\3410369\html\counter\includes\counterh.php on line 218

Warning: fgets(): supplied argument is not a valid stream resource in D:\Hosting\3410369\html\counter\includes\counterh.php on line 220

Warning: feof(): supplied argument is not a valid stream resource in D:\Hosting\3410369\html\counter\includes\counterh.php on line 218

Warning: fgets(): supplied argument is not a valid stream resource in D:\Hosting\3410369\html\counter\includes\counterh.php on line 220

Warning: feof(): supplied argument is not a valid stream resource in D:\Hosting\3410369\html\counter\includes\counterh.php on line 218

Warning: fgets(): supplied argument is not a valid stream resource in D:\Hosting\3410369\html\counter\includes\counterh.php on line 220

Warning: feof(): supplied argument is not a valid stream resource in D:\Hosting\3410369\html\counter\includes\counterh.php on line 218

Warning: fgets(): supplied argument is not a valid stream resource in D:\Hosting\3410369\html\counter\includes\counterh.php on line 220

Warning: feof(): supplied argument is not a valid stream resource in D:\Hosting\3410369\html\counter\includes\counterh.php on line 218

Warning: fgets(): supplied argument is not a valid stream resource in D:\Hosting\3410369\html\counter\includes\counterh.php on line 220

Warning: feof(): supplied argument is not a valid stream resource in D:\Hosting\3410369\html\counter\includes\counterh.php on line 218

Warning: fgets(): supplied argument is not a valid stream resource in D:\Hosting\3410369\html\counter\includes\counterh.php on line 220

Warning: feof(): supplied argument is not a valid stream resource in D:\Hosting\3410369\html\counter\includes\counterh.php on line 218

Warning: fgets(): supplied argument is not a valid stream resource in D:\Hosting\3410369\html\counter\includes\counterh.php on line 220

Warning: feof(): supplied argument is not a valid stream resource in D:\Hosting\3410369\html\counter\includes\counterh.php on line 218

Warning: fgets(): supplied argument is not a valid stream resource in D:\Hosting\3410369\html\counter\includes\counterh.php on line 220

Warning: feof(): supplied argument is not a valid stream resource in D:\Hosting\3410369\html\counter\includes\counterh.php on line 218

Warning: fgets(): supplied argument is not a valid stream resource in D:\Hosting\3410369\html\counter\includes\counterh.php on line 220

Warning: feof(): supplied argument is not a valid stream resource in D:\Hosting\3410369\html\counter\includes\counterh.php on line 218

Warning: fgets(): supplied argument is not a valid stream resource in D:\Hosting\3410369\html\counter\includes\counterh.php on line 220

Warning: feof(): supplied argument is not a valid stream resource in D:\Hosting\3410369\html\counter\includes\counterh.php on line 218

Warning: fgets(): supplied argument is not a valid stream resource in D:\Hosting\3410369\html\counter\includes\counterh.php on line 220

Warning: feof(): supplied argument is not a valid stream resource in D:\Hosting\3410369\html\counter\includes\counterh.php on line 218

Warning: fgets(): supplied argument is not a valid stream resource in D:\Hosting\3410369\html\counter\includes\counterh.php on line 220

Warning: feof(): supplied argument is not a valid stream resource in D:\Hosting\3410369\html\counter\includes\counterh.php on line 218

Warning: fgets(): supplied argument is not a valid stream resource in D:\Hosting\3410369\html\counter\includes\counterh.php on line 220

Warning: feof(): supplied argument is not a valid stream resource in D:\Hosting\3410369\html\counter\includes\counterh.php on line 218

Warning: fgets(): supplied argument is not a valid stream resource in D:\Hosting\3410369\html\counter\includes\counterh.php on line 220

Warning: feof(): supplied argument is not a valid stream resource in D:\Hosting\3410369\html\counter\includes\counterh.php on line 218

Warning: fgets(): supplied argument is not a valid stream resource in D:\Hosting\3410369\html\counter\includes\counterh.php on line 220

Warning: feof(): supplied argument is not a valid stream resource in D:\Hosting\3410369\html\counter\includes\counterh.php on line 218

Warning: fgets(): supplied argument is not a valid stream resource in D:\Hosting\3410369\html\counter\includes\counterh.php on line 220

Warning: feof(): supplied argument is not a valid stream resource in D:\Hosting\3410369\html\counter\includes\counterh.php on line 218

Warning: fgets(): supplied argument is not a valid stream resource in D:\Hosting\3410369\html\counter\includes\counterh.php on line 220

Warning: feof(): supplied argument is not a valid stream resource in D:\Hosting\3410369\html\counter\includes\counterh.php on line 218

Warning: fgets(): supplied argument is not a valid stream resource in D:\Hosting\3410369\html\counter\includes\counterh.php on line 220

Warning: feof(): supplied argument is not a valid stream resource in D:\Hosting\3410369\html\counter\includes\counterh.php on line 218

Warning: fgets(): supplied argument is not a valid stream resource in D:\Hosting\3410369\html\counter\includes\counterh.php on line 220

Warning: feof(): supplied argument is not a valid stream resource in D:\Hosting\3410369\html\counter\includes\counterh.php on line 218

Warning: fgets(): supplied argument is not a valid stream resource in D:\Hosting\3410369\html\counter\includes\counterh.php on line 220

Warning: feof(): supplied argument is not a valid stream resource in D:\Hosting\3410369\html\counter\includes\counterh.php on line 218

Warning: fgets(): supplied argument is not a valid stream resource in D:\Hosting\3410369\html\counter\includes\counterh.php on line 220

Warning: feof(): supplied argument is not a valid stream resource in D:\Hosting\3410369\html\counter\includes\counterh.php on line 218

Warning: fgets(): supplied argument is not a valid stream resource in D:\Hosting\3410369\html\counter\includes\counterh.php on line 220

Warning: feof(): supplied argument is not a valid stream resource in D:\Hosting\3410369\html\counter\includes\counterh.php on line 218

Warning: fgets(): supplied argument is not a valid stream resource in D:\Hosting\3410369\html\counter\includes\counterh.php on line 220

Warning: feof(): supplied argument is not a valid stream resource in D:\Hosting\3410369\html\counter\includes\counterh.php on line 218

Warning: fgets(): supplied argument is not a valid stream resource in D:\Hosting\3410369\html\counter\includes\counterh.php on line 220

Warning: feof(): supplied argument is not a valid stream resource in D:\Hosting\3410369\html\counter\includes\counterh.php on line 218

Warning: fgets(): supplied argument is not a valid stream resource in D:\Hosting\3410369\html\counter\includes\counterh.php on line 220

Warning: feof(): supplied argument is not a valid stream resource in D:\Hosting\3410369\html\counter\includes\counterh.php on line 218

Warning: fgets(): supplied argument is not a valid stream resource in D:\Hosting\3410369\html\counter\includes\counterh.php on line 220

Warning: feof(): supplied argument is not a valid stream resource in D:\Hosting\3410369\html\counter\includes\counterh.php on line 218

Warning: fgets(): supplied argument is not a valid stream resource in D:\Hosting\3410369\html\counter\includes\counterh.php on line 220

Warning: feof(): supplied argument is not a valid stream resource in D:\Hosting\3410369\html\counter\includes\counterh.php on line 218

Warning: fgets(): supplied argument is not a valid stream resource in D:\Hosting\3410369\html\counter\includes\counterh.php on line 220

Warning: feof(): supplied argument is not a valid stream resource in D:\Hosting\3410369\html\counter\includes\counterh.php on line 218

Warning: fgets(): supplied argument is not a valid stream resource in D:\Hosting\3410369\html\counter\includes\counterh.php on line 220

Warning: feof(): supplied argument is not a valid stream resource in D:\Hosting\3410369\html\counter\includes\counterh.php on line 218

Warning: fgets(): supplied argument is not a valid stream resource in D:\Hosting\3410369\html\counter\includes\counterh.php on line 220

Warning: feof(): supplied argument is not a valid stream resource in D:\Hosting\3410369\html\counter\includes\counterh.php on line 218

Warning: fgets(): supplied argument is not a valid stream resource in D:\Hosting\3410369\html\counter\includes\counterh.php on line 220

Warning: feof(): supplied argument is not a valid stream resource in D:\Hosting\3410369\html\counter\includes\counterh.php on line 218

Warning: fgets(): supplied argument is not a valid stream resource in D:\Hosting\3410369\html\counter\includes\counterh.php on line 220

Warning: feof(): supplied argument is not a valid stream resource in D:\Hosting\3410369\html\counter\includes\counterh.php on line 218

Warning: fgets(): supplied argument is not a valid stream resource in D:\Hosting\3410369\html\counter\includes\counterh.php on line 220

Warning: feof(): supplied argument is not a valid stream resource in D:\Hosting\3410369\html\counter\includes\counterh.php on line 218

Warning: fgets(): supplied argument is not a valid stream resource in D:\Hosting\3410369\html\counter\includes\counterh.php on line 220

Warning: feof(): supplied argument is not a valid stream resource in D:\Hosting\3410369\html\counter\includes\counterh.php on line 218

Warning: fgets(): supplied argument is not a valid stream resource in D:\Hosting\3410369\html\counter\includes\counterh.php on line 220

Warning: feof(): supplied argument is not a valid stream resource in D:\Hosting\3410369\html\counter\includes\counterh.php on line 218

Warning: fgets(): supplied argument is not a valid stream resource in D:\Hosting\3410369\html\counter\includes\counterh.php on line 220

Warning: feof(): supplied argument is not a valid stream resource in D:\Hosting\3410369\html\counter\includes\counterh.php on line 218

Warning: fgets(): supplied argument is not a valid stream resource in D:\Hosting\3410369\html\counter\includes\counterh.php on line 220

Warning: feof(): supplied argument is not a valid stream resource in D:\Hosting\3410369\html\counter\includes\counterh.php on line 218

Warning: fgets(): supplied argument is not a valid stream resource in D:\Hosting\3410369\html\counter\includes\counterh.php on line 220

Warning: feof(): supplied argument is not a valid stream resource in D:\Hosting\3410369\html\counter\includes\counterh.php on line 218

Warning: fgets(): supplied argument is not a valid stream resource in D:\Hosting\3410369\html\counter\includes\counterh.php on line 220

Warning: feof(): supplied argument is not a valid stream resource in D:\Hosting\3410369\html\counter\includes\counterh.php on line 218

Warning: fgets(): supplied argument is not a valid stream resource in D:\Hosting\3410369\html\counter\includes\counterh.php on line 220

Warning: feof(): supplied argument is not a valid stream resource in D:\Hosting\3410369\html\counter\includes\counterh.php on line 218

Warning: fgets(): supplied argument is not a valid stream resource in D:\Hosting\3410369\html\counter\includes\counterh.php on line 220

Warning: feof(): supplied argument is not a valid stream resource in D:\Hosting\3410369\html\counter\includes\counterh.php on line 218

Warning: fgets(): supplied argument is not a valid stream resource in D:\Hosting\3410369\html\counter\includes\counterh.php on line 220

Warning: feof(): supplied argument is not a valid stream resource in D:\Hosting\3410369\html\counter\includes\counterh.php on line 218

Warning: fgets(): supplied argument is not a valid stream resource in D:\Hosting\3410369\html\counter\includes\counterh.php on line 220

Warning: feof(): supplied argument is not a valid stream resource in D:\Hosting\3410369\html\counter\includes\counterh.php on line 218

Warning: fgets(): supplied argument is not a valid stream resource in D:\Hosting\3410369\html\counter\includes\counterh.php on line 220

Warning: feof(): supplied argument is not a valid stream resource in D:\Hosting\3410369\html\counter\includes\counterh.php on line 218

Warning: fgets(): supplied argument is not a valid stream resource in D:\Hosting\3410369\html\counter\includes\counterh.php on line 220

Warning: feof(): supplied argument is not a valid stream resource in D:\Hosting\3410369\html\counter\includes\counterh.php on line 218

Warning: fgets(): supplied argument is not a valid stream resource in D:\Hosting\3410369\html\counter\includes\counterh.php on line 220

Warning: feof(): supplied argument is not a valid stream resource in D:\Hosting\3410369\html\counter\includes\counterh.php on line 218

Warning: fgets(): supplied argument is not a valid stream resource in D:\Hosting\3410369\html\counter\includes\counterh.php on line 220

Warning: feof(): supplied argument is not a valid stream resource in D:\Hosting\3410369\html\counter\includes\counterh.php on line 218

Warning: fgets(): supplied argument is not a valid stream resource in D:\Hosting\3410369\html\counter\includes\counterh.php on line 220

Warning: feof(): supplied argument is not a valid stream resource in D:\Hosting\3410369\html\counter\includes\counterh.php on line 218

Warning: fgets(): supplied argument is not a valid stream resource in D:\Hosting\3410369\html\counter\includes\counterh.php on line 220

Warning: feof(): supplied argument is not a valid stream resource in D:\Hosting\3410369\html\counter\includes\counterh.php on line 218

Warning: fgets(): supplied argument is not a valid stream resource in D:\Hosting\3410369\html\counter\includes\counterh.php on line 220

Warning: feof(): supplied argument is not a valid stream resource in D:\Hosting\3410369\html\counter\includes\counterh.php on line 218

Warning: fgets(): supplied argument is not a valid stream resource in D:\Hosting\3410369\html\counter\includes\counterh.php on line 220

Warning: feof(): supplied argument is not a valid stream resource in D:\Hosting\3410369\html\counter\includes\counterh.php on line 218

Warning: fgets(): supplied argument is not a valid stream resource in D:\Hosting\3410369\html\counter\includes\counterh.php on line 220

Warning: feof(): supplied argument is not a valid stream resource in D:\Hosting\3410369\html\counter\includes\counterh.php on line 218

Warning: fgets(): supplied argument is not a valid stream resource in D:\Hosting\3410369\html\counter\includes\counterh.php on line 220

Warning: feof(): supplied argument is not a valid stream resource in D:\Hosting\3410369\html\counter\includes\counterh.php on line 218

Warning: fgets(): supplied argument is not a valid stream resource in D:\Hosting\3410369\html\counter\includes\counterh.php on line 220

Warning: feof(): supplied argument is not a valid stream resource in D:\Hosting\3410369\html\counter\includes\counterh.php on line 218

Warning: fgets(): supplied argument is not a valid stream resource in D:\Hosting\3410369\html\counter\includes\counterh.php on line 220

Warning: feof(): supplied argument is not a valid stream resource in D:\Hosting\3410369\html\counter\includes\counterh.php on line 218

Warning: fgets(): supplied argument is not a valid stream resource in D:\Hosting\3410369\html\counter\includes\counterh.php on line 220

Warning: feof(): supplied argument is not a valid stream resource in D:\Hosting\3410369\html\counter\includes\counterh.php on line 218

Warning: fgets(): supplied argument is not a valid stream resource in D:\Hosting\3410369\html\counter\includes\counterh.php on line 220

Warning: feof(): supplied argument is not a valid stream resource in D:\Hosting\3410369\html\counter\includes\counterh.php on line 218

Warning: fgets(): supplied argument is not a valid stream resource in D:\Hosting\3410369\html\counter\includes\counterh.php on line 220

Warning: feof(): supplied argument is not a valid stream resource in D:\Hosting\3410369\html\counter\includes\counterh.php on line 218

Warning: fgets(): supplied argument is not a valid stream resource in D:\Hosting\3410369\html\counter\includes\counterh.php on line 220

Warning: feof(): supplied argument is not a valid stream resource in D:\Hosting\3410369\html\counter\includes\counterh.php on line 218

Warning: fgets(): supplied argument is not a valid stream resource in D:\Hosting\3410369\html\counter\includes\counterh.php on line 220

Warning: feof(): supplied argument is not a valid stream resource in D:\Hosting\3410369\html\counter\includes\counterh.php on line 218

Warning: fgets(): supplied argument is not a valid stream resource in D:\Hosting\3410369\html\counter\includes\counterh.php on line 220

Warning: feof(): supplied argument is not a valid stream resource in D:\Hosting\3410369\html\counter\includes\counterh.php on line 218

Warning: fgets(): supplied argument is not a valid stream resource in D:\Hosting\3410369\html\counter\includes\counterh.php on line 220

Warning: feof(): supplied argument is not a valid stream resource in D:\Hosting\3410369\html\counter\includes\counterh.php on line 218

Warning: fgets(): supplied argument is not a valid stream resource in D:\Hosting\3410369\html\counter\includes\counterh.php on line 220

Warning: feof(): supplied argument is not a valid stream resource in D:\Hosting\3410369\html\counter\includes\counterh.php on line 218

Warning: fgets(): supplied argument is not a valid stream resource in D:\Hosting\3410369\html\counter\includes\counterh.php on line 220

Warning: feof(): supplied argument is not a valid stream resource in D:\Hosting\3410369\html\counter\includes\counterh.php on line 218

Warning: fgets(): supplied argument is not a valid stream resource in D:\Hosting\3410369\html\counter\includes\counterh.php on line 220

Warning: feof(): supplied argument is not a valid stream resource in D:\Hosting\3410369\html\counter\includes\counterh.php on line 218

Warning: fgets(): supplied argument is not a valid stream resource in D:\Hosting\3410369\html\counter\includes\counterh.php on line 220

Warning: feof(): supplied argument is not a valid stream resource in D:\Hosting\3410369\html\counter\includes\counterh.php on line 218

Warning: fgets(): supplied argument is not a valid stream resource in D:\Hosting\3410369\html\counter\includes\counterh.php on line 220

Warning: feof(): supplied argument is not a valid stream resource in D:\Hosting\3410369\html\counter\includes\counterh.php on line 218

Warning: fgets(): supplied argument is not a valid stream resource in D:\Hosting\3410369\html\counter\includes\counterh.php on line 220

Warning: feof(): supplied argument is not a valid stream resource in D:\Hosting\3410369\html\counter\includes\counterh.php on line 218

Warning: fgets(): supplied argument is not a valid stream resource in D:\Hosting\3410369\html\counter\includes\counterh.php on line 220

Warning: feof(): supplied argument is not a valid stream resource in D:\Hosting\3410369\html\counter\includes\counterh.php on line 218

Warning: fgets(): supplied argument is not a valid stream resource in D:\Hosting\3410369\html\counter\includes\counterh.php on line 220

Warning: feof(): supplied argument is not a valid stream resource in D:\Hosting\3410369\html\counter\includes\counterh.php on line 218

Warning: fgets(): supplied argument is not a valid stream resource in D:\Hosting\3410369\html\counter\includes\counterh.php on line 220

Warning: feof(): supplied argument is not a valid stream resource in D:\Hosting\3410369\html\counter\includes\counterh.php on line 218

Warning: fgets(): supplied argument is not a valid stream resource in D:\Hosting\3410369\html\counter\includes\counterh.php on line 220

Warning: feof(): supplied argument is not a valid stream resource in D:\Hosting\3410369\html\counter\includes\counterh.php on line 218

Warning: fgets(): supplied argument is not a valid stream resource in D:\Hosting\3410369\html\counter\includes\counterh.php on line 220

Warning: feof(): supplied argument is not a valid stream resource in D:\Hosting\3410369\html\counter\includes\counterh.php on line 218

Warning: fgets(): supplied argument is not a valid stream resource in D:\Hosting\3410369\html\counter\includes\counterh.php on line 220

Warning: feof(): supplied argument is not a valid stream resource in D:\Hosting\3410369\html\counter\includes\counterh.php on line 218

Warning: fgets(): supplied argument is not a valid stream resource in D:\Hosting\3410369\html\counter\includes\counterh.php on line 220

Warning: feof(): supplied argument is not a valid stream resource in D:\Hosting\3410369\html\counter\includes\counterh.php on line 218

Warning: fgets(): supplied argument is not a valid stream resource in D:\Hosting\3410369\html\counter\includes\counterh.php on line 220

Warning: feof(): supplied argument is not a valid stream resource in D:\Hosting\3410369\html\counter\includes\counterh.php on line 218

Warning: fgets(): supplied argument is not a valid stream resource in D:\Hosting\3410369\html\counter\includes\counterh.php on line 220

Warning: feof(): supplied argument is not a valid stream resource in D:\Hosting\3410369\html\counter\includes\counterh.php on line 218

Warning: fgets(): supplied argument is not a valid stream resource in D:\Hosting\3410369\html\counter\includes\counterh.php on line 220

Warning: feof(): supplied argument is not a valid stream resource in D:\Hosting\3410369\html\counter\includes\counterh.php on line 218

Warning: fgets(): supplied argument is not a valid stream resource in D:\Hosting\3410369\html\counter\includes\counterh.php on line 220

Warning: feof(): supplied argument is not a valid stream resource in D:\Hosting\3410369\html\counter\includes\counterh.php on line 218

Warning: fgets(): supplied argument is not a valid stream resource in D:\Hosting\3410369\html\counter\includes\counterh.php on line 220

Warning: feof(): supplied argument is not a valid stream resource in D:\Hosting\3410369\html\counter\includes\counterh.php on line 218

Warning: fgets(): supplied argument is not a valid stream resource in D:\Hosting\3410369\html\counter\includes\counterh.php on line 220

Warning: feof(): supplied argument is not a valid stream resource in D:\Hosting\3410369\html\counter\includes\counterh.php on line 218

Warning: fgets(): supplied argument is not a valid stream resource in D:\Hosting\3410369\html\counter\includes\counterh.php on line 220

Warning: feof(): supplied argument is not a valid stream resource in D:\Hosting\3410369\html\counter\includes\counterh.php on line 218

Warning: fgets(): supplied argument is not a valid stream resource in D:\Hosting\3410369\html\counter\includes\counterh.php on line 220

Warning: feof(): supplied argument is not a valid stream resource in D:\Hosting\3410369\html\counter\includes\counterh.php on line 218

Warning: fgets(): supplied argument is not a valid stream resource in D:\Hosting\3410369\html\counter\includes\counterh.php on line 220

Warning: feof(): supplied argument is not a valid stream resource in D:\Hosting\3410369\html\counter\includes\counterh.php on line 218

Warning: fgets(): supplied argument is not a valid stream resource in D:\Hosting\3410369\html\counter\includes\counterh.php on line 220

Warning: feof(): supplied argument is not a valid stream resource in D:\Hosting\3410369\html\counter\includes\counterh.php on line 218

Warning: fgets(): supplied argument is not a valid stream resource in D:\Hosting\3410369\html\counter\includes\counterh.php on line 220

Warning: feof(): supplied argument is not a valid stream resource in D:\Hosting\3410369\html\counter\includes\counterh.php on line 218

Warning: fgets(): supplied argument is not a valid stream resource in D:\Hosting\3410369\html\counter\includes\counterh.php on line 220

Warning: feof(): supplied argument is not a valid stream resource in D:\Hosting\3410369\html\counter\includes\counterh.php on line 218

Warning: fgets(): supplied argument is not a valid stream resource in D:\Hosting\3410369\html\counter\includes\counterh.php on line 220

Warning: feof(): supplied argument is not a valid stream resource in D:\Hosting\3410369\html\counter\includes\counterh.php on line 218

Warning: fgets(): supplied argument is not a valid stream resource in D:\Hosting\3410369\html\counter\includes\counterh.php on line 220

Warning: feof(): supplied argument is not a valid stream resource in D:\Hosting\3410369\html\counter\includes\counterh.php on line 218

Warning: fgets(): supplied argument is not a valid stream resource in D:\Hosting\3410369\html\counter\includes\counterh.php on line 220

Warning: feof(): supplied argument is not a valid stream resource in D:\Hosting\3410369\html\counter\includes\counterh.php on line 218

Warning: fgets(): supplied argument is not a valid stream resource in D:\Hosting\3410369\html\counter\includes\counterh.php on line 220

Warning: feof(): supplied argument is not a valid stream resource in D:\Hosting\3410369\html\counter\includes\counterh.php on line 218

Warning: fgets(): supplied argument is not a valid stream resource in D:\Hosting\3410369\html\counter\includes\counterh.php on line 220

Warning: feof(): supplied argument is not a valid stream resource in D:\Hosting\3410369\html\counter\includes\counterh.php on line 218

Warning: fgets(): supplied argument is not a valid stream resource in D:\Hosting\3410369\html\counter\includes\counterh.php on line 220

Warning: feof(): supplied argument is not a valid stream resource in D:\Hosting\3410369\html\counter\includes\counterh.php on line 218

Warning: fgets(): supplied argument is not a valid stream resource in D:\Hosting\3410369\html\counter\includes\counterh.php on line 220

Warning: feof(): supplied argument is not a valid stream resource in D:\Hosting\3410369\html\counter\includes\counterh.php on line 218

Warning: fgets(): supplied argument is not a valid stream resource in D:\Hosting\3410369\html\counter\includes\counterh.php on line 220

Warning: feof(): supplied argument is not a valid stream resource in D:\Hosting\3410369\html\counter\includes\counterh.php on line 218

Warning: fgets(): supplied argument is not a valid stream resource in D:\Hosting\3410369\html\counter\includes\counterh.php on line 220

Warning: feof(): supplied argument is not a valid stream resource in D:\Hosting\3410369\html\counter\includes\counterh.php on line 218

Warning: fgets(): supplied argument is not a valid stream resource in D:\Hosting\3410369\html\counter\includes\counterh.php on line 220

Warning: feof(): supplied argument is not a valid stream resource in D:\Hosting\3410369\html\counter\includes\counterh.php on line 218

Warning: fgets(): supplied argument is not a valid stream resource in D:\Hosting\3410369\html\counter\includes\counterh.php on line 220

Warning: feof(): supplied argument is not a valid stream resource in D:\Hosting\3410369\html\counter\includes\counterh.php on line 218

Warning: fgets(): supplied argument is not a valid stream resource in D:\Hosting\3410369\html\counter\includes\counterh.php on line 220

Warning: feof(): supplied argument is not a valid stream resource in D:\Hosting\3410369\html\counter\includes\counterh.php on line 218

Warning: fgets(): supplied argument is not a valid stream resource in D:\Hosting\3410369\html\counter\includes\counterh.php on line 220

Warning: feof(): supplied argument is not a valid stream resource in D:\Hosting\3410369\html\counter\includes\counterh.php on line 218

Warning: fgets(): supplied argument is not a valid stream resource in D:\Hosting\3410369\html\counter\includes\counterh.php on line 220

Warning: feof(): supplied argument is not a valid stream resource in D:\Hosting\3410369\html\counter\includes\counterh.php on line 218

Warning: fgets(): supplied argument is not a valid stream resource in D:\Hosting\3410369\html\counter\includes\counterh.php on line 220

Warning: feof(): supplied argument is not a valid stream resource in D:\Hosting\3410369\html\counter\includes\counterh.php on line 218

Warning: fgets(): supplied argument is not a valid stream resource in D:\Hosting\3410369\html\counter\includes\counterh.php on line 220

Warning: feof(): supplied argument is not a valid stream resource in D:\Hosting\3410369\html\counter\includes\counterh.php on line 218

Warning: fgets(): supplied argument is not a valid stream resource in D:\Hosting\3410369\html\counter\includes\counterh.php on line 220

Warning: feof(): supplied argument is not a valid stream resource in D:\Hosting\3410369\html\counter\includes\counterh.php on line 218

Warning: fgets(): supplied argument is not a valid stream resource in D:\Hosting\3410369\html\counter\includes\counterh.php on line 220

Warning: feof(): supplied argument is not a valid stream resource in D:\Hosting\3410369\html\counter\includes\counterh.php on line 218

Warning: fgets(): supplied argument is not a valid stream resource in D:\Hosting\3410369\html\counter\includes\counterh.php on line 220

Warning: feof(): supplied argument is not a valid stream resource in D:\Hosting\3410369\html\counter\includes\counterh.php on line 218

Warning: fgets(): supplied argument is not a valid stream resource in D:\Hosting\3410369\html\counter\includes\counterh.php on line 220

Warning: feof(): supplied argument is not a valid stream resource in D:\Hosting\3410369\html\counter\includes\counterh.php on line 218

Warning: fgets(): supplied argument is not a valid stream resource in D:\Hosting\3410369\html\counter\includes\counterh.php on line 220

Warning: feof(): supplied argument is not a valid stream resource in D:\Hosting\3410369\html\counter\includes\counterh.php on line 218

Warning: fgets(): supplied argument is not a valid stream resource in D:\Hosting\3410369\html\counter\includes\counterh.php on line 220

Warning: feof(): supplied argument is not a valid stream resource in D:\Hosting\3410369\html\counter\includes\counterh.php on line 218

Warning: fgets(): supplied argument is not a valid stream resource in D:\Hosting\3410369\html\counter\includes\counterh.php on line 220

Warning: feof(): supplied argument is not a valid stream resource in D:\Hosting\3410369\html\counter\includes\counterh.php on line 218

Warning: fgets(): supplied argument is not a valid stream resource in D:\Hosting\3410369\html\counter\includes\counterh.php on line 220

Warning: feof(): supplied argument is not a valid stream resource in D:\Hosting\3410369\html\counter\includes\counterh.php on line 218

Warning: fgets(): supplied argument is not a valid stream resource in D:\Hosting\3410369\html\counter\includes\counterh.php on line 220

Warning: feof(): supplied argument is not a valid stream resource in D:\Hosting\3410369\html\counter\includes\counterh.php on line 218

Warning: fgets(): supplied argument is not a valid stream resource in D:\Hosting\3410369\html\counter\includes\counterh.php on line 220

Warning: feof(): supplied argument is not a valid stream resource in D:\Hosting\3410369\html\counter\includes\counterh.php on line 218

Warning: fgets(): supplied argument is not a valid stream resource in D:\Hosting\3410369\html\counter\includes\counterh.php on line 220

Warning: feof(): supplied argument is not a valid stream resource in D:\Hosting\3410369\html\counter\includes\counterh.php on line 218

Warning: fgets(): supplied argument is not a valid stream resource in D:\Hosting\3410369\html\counter\includes\counterh.php on line 220

Warning: feof(): supplied argument is not a valid stream resource in D:\Hosting\3410369\html\counter\includes\counterh.php on line 218

Warning: fgets(): supplied argument is not a valid stream resource in D:\Hosting\3410369\html\counter\includes\counterh.php on line 220

Warning: feof(): supplied argument is not a valid stream resource in D:\Hosting\3410369\html\counter\includes\counterh.php on line 218

Warning: fgets(): supplied argument is not a valid stream resource in D:\Hosting\3410369\html\counter\includes\counterh.php on line 220

Warning: feof(): supplied argument is not a valid stream resource in D:\Hosting\3410369\html\counter\includes\counterh.php on line 218

Warning: fgets(): supplied argument is not a valid stream resource in D:\Hosting\3410369\html\counter\includes\counterh.php on line 220

Warning: feof(): supplied argument is not a valid stream resource in D:\Hosting\3410369\html\counter\includes\counterh.php on line 218

Warning: fgets(): supplied argument is not a valid stream resource in D:\Hosting\3410369\html\counter\includes\counterh.php on line 220

Warning: feof(): supplied argument is not a valid stream resource in D:\Hosting\3410369\html\counter\includes\counterh.php on line 218

Warning: fgets(): supplied argument is not a valid stream resource in D:\Hosting\3410369\html\counter\includes\counterh.php on line 220

Warning: feof(): supplied argument is not a valid stream resource in D:\Hosting\3410369\html\counter\includes\counterh.php on line 218

Warning: fgets(): supplied argument is not a valid stream resource in D:\Hosting\3410369\html\counter\includes\counterh.php on line 220

Warning: feof(): supplied argument is not a valid stream resource in D:\Hosting\3410369\html\counter\includes\counterh.php on line 218

Warning: fgets(): supplied argument is not a valid stream resource in D:\Hosting\3410369\html\counter\includes\counterh.php on line 220

Warning: feof(): supplied argument is not a valid stream resource in D:\Hosting\3410369\html\counter\includes\counterh.php on line 218

Warning: fgets(): supplied argument is not a valid stream resource in D:\Hosting\3410369\html\counter\includes\counterh.php on line 220

Warning: feof(): supplied argument is not a valid stream resource in D:\Hosting\3410369\html\counter\includes\counterh.php on line 218

Warning: fgets(): supplied argument is not a valid stream resource in D:\Hosting\3410369\html\counter\includes\counterh.php on line 220

Warning: feof(): supplied argument is not a valid stream resource in D:\Hosting\3410369\html\counter\includes\counterh.php on line 218

Warning: fgets(): supplied argument is not a valid stream resource in D:\Hosting\3410369\html\counter\includes\counterh.php on line 220

Warning: feof(): supplied argument is not a valid stream resource in D:\Hosting\3410369\html\counter\includes\counterh.php on line 218

Warning: fgets(): supplied argument is not a valid stream resource in D:\Hosting\3410369\html\counter\includes\counterh.php on line 220

Warning: feof(): supplied argument is not a valid stream resource in D:\Hosting\3410369\html\counter\includes\counterh.php on line 218

Warning: fgets(): supplied argument is not a valid stream resource in D:\Hosting\3410369\html\counter\includes\counterh.php on line 220

Warning: feof(): supplied argument is not a valid stream resource in D:\Hosting\3410369\html\counter\includes\counterh.php on line 218

Warning: fgets(): supplied argument is not a valid stream resource in D:\Hosting\3410369\html\counter\includes\counterh.php on line 220

Warning: feof(): supplied argument is not a valid stream resource in D:\Hosting\3410369\html\counter\includes\counterh.php on line 218

Warning: fgets(): supplied argument is not a valid stream resource in D:\Hosting\3410369\html\counter\includes\counterh.php on line 220

Warning: feof(): supplied argument is not a valid stream resource in D:\Hosting\3410369\html\counter\includes\counterh.php on line 218

Warning: fgets(): supplied argument is not a valid stream resource in D:\Hosting\3410369\html\counter\includes\counterh.php on line 220

Warning: feof(): supplied argument is not a valid stream resource in D:\Hosting\3410369\html\counter\includes\counterh.php on line 218

Warning: fgets(): supplied argument is not a valid stream resource in D:\Hosting\3410369\html\counter\includes\counterh.php on line 220

Warning: feof(): supplied argument is not a valid stream resource in D:\Hosting\3410369\html\counter\includes\counterh.php on line 218

Warning: fgets(): supplied argument is not a valid stream resource in D:\Hosting\3410369\html\counter\includes\counterh.php on line 220

Warning: feof(): supplied argument is not a valid stream resource in D:\Hosting\3410369\html\counter\includes\counterh.php on line 218

Warning: fgets(): supplied argument is not a valid stream resource in D:\Hosting\3410369\html\counter\includes\counterh.php on line 220

Warning: feof(): supplied argument is not a valid stream resource in D:\Hosting\3410369\html\counter\includes\counterh.php on line 218

Warning: fgets(): supplied argument is not a valid stream resource in D:\Hosting\3410369\html\counter\includes\counterh.php on line 220

Warning: feof(): supplied argument is not a valid stream resource in D:\Hosting\3410369\html\counter\includes\counterh.php on line 218

Warning: fgets(): supplied argument is not a valid stream resource in D:\Hosting\3410369\html\counter\includes\counterh.php on line 220

Warning: feof(): supplied argument is not a valid stream resource in D:\Hosting\3410369\html\counter\includes\counterh.php on line 218

Warning: fgets(): supplied argument is not a valid stream resource in D:\Hosting\3410369\html\counter\includes\counterh.php on line 220

Warning: feof(): supplied argument is not a valid stream resource in D:\Hosting\3410369\html\counter\includes\counterh.php on line 218

Warning: fgets(): supplied argument is not a valid stream resource in D:\Hosting\3410369\html\counter\includes\counterh.php on line 220

Warning: feof(): supplied argument is not a valid stream resource in D:\Hosting\3410369\html\counter\includes\counterh.php on line 218

Warning: fgets(): supplied argument is not a valid stream resource in D:\Hosting\3410369\html\counter\includes\counterh.php on line 220

Warning: feof(): supplied argument is not a valid stream resource in D:\Hosting\3410369\html\counter\includes\counterh.php on line 218

Warning: fgets(): supplied argument is not a valid stream resource in D:\Hosting\3410369\html\counter\includes\counterh.php on line 220

Warning: feof(): supplied argument is not a valid stream resource in D:\Hosting\3410369\html\counter\includes\counterh.php on line 218

Warning: fgets(): supplied argument is not a valid stream resource in D:\Hosting\3410369\html\counter\includes\counterh.php on line 220

Warning: feof(): supplied argument is not a valid stream resource in D:\Hosting\3410369\html\counter\includes\counterh.php on line 218

Warning: fgets(): supplied argument is not a valid stream resource in D:\Hosting\3410369\html\counter\includes\counterh.php on line 220

Warning: feof(): supplied argument is not a valid stream resource in D:\Hosting\3410369\html\counter\includes\counterh.php on line 218

Warning: fgets(): supplied argument is not a valid stream resource in D:\Hosting\3410369\html\counter\includes\counterh.php on line 220

Warning: feof(): supplied argument is not a valid stream resource in D:\Hosting\3410369\html\counter\includes\counterh.php on line 218

Warning: fgets(): supplied argument is not a valid stream resource in D:\Hosting\3410369\html\counter\includes\counterh.php on line 220

Warning: feof(): supplied argument is not a valid stream resource in D:\Hosting\3410369\html\counter\includes\counterh.php on line 218

Warning: fgets(): supplied argument is not a valid stream resource in D:\Hosting\3410369\html\counter\includes\counterh.php on line 220

Warning: feof(): supplied argument is not a valid stream resource in D:\Hosting\3410369\html\counter\includes\counterh.php on line 218

Warning: fgets(): supplied argument is not a valid stream resource in D:\Hosting\3410369\html\counter\includes\counterh.php on line 220

Warning: feof(): supplied argument is not a valid stream resource in D:\Hosting\3410369\html\counter\includes\counterh.php on line 218

Warning: fgets(): supplied argument is not a valid stream resource in D:\Hosting\3410369\html\counter\includes\counterh.php on line 220

Warning: feof(): supplied argument is not a valid stream resource in D:\Hosting\3410369\html\counter\includes\counterh.php on line 218

Warning: fgets(): supplied argument is not a valid stream resource in D:\Hosting\3410369\html\counter\includes\counterh.php on line 220

Warning: feof(): supplied argument is not a valid stream resource in D:\Hosting\3410369\html\counter\includes\counterh.php on line 218

Warning: fgets(): supplied argument is not a valid stream resource in D:\Hosting\3410369\html\counter\includes\counterh.php on line 220

Warning: feof(): supplied argument is not a valid stream resource in D:\Hosting\3410369\html\counter\includes\counterh.php on line 218

Warning: fgets(): supplied argument is not a valid stream resource in D:\Hosting\3410369\html\counter\includes\counterh.php on line 220

Warning: feof(): supplied argument is not a valid stream resource in D:\Hosting\3410369\html\counter\includes\counterh.php on line 218

Warning: fgets(): supplied argument is not a valid stream resource in D:\Hosting\3410369\html\counter\includes\counterh.php on line 220

Warning: feof(): supplied argument is not a valid stream resource in D:\Hosting\3410369\html\counter\includes\counterh.php on line 218

Warning: fgets(): supplied argument is not a valid stream resource in D:\Hosting\3410369\html\counter\includes\counterh.php on line 220

Warning: feof(): supplied argument is not a valid stream resource in D:\Hosting\3410369\html\counter\includes\counterh.php on line 218

Warning: fgets(): supplied argument is not a valid stream resource in D:\Hosting\3410369\html\counter\includes\counterh.php on line 220

Warning: feof(): supplied argument is not a valid stream resource in D:\Hosting\3410369\html\counter\includes\counterh.php on line 218

Warning: fgets(): supplied argument is not a valid stream resource in D:\Hosting\3410369\html\counter\includes\counterh.php on line 220

Warning: feof(): supplied argument is not a valid stream resource in D:\Hosting\3410369\html\counter\includes\counterh.php on line 218

Warning: fgets(): supplied argument is not a valid stream resource in D:\Hosting\3410369\html\counter\includes\counterh.php on line 220

Warning: feof(): supplied argument is not a valid stream resource in D:\Hosting\3410369\html\counter\includes\counterh.php on line 218

Warning: fgets(): supplied argument is not a valid stream resource in D:\Hosting\3410369\html\counter\includes\counterh.php on line 220

Warning: feof(): supplied argument is not a valid stream resource in D:\Hosting\3410369\html\counter\includes\counterh.php on line 218

Warning: fgets(): supplied argument is not a valid stream resource in D:\Hosting\3410369\html\counter\includes\counterh.php on line 220

Warning: feof(): supplied argument is not a valid stream resource in D:\Hosting\3410369\html\counter\includes\counterh.php on line 218

Warning: fgets(): supplied argument is not a valid stream resource in D:\Hosting\3410369\html\counter\includes\counterh.php on line 220

Warning: feof(): supplied argument is not a valid stream resource in D:\Hosting\3410369\html\counter\includes\counterh.php on line 218

Warning: fgets(): supplied argument is not a valid stream resource in D:\Hosting\3410369\html\counter\includes\counterh.php on line 220

Warning: feof(): supplied argument is not a valid stream resource in D:\Hosting\3410369\html\counter\includes\counterh.php on line 218

Warning: fgets(): supplied argument is not a valid stream resource in D:\Hosting\3410369\html\counter\includes\counterh.php on line 220

Warning: feof(): supplied argument is not a valid stream resource in D:\Hosting\3410369\html\counter\includes\counterh.php on line 218

Warning: fgets(): supplied argument is not a valid stream resource in D:\Hosting\3410369\html\counter\includes\counterh.php on line 220

Warning: feof(): supplied argument is not a valid stream resource in D:\Hosting\3410369\html\counter\includes\counterh.php on line 218

Warning: fgets(): supplied argument is not a valid stream resource in D:\Hosting\3410369\html\counter\includes\counterh.php on line 220

Warning: feof(): supplied argument is not a valid stream resource in D:\Hosting\3410369\html\counter\includes\counterh.php on line 218

Warning: fgets(): supplied argument is not a valid stream resource in D:\Hosting\3410369\html\counter\includes\counterh.php on line 220

Warning: feof(): supplied argument is not a valid stream resource in D:\Hosting\3410369\html\counter\includes\counterh.php on line 218

Warning: fgets(): supplied argument is not a valid stream resource in D:\Hosting\3410369\html\counter\includes\counterh.php on line 220

Warning: feof(): supplied argument is not a valid stream resource in D:\Hosting\3410369\html\counter\includes\counterh.php on line 218

Warning: fgets(): supplied argument is not a valid stream resource in D:\Hosting\3410369\html\counter\includes\counterh.php on line 220

Warning: feof(): supplied argument is not a valid stream resource in D:\Hosting\3410369\html\counter\includes\counterh.php on line 218

Warning: fgets(): supplied argument is not a valid stream resource in D:\Hosting\3410369\html\counter\includes\counterh.php on line 220

Warning: feof(): supplied argument is not a valid stream resource in D:\Hosting\3410369\html\counter\includes\counterh.php on line 218

Warning: fgets(): supplied argument is not a valid stream resource in D:\Hosting\3410369\html\counter\includes\counterh.php on line 220

Warning: feof(): supplied argument is not a valid stream resource in D:\Hosting\3410369\html\counter\includes\counterh.php on line 218

Warning: fgets(): supplied argument is not a valid stream resource in D:\Hosting\3410369\html\counter\includes\counterh.php on line 220

Warning: feof(): supplied argument is not a valid stream resource in D:\Hosting\3410369\html\counter\includes\counterh.php on line 218

Warning: fgets(): supplied argument is not a valid stream resource in D:\Hosting\3410369\html\counter\includes\counterh.php on line 220

Warning: feof(): supplied argument is not a valid stream resource in D:\Hosting\3410369\html\counter\includes\counterh.php on line 218

Warning: fgets(): supplied argument is not a valid stream resource in D:\Hosting\3410369\html\counter\includes\counterh.php on line 220

Warning: feof(): supplied argument is not a valid stream resource in D:\Hosting\3410369\html\counter\includes\counterh.php on line 218

Warning: fgets(): supplied argument is not a valid stream resource in D:\Hosting\3410369\html\counter\includes\counterh.php on line 220

Warning: feof(): supplied argument is not a valid stream resource in D:\Hosting\3410369\html\counter\includes\counterh.php on line 218

Warning: fgets(): supplied argument is not a valid stream resource in D:\Hosting\3410369\html\counter\includes\counterh.php on line 220

Warning: feof(): supplied argument is not a valid stream resource in D:\Hosting\3410369\html\counter\includes\counterh.php on line 218

Warning: fgets(): supplied argument is not a valid stream resource in D:\Hosting\3410369\html\counter\includes\counterh.php on line 220

Warning: feof(): supplied argument is not a valid stream resource in D:\Hosting\3410369\html\counter\includes\counterh.php on line 218

Warning: fgets(): supplied argument is not a valid stream resource in D:\Hosting\3410369\html\counter\includes\counterh.php on line 220

Warning: feof(): supplied argument is not a valid stream resource in D:\Hosting\3410369\html\counter\includes\counterh.php on line 218

Warning: fgets(): supplied argument is not a valid stream resource in D:\Hosting\3410369\html\counter\includes\counterh.php on line 220

Warning: feof(): supplied argument is not a valid stream resource in D:\Hosting\3410369\html\counter\includes\counterh.php on line 218

Warning: fgets(): supplied argument is not a valid stream resource in D:\Hosting\3410369\html\counter\includes\counterh.php on line 220

Warning: feof(): supplied argument is not a valid stream resource in D:\Hosting\3410369\html\counter\includes\counterh.php on line 218

Warning: fgets(): supplied argument is not a valid stream resource in D:\Hosting\3410369\html\counter\includes\counterh.php on line 220

Warning: feof(): supplied argument is not a valid stream resource in D:\Hosting\3410369\html\counter\includes\counterh.php on line 218

Warning: fgets(): supplied argument is not a valid stream resource in D:\Hosting\3410369\html\counter\includes\counterh.php on line 220

Warning: feof(): supplied argument is not a valid stream resource in D:\Hosting\3410369\html\counter\includes\counterh.php on line 218

Warning: fgets(): supplied argument is not a valid stream resource in D:\Hosting\3410369\html\counter\includes\counterh.php on line 220

Warning: feof(): supplied argument is not a valid stream resource in D:\Hosting\3410369\html\counter\includes\counterh.php on line 218

Warning: fgets(): supplied argument is not a valid stream resource in D:\Hosting\3410369\html\counter\includes\counterh.php on line 220

Warning: feof(): supplied argument is not a valid stream resource in D:\Hosting\3410369\html\counter\includes\counterh.php on line 218

Warning: fgets(): supplied argument is not a valid stream resource in D:\Hosting\3410369\html\counter\includes\counterh.php on line 220

Warning: feof(): supplied argument is not a valid stream resource in D:\Hosting\3410369\html\counter\includes\counterh.php on line 218

Warning: fgets(): supplied argument is not a valid stream resource in D:\Hosting\3410369\html\counter\includes\counterh.php on line 220

Warning: feof(): supplied argument is not a valid stream resource in D:\Hosting\3410369\html\counter\includes\counterh.php on line 218

Warning: fgets(): supplied argument is not a valid stream resource in D:\Hosting\3410369\html\counter\includes\counterh.php on line 220

Warning: feof(): supplied argument is not a valid stream resource in D:\Hosting\3410369\html\counter\includes\counterh.php on line 218

Warning: fgets(): supplied argument is not a valid stream resource in D:\Hosting\3410369\html\counter\includes\counterh.php on line 220

Warning: feof(): supplied argument is not a valid stream resource in D:\Hosting\3410369\html\counter\includes\counterh.php on line 218

Warning: fgets(): supplied argument is not a valid stream resource in D:\Hosting\3410369\html\counter\includes\counterh.php on line 220

Warning: feof(): supplied argument is not a valid stream resource in D:\Hosting\3410369\html\counter\includes\counterh.php on line 218

Warning: fgets(): supplied argument is not a valid stream resource in D:\Hosting\3410369\html\counter\includes\counterh.php on line 220

Warning: feof(): supplied argument is not a valid stream resource in D:\Hosting\3410369\html\counter\includes\counterh.php on line 218

Warning: fgets(): supplied argument is not a valid stream resource in D:\Hosting\3410369\html\counter\includes\counterh.php on line 220

Warning: feof(): supplied argument is not a valid stream resource in D:\Hosting\3410369\html\counter\includes\counterh.php on line 218

Warning: fgets(): supplied argument is not a valid stream resource in D:\Hosting\3410369\html\counter\includes\counterh.php on line 220

Warning: feof(): supplied argument is not a valid stream resource in D:\Hosting\3410369\html\counter\includes\counterh.php on line 218

Warning: fgets(): supplied argument is not a valid stream resource in D:\Hosting\3410369\html\counter\includes\counterh.php on line 220

Warning: feof(): supplied argument is not a valid stream resource in D:\Hosting\3410369\html\counter\includes\counterh.php on line 218

Warning: fgets(): supplied argument is not a valid stream resource in D:\Hosting\3410369\html\counter\includes\counterh.php on line 220

Warning: feof(): supplied argument is not a valid stream resource in D:\Hosting\3410369\html\counter\includes\counterh.php on line 218

Warning: fgets(): supplied argument is not a valid stream resource in D:\Hosting\3410369\html\counter\includes\counterh.php on line 220

Warning: feof(): supplied argument is not a valid stream resource in D:\Hosting\3410369\html\counter\includes\counterh.php on line 218

Warning: fgets(): supplied argument is not a valid stream resource in D:\Hosting\3410369\html\counter\includes\counterh.php on line 220

Warning: feof(): supplied argument is not a valid stream resource in D:\Hosting\3410369\html\counter\includes\counterh.php on line 218

Warning: fgets(): supplied argument is not a valid stream resource in D:\Hosting\3410369\html\counter\includes\counterh.php on line 220

Warning: feof(): supplied argument is not a valid stream resource in D:\Hosting\3410369\html\counter\includes\counterh.php on line 218

Warning: fgets(): supplied argument is not a valid stream resource in D:\Hosting\3410369\html\counter\includes\counterh.php on line 220

Warning: feof(): supplied argument is not a valid stream resource in D:\Hosting\3410369\html\counter\includes\counterh.php on line 218

Warning: fgets(): supplied argument is not a valid stream resource in D:\Hosting\3410369\html\counter\includes\counterh.php on line 220

Warning: feof(): supplied argument is not a valid stream resource in D:\Hosting\3410369\html\counter\includes\counterh.php on line 218

Warning: fgets(): supplied argument is not a valid stream resource in D:\Hosting\3410369\html\counter\includes\counterh.php on line 220

Warning: feof(): supplied argument is not a valid stream resource in D:\Hosting\3410369\html\counter\includes\counterh.php on line 218

Warning: fgets(): supplied argument is not a valid stream resource in D:\Hosting\3410369\html\counter\includes\counterh.php on line 220

Warning: feof(): supplied argument is not a valid stream resource in D:\Hosting\3410369\html\counter\includes\counterh.php on line 218

Warning: fgets(): supplied argument is not a valid stream resource in D:\Hosting\3410369\html\counter\includes\counterh.php on line 220

Warning: feof(): supplied argument is not a valid stream resource in D:\Hosting\3410369\html\counter\includes\counterh.php on line 218

Warning: fgets(): supplied argument is not a valid stream resource in D:\Hosting\3410369\html\counter\includes\counterh.php on line 220

Warning: feof(): supplied argument is not a valid stream resource in D:\Hosting\3410369\html\counter\includes\counterh.php on line 218

Warning: fgets(): supplied argument is not a valid stream resource in D:\Hosting\3410369\html\counter\includes\counterh.php on line 220

Warning: feof(): supplied argument is not a valid stream resource in D:\Hosting\3410369\html\counter\includes\counterh.php on line 218

Warning: fgets(): supplied argument is not a valid stream resource in D:\Hosting\3410369\html\counter\includes\counterh.php on line 220

Warning: feof(): supplied argument is not a valid stream resource in D:\Hosting\3410369\html\counter\includes\counterh.php on line 218

Warning: fgets(): supplied argument is not a valid stream resource in D:\Hosting\3410369\html\counter\includes\counterh.php on line 220

Warning: feof(): supplied argument is not a valid stream resource in D:\Hosting\3410369\html\counter\includes\counterh.php on line 218

Warning: fgets(): supplied argument is not a valid stream resource in D:\Hosting\3410369\html\counter\includes\counterh.php on line 220

Warning: feof(): supplied argument is not a valid stream resource in D:\Hosting\3410369\html\counter\includes\counterh.php on line 218

Warning: fgets(): supplied argument is not a valid stream resource in D:\Hosting\3410369\html\counter\includes\counterh.php on line 220

Warning: feof(): supplied argument is not a valid stream resource in D:\Hosting\3410369\html\counter\includes\counterh.php on line 218

Warning: fgets(): supplied argument is not a valid stream resource in D:\Hosting\3410369\html\counter\includes\counterh.php on line 220

Warning: feof(): supplied argument is not a valid stream resource in D:\Hosting\3410369\html\counter\includes\counterh.php on line 218

Warning: fgets(): supplied argument is not a valid stream resource in D:\Hosting\3410369\html\counter\includes\counterh.php on line 220

Warning: feof(): supplied argument is not a valid stream resource in D:\Hosting\3410369\html\counter\includes\counterh.php on line 218

Warning: fgets(): supplied argument is not a valid stream resource in D:\Hosting\3410369\html\counter\includes\counterh.php on line 220

Warning: feof(): supplied argument is not a valid stream resource in D:\Hosting\3410369\html\counter\includes\counterh.php on line 218

Warning: fgets(): supplied argument is not a valid stream resource in D:\Hosting\3410369\html\counter\includes\counterh.php on line 220

Warning: feof(): supplied argument is not a valid stream resource in D:\Hosting\3410369\html\counter\includes\counterh.php on line 218

Warning: fgets(): supplied argument is not a valid stream resource in D:\Hosting\3410369\html\counter\includes\counterh.php on line 220

Warning: feof(): supplied argument is not a valid stream resource in D:\Hosting\3410369\html\counter\includes\counterh.php on line 218

Warning: fgets(): supplied argument is not a valid stream resource in D:\Hosting\3410369\html\counter\includes\counterh.php on line 220

Warning: feof(): supplied argument is not a valid stream resource in D:\Hosting\3410369\html\counter\includes\counterh.php on line 218

Warning: fgets(): supplied argument is not a valid stream resource in D:\Hosting\3410369\html\counter\includes\counterh.php on line 220

Warning: feof(): supplied argument is not a valid stream resource in D:\Hosting\3410369\html\counter\includes\counterh.php on line 218

Warning: fgets(): supplied argument is not a valid stream resource in D:\Hosting\3410369\html\counter\includes\counterh.php on line 220

Warning: feof(): supplied argument is not a valid stream resource in D:\Hosting\3410369\html\counter\includes\counterh.php on line 218

Warning: fgets(): supplied argument is not a valid stream resource in D:\Hosting\3410369\html\counter\includes\counterh.php on line 220

Warning: feof(): supplied argument is not a valid stream resource in D:\Hosting\3410369\html\counter\includes\counterh.php on line 218

Warning: fgets(): supplied argument is not a valid stream resource in D:\Hosting\3410369\html\counter\includes\counterh.php on line 220

Warning: feof(): supplied argument is not a valid stream resource in D:\Hosting\3410369\html\counter\includes\counterh.php on line 218

Warning: fgets(): supplied argument is not a valid stream resource in D:\Hosting\3410369\html\counter\includes\counterh.php on line 220

Warning: feof(): supplied argument is not a valid stream resource in D:\Hosting\3410369\html\counter\includes\counterh.php on line 218

Warning: fgets(): supplied argument is not a valid stream resource in D:\Hosting\3410369\html\counter\includes\counterh.php on line 220

Warning: feof(): supplied argument is not a valid stream resource in D:\Hosting\3410369\html\counter\includes\counterh.php on line 218

Warning: fgets(): supplied argument is not a valid stream resource in D:\Hosting\3410369\html\counter\includes\counterh.php on line 220

Warning: feof(): supplied argument is not a valid stream resource in D:\Hosting\3410369\html\counter\includes\counterh.php on line 218

Warning: fgets(): supplied argument is not a valid stream resource in D:\Hosting\3410369\html\counter\includes\counterh.php on line 220

Warning: feof(): supplied argument is not a valid stream resource in D:\Hosting\3410369\html\counter\includes\counterh.php on line 218

Warning: fgets(): supplied argument is not a valid stream resource in D:\Hosting\3410369\html\counter\includes\counterh.php on line 220

Warning: feof(): supplied argument is not a valid stream resource in D:\Hosting\3410369\html\counter\includes\counterh.php on line 218

Warning: fgets(): supplied argument is not a valid stream resource in D:\Hosting\3410369\html\counter\includes\counterh.php on line 220

Warning: feof(): supplied argument is not a valid stream resource in D:\Hosting\3410369\html\counter\includes\counterh.php on line 218

Warning: fgets(): supplied argument is not a valid stream resource in D:\Hosting\3410369\html\counter\includes\counterh.php on line 220

Warning: feof(): supplied argument is not a valid stream resource in D:\Hosting\3410369\html\counter\includes\counterh.php on line 218

Warning: fgets(): supplied argument is not a valid stream resource in D:\Hosting\3410369\html\counter\includes\counterh.php on line 220

Warning: feof(): supplied argument is not a valid stream resource in D:\Hosting\3410369\html\counter\includes\counterh.php on line 218

Warning: fgets(): supplied argument is not a valid stream resource in D:\Hosting\3410369\html\counter\includes\counterh.php on line 220

Warning: feof(): supplied argument is not a valid stream resource in D:\Hosting\3410369\html\counter\includes\counterh.php on line 218

Warning: fgets(): supplied argument is not a valid stream resource in D:\Hosting\3410369\html\counter\includes\counterh.php on line 220

Warning: feof(): supplied argument is not a valid stream resource in D:\Hosting\3410369\html\counter\includes\counterh.php on line 218

Warning: fgets(): supplied argument is not a valid stream resource in D:\Hosting\3410369\html\counter\includes\counterh.php on line 220

Warning: feof(): supplied argument is not a valid stream resource in D:\Hosting\3410369\html\counter\includes\counterh.php on line 218

Warning: fgets(): supplied argument is not a valid stream resource in D:\Hosting\3410369\html\counter\includes\counterh.php on line 220

Warning: feof(): supplied argument is not a valid stream resource in D:\Hosting\3410369\html\counter\includes\counterh.php on line 218

Warning: fgets(): supplied argument is not a valid stream resource in D:\Hosting\3410369\html\counter\includes\counterh.php on line 220

Warning: feof(): supplied argument is not a valid stream resource in D:\Hosting\3410369\html\counter\includes\counterh.php on line 218

Warning: fgets(): supplied argument is not a valid stream resource in D:\Hosting\3410369\html\counter\includes\counterh.php on line 220

Warning: feof(): supplied argument is not a valid stream resource in D:\Hosting\3410369\html\counter\includes\counterh.php on line 218

Warning: fgets(): supplied argument is not a valid stream resource in D:\Hosting\3410369\html\counter\includes\counterh.php on line 220

Warning: feof(): supplied argument is not a valid stream resource in D:\Hosting\3410369\html\counter\includes\counterh.php on line 218

Warning: fgets(): supplied argument is not a valid stream resource in D:\Hosting\3410369\html\counter\includes\counterh.php on line 220

Warning: feof(): supplied argument is not a valid stream resource in D:\Hosting\3410369\html\counter\includes\counterh.php on line 218

Warning: fgets(): supplied argument is not a valid stream resource in D:\Hosting\3410369\html\counter\includes\counterh.php on line 220

Warning: feof(): supplied argument is not a valid stream resource in D:\Hosting\3410369\html\counter\includes\counterh.php on line 218

Warning: fgets(): supplied argument is not a valid stream resource in D:\Hosting\3410369\html\counter\includes\counterh.php on line 220

Warning: feof(): supplied argument is not a valid stream resource in D:\Hosting\3410369\html\counter\includes\counterh.php on line 218

Warning: fgets(): supplied argument is not a valid stream resource in D:\Hosting\3410369\html\counter\includes\counterh.php on line 220

Warning: feof(): supplied argument is not a valid stream resource in D:\Hosting\3410369\html\counter\includes\counterh.php on line 218

Warning: fgets(): supplied argument is not a valid stream resource in D:\Hosting\3410369\html\counter\includes\counterh.php on line 220

Warning: feof(): supplied argument is not a valid stream resource in D:\Hosting\3410369\html\counter\includes\counterh.php on line 218

Warning: fgets(): supplied argument is not a valid stream resource in D:\Hosting\3410369\html\counter\includes\counterh.php on line 220

Warning: feof(): supplied argument is not a valid stream resource in D:\Hosting\3410369\html\counter\includes\counterh.php on line 218

Warning: fgets(): supplied argument is not a valid stream resource in D:\Hosting\3410369\html\counter\includes\counterh.php on line 220

Warning: feof(): supplied argument is not a valid stream resource in D:\Hosting\3410369\html\counter\includes\counterh.php on line 218

Warning: fgets(): supplied argument is not a valid stream resource in D:\Hosting\3410369\html\counter\includes\counterh.php on line 220

Warning: feof(): supplied argument is not a valid stream resource in D:\Hosting\3410369\html\counter\includes\counterh.php on line 218

Warning: fgets(): supplied argument is not a valid stream resource in D:\Hosting\3410369\html\counter\includes\counterh.php on line 220

Warning: feof(): supplied argument is not a valid stream resource in D:\Hosting\3410369\html\counter\includes\counterh.php on line 218

Warning: fgets(): supplied argument is not a valid stream resource in D:\Hosting\3410369\html\counter\includes\counterh.php on line 220

Warning: feof(): supplied argument is not a valid stream resource in D:\Hosting\3410369\html\counter\includes\counterh.php on line 218

Warning: fgets(): supplied argument is not a valid stream resource in D:\Hosting\3410369\html\counter\includes\counterh.php on line 220

Warning: feof(): supplied argument is not a valid stream resource in D:\Hosting\3410369\html\counter\includes\counterh.php on line 218

Warning: fgets(): supplied argument is not a valid stream resource in D:\Hosting\3410369\html\counter\includes\counterh.php on line 220

Warning: feof(): supplied argument is not a valid stream resource in D:\Hosting\3410369\html\counter\includes\counterh.php on line 218

Warning: fgets(): supplied argument is not a valid stream resource in D:\Hosting\3410369\html\counter\includes\counterh.php on line 220

Warning: feof(): supplied argument is not a valid stream resource in D:\Hosting\3410369\html\counter\includes\counterh.php on line 218

Warning: fgets(): supplied argument is not a valid stream resource in D:\Hosting\3410369\html\counter\includes\counterh.php on line 220

Warning: feof(): supplied argument is not a valid stream resource in D:\Hosting\3410369\html\counter\includes\counterh.php on line 218

Warning: fgets(): supplied argument is not a valid stream resource in D:\Hosting\3410369\html\counter\includes\counterh.php on line 220

Warning: feof(): supplied argument is not a valid stream resource in D:\Hosting\3410369\html\counter\includes\counterh.php on line 218

Warning: fgets(): supplied argument is not a valid stream resource in D:\Hosting\3410369\html\counter\includes\counterh.php on line 220

Warning: feof(): supplied argument is not a valid stream resource in D:\Hosting\3410369\html\counter\includes\counterh.php on line 218

Warning: fgets(): supplied argument is not a valid stream resource in D:\Hosting\3410369\html\counter\includes\counterh.php on line 220

Warning: feof(): supplied argument is not a valid stream resource in D:\Hosting\3410369\html\counter\includes\counterh.php on line 218

Warning: fgets(): supplied argument is not a valid stream resource in D:\Hosting\3410369\html\counter\includes\counterh.php on line 220

Warning: feof(): supplied argument is not a valid stream resource in D:\Hosting\3410369\html\counter\includes\counterh.php on line 218

Warning: fgets(): supplied argument is not a valid stream resource in D:\Hosting\3410369\html\counter\includes\counterh.php on line 220

Warning: feof(): supplied argument is not a valid stream resource in D:\Hosting\3410369\html\counter\includes\counterh.php on line 218

Warning: fgets(): supplied argument is not a valid stream resource in D:\Hosting\3410369\html\counter\includes\counterh.php on line 220

Warning: feof(): supplied argument is not a valid stream resource in D:\Hosting\3410369\html\counter\includes\counterh.php on line 218

Warning: fgets(): supplied argument is not a valid stream resource in D:\Hosting\3410369\html\counter\includes\counterh.php on line 220

Warning: feof(): supplied argument is not a valid stream resource in D:\Hosting\3410369\html\counter\includes\counterh.php on line 218

Warning: fgets(): supplied argument is not a valid stream resource in D:\Hosting\3410369\html\counter\includes\counterh.php on line 220

Warning: feof(): supplied argument is not a valid stream resource in D:\Hosting\3410369\html\counter\includes\counterh.php on line 218

Warning: fgets(): supplied argument is not a valid stream resource in D:\Hosting\3410369\html\counter\includes\counterh.php on line 220

Warning: feof(): supplied argument is not a valid stream resource in D:\Hosting\3410369\html\counter\includes\counterh.php on line 218

Warning: fgets(): supplied argument is not a valid stream resource in D:\Hosting\3410369\html\counter\includes\counterh.php on line 220

Warning: feof(): supplied argument is not a valid stream resource in D:\Hosting\3410369\html\counter\includes\counterh.php on line 218

Warning: fgets(): supplied argument is not a valid stream resource in D:\Hosting\3410369\html\counter\includes\counterh.php on line 220

Warning: feof(): supplied argument is not a valid stream resource in D:\Hosting\3410369\html\counter\includes\counterh.php on line 218

Warning: fgets(): supplied argument is not a valid stream resource in D:\Hosting\3410369\html\counter\includes\counterh.php on line 220

Warning: feof(): supplied argument is not a valid stream resource in D:\Hosting\3410369\html\counter\includes\counterh.php on line 218

Warning: fgets(): supplied argument is not a valid stream resource in D:\Hosting\3410369\html\counter\includes\counterh.php on line 220

Warning: feof(): supplied argument is not a valid stream resource in D:\Hosting\3410369\html\counter\includes\counterh.php on line 218

Warning: fgets(): supplied argument is not a valid stream resource in D:\Hosting\3410369\html\counter\includes\counterh.php on line 220

Warning: feof(): supplied argument is not a valid stream resource in D:\Hosting\3410369\html\counter\includes\counterh.php on line 218

Warning: fgets(): supplied argument is not a valid stream resource in D:\Hosting\3410369\html\counter\includes\counterh.php on line 220

Warning: feof(): supplied argument is not a valid stream resource in D:\Hosting\3410369\html\counter\includes\counterh.php on line 218

Warning: fgets(): supplied argument is not a valid stream resource in D:\Hosting\3410369\html\counter\includes\counterh.php on line 220

Warning: feof(): supplied argument is not a valid stream resource in D:\Hosting\3410369\html\counter\includes\counterh.php on line 218

Warning: fgets(): supplied argument is not a valid stream resource in D:\Hosting\3410369\html\counter\includes\counterh.php on line 220

Warning: feof(): supplied argument is not a valid stream resource in D:\Hosting\3410369\html\counter\includes\counterh.php on line 218

Warning: fgets(): supplied argument is not a valid stream resource in D:\Hosting\3410369\html\counter\includes\counterh.php on line 220

Warning: feof(): supplied argument is not a valid stream resource in D:\Hosting\3410369\html\counter\includes\counterh.php on line 218

Warning: fgets(): supplied argument is not a valid stream resource in D:\Hosting\3410369\html\counter\includes\counterh.php on line 220

Warning: feof(): supplied argument is not a valid stream resource in D:\Hosting\3410369\html\counter\includes\counterh.php on line 218

Warning: fgets(): supplied argument is not a valid stream resource in D:\Hosting\3410369\html\counter\includes\counterh.php on line 220

Warning: feof(): supplied argument is not a valid stream resource in D:\Hosting\3410369\html\counter\includes\counterh.php on line 218

Warning: fgets(): supplied argument is not a valid stream resource in D:\Hosting\3410369\html\counter\includes\counterh.php on line 220

Warning: feof(): supplied argument is not a valid stream resource in D:\Hosting\3410369\html\counter\includes\counterh.php on line 218

Warning: fgets(): supplied argument is not a valid stream resource in D:\Hosting\3410369\html\counter\includes\counterh.php on line 220

Warning: feof(): supplied argument is not a valid stream resource in D:\Hosting\3410369\html\counter\includes\counterh.php on line 218

Warning: fgets(): supplied argument is not a valid stream resource in D:\Hosting\3410369\html\counter\includes\counterh.php on line 220

Warning: feof(): supplied argument is not a valid stream resource in D:\Hosting\3410369\html\counter\includes\counterh.php on line 218

Warning: fgets(): supplied argument is not a valid stream resource in D:\Hosting\3410369\html\counter\includes\counterh.php on line 220

Warning: feof(): supplied argument is not a valid stream resource in D:\Hosting\3410369\html\counter\includes\counterh.php on line 218

Warning: fgets(): supplied argument is not a valid stream resource in D:\Hosting\3410369\html\counter\includes\counterh.php on line 220

Warning: feof(): supplied argument is not a valid stream resource in D:\Hosting\3410369\html\counter\includes\counterh.php on line 218

Warning: fgets(): supplied argument is not a valid stream resource in D:\Hosting\3410369\html\counter\includes\counterh.php on line 220

Warning: feof(): supplied argument is not a valid stream resource in D:\Hosting\3410369\html\counter\includes\counterh.php on line 218

Warning: fgets(): supplied argument is not a valid stream resource in D:\Hosting\3410369\html\counter\includes\counterh.php on line 220

Warning: feof(): supplied argument is not a valid stream resource in D:\Hosting\3410369\html\counter\includes\counterh.php on line 218

Warning: fgets(): supplied argument is not a valid stream resource in D:\Hosting\3410369\html\counter\includes\counterh.php on line 220

Warning: feof(): supplied argument is not a valid stream resource in D:\Hosting\3410369\html\counter\includes\counterh.php on line 218

Warning: fgets(): supplied argument is not a valid stream resource in D:\Hosting\3410369\html\counter\includes\counterh.php on line 220

Warning: feof(): supplied argument is not a valid stream resource in D:\Hosting\3410369\html\counter\includes\counterh.php on line 218

Warning: fgets(): supplied argument is not a valid stream resource in D:\Hosting\3410369\html\counter\includes\counterh.php on line 220

Warning: feof(): supplied argument is not a valid stream resource in D:\Hosting\3410369\html\counter\includes\counterh.php on line 218

Warning: fgets(): supplied argument is not a valid stream resource in D:\Hosting\3410369\html\counter\includes\counterh.php on line 220

Warning: feof(): supplied argument is not a valid stream resource in D:\Hosting\3410369\html\counter\includes\counterh.php on line 218

Warning: fgets(): supplied argument is not a valid stream resource in D:\Hosting\3410369\html\counter\includes\counterh.php on line 220

Warning: feof(): supplied argument is not a valid stream resource in D:\Hosting\3410369\html\counter\includes\counterh.php on line 218

Warning: fgets(): supplied argument is not a valid stream resource in D:\Hosting\3410369\html\counter\includes\counterh.php on line 220

Warning: feof(): supplied argument is not a valid stream resource in D:\Hosting\3410369\html\counter\includes\counterh.php on line 218

Warning: fgets(): supplied argument is not a valid stream resource in D:\Hosting\3410369\html\counter\includes\counterh.php on line 220

Warning: feof(): supplied argument is not a valid stream resource in D:\Hosting\3410369\html\counter\includes\counterh.php on line 218

Warning: fgets(): supplied argument is not a valid stream resource in D:\Hosting\3410369\html\counter\includes\counterh.php on line 220

Warning: feof(): supplied argument is not a valid stream resource in D:\Hosting\3410369\html\counter\includes\counterh.php on line 218

Warning: fgets(): supplied argument is not a valid stream resource in D:\Hosting\3410369\html\counter\includes\counterh.php on line 220

Warning: feof(): supplied argument is not a valid stream resource in D:\Hosting\3410369\html\counter\includes\counterh.php on line 218

Warning: fgets(): supplied argument is not a valid stream resource in D:\Hosting\3410369\html\counter\includes\counterh.php on line 220

Warning: feof(): supplied argument is not a valid stream resource in D:\Hosting\3410369\html\counter\includes\counterh.php on line 218

Warning: fgets(): supplied argument is not a valid stream resource in D:\Hosting\3410369\html\counter\includes\counterh.php on line 220

Warning: feof(): supplied argument is not a valid stream resource in D:\Hosting\3410369\html\counter\includes\counterh.php on line 218

Warning: fgets(): supplied argument is not a valid stream resource in D:\Hosting\3410369\html\counter\includes\counterh.php on line 220

Warning: feof(): supplied argument is not a valid stream resource in D:\Hosting\3410369\html\counter\includes\counterh.php on line 218

Warning: fgets(): supplied argument is not a valid stream resource in D:\Hosting\3410369\html\counter\includes\counterh.php on line 220

Warning: feof(): supplied argument is not a valid stream resource in D:\Hosting\3410369\html\counter\includes\counterh.php on line 218

Warning: fgets(): supplied argument is not a valid stream resource in D:\Hosting\3410369\html\counter\includes\counterh.php on line 220

Warning: feof(): supplied argument is not a valid stream resource in D:\Hosting\3410369\html\counter\includes\counterh.php on line 218

Warning: fgets(): supplied argument is not a valid stream resource in D:\Hosting\3410369\html\counter\includes\counterh.php on line 220

Warning: feof(): supplied argument is not a valid stream resource in D:\Hosting\3410369\html\counter\includes\counterh.php on line 218

Warning: fgets(): supplied argument is not a valid stream resource in D:\Hosting\3410369\html\counter\includes\counterh.php on line 220

Warning: feof(): supplied argument is not a valid stream resource in D:\Hosting\3410369\html\counter\includes\counterh.php on line 218

Warning: fgets(): supplied argument is not a valid stream resource in D:\Hosting\3410369\html\counter\includes\counterh.php on line 220

Warning: feof(): supplied argument is not a valid stream resource in D:\Hosting\3410369\html\counter\includes\counterh.php on line 218

Warning: fgets(): supplied argument is not a valid stream resource in D:\Hosting\3410369\html\counter\includes\counterh.php on line 220

Warning: feof(): supplied argument is not a valid stream resource in D:\Hosting\3410369\html\counter\includes\counterh.php on line 218

Warning: fgets(): supplied argument is not a valid stream resource in D:\Hosting\3410369\html\counter\includes\counterh.php on line 220

Warning: feof(): supplied argument is not a valid stream resource in D:\Hosting\3410369\html\counter\includes\counterh.php on line 218

Warning: fgets(): supplied argument is not a valid stream resource in D:\Hosting\3410369\html\counter\includes\counterh.php on line 220

Warning: feof(): supplied argument is not a valid stream resource in D:\Hosting\3410369\html\counter\includes\counterh.php on line 218

Warning: fgets(): supplied argument is not a valid stream resource in D:\Hosting\3410369\html\counter\includes\counterh.php on line 220

Warning: feof(): supplied argument is not a valid stream resource in D:\Hosting\3410369\html\counter\includes\counterh.php on line 218

Warning: fgets(): supplied argument is not a valid stream resource in D:\Hosting\3410369\html\counter\includes\counterh.php on line 220

Warning: feof(): supplied argument is not a valid stream resource in D:\Hosting\3410369\html\counter\includes\counterh.php on line 218

Warning: fgets(): supplied argument is not a valid stream resource in D:\Hosting\3410369\html\counter\includes\counterh.php on line 220

Warning: feof(): supplied argument is not a valid stream resource in D:\Hosting\3410369\html\counter\includes\counterh.php on line 218

Warning: fgets(): supplied argument is not a valid stream resource in D:\Hosting\3410369\html\counter\includes\counterh.php on line 220

Warning: feof(): supplied argument is not a valid stream resource in D:\Hosting\3410369\html\counter\includes\counterh.php on line 218

Warning: fgets(): supplied argument is not a valid stream resource in D:\Hosting\3410369\html\counter\includes\counterh.php on line 220

Warning: feof(): supplied argument is not a valid stream resource in D:\Hosting\3410369\html\counter\includes\counterh.php on line 218

Warning: fgets(): supplied argument is not a valid stream resource in D:\Hosting\3410369\html\counter\includes\counterh.php on line 220

Warning: feof(): supplied argument is not a valid stream resource in D:\Hosting\3410369\html\counter\includes\counterh.php on line 218

Warning: fgets(): supplied argument is not a valid stream resource in D:\Hosting\3410369\html\counter\includes\counterh.php on line 220

Warning: feof(): supplied argument is not a valid stream resource in D:\Hosting\3410369\html\counter\includes\counterh.php on line 218

Warning: fgets(): supplied argument is not a valid stream resource in D:\Hosting\3410369\html\counter\includes\counterh.php on line 220

Warning: feof(): supplied argument is not a valid stream resource in D:\Hosting\3410369\html\counter\includes\counterh.php on line 218

Warning: fgets(): supplied argument is not a valid stream resource in D:\Hosting\3410369\html\counter\includes\counterh.php on line 220

Warning: feof(): supplied argument is not a valid stream resource in D:\Hosting\3410369\html\counter\includes\counterh.php on line 218

Warning: fgets(): supplied argument is not a valid stream resource in D:\Hosting\3410369\html\counter\includes\counterh.php on line 220

Warning: feof(): supplied argument is not a valid stream resource in D:\Hosting\3410369\html\counter\includes\counterh.php on line 218

Warning: fgets(): supplied argument is not a valid stream resource in D:\Hosting\3410369\html\counter\includes\counterh.php on line 220

Warning: feof(): supplied argument is not a valid stream resource in D:\Hosting\3410369\html\counter\includes\counterh.php on line 218

Warning: fgets(): supplied argument is not a valid stream resource in D:\Hosting\3410369\html\counter\includes\counterh.php on line 220

Warning: feof(): supplied argument is not a valid stream resource in D:\Hosting\3410369\html\counter\includes\counterh.php on line 218

Warning: fgets(): supplied argument is not a valid stream resource in D:\Hosting\3410369\html\counter\includes\counterh.php on line 220

Warning: feof(): supplied argument is not a valid stream resource in D:\Hosting\3410369\html\counter\includes\counterh.php on line 218

Warning: fgets(): supplied argument is not a valid stream resource in D:\Hosting\3410369\html\counter\includes\counterh.php on line 220

Warning: feof(): supplied argument is not a valid stream resource in D:\Hosting\3410369\html\counter\includes\counterh.php on line 218

Warning: fgets(): supplied argument is not a valid stream resource in D:\Hosting\3410369\html\counter\includes\counterh.php on line 220

Warning: feof(): supplied argument is not a valid stream resource in D:\Hosting\3410369\html\counter\includes\counterh.php on line 218

Warning: fgets(): supplied argument is not a valid stream resource in D:\Hosting\3410369\html\counter\includes\counterh.php on line 220

Warning: feof(): supplied argument is not a valid stream resource in D:\Hosting\3410369\html\counter\includes\counterh.php on line 218

Warning: fgets(): supplied argument is not a valid stream resource in D:\Hosting\3410369\html\counter\includes\counterh.php on line 220

Warning: feof(): supplied argument is not a valid stream resource in D:\Hosting\3410369\html\counter\includes\counterh.php on line 218

Warning: fgets(): supplied argument is not a valid stream resource in D:\Hosting\3410369\html\counter\includes\counterh.php on line 220

Warning: feof(): supplied argument is not a valid stream resource in D:\Hosting\3410369\html\counter\includes\counterh.php on line 218

Warning: fgets(): supplied argument is not a valid stream resource in D:\Hosting\3410369\html\counter\includes\counterh.php on line 220

Warning: feof(): supplied argument is not a valid stream resource in D:\Hosting\3410369\html\counter\includes\counterh.php on line 218

Warning: fgets(): supplied argument is not a valid stream resource in D:\Hosting\3410369\html\counter\includes\counterh.php on line 220

Warning: feof(): supplied argument is not a valid stream resource in D:\Hosting\3410369\html\counter\includes\counterh.php on line 218

Warning: fgets(): supplied argument is not a valid stream resource in D:\Hosting\3410369\html\counter\includes\counterh.php on line 220

Warning: feof(): supplied argument is not a valid stream resource in D:\Hosting\3410369\html\counter\includes\counterh.php on line 218

Warning: fgets(): supplied argument is not a valid stream resource in D:\Hosting\3410369\html\counter\includes\counterh.php on line 220

Warning: feof(): supplied argument is not a valid stream resource in D:\Hosting\3410369\html\counter\includes\counterh.php on line 218

Warning: fgets(): supplied argument is not a valid stream resource in D:\Hosting\3410369\html\counter\includes\counterh.php on line 220

Warning: feof(): supplied argument is not a valid stream resource in D:\Hosting\3410369\html\counter\includes\counterh.php on line 218

Warning: fgets(): supplied argument is not a valid stream resource in D:\Hosting\3410369\html\counter\includes\counterh.php on line 220

Warning: feof(): supplied argument is not a valid stream resource in D:\Hosting\3410369\html\counter\includes\counterh.php on line 218

Warning: fgets(): supplied argument is not a valid stream resource in D:\Hosting\3410369\html\counter\includes\counterh.php on line 220

Warning: feof(): supplied argument is not a valid stream resource in D:\Hosting\3410369\html\counter\includes\counterh.php on line 218

Warning: fgets(): supplied argument is not a valid stream resource in D:\Hosting\3410369\html\counter\includes\counterh.php on line 220

Warning: feof(): supplied argument is not a valid stream resource in D:\Hosting\3410369\html\counter\includes\counterh.php on line 218

Warning: fgets(): supplied argument is not a valid stream resource in D:\Hosting\3410369\html\counter\includes\counterh.php on line 220

Warning: feof(): supplied argument is not a valid stream resource in D:\Hosting\3410369\html\counter\includes\counterh.php on line 218

Warning: fgets(): supplied argument is not a valid stream resource in D:\Hosting\3410369\html\counter\includes\counterh.php on line 220

Warning: feof(): supplied argument is not a valid stream resource in D:\Hosting\3410369\html\counter\includes\counterh.php on line 218

Warning: fgets(): supplied argument is not a valid stream resource in D:\Hosting\3410369\html\counter\includes\counterh.php on line 220

Warning: feof(): supplied argument is not a valid stream resource in D:\Hosting\3410369\html\counter\includes\counterh.php on line 218

Warning: fgets(): supplied argument is not a valid stream resource in D:\Hosting\3410369\html\counter\includes\counterh.php on line 220

Warning: feof(): supplied argument is not a valid stream resource in D:\Hosting\3410369\html\counter\includes\counterh.php on line 218

Warning: fgets(): supplied argument is not a valid stream resource in D:\Hosting\3410369\html\counter\includes\counterh.php on line 220

Warning: feof(): supplied argument is not a valid stream resource in D:\Hosting\3410369\html\counter\includes\counterh.php on line 218

Warning: fgets(): supplied argument is not a valid stream resource in D:\Hosting\3410369\html\counter\includes\counterh.php on line 220

Warning: feof(): supplied argument is not a valid stream resource in D:\Hosting\3410369\html\counter\includes\counterh.php on line 218

Warning: fgets(): supplied argument is not a valid stream resource in D:\Hosting\3410369\html\counter\includes\counterh.php on line 220

Warning: feof(): supplied argument is not a valid stream resource in D:\Hosting\3410369\html\counter\includes\counterh.php on line 218

Warning: fgets(): supplied argument is not a valid stream resource in D:\Hosting\3410369\html\counter\includes\counterh.php on line 220

Warning: feof(): supplied argument is not a valid stream resource in D:\Hosting\3410369\html\counter\includes\counterh.php on line 218

Warning: fgets(): supplied argument is not a valid stream resource in D:\Hosting\3410369\html\counter\includes\counterh.php on line 220

Warning: feof(): supplied argument is not a valid stream resource in D:\Hosting\3410369\html\counter\includes\counterh.php on line 218

Warning: fgets(): supplied argument is not a valid stream resource in D:\Hosting\3410369\html\counter\includes\counterh.php on line 220

Warning: feof(): supplied argument is not a valid stream resource in D:\Hosting\3410369\html\counter\includes\counterh.php on line 218

Warning: fgets(): supplied argument is not a valid stream resource in D:\Hosting\3410369\html\counter\includes\counterh.php on line 220

Warning: feof(): supplied argument is not a valid stream resource in D:\Hosting\3410369\html\counter\includes\counterh.php on line 218

Warning: fgets(): supplied argument is not a valid stream resource in D:\Hosting\3410369\html\counter\includes\counterh.php on line 220

Warning: feof(): supplied argument is not a valid stream resource in D:\Hosting\3410369\html\counter\includes\counterh.php on line 218

Warning: fgets(): supplied argument is not a valid stream resource in D:\Hosting\3410369\html\counter\includes\counterh.php on line 220

Warning: feof(): supplied argument is not a valid stream resource in D:\Hosting\3410369\html\counter\includes\counterh.php on line 218

Warning: fgets(): supplied argument is not a valid stream resource in D:\Hosting\3410369\html\counter\includes\counterh.php on line 220

Warning: feof(): supplied argument is not a valid stream resource in D:\Hosting\3410369\html\counter\includes\counterh.php on line 218

Warning: fgets(): supplied argument is not a valid stream resource in D:\Hosting\3410369\html\counter\includes\counterh.php on line 220

Warning: feof(): supplied argument is not a valid stream resource in D:\Hosting\3410369\html\counter\includes\counterh.php on line 218

Warning: fgets(): supplied argument is not a valid stream resource in D:\Hosting\3410369\html\counter\includes\counterh.php on line 220

Warning: feof(): supplied argument is not a valid stream resource in D:\Hosting\3410369\html\counter\includes\counterh.php on line 218

Warning: fgets(): supplied argument is not a valid stream resource in D:\Hosting\3410369\html\counter\includes\counterh.php on line 220

Warning: feof(): supplied argument is not a valid stream resource in D:\Hosting\3410369\html\counter\includes\counterh.php on line 218

Warning: fgets(): supplied argument is not a valid stream resource in D:\Hosting\3410369\html\counter\includes\counterh.php on line 220

Warning: feof(): supplied argument is not a valid stream resource in D:\Hosting\3410369\html\counter\includes\counterh.php on line 218

Warning: fgets(): supplied argument is not a valid stream resource in D:\Hosting\3410369\html\counter\includes\counterh.php on line 220

Warning: feof(): supplied argument is not a valid stream resource in D:\Hosting\3410369\html\counter\includes\counterh.php on line 218

Warning: fgets(): supplied argument is not a valid stream resource in D:\Hosting\3410369\html\counter\includes\counterh.php on line 220

Warning: feof(): supplied argument is not a valid stream resource in D:\Hosting\3410369\html\counter\includes\counterh.php on line 218

Warning: fgets(): supplied argument is not a valid stream resource in D:\Hosting\3410369\html\counter\includes\counterh.php on line 220

Warning: feof(): supplied argument is not a valid stream resource in D:\Hosting\3410369\html\counter\includes\counterh.php on line 218

Warning: fgets(): supplied argument is not a valid stream resource in D:\Hosting\3410369\html\counter\includes\counterh.php on line 220

Warning: feof(): supplied argument is not a valid stream resource in D:\Hosting\3410369\html\counter\includes\counterh.php on line 218

Warning: fgets(): supplied argument is not a valid stream resource in D:\Hosting\3410369\html\counter\includes\counterh.php on line 220

Warning: feof(): supplied argument is not a valid stream resource in D:\Hosting\3410369\html\counter\includes\counterh.php on line 218

Warning: fgets(): supplied argument is not a valid stream resource in D:\Hosting\3410369\html\counter\includes\counterh.php on line 220

Warning: feof(): supplied argument is not a valid stream resource in D:\Hosting\3410369\html\counter\includes\counterh.php on line 218

Warning: fgets(): supplied argument is not a valid stream resource in D:\Hosting\3410369\html\counter\includes\counterh.php on line 220

Warning: feof(): supplied argument is not a valid stream resource in D:\Hosting\3410369\html\counter\includes\counterh.php on line 218

Warning: fgets(): supplied argument is not a valid stream resource in D:\Hosting\3410369\html\counter\includes\counterh.php on line 220

Warning: feof(): supplied argument is not a valid stream resource in D:\Hosting\3410369\html\counter\includes\counterh.php on line 218

Warning: fgets(): supplied argument is not a valid stream resource in D:\Hosting\3410369\html\counter\includes\counterh.php on line 220

Warning: feof(): supplied argument is not a valid stream resource in D:\Hosting\3410369\html\counter\includes\counterh.php on line 218

Warning: fgets(): supplied argument is not a valid stream resource in D:\Hosting\3410369\html\counter\includes\counterh.php on line 220

Warning: feof(): supplied argument is not a valid stream resource in D:\Hosting\3410369\html\counter\includes\counterh.php on line 218

Warning: fgets(): supplied argument is not a valid stream resource in D:\Hosting\3410369\html\counter\includes\counterh.php on line 220

Warning: feof(): supplied argument is not a valid stream resource in D:\Hosting\3410369\html\counter\includes\counterh.php on line 218

Warning: fgets(): supplied argument is not a valid stream resource in D:\Hosting\3410369\html\counter\includes\counterh.php on line 220

Warning: feof(): supplied argument is not a valid stream resource in D:\Hosting\3410369\html\counter\includes\counterh.php on line 218

Warning: fgets(): supplied argument is not a valid stream resource in D:\Hosting\3410369\html\counter\includes\counterh.php on line 220

Warning: feof(): supplied argument is not a valid stream resource in D:\Hosting\3410369\html\counter\includes\counterh.php on line 218

Warning: fgets(): supplied argument is not a valid stream resource in D:\Hosting\3410369\html\counter\includes\counterh.php on line 220

Warning: feof(): supplied argument is not a valid stream resource in D:\Hosting\3410369\html\counter\includes\counterh.php on line 218

Warning: fgets(): supplied argument is not a valid stream resource in D:\Hosting\3410369\html\counter\includes\counterh.php on line 220

Warning: feof(): supplied argument is not a valid stream resource in D:\Hosting\3410369\html\counter\includes\counterh.php on line 218

Warning: fgets(): supplied argument is not a valid stream resource in D:\Hosting\3410369\html\counter\includes\counterh.php on line 220

Warning: feof(): supplied argument is not a valid stream resource in D:\Hosting\3410369\html\counter\includes\counterh.php on line 218

Warning: fgets(): supplied argument is not a valid stream resource in D:\Hosting\3410369\html\counter\includes\counterh.php on line 220

Warning: feof(): supplied argument is not a valid stream resource in D:\Hosting\3410369\html\counter\includes\counterh.php on line 218

Warning: fgets(): supplied argument is not a valid stream resource in D:\Hosting\3410369\html\counter\includes\counterh.php on line 220

Warning: feof(): supplied argument is not a valid stream resource in D:\Hosting\3410369\html\counter\includes\counterh.php on line 218

Warning: fgets(): supplied argument is not a valid stream resource in D:\Hosting\3410369\html\counter\includes\counterh.php on line 220

Warning: feof(): supplied argument is not a valid stream resource in D:\Hosting\3410369\html\counter\includes\counterh.php on line 218

Warning: fgets(): supplied argument is not a valid stream resource in D:\Hosting\3410369\html\counter\includes\counterh.php on line 220

Warning: feof(): supplied argument is not a valid stream resource in D:\Hosting\3410369\html\counter\includes\counterh.php on line 218

Warning: fgets(): supplied argument is not a valid stream resource in D:\Hosting\3410369\html\counter\includes\counterh.php on line 220

Warning: feof(): supplied argument is not a valid stream resource in D:\Hosting\3410369\html\counter\includes\counterh.php on line 218

Warning: fgets(): supplied argument is not a valid stream resource in D:\Hosting\3410369\html\counter\includes\counterh.php on line 220

Warning: feof(): supplied argument is not a valid stream resource in D:\Hosting\3410369\html\counter\includes\counterh.php on line 218

Warning: fgets(): supplied argument is not a valid stream resource in D:\Hosting\3410369\html\counter\includes\counterh.php on line 220

Warning: feof(): supplied argument is not a valid stream resource in D:\Hosting\3410369\html\counter\includes\counterh.php on line 218

Warning: fgets(): supplied argument is not a valid stream resource in D:\Hosting\3410369\html\counter\includes\counterh.php on line 220

Warning: feof(): supplied argument is not a valid stream resource in D:\Hosting\3410369\html\counter\includes\counterh.php on line 218

Warning: fgets(): supplied argument is not a valid stream resource in D:\Hosting\3410369\html\counter\includes\counterh.php on line 220

Warning: feof(): supplied argument is not a valid stream resource in D:\Hosting\3410369\html\counter\includes\counterh.php on line 218

Warning: fgets(): supplied argument is not a valid stream resource in D:\Hosting\3410369\html\counter\includes\counterh.php on line 220

Warning: feof(): supplied argument is not a valid stream resource in D:\Hosting\3410369\html\counter\includes\counterh.php on line 218

Warning: fgets(): supplied argument is not a valid stream resource in D:\Hosting\3410369\html\counter\includes\counterh.php on line 220

Warning: feof(): supplied argument is not a valid stream resource in D:\Hosting\3410369\html\counter\includes\counterh.php on line 218

Warning: fgets(): supplied argument is not a valid stream resource in D:\Hosting\3410369\html\counter\includes\counterh.php on line 220

Warning: feof(): supplied argument is not a valid stream resource in D:\Hosting\3410369\html\counter\includes\counterh.php on line 218

Warning: fgets(): supplied argument is not a valid stream resource in D:\Hosting\3410369\html\counter\includes\counterh.php on line 220

Warning: feof(): supplied argument is not a valid stream resource in D:\Hosting\3410369\html\counter\includes\counterh.php on line 218

Warning: fgets(): supplied argument is not a valid stream resource in D:\Hosting\3410369\html\counter\includes\counterh.php on line 220

Warning: feof(): supplied argument is not a valid stream resource in D:\Hosting\3410369\html\counter\includes\counterh.php on line 218

Warning: fgets(): supplied argument is not a valid stream resource in D:\Hosting\3410369\html\counter\includes\counterh.php on line 220

Warning: feof(): supplied argument is not a valid stream resource in D:\Hosting\3410369\html\counter\includes\counterh.php on line 218

Warning: fgets(): supplied argument is not a valid stream resource in D:\Hosting\3410369\html\counter\includes\counterh.php on line 220

Warning: feof(): supplied argument is not a valid stream resource in D:\Hosting\3410369\html\counter\includes\counterh.php on line 218

Warning: fgets(): supplied argument is not a valid stream resource in D:\Hosting\3410369\html\counter\includes\counterh.php on line 220

Warning: feof(): supplied argument is not a valid stream resource in D:\Hosting\3410369\html\counter\includes\counterh.php on line 218

Warning: fgets(): supplied argument is not a valid stream resource in D:\Hosting\3410369\html\counter\includes\counterh.php on line 220

Warning: feof(): supplied argument is not a valid stream resource in D:\Hosting\3410369\html\counter\includes\counterh.php on line 218

Warning: fgets(): supplied argument is not a valid stream resource in D:\Hosting\3410369\html\counter\includes\counterh.php on line 220

Warning: feof(): supplied argument is not a valid stream resource in D:\Hosting\3410369\html\counter\includes\counterh.php on line 218

Warning: fgets(): supplied argument is not a valid stream resource in D:\Hosting\3410369\html\counter\includes\counterh.php on line 220

Warning: feof(): supplied argument is not a valid stream resource in D:\Hosting\3410369\html\counter\includes\counterh.php on line 218

Warning: fgets(): supplied argument is not a valid stream resource in D:\Hosting\3410369\html\counter\includes\counterh.php on line 220

Warning: feof(): supplied argument is not a valid stream resource in D:\Hosting\3410369\html\counter\includes\counterh.php on line 218

Warning: fgets(): supplied argument is not a valid stream resource in D:\Hosting\3410369\html\counter\includes\counterh.php on line 220

Warning: feof(): supplied argument is not a valid stream resource in D:\Hosting\3410369\html\counter\includes\counterh.php on line 218

Warning: fgets(): supplied argument is not a valid stream resource in D:\Hosting\3410369\html\counter\includes\counterh.php on line 220

Warning: feof(): supplied argument is not a valid stream resource in D:\Hosting\3410369\html\counter\includes\counterh.php on line 218

Warning: fgets(): supplied argument is not a valid stream resource in D:\Hosting\3410369\html\counter\includes\counterh.php on line 220

Warning: feof(): supplied argument is not a valid stream resource in D:\Hosting\3410369\html\counter\includes\counterh.php on line 218

Warning: fgets(): supplied argument is not a valid stream resource in D:\Hosting\3410369\html\counter\includes\counterh.php on line 220

Warning: feof(): supplied argument is not a valid stream resource in D:\Hosting\3410369\html\counter\includes\counterh.php on line 218

Warning: fgets(): supplied argument is not a valid stream resource in D:\Hosting\3410369\html\counter\includes\counterh.php on line 220

Warning: feof(): supplied argument is not a valid stream resource in D:\Hosting\3410369\html\counter\includes\counterh.php on line 218

Warning: fgets(): supplied argument is not a valid stream resource in D:\Hosting\3410369\html\counter\includes\counterh.php on line 220

Warning: feof(): supplied argument is not a valid stream resource in D:\Hosting\3410369\html\counter\includes\counterh.php on line 218

Warning: fgets(): supplied argument is not a valid stream resource in D:\Hosting\3410369\html\counter\includes\counterh.php on line 220

Warning: feof(): supplied argument is not a valid stream resource in D:\Hosting\3410369\html\counter\includes\counterh.php on line 218

Warning: fgets(): supplied argument is not a valid stream resource in D:\Hosting\3410369\html\counter\includes\counterh.php on line 220

Warning: feof(): supplied argument is not a valid stream resource in D:\Hosting\3410369\html\counter\includes\counterh.php on line 218

Warning: fgets(): supplied argument is not a valid stream resource in D:\Hosting\3410369\html\counter\includes\counterh.php on line 220

Warning: feof(): supplied argument is not a valid stream resource in D:\Hosting\3410369\html\counter\includes\counterh.php on line 218

Warning: fgets(): supplied argument is not a valid stream resource in D:\Hosting\3410369\html\counter\includes\counterh.php on line 220

Warning: feof(): supplied argument is not a valid stream resource in D:\Hosting\3410369\html\counter\includes\counterh.php on line 218

Warning: fgets(): supplied argument is not a valid stream resource in D:\Hosting\3410369\html\counter\includes\counterh.php on line 220

Warning: feof(): supplied argument is not a valid stream resource in D:\Hosting\3410369\html\counter\includes\counterh.php on line 218

Warning: fgets(): supplied argument is not a valid stream resource in D:\Hosting\3410369\html\counter\includes\counterh.php on line 220

Warning: feof(): supplied argument is not a valid stream resource in D:\Hosting\3410369\html\counter\includes\counterh.php on line 218

Warning: fgets(): supplied argument is not a valid stream resource in D:\Hosting\3410369\html\counter\includes\counterh.php on line 220

Warning: feof(): supplied argument is not a valid stream resource in D:\Hosting\3410369\html\counter\includes\counterh.php on line 218

Warning: fgets(): supplied argument is not a valid stream resource in D:\Hosting\3410369\html\counter\includes\counterh.php on line 220

Warning: feof(): supplied argument is not a valid stream resource in D:\Hosting\3410369\html\counter\includes\counterh.php on line 218

Warning: fgets(): supplied argument is not a valid stream resource in D:\Hosting\3410369\html\counter\includes\counterh.php on line 220

Warning: feof(): supplied argument is not a valid stream resource in D:\Hosting\3410369\html\counter\includes\counterh.php on line 218

Warning: fgets(): supplied argument is not a valid stream resource in D:\Hosting\3410369\html\counter\includes\counterh.php on line 220

Warning: feof(): supplied argument is not a valid stream resource in D:\Hosting\3410369\html\counter\includes\counterh.php on line 218

Warning: fgets(): supplied argument is not a valid stream resource in D:\Hosting\3410369\html\counter\includes\counterh.php on line 220

Warning: feof(): supplied argument is not a valid stream resource in D:\Hosting\3410369\html\counter\includes\counterh.php on line 218

Warning: fgets(): supplied argument is not a valid stream resource in D:\Hosting\3410369\html\counter\includes\counterh.php on line 220

Warning: feof(): supplied argument is not a valid stream resource in D:\Hosting\3410369\html\counter\includes\counterh.php on line 218

Warning: fgets(): supplied argument is not a valid stream resource in D:\Hosting\3410369\html\counter\includes\counterh.php on line 220

Warning: feof(): supplied argument is not a valid stream resource in D:\Hosting\3410369\html\counter\includes\counterh.php on line 218

Warning: fgets(): supplied argument is not a valid stream resource in D:\Hosting\3410369\html\counter\includes\counterh.php on line 220

Warning: feof(): supplied argument is not a valid stream resource in D:\Hosting\3410369\html\counter\includes\counterh.php on line 218

Warning: fgets(): supplied argument is not a valid stream resource in D:\Hosting\3410369\html\counter\includes\counterh.php on line 220

Warning: feof(): supplied argument is not a valid stream resource in D:\Hosting\3410369\html\counter\includes\counterh.php on line 218

Warning: fgets(): supplied argument is not a valid stream resource in D:\Hosting\3410369\html\counter\includes\counterh.php on line 220

Warning: feof(): supplied argument is not a valid stream resource in D:\Hosting\3410369\html\counter\includes\counterh.php on line 218

Warning: fgets(): supplied argument is not a valid stream resource in D:\Hosting\3410369\html\counter\includes\counterh.php on line 220

Warning: feof(): supplied argument is not a valid stream resource in D:\Hosting\3410369\html\counter\includes\counterh.php on line 218

Warning: fgets(): supplied argument is not a valid stream resource in D:\Hosting\3410369\html\counter\includes\counterh.php on line 220

Warning: feof(): supplied argument is not a valid stream resource in D:\Hosting\3410369\html\counter\includes\counterh.php on line 218

Warning: fgets(): supplied argument is not a valid stream resource in D:\Hosting\3410369\html\counter\includes\counterh.php on line 220

Warning: feof(): supplied argument is not a valid stream resource in D:\Hosting\3410369\html\counter\includes\counterh.php on line 218

Warning: fgets(): supplied argument is not a valid stream resource in D:\Hosting\3410369\html\counter\includes\counterh.php on line 220

Warning: feof(): supplied argument is not a valid stream resource in D:\Hosting\3410369\html\counter\includes\counterh.php on line 218

Warning: fgets(): supplied argument is not a valid stream resource in D:\Hosting\3410369\html\counter\includes\counterh.php on line 220

Warning: feof(): supplied argument is not a valid stream resource in D:\Hosting\3410369\html\counter\includes\counterh.php on line 218

Warning: fgets(): supplied argument is not a valid stream resource in D:\Hosting\3410369\html\counter\includes\counterh.php on line 220

Warning: feof(): supplied argument is not a valid stream resource in D:\Hosting\3410369\html\counter\includes\counterh.php on line 218

Warning: fgets(): supplied argument is not a valid stream resource in D:\Hosting\3410369\html\counter\includes\counterh.php on line 220

Warning: feof(): supplied argument is not a valid stream resource in D:\Hosting\3410369\html\counter\includes\counterh.php on line 218

Warning: fgets(): supplied argument is not a valid stream resource in D:\Hosting\3410369\html\counter\includes\counterh.php on line 220

Warning: feof(): supplied argument is not a valid stream resource in D:\Hosting\3410369\html\counter\includes\counterh.php on line 218

Warning: fgets(): supplied argument is not a valid stream resource in D:\Hosting\3410369\html\counter\includes\counterh.php on line 220

Warning: feof(): supplied argument is not a valid stream resource in D:\Hosting\3410369\html\counter\includes\counterh.php on line 218

Warning: fgets(): supplied argument is not a valid stream resource in D:\Hosting\3410369\html\counter\includes\counterh.php on line 220

Warning: feof(): supplied argument is not a valid stream resource in D:\Hosting\3410369\html\counter\includes\counterh.php on line 218

Warning: fgets(): supplied argument is not a valid stream resource in D:\Hosting\3410369\html\counter\includes\counterh.php on line 220

Warning: feof(): supplied argument is not a valid stream resource in D:\Hosting\3410369\html\counter\includes\counterh.php on line 218

Warning: fgets(): supplied argument is not a valid stream resource in D:\Hosting\3410369\html\counter\includes\counterh.php on line 220

Warning: feof(): supplied argument is not a valid stream resource in D:\Hosting\3410369\html\counter\includes\counterh.php on line 218

Warning: fgets(): supplied argument is not a valid stream resource in D:\Hosting\3410369\html\counter\includes\counterh.php on line 220

Warning: feof(): supplied argument is not a valid stream resource in D:\Hosting\3410369\html\counter\includes\counterh.php on line 218

Warning: fgets(): supplied argument is not a valid stream resource in D:\Hosting\3410369\html\counter\includes\counterh.php on line 220

Warning: feof(): supplied argument is not a valid stream resource in D:\Hosting\3410369\html\counter\includes\counterh.php on line 218

Warning: fgets(): supplied argument is not a valid stream resource in D:\Hosting\3410369\html\counter\includes\counterh.php on line 220

Warning: feof(): supplied argument is not a valid stream resource in D:\Hosting\3410369\html\counter\includes\counterh.php on line 218

Warning: fgets(): supplied argument is not a valid stream resource in D:\Hosting\3410369\html\counter\includes\counterh.php on line 220

Warning: feof(): supplied argument is not a valid stream resource in D:\Hosting\3410369\html\counter\includes\counterh.php on line 218

Warning: fgets(): supplied argument is not a valid stream resource in D:\Hosting\3410369\html\counter\includes\counterh.php on line 220

Warning: feof(): supplied argument is not a valid stream resource in D:\Hosting\3410369\html\counter\includes\counterh.php on line 218

Warning: fgets(): supplied argument is not a valid stream resource in D:\Hosting\3410369\html\counter\includes\counterh.php on line 220

Warning: feof(): supplied argument is not a valid stream resource in D:\Hosting\3410369\html\counter\includes\counterh.php on line 218

Warning: fgets(): supplied argument is not a valid stream resource in D:\Hosting\3410369\html\counter\includes\counterh.php on line 220

Warning: feof(): supplied argument is not a valid stream resource in D:\Hosting\3410369\html\counter\includes\counterh.php on line 218

Warning: fgets(): supplied argument is not a valid stream resource in D:\Hosting\3410369\html\counter\includes\counterh.php on line 220

Warning: feof(): supplied argument is not a valid stream resource in D:\Hosting\3410369\html\counter\includes\counterh.php on line 218

Warning: fgets(): supplied argument is not a valid stream resource in D:\Hosting\3410369\html\counter\includes\counterh.php on line 220

Warning: feof(): supplied argument is not a valid stream resource in D:\Hosting\3410369\html\counter\includes\counterh.php on line 218

Warning: fgets(): supplied argument is not a valid stream resource in D:\Hosting\3410369\html\counter\includes\counterh.php on line 220

Warning: feof(): supplied argument is not a valid stream resource in D:\Hosting\3410369\html\counter\includes\counterh.php on line 218

Warning: fgets(): supplied argument is not a valid stream resource in D:\Hosting\3410369\html\counter\includes\counterh.php on line 220

Warning: feof(): supplied argument is not a valid stream resource in D:\Hosting\3410369\html\counter\includes\counterh.php on line 218

Warning: fgets(): supplied argument is not a valid stream resource in D:\Hosting\3410369\html\counter\includes\counterh.php on line 220

Warning: feof(): supplied argument is not a valid stream resource in D:\Hosting\3410369\html\counter\includes\counterh.php on line 218

Warning: fgets(): supplied argument is not a valid stream resource in D:\Hosting\3410369\html\counter\includes\counterh.php on line 220

Warning: feof(): supplied argument is not a valid stream resource in D:\Hosting\3410369\html\counter\includes\counterh.php on line 218

Warning: fgets(): supplied argument is not a valid stream resource in D:\Hosting\3410369\html\counter\includes\counterh.php on line 220

Warning: feof(): supplied argument is not a valid stream resource in D:\Hosting\3410369\html\counter\includes\counterh.php on line 218

Warning: fgets(): supplied argument is not a valid stream resource in D:\Hosting\3410369\html\counter\includes\counterh.php on line 220

Warning: feof(): supplied argument is not a valid stream resource in D:\Hosting\3410369\html\counter\includes\counterh.php on line 218

Warning: fgets(): supplied argument is not a valid stream resource in D:\Hosting\3410369\html\counter\includes\counterh.php on line 220

Warning: feof(): supplied argument is not a valid stream resource in D:\Hosting\3410369\html\counter\includes\counterh.php on line 218

Warning: fgets(): supplied argument is not a valid stream resource in D:\Hosting\3410369\html\counter\includes\counterh.php on line 220

Warning: feof(): supplied argument is not a valid stream resource in D:\Hosting\3410369\html\counter\includes\counterh.php on line 218

Warning: fgets(): supplied argument is not a valid stream resource in D:\Hosting\3410369\html\counter\includes\counterh.php on line 220

Warning: feof(): supplied argument is not a valid stream resource in D:\Hosting\3410369\html\counter\includes\counterh.php on line 218

Warning: fgets(): supplied argument is not a valid stream resource in D:\Hosting\3410369\html\counter\includes\counterh.php on line 220

Warning: feof(): supplied argument is not a valid stream resource in D:\Hosting\3410369\html\counter\includes\counterh.php on line 218

Warning: fgets(): supplied argument is not a valid stream resource in D:\Hosting\3410369\html\counter\includes\counterh.php on line 220

Warning: feof(): supplied argument is not a valid stream resource in D:\Hosting\3410369\html\counter\includes\counterh.php on line 218

Warning: fgets(): supplied argument is not a valid stream resource in D:\Hosting\3410369\html\counter\includes\counterh.php on line 220

Warning: feof(): supplied argument is not a valid stream resource in D:\Hosting\3410369\html\counter\includes\counterh.php on line 218

Warning: fgets(): supplied argument is not a valid stream resource in D:\Hosting\3410369\html\counter\includes\counterh.php on line 220

Warning: feof(): supplied argument is not a valid stream resource in D:\Hosting\3410369\html\counter\includes\counterh.php on line 218

Warning: fgets(): supplied argument is not a valid stream resource in D:\Hosting\3410369\html\counter\includes\counterh.php on line 220

Warning: feof(): supplied argument is not a valid stream resource in D:\Hosting\3410369\html\counter\includes\counterh.php on line 218

Warning: fgets(): supplied argument is not a valid stream resource in D:\Hosting\3410369\html\counter\includes\counterh.php on line 220

Warning: feof(): supplied argument is not a valid stream resource in D:\Hosting\3410369\html\counter\includes\counterh.php on line 218

Warning: fgets(): supplied argument is not a valid stream resource in D:\Hosting\3410369\html\counter\includes\counterh.php on line 220

Warning: feof(): supplied argument is not a valid stream resource in D:\Hosting\3410369\html\counter\includes\counterh.php on line 218

Warning: fgets(): supplied argument is not a valid stream resource in D:\Hosting\3410369\html\counter\includes\counterh.php on line 220

Warning: feof(): supplied argument is not a valid stream resource in D:\Hosting\3410369\html\counter\includes\counterh.php on line 218

Warning: fgets(): supplied argument is not a valid stream resource in D:\Hosting\3410369\html\counter\includes\counterh.php on line 220

Warning: feof(): supplied argument is not a valid stream resource in D:\Hosting\3410369\html\counter\includes\counterh.php on line 218

Warning: fgets(): supplied argument is not a valid stream resource in D:\Hosting\3410369\html\counter\includes\counterh.php on line 220

Warning: feof(): supplied argument is not a valid stream resource in D:\Hosting\3410369\html\counter\includes\counterh.php on line 218

Warning: fgets(): supplied argument is not a valid stream resource in D:\Hosting\3410369\html\counter\includes\counterh.php on line 220

Warning: feof(): supplied argument is not a valid stream resource in D:\Hosting\3410369\html\counter\includes\counterh.php on line 218

Warning: fgets(): supplied argument is not a valid stream resource in D:\Hosting\3410369\html\counter\includes\counterh.php on line 220

Warning: feof(): supplied argument is not a valid stream resource in D:\Hosting\3410369\html\counter\includes\counterh.php on line 218

Warning: fgets(): supplied argument is not a valid stream resource in D:\Hosting\3410369\html\counter\includes\counterh.php on line 220

Warning: feof(): supplied argument is not a valid stream resource in D:\Hosting\3410369\html\counter\includes\counterh.php on line 218

Warning: fgets(): supplied argument is not a valid stream resource in D:\Hosting\3410369\html\counter\includes\counterh.php on line 220

Warning: feof(): supplied argument is not a valid stream resource in D:\Hosting\3410369\html\counter\includes\counterh.php on line 218

Warning: fgets(): supplied argument is not a valid stream resource in D:\Hosting\3410369\html\counter\includes\counterh.php on line 220

Warning: feof(): supplied argument is not a valid stream resource in D:\Hosting\3410369\html\counter\includes\counterh.php on line 218

Warning: fgets(): supplied argument is not a valid stream resource in D:\Hosting\3410369\html\counter\includes\counterh.php on line 220

Warning: feof(): supplied argument is not a valid stream resource in D:\Hosting\3410369\html\counter\includes\counterh.php on line 218

Warning: fgets(): supplied argument is not a valid stream resource in D:\Hosting\3410369\html\counter\includes\counterh.php on line 220

Warning: feof(): supplied argument is not a valid stream resource in D:\Hosting\3410369\html\counter\includes\counterh.php on line 218

Warning: fgets(): supplied argument is not a valid stream resource in D:\Hosting\3410369\html\counter\includes\counterh.php on line 220

Warning: feof(): supplied argument is not a valid stream resource in D:\Hosting\3410369\html\counter\includes\counterh.php on line 218

Warning: fgets(): supplied argument is not a valid stream resource in D:\Hosting\3410369\html\counter\includes\counterh.php on line 220

Warning: feof(): supplied argument is not a valid stream resource in D:\Hosting\3410369\html\counter\includes\counterh.php on line 218

Warning: fgets(): supplied argument is not a valid stream resource in D:\Hosting\3410369\html\counter\includes\counterh.php on line 220

Warning: feof(): supplied argument is not a valid stream resource in D:\Hosting\3410369\html\counter\includes\counterh.php on line 218

Warning: fgets(): supplied argument is not a valid stream resource in D:\Hosting\3410369\html\counter\includes\counterh.php on line 220

Warning: feof(): supplied argument is not a valid stream resource in D:\Hosting\3410369\html\counter\includes\counterh.php on line 218

Warning: fgets(): supplied argument is not a valid stream resource in D:\Hosting\3410369\html\counter\includes\counterh.php on line 220

Warning: feof(): supplied argument is not a valid stream resource in D:\Hosting\3410369\html\counter\includes\counterh.php on line 218

Warning: fgets(): supplied argument is not a valid stream resource in D:\Hosting\3410369\html\counter\includes\counterh.php on line 220

Warning: feof(): supplied argument is not a valid stream resource in D:\Hosting\3410369\html\counter\includes\counterh.php on line 218

Warning: fgets(): supplied argument is not a valid stream resource in D:\Hosting\3410369\html\counter\includes\counterh.php on line 220

Warning: feof(): supplied argument is not a valid stream resource in D:\Hosting\3410369\html\counter\includes\counterh.php on line 218

Warning: fgets(): supplied argument is not a valid stream resource in D:\Hosting\3410369\html\counter\includes\counterh.php on line 220

Warning: feof(): supplied argument is not a valid stream resource in D:\Hosting\3410369\html\counter\includes\counterh.php on line 218

Warning: fgets(): supplied argument is not a valid stream resource in D:\Hosting\3410369\html\counter\includes\counterh.php on line 220

Warning: feof(): supplied argument is not a valid stream resource in D:\Hosting\3410369\html\counter\includes\counterh.php on line 218

Warning: fgets(): supplied argument is not a valid stream resource in D:\Hosting\3410369\html\counter\includes\counterh.php on line 220

Warning: feof(): supplied argument is not a valid stream resource in D:\Hosting\3410369\html\counter\includes\counterh.php on line 218

Warning: fgets(): supplied argument is not a valid stream resource in D:\Hosting\3410369\html\counter\includes\counterh.php on line 220

Warning: feof(): supplied argument is not a valid stream resource in D:\Hosting\3410369\html\counter\includes\counterh.php on line 218

Warning: fgets(): supplied argument is not a valid stream resource in D:\Hosting\3410369\html\counter\includes\counterh.php on line 220

Warning: feof(): supplied argument is not a valid stream resource in D:\Hosting\3410369\html\counter\includes\counterh.php on line 218

Warning: fgets(): supplied argument is not a valid stream resource in D:\Hosting\3410369\html\counter\includes\counterh.php on line 220

Warning: feof(): supplied argument is not a valid stream resource in D:\Hosting\3410369\html\counter\includes\counterh.php on line 218

Warning: fgets(): supplied argument is not a valid stream resource in D:\Hosting\3410369\html\counter\includes\counterh.php on line 220

Warning: feof(): supplied argument is not a valid stream resource in D:\Hosting\3410369\html\counter\includes\counterh.php on line 218

Warning: fgets(): supplied argument is not a valid stream resource in D:\Hosting\3410369\html\counter\includes\counterh.php on line 220

Warning: feof(): supplied argument is not a valid stream resource in D:\Hosting\3410369\html\counter\includes\counterh.php on line 218

Warning: fgets(): supplied argument is not a valid stream resource in D:\Hosting\3410369\html\counter\includes\counterh.php on line 220

Warning: feof(): supplied argument is not a valid stream resource in D:\Hosting\3410369\html\counter\includes\counterh.php on line 218

Warning: fgets(): supplied argument is not a valid stream resource in D:\Hosting\3410369\html\counter\includes\counterh.php on line 220

Warning: feof(): supplied argument is not a valid stream resource in D:\Hosting\3410369\html\counter\includes\counterh.php on line 218

Warning: fgets(): supplied argument is not a valid stream resource in D:\Hosting\3410369\html\counter\includes\counterh.php on line 220

Warning: feof(): supplied argument is not a valid stream resource in D:\Hosting\3410369\html\counter\includes\counterh.php on line 218

Warning: fgets(): supplied argument is not a valid stream resource in D:\Hosting\3410369\html\counter\includes\counterh.php on line 220

Warning: feof(): supplied argument is not a valid stream resource in D:\Hosting\3410369\html\counter\includes\counterh.php on line 218

Warning: fgets(): supplied argument is not a valid stream resource in D:\Hosting\3410369\html\counter\includes\counterh.php on line 220

Warning: feof(): supplied argument is not a valid stream resource in D:\Hosting\3410369\html\counter\includes\counterh.php on line 218

Warning: fgets(): supplied argument is not a valid stream resource in D:\Hosting\3410369\html\counter\includes\counterh.php on line 220

Warning: feof(): supplied argument is not a valid stream resource in D:\Hosting\3410369\html\counter\includes\counterh.php on line 218

Warning: fgets(): supplied argument is not a valid stream resource in D:\Hosting\3410369\html\counter\includes\counterh.php on line 220

Warning: feof(): supplied argument is not a valid stream resource in D:\Hosting\3410369\html\counter\includes\counterh.php on line 218

Warning: fgets(): supplied argument is not a valid stream resource in D:\Hosting\3410369\html\counter\includes\counterh.php on line 220

Warning: feof(): supplied argument is not a valid stream resource in D:\Hosting\3410369\html\counter\includes\counterh.php on line 218

Warning: fgets(): supplied argument is not a valid stream resource in D:\Hosting\3410369\html\counter\includes\counterh.php on line 220

Warning: feof(): supplied argument is not a valid stream resource in D:\Hosting\3410369\html\counter\includes\counterh.php on line 218

Warning: fgets(): supplied argument is not a valid stream resource in D:\Hosting\3410369\html\counter\includes\counterh.php on line 220

Warning: feof(): supplied argument is not a valid stream resource in D:\Hosting\3410369\html\counter\includes\counterh.php on line 218

Warning: fgets(): supplied argument is not a valid stream resource in D:\Hosting\3410369\html\counter\includes\counterh.php on line 220

Warning: feof(): supplied argument is not a valid stream resource in D:\Hosting\3410369\html\counter\includes\counterh.php on line 218

Warning: fgets(): supplied argument is not a valid stream resource in D:\Hosting\3410369\html\counter\includes\counterh.php on line 220

Warning: feof(): supplied argument is not a valid stream resource in D:\Hosting\3410369\html\counter\includes\counterh.php on line 218

Warning: fgets(): supplied argument is not a valid stream resource in D:\Hosting\3410369\html\counter\includes\counterh.php on line 220

Warning: feof(): supplied argument is not a valid stream resource in D:\Hosting\3410369\html\counter\includes\counterh.php on line 218

Warning: fgets(): supplied argument is not a valid stream resource in D:\Hosting\3410369\html\counter\includes\counterh.php on line 220

Warning: feof(): supplied argument is not a valid stream resource in D:\Hosting\3410369\html\counter\includes\counterh.php on line 218

Warning: fgets(): supplied argument is not a valid stream resource in D:\Hosting\3410369\html\counter\includes\counterh.php on line 220

Warning: feof(): supplied argument is not a valid stream resource in D:\Hosting\3410369\html\counter\includes\counterh.php on line 218

Warning: fgets(): supplied argument is not a valid stream resource in D:\Hosting\3410369\html\counter\includes\counterh.php on line 220

Warning: feof(): supplied argument is not a valid stream resource in D:\Hosting\3410369\html\counter\includes\counterh.php on line 218

Warning: fgets(): supplied argument is not a valid stream resource in D:\Hosting\3410369\html\counter\includes\counterh.php on line 220

Warning: feof(): supplied argument is not a valid stream resource in D:\Hosting\3410369\html\counter\includes\counterh.php on line 218

Warning: fgets(): supplied argument is not a valid stream resource in D:\Hosting\3410369\html\counter\includes\counterh.php on line 220

Warning: feof(): supplied argument is not a valid stream resource in D:\Hosting\3410369\html\counter\includes\counterh.php on line 218

Warning: fgets(): supplied argument is not a valid stream resource in D:\Hosting\3410369\html\counter\includes\counterh.php on line 220

Warning: feof(): supplied argument is not a valid stream resource in D:\Hosting\3410369\html\counter\includes\counterh.php on line 218

Warning: fgets(): supplied argument is not a valid stream resource in D:\Hosting\3410369\html\counter\includes\counterh.php on line 220

Warning: feof(): supplied argument is not a valid stream resource in D:\Hosting\3410369\html\counter\includes\counterh.php on line 218

Warning: fgets(): supplied argument is not a valid stream resource in D:\Hosting\3410369\html\counter\includes\counterh.php on line 220

Warning: feof(): supplied argument is not a valid stream resource in D:\Hosting\3410369\html\counter\includes\counterh.php on line 218

Warning: fgets(): supplied argument is not a valid stream resource in D:\Hosting\3410369\html\counter\includes\counterh.php on line 220

Warning: feof(): supplied argument is not a valid stream resource in D:\Hosting\3410369\html\counter\includes\counterh.php on line 218

Warning: fgets(): supplied argument is not a valid stream resource in D:\Hosting\3410369\html\counter\includes\counterh.php on line 220

Warning: feof(): supplied argument is not a valid stream resource in D:\Hosting\3410369\html\counter\includes\counterh.php on line 218

Warning: fgets(): supplied argument is not a valid stream resource in D:\Hosting\3410369\html\counter\includes\counterh.php on line 220

Warning: feof(): supplied argument is not a valid stream resource in D:\Hosting\3410369\html\counter\includes\counterh.php on line 218

Warning: fgets(): supplied argument is not a valid stream resource in D:\Hosting\3410369\html\counter\includes\counterh.php on line 220

Warning: feof(): supplied argument is not a valid stream resource in D:\Hosting\3410369\html\counter\includes\counterh.php on line 218

Warning: fgets(): supplied argument is not a valid stream resource in D:\Hosting\3410369\html\counter\includes\counterh.php on line 220

Warning: feof(): supplied argument is not a valid stream resource in D:\Hosting\3410369\html\counter\includes\counterh.php on line 218

Warning: fgets(): supplied argument is not a valid stream resource in D:\Hosting\3410369\html\counter\includes\counterh.php on line 220

Warning: feof(): supplied argument is not a valid stream resource in D:\Hosting\3410369\html\counter\includes\counterh.php on line 218

Warning: fgets(): supplied argument is not a valid stream resource in D:\Hosting\3410369\html\counter\includes\counterh.php on line 220

Warning: feof(): supplied argument is not a valid stream resource in D:\Hosting\3410369\html\counter\includes\counterh.php on line 218

Warning: fgets(): supplied argument is not a valid stream resource in D:\Hosting\3410369\html\counter\includes\counterh.php on line 220

Warning: feof(): supplied argument is not a valid stream resource in D:\Hosting\3410369\html\counter\includes\counterh.php on line 218

Warning: fgets(): supplied argument is not a valid stream resource in D:\Hosting\3410369\html\counter\includes\counterh.php on line 220

Warning: feof(): supplied argument is not a valid stream resource in D:\Hosting\3410369\html\counter\includes\counterh.php on line 218

Warning: fgets(): supplied argument is not a valid stream resource in D:\Hosting\3410369\html\counter\includes\counterh.php on line 220

Warning: feof(): supplied argument is not a valid stream resource in D:\Hosting\3410369\html\counter\includes\counterh.php on line 218

Warning: fgets(): supplied argument is not a valid stream resource in D:\Hosting\3410369\html\counter\includes\counterh.php on line 220

Warning: feof(): supplied argument is not a valid stream resource in D:\Hosting\3410369\html\counter\includes\counterh.php on line 218

Warning: fgets(): supplied argument is not a valid stream resource in D:\Hosting\3410369\html\counter\includes\counterh.php on line 220

Warning: feof(): supplied argument is not a valid stream resource in D:\Hosting\3410369\html\counter\includes\counterh.php on line 218

Warning: fgets(): supplied argument is not a valid stream resource in D:\Hosting\3410369\html\counter\includes\counterh.php on line 220

Warning: feof(): supplied argument is not a valid stream resource in D:\Hosting\3410369\html\counter\includes\counterh.php on line 218

Warning: fgets(): supplied argument is not a valid stream resource in D:\Hosting\3410369\html\counter\includes\counterh.php on line 220

Warning: feof(): supplied argument is not a valid stream resource in D:\Hosting\3410369\html\counter\includes\counterh.php on line 218

Warning: fgets(): supplied argument is not a valid stream resource in D:\Hosting\3410369\html\counter\includes\counterh.php on line 220

Warning: feof(): supplied argument is not a valid stream resource in D:\Hosting\3410369\html\counter\includes\counterh.php on line 218

Warning: fgets(): supplied argument is not a valid stream resource in D:\Hosting\3410369\html\counter\includes\counterh.php on line 220

Warning: feof(): supplied argument is not a valid stream resource in D:\Hosting\3410369\html\counter\includes\counterh.php on line 218

Warning: fgets(): supplied argument is not a valid stream resource in D:\Hosting\3410369\html\counter\includes\counterh.php on line 220

Warning: feof(): supplied argument is not a valid stream resource in D:\Hosting\3410369\html\counter\includes\counterh.php on line 218

Warning: fgets(): supplied argument is not a valid stream resource in D:\Hosting\3410369\html\counter\includes\counterh.php on line 220

Warning: feof(): supplied argument is not a valid stream resource in D:\Hosting\3410369\html\counter\includes\counterh.php on line 218

Warning: fgets(): supplied argument is not a valid stream resource in D:\Hosting\3410369\html\counter\includes\counterh.php on line 220

Warning: feof(): supplied argument is not a valid stream resource in D:\Hosting\3410369\html\counter\includes\counterh.php on line 218

Warning: fgets(): supplied argument is not a valid stream resource in D:\Hosting\3410369\html\counter\includes\counterh.php on line 220

Warning: feof(): supplied argument is not a valid stream resource in D:\Hosting\3410369\html\counter\includes\counterh.php on line 218

Warning: fgets(): supplied argument is not a valid stream resource in D:\Hosting\3410369\html\counter\includes\counterh.php on line 220

Warning: feof(): supplied argument is not a valid stream resource in D:\Hosting\3410369\html\counter\includes\counterh.php on line 218

Warning: fgets(): supplied argument is not a valid stream resource in D:\Hosting\3410369\html\counter\includes\counterh.php on line 220

Warning: feof(): supplied argument is not a valid stream resource in D:\Hosting\3410369\html\counter\includes\counterh.php on line 218

Warning: fgets(): supplied argument is not a valid stream resource in D:\Hosting\3410369\html\counter\includes\counterh.php on line 220

Warning: feof(): supplied argument is not a valid stream resource in D:\Hosting\3410369\html\counter\includes\counterh.php on line 218

Warning: fgets(): supplied argument is not a valid stream resource in D:\Hosting\3410369\html\counter\includes\counterh.php on line 220

Warning: feof(): supplied argument is not a valid stream resource in D:\Hosting\3410369\html\counter\includes\counterh.php on line 218

Warning: fgets(): supplied argument is not a valid stream resource in D:\Hosting\3410369\html\counter\includes\counterh.php on line 220

Warning: feof(): supplied argument is not a valid stream resource in D:\Hosting\3410369\html\counter\includes\counterh.php on line 218

Warning: fgets(): supplied argument is not a valid stream resource in D:\Hosting\3410369\html\counter\includes\counterh.php on line 220

Warning: feof(): supplied argument is not a valid stream resource in D:\Hosting\3410369\html\counter\includes\counterh.php on line 218

Warning: fgets(): supplied argument is not a valid stream resource in D:\Hosting\3410369\html\counter\includes\counterh.php on line 220

Warning: feof(): supplied argument is not a valid stream resource in D:\Hosting\3410369\html\counter\includes\counterh.php on line 218

Warning: fgets(): supplied argument is not a valid stream resource in D:\Hosting\3410369\html\counter\includes\counterh.php on line 220

Warning: feof(): supplied argument is not a valid stream resource in D:\Hosting\3410369\html\counter\includes\counterh.php on line 218

Warning: fgets(): supplied argument is not a valid stream resource in D:\Hosting\3410369\html\counter\includes\counterh.php on line 220

Warning: feof(): supplied argument is not a valid stream resource in D:\Hosting\3410369\html\counter\includes\counterh.php on line 218

Warning: fgets(): supplied argument is not a valid stream resource in D:\Hosting\3410369\html\counter\includes\counterh.php on line 220

Warning: feof(): supplied argument is not a valid stream resource in D:\Hosting\3410369\html\counter\includes\counterh.php on line 218

Warning: fgets(): supplied argument is not a valid stream resource in D:\Hosting\3410369\html\counter\includes\counterh.php on line 220

Warning: feof(): supplied argument is not a valid stream resource in D:\Hosting\3410369\html\counter\includes\counterh.php on line 218

Warning: fgets(): supplied argument is not a valid stream resource in D:\Hosting\3410369\html\counter\includes\counterh.php on line 220

Warning: feof(): supplied argument is not a valid stream resource in D:\Hosting\3410369\html\counter\includes\counterh.php on line 218

Warning: fgets(): supplied argument is not a valid stream resource in D:\Hosting\3410369\html\counter\includes\counterh.php on line 220

Warning: feof(): supplied argument is not a valid stream resource in D:\Hosting\3410369\html\counter\includes\counterh.php on line 218

Warning: fgets(): supplied argument is not a valid stream resource in D:\Hosting\3410369\html\counter\includes\counterh.php on line 220

Warning: feof(): supplied argument is not a valid stream resource in D:\Hosting\3410369\html\counter\includes\counterh.php on line 218

Warning: fgets(): supplied argument is not a valid stream resource in D:\Hosting\3410369\html\counter\includes\counterh.php on line 220

Warning: feof(): supplied argument is not a valid stream resource in D:\Hosting\3410369\html\counter\includes\counterh.php on line 218

Warning: fgets(): supplied argument is not a valid stream resource in D:\Hosting\3410369\html\counter\includes\counterh.php on line 220

Warning: feof(): supplied argument is not a valid stream resource in D:\Hosting\3410369\html\counter\includes\counterh.php on line 218

Warning: fgets(): supplied argument is not a valid stream resource in D:\Hosting\3410369\html\counter\includes\counterh.php on line 220

Warning: feof(): supplied argument is not a valid stream resource in D:\Hosting\3410369\html\counter\includes\counterh.php on line 218

Warning: fgets(): supplied argument is not a valid stream resource in D:\Hosting\3410369\html\counter\includes\counterh.php on line 220

Warning: feof(): supplied argument is not a valid stream resource in D:\Hosting\3410369\html\counter\includes\counterh.php on line 218

Warning: fgets(): supplied argument is not a valid stream resource in D:\Hosting\3410369\html\counter\includes\counterh.php on line 220

Warning: feof(): supplied argument is not a valid stream resource in D:\Hosting\3410369\html\counter\includes\counterh.php on line 218

Warning: fgets(): supplied argument is not a valid stream resource in D:\Hosting\3410369\html\counter\includes\counterh.php on line 220

Warning: feof(): supplied argument is not a valid stream resource in D:\Hosting\3410369\html\counter\includes\counterh.php on line 218

Warning: fgets(): supplied argument is not a valid stream resource in D:\Hosting\3410369\html\counter\includes\counterh.php on line 220

Warning: feof(): supplied argument is not a valid stream resource in D:\Hosting\3410369\html\counter\includes\counterh.php on line 218

Warning: fgets(): supplied argument is not a valid stream resource in D:\Hosting\3410369\html\counter\includes\counterh.php on line 220

Warning: feof(): supplied argument is not a valid stream resource in D:\Hosting\3410369\html\counter\includes\counterh.php on line 218

Warning: fgets(): supplied argument is not a valid stream resource in D:\Hosting\3410369\html\counter\includes\counterh.php on line 220

Warning: feof(): supplied argument is not a valid stream resource in D:\Hosting\3410369\html\counter\includes\counterh.php on line 218

Warning: fgets(): supplied argument is not a valid stream resource in D:\Hosting\3410369\html\counter\includes\counterh.php on line 220

Warning: feof(): supplied argument is not a valid stream resource in D:\Hosting\3410369\html\counter\includes\counterh.php on line 218

Warning: fgets(): supplied argument is not a valid stream resource in D:\Hosting\3410369\html\counter\includes\counterh.php on line 220

Warning: feof(): supplied argument is not a valid stream resource in D:\Hosting\3410369\html\counter\includes\counterh.php on line 218

Warning: fgets(): supplied argument is not a valid stream resource in D:\Hosting\3410369\html\counter\includes\counterh.php on line 220

Warning: feof(): supplied argument is not a valid stream resource in D:\Hosting\3410369\html\counter\includes\counterh.php on line 218

Warning: fgets(): supplied argument is not a valid stream resource in D:\Hosting\3410369\html\counter\includes\counterh.php on line 220

Warning: feof(): supplied argument is not a valid stream resource in D:\Hosting\3410369\html\counter\includes\counterh.php on line 218

Warning: fgets(): supplied argument is not a valid stream resource in D:\Hosting\3410369\html\counter\includes\counterh.php on line 220

Warning: feof(): supplied argument is not a valid stream resource in D:\Hosting\3410369\html\counter\includes\counterh.php on line 218

Warning: fgets(): supplied argument is not a valid stream resource in D:\Hosting\3410369\html\counter\includes\counterh.php on line 220

Warning: feof(): supplied argument is not a valid stream resource in D:\Hosting\3410369\html\counter\includes\counterh.php on line 218

Warning: fgets(): supplied argument is not a valid stream resource in D:\Hosting\3410369\html\counter\includes\counterh.php on line 220

Warning: feof(): supplied argument is not a valid stream resource in D:\Hosting\3410369\html\counter\includes\counterh.php on line 218

Warning: fgets(): supplied argument is not a valid stream resource in D:\Hosting\3410369\html\counter\includes\counterh.php on line 220

Warning: feof(): supplied argument is not a valid stream resource in D:\Hosting\3410369\html\counter\includes\counterh.php on line 218

Warning: fgets(): supplied argument is not a valid stream resource in D:\Hosting\3410369\html\counter\includes\counterh.php on line 220

Warning: feof(): supplied argument is not a valid stream resource in D:\Hosting\3410369\html\counter\includes\counterh.php on line 218

Warning: fgets(): supplied argument is not a valid stream resource in D:\Hosting\3410369\html\counter\includes\counterh.php on line 220

Warning: feof(): supplied argument is not a valid stream resource in D:\Hosting\3410369\html\counter\includes\counterh.php on line 218

Warning: fgets(): supplied argument is not a valid stream resource in D:\Hosting\3410369\html\counter\includes\counterh.php on line 220

Warning: feof(): supplied argument is not a valid stream resource in D:\Hosting\3410369\html\counter\includes\counterh.php on line 218

Warning: fgets(): supplied argument is not a valid stream resource in D:\Hosting\3410369\html\counter\includes\counterh.php on line 220

Warning: feof(): supplied argument is not a valid stream resource in D:\Hosting\3410369\html\counter\includes\counterh.php on line 218

Warning: fgets(): supplied argument is not a valid stream resource in D:\Hosting\3410369\html\counter\includes\counterh.php on line 220

Warning: feof(): supplied argument is not a valid stream resource in D:\Hosting\3410369\html\counter\includes\counterh.php on line 218

Warning: fgets(): supplied argument is not a valid stream resource in D:\Hosting\3410369\html\counter\includes\counterh.php on line 220

Warning: feof(): supplied argument is not a valid stream resource in D:\Hosting\3410369\html\counter\includes\counterh.php on line 218

Warning: fgets(): supplied argument is not a valid stream resource in D:\Hosting\3410369\html\counter\includes\counterh.php on line 220

Warning: feof(): supplied argument is not a valid stream resource in D:\Hosting\3410369\html\counter\includes\counterh.php on line 218

Warning: fgets(): supplied argument is not a valid stream resource in D:\Hosting\3410369\html\counter\includes\counterh.php on line 220

Warning: feof(): supplied argument is not a valid stream resource in D:\Hosting\3410369\html\counter\includes\counterh.php on line 218

Warning: fgets(): supplied argument is not a valid stream resource in D:\Hosting\3410369\html\counter\includes\counterh.php on line 220

Warning: feof(): supplied argument is not a valid stream resource in D:\Hosting\3410369\html\counter\includes\counterh.php on line 218

Warning: fgets(): supplied argument is not a valid stream resource in D:\Hosting\3410369\html\counter\includes\counterh.php on line 220

Warning: feof(): supplied argument is not a valid stream resource in D:\Hosting\3410369\html\counter\includes\counterh.php on line 218

Warning: fgets(): supplied argument is not a valid stream resource in D:\Hosting\3410369\html\counter\includes\counterh.php on line 220

Warning: feof(): supplied argument is not a valid stream resource in D:\Hosting\3410369\html\counter\includes\counterh.php on line 218

Warning: fgets(): supplied argument is not a valid stream resource in D:\Hosting\3410369\html\counter\includes\counterh.php on line 220

Warning: feof(): supplied argument is not a valid stream resource in D:\Hosting\3410369\html\counter\includes\counterh.php on line 218

Warning: fgets(): supplied argument is not a valid stream resource in D:\Hosting\3410369\html\counter\includes\counterh.php on line 220

Warning: feof(): supplied argument is not a valid stream resource in D:\Hosting\3410369\html\counter\includes\counterh.php on line 218

Warning: fgets(): supplied argument is not a valid stream resource in D:\Hosting\3410369\html\counter\includes\counterh.php on line 220

Warning: feof(): supplied argument is not a valid stream resource in D:\Hosting\3410369\html\counter\includes\counterh.php on line 218

Warning: fgets(): supplied argument is not a valid stream resource in D:\Hosting\3410369\html\counter\includes\counterh.php on line 220

Warning: feof(): supplied argument is not a valid stream resource in D:\Hosting\3410369\html\counter\includes\counterh.php on line 218

Warning: fgets(): supplied argument is not a valid stream resource in D:\Hosting\3410369\html\counter\includes\counterh.php on line 220

Warning: feof(): supplied argument is not a valid stream resource in D:\Hosting\3410369\html\counter\includes\counterh.php on line 218

Warning: fgets(): supplied argument is not a valid stream resource in D:\Hosting\3410369\html\counter\includes\counterh.php on line 220

Warning: feof(): supplied argument is not a valid stream resource in D:\Hosting\3410369\html\counter\includes\counterh.php on line 218

Warning: fgets(): supplied argument is not a valid stream resource in D:\Hosting\3410369\html\counter\includes\counterh.php on line 220

Warning: feof(): supplied argument is not a valid stream resource in D:\Hosting\3410369\html\counter\includes\counterh.php on line 218

Warning: fgets(): supplied argument is not a valid stream resource in D:\Hosting\3410369\html\counter\includes\counterh.php on line 220

Warning: feof(): supplied argument is not a valid stream resource in D:\Hosting\3410369\html\counter\includes\counterh.php on line 218

Warning: fgets(): supplied argument is not a valid stream resource in D:\Hosting\3410369\html\counter\includes\counterh.php on line 220

Warning: feof(): supplied argument is not a valid stream resource in D:\Hosting\3410369\html\counter\includes\counterh.php on line 218

Warning: fgets(): supplied argument is not a valid stream resource in D:\Hosting\3410369\html\counter\includes\counterh.php on line 220

Warning: feof(): supplied argument is not a valid stream resource in D:\Hosting\3410369\html\counter\includes\counterh.php on line 218

Warning: fgets(): supplied argument is not a valid stream resource in D:\Hosting\3410369\html\counter\includes\counterh.php on line 220

Warning: feof(): supplied argument is not a valid stream resource in D:\Hosting\3410369\html\counter\includes\counterh.php on line 218

Warning: fgets(): supplied argument is not a valid stream resource in D:\Hosting\3410369\html\counter\includes\counterh.php on line 220

Warning: feof(): supplied argument is not a valid stream resource in D:\Hosting\3410369\html\counter\includes\counterh.php on line 218

Warning: fgets(): supplied argument is not a valid stream resource in D:\Hosting\3410369\html\counter\includes\counterh.php on line 220

Warning: feof(): supplied argument is not a valid stream resource in D:\Hosting\3410369\html\counter\includes\counterh.php on line 218

Warning: fgets(): supplied argument is not a valid stream resource in D:\Hosting\3410369\html\counter\includes\counterh.php on line 220

Warning: feof(): supplied argument is not a valid stream resource in D:\Hosting\3410369\html\counter\includes\counterh.php on line 218

Warning: fgets(): supplied argument is not a valid stream resource in D:\Hosting\3410369\html\counter\includes\counterh.php on line 220

Warning: feof(): supplied argument is not a valid stream resource in D:\Hosting\3410369\html\counter\includes\counterh.php on line 218

Warning: fgets(): supplied argument is not a valid stream resource in D:\Hosting\3410369\html\counter\includes\counterh.php on line 220

Warning: feof(): supplied argument is not a valid stream resource in D:\Hosting\3410369\html\counter\includes\counterh.php on line 218

Warning: fgets(): supplied argument is not a valid stream resource in D:\Hosting\3410369\html\counter\includes\counterh.php on line 220

Warning: feof(): supplied argument is not a valid stream resource in D:\Hosting\3410369\html\counter\includes\counterh.php on line 218

Warning: fgets(): supplied argument is not a valid stream resource in D:\Hosting\3410369\html\counter\includes\counterh.php on line 220

Warning: feof(): supplied argument is not a valid stream resource in D:\Hosting\3410369\html\counter\includes\counterh.php on line 218

Warning: fgets(): supplied argument is not a valid stream resource in D:\Hosting\3410369\html\counter\includes\counterh.php on line 220

Warning: feof(): supplied argument is not a valid stream resource in D:\Hosting\3410369\html\counter\includes\counterh.php on line 218

Warning: fgets(): supplied argument is not a valid stream resource in D:\Hosting\3410369\html\counter\includes\counterh.php on line 220

Warning: feof(): supplied argument is not a valid stream resource in D:\Hosting\3410369\html\counter\includes\counterh.php on line 218

Warning: fgets(): supplied argument is not a valid stream resource in D:\Hosting\3410369\html\counter\includes\counterh.php on line 220

Warning: feof(): supplied argument is not a valid stream resource in D:\Hosting\3410369\html\counter\includes\counterh.php on line 218

Warning: fgets(): supplied argument is not a valid stream resource in D:\Hosting\3410369\html\counter\includes\counterh.php on line 220

Warning: feof(): supplied argument is not a valid stream resource in D:\Hosting\3410369\html\counter\includes\counterh.php on line 218

Warning: fgets(): supplied argument is not a valid stream resource in D:\Hosting\3410369\html\counter\includes\counterh.php on line 220

Warning: feof(): supplied argument is not a valid stream resource in D:\Hosting\3410369\html\counter\includes\counterh.php on line 218

Warning: fgets(): supplied argument is not a valid stream resource in D:\Hosting\3410369\html\counter\includes\counterh.php on line 220

Warning: feof(): supplied argument is not a valid stream resource in D:\Hosting\3410369\html\counter\includes\counterh.php on line 218

Warning: fgets(): supplied argument is not a valid stream resource in D:\Hosting\3410369\html\counter\includes\counterh.php on line 220

Warning: feof(): supplied argument is not a valid stream resource in D:\Hosting\3410369\html\counter\includes\counterh.php on line 218

Warning: fgets(): supplied argument is not a valid stream resource in D:\Hosting\3410369\html\counter\includes\counterh.php on line 220

Warning: feof(): supplied argument is not a valid stream resource in D:\Hosting\3410369\html\counter\includes\counterh.php on line 218

Warning: fgets(): supplied argument is not a valid stream resource in D:\Hosting\3410369\html\counter\includes\counterh.php on line 220

Warning: feof(): supplied argument is not a valid stream resource in D:\Hosting\3410369\html\counter\includes\counterh.php on line 218

Warning: fgets(): supplied argument is not a valid stream resource in D:\Hosting\3410369\html\counter\includes\counterh.php on line 220

Warning: feof(): supplied argument is not a valid stream resource in D:\Hosting\3410369\html\counter\includes\counterh.php on line 218

Warning: fgets(): supplied argument is not a valid stream resource in D:\Hosting\3410369\html\counter\includes\counterh.php on line 220

Warning: feof(): supplied argument is not a valid stream resource in D:\Hosting\3410369\html\counter\includes\counterh.php on line 218

Warning: fgets(): supplied argument is not a valid stream resource in D:\Hosting\3410369\html\counter\includes\counterh.php on line 220

Warning: feof(): supplied argument is not a valid stream resource in D:\Hosting\3410369\html\counter\includes\counterh.php on line 218

Warning: fgets(): supplied argument is not a valid stream resource in D:\Hosting\3410369\html\counter\includes\counterh.php on line 220

Warning: feof(): supplied argument is not a valid stream resource in D:\Hosting\3410369\html\counter\includes\counterh.php on line 218

Warning: fgets(): supplied argument is not a valid stream resource in D:\Hosting\3410369\html\counter\includes\counterh.php on line 220

Warning: feof(): supplied argument is not a valid stream resource in D:\Hosting\3410369\html\counter\includes\counterh.php on line 218

Warning: fgets(): supplied argument is not a valid stream resource in D:\Hosting\3410369\html\counter\includes\counterh.php on line 220

Warning: feof(): supplied argument is not a valid stream resource in D:\Hosting\3410369\html\counter\includes\counterh.php on line 218

Warning: fgets(): supplied argument is not a valid stream resource in D:\Hosting\3410369\html\counter\includes\counterh.php on line 220

Warning: feof(): supplied argument is not a valid stream resource in D:\Hosting\3410369\html\counter\includes\counterh.php on line 218

Warning: fgets(): supplied argument is not a valid stream resource in D:\Hosting\3410369\html\counter\includes\counterh.php on line 220

Warning: feof(): supplied argument is not a valid stream resource in D:\Hosting\3410369\html\counter\includes\counterh.php on line 218

Warning: fgets(): supplied argument is not a valid stream resource in D:\Hosting\3410369\html\counter\includes\counterh.php on line 220

Warning: feof(): supplied argument is not a valid stream resource in D:\Hosting\3410369\html\counter\includes\counterh.php on line 218

Warning: fgets(): supplied argument is not a valid stream resource in D:\Hosting\3410369\html\counter\includes\counterh.php on line 220

Warning: feof(): supplied argument is not a valid stream resource in D:\Hosting\3410369\html\counter\includes\counterh.php on line 218

Warning: fgets(): supplied argument is not a valid stream resource in D:\Hosting\3410369\html\counter\includes\counterh.php on line 220

Warning: feof(): supplied argument is not a valid stream resource in D:\Hosting\3410369\html\counter\includes\counterh.php on line 218

Warning: fgets(): supplied argument is not a valid stream resource in D:\Hosting\3410369\html\counter\includes\counterh.php on line 220

Warning: feof(): supplied argument is not a valid stream resource in D:\Hosting\3410369\html\counter\includes\counterh.php on line 218

Warning: fgets(): supplied argument is not a valid stream resource in D:\Hosting\3410369\html\counter\includes\counterh.php on line 220

Warning: feof(): supplied argument is not a valid stream resource in D:\Hosting\3410369\html\counter\includes\counterh.php on line 218

Warning: fgets(): supplied argument is not a valid stream resource in D:\Hosting\3410369\html\counter\includes\counterh.php on line 220

Warning: feof(): supplied argument is not a valid stream resource in D:\Hosting\3410369\html\counter\includes\counterh.php on line 218

Warning: fgets(): supplied argument is not a valid stream resource in D:\Hosting\3410369\html\counter\includes\counterh.php on line 220

Warning: feof(): supplied argument is not a valid stream resource in D:\Hosting\3410369\html\counter\includes\counterh.php on line 218

Warning: fgets(): supplied argument is not a valid stream resource in D:\Hosting\3410369\html\counter\includes\counterh.php on line 220

Warning: feof(): supplied argument is not a valid stream resource in D:\Hosting\3410369\html\counter\includes\counterh.php on line 218

Warning: fgets(): supplied argument is not a valid stream resource in D:\Hosting\3410369\html\counter\includes\counterh.php on line 220

Warning: feof(): supplied argument is not a valid stream resource in D:\Hosting\3410369\html\counter\includes\counterh.php on line 218

Warning: fgets(): supplied argument is not a valid stream resource in D:\Hosting\3410369\html\counter\includes\counterh.php on line 220

Warning: feof(): supplied argument is not a valid stream resource in D:\Hosting\3410369\html\counter\includes\counterh.php on line 218

Warning: fgets(): supplied argument is not a valid stream resource in D:\Hosting\3410369\html\counter\includes\counterh.php on line 220

Warning: feof(): supplied argument is not a valid stream resource in D:\Hosting\3410369\html\counter\includes\counterh.php on line 218

Warning: fgets(): supplied argument is not a valid stream resource in D:\Hosting\3410369\html\counter\includes\counterh.php on line 220

Warning: feof(): supplied argument is not a valid stream resource in D:\Hosting\3410369\html\counter\includes\counterh.php on line 218

Warning: fgets(): supplied argument is not a valid stream resource in D:\Hosting\3410369\html\counter\includes\counterh.php on line 220

Warning: feof(): supplied argument is not a valid stream resource in D:\Hosting\3410369\html\counter\includes\counterh.php on line 218

Warning: fgets(): supplied argument is not a valid stream resource in D:\Hosting\3410369\html\counter\includes\counterh.php on line 220

Warning: feof(): supplied argument is not a valid stream resource in D:\Hosting\3410369\html\counter\includes\counterh.php on line 218

Warning: fgets(): supplied argument is not a valid stream resource in D:\Hosting\3410369\html\counter\includes\counterh.php on line 220

Warning: feof(): supplied argument is not a valid stream resource in D:\Hosting\3410369\html\counter\includes\counterh.php on line 218

Warning: fgets(): supplied argument is not a valid stream resource in D:\Hosting\3410369\html\counter\includes\counterh.php on line 220

Warning: feof(): supplied argument is not a valid stream resource in D:\Hosting\3410369\html\counter\includes\counterh.php on line 218

Warning: fgets(): supplied argument is not a valid stream resource in D:\Hosting\3410369\html\counter\includes\counterh.php on line 220

Warning: feof(): supplied argument is not a valid stream resource in D:\Hosting\3410369\html\counter\includes\counterh.php on line 218

Warning: fgets(): supplied argument is not a valid stream resource in D:\Hosting\3410369\html\counter\includes\counterh.php on line 220

Warning: feof(): supplied argument is not a valid stream resource in D:\Hosting\3410369\html\counter\includes\counterh.php on line 218

Warning: fgets(): supplied argument is not a valid stream resource in D:\Hosting\3410369\html\counter\includes\counterh.php on line 220

Warning: feof(): supplied argument is not a valid stream resource in D:\Hosting\3410369\html\counter\includes\counterh.php on line 218

Warning: fgets(): supplied argument is not a valid stream resource in D:\Hosting\3410369\html\counter\includes\counterh.php on line 220

Warning: feof(): supplied argument is not a valid stream resource in D:\Hosting\3410369\html\counter\includes\counterh.php on line 218

Warning: fgets(): supplied argument is not a valid stream resource in D:\Hosting\3410369\html\counter\includes\counterh.php on line 220

Warning: feof(): supplied argument is not a valid stream resource in D:\Hosting\3410369\html\counter\includes\counterh.php on line 218

Warning: fgets(): supplied argument is not a valid stream resource in D:\Hosting\3410369\html\counter\includes\counterh.php on line 220

Warning: feof(): supplied argument is not a valid stream resource in D:\Hosting\3410369\html\counter\includes\counterh.php on line 218

Warning: fgets(): supplied argument is not a valid stream resource in D:\Hosting\3410369\html\counter\includes\counterh.php on line 220

Warning: feof(): supplied argument is not a valid stream resource in D:\Hosting\3410369\html\counter\includes\counterh.php on line 218

Warning: fgets(): supplied argument is not a valid stream resource in D:\Hosting\3410369\html\counter\includes\counterh.php on line 220

Warning: feof(): supplied argument is not a valid stream resource in D:\Hosting\3410369\html\counter\includes\counterh.php on line 218

Warning: fgets(): supplied argument is not a valid stream resource in D:\Hosting\3410369\html\counter\includes\counterh.php on line 220

Warning: feof(): supplied argument is not a valid stream resource in D:\Hosting\3410369\html\counter\includes\counterh.php on line 218

Warning: fgets(): supplied argument is not a valid stream resource in D:\Hosting\3410369\html\counter\includes\counterh.php on line 220

Warning: feof(): supplied argument is not a valid stream resource in D:\Hosting\3410369\html\counter\includes\counterh.php on line 218

Warning: fgets(): supplied argument is not a valid stream resource in D:\Hosting\3410369\html\counter\includes\counterh.php on line 220

Warning: feof(): supplied argument is not a valid stream resource in D:\Hosting\3410369\html\counter\includes\counterh.php on line 218

Warning: fgets(): supplied argument is not a valid stream resource in D:\Hosting\3410369\html\counter\includes\counterh.php on line 220

Warning: feof(): supplied argument is not a valid stream resource in D:\Hosting\3410369\html\counter\includes\counterh.php on line 218

Warning: fgets(): supplied argument is not a valid stream resource in D:\Hosting\3410369\html\counter\includes\counterh.php on line 220

Warning: feof(): supplied argument is not a valid stream resource in D:\Hosting\3410369\html\counter\includes\counterh.php on line 218

Warning: fgets(): supplied argument is not a valid stream resource in D:\Hosting\3410369\html\counter\includes\counterh.php on line 220

Warning: feof(): supplied argument is not a valid stream resource in D:\Hosting\3410369\html\counter\includes\counterh.php on line 218

Warning: fgets(): supplied argument is not a valid stream resource in D:\Hosting\3410369\html\counter\includes\counterh.php on line 220

Warning: feof(): supplied argument is not a valid stream resource in D:\Hosting\3410369\html\counter\includes\counterh.php on line 218

Warning: fgets(): supplied argument is not a valid stream resource in D:\Hosting\3410369\html\counter\includes\counterh.php on line 220

Warning: feof(): supplied argument is not a valid stream resource in D:\Hosting\3410369\html\counter\includes\counterh.php on line 218

Warning: fgets(): supplied argument is not a valid stream resource in D:\Hosting\3410369\html\counter\includes\counterh.php on line 220

Warning: feof(): supplied argument is not a valid stream resource in D:\Hosting\3410369\html\counter\includes\counterh.php on line 218

Warning: fgets(): supplied argument is not a valid stream resource in D:\Hosting\3410369\html\counter\includes\counterh.php on line 220

Warning: feof(): supplied argument is not a valid stream resource in D:\Hosting\3410369\html\counter\includes\counterh.php on line 218

Warning: fgets(): supplied argument is not a valid stream resource in D:\Hosting\3410369\html\counter\includes\counterh.php on line 220

Warning: feof(): supplied argument is not a valid stream resource in D:\Hosting\3410369\html\counter\includes\counterh.php on line 218

Warning: fgets(): supplied argument is not a valid stream resource in D:\Hosting\3410369\html\counter\includes\counterh.php on line 220

Warning: feof(): supplied argument is not a valid stream resource in D:\Hosting\3410369\html\counter\includes\counterh.php on line 218

Warning: fgets(): supplied argument is not a valid stream resource in D:\Hosting\3410369\html\counter\includes\counterh.php on line 220

Warning: feof(): supplied argument is not a valid stream resource in D:\Hosting\3410369\html\counter\includes\counterh.php on line 218

Warning: fgets(): supplied argument is not a valid stream resource in D:\Hosting\3410369\html\counter\includes\counterh.php on line 220

Warning: feof(): supplied argument is not a valid stream resource in D:\Hosting\3410369\html\counter\includes\counterh.php on line 218

Warning: fgets(): supplied argument is not a valid stream resource in D:\Hosting\3410369\html\counter\includes\counterh.php on line 220

Warning: feof(): supplied argument is not a valid stream resource in D:\Hosting\3410369\html\counter\includes\counterh.php on line 218

Warning: fgets(): supplied argument is not a valid stream resource in D:\Hosting\3410369\html\counter\includes\counterh.php on line 220

Warning: feof(): supplied argument is not a valid stream resource in D:\Hosting\3410369\html\counter\includes\counterh.php on line 218

Warning: fgets(): supplied argument is not a valid stream resource in D:\Hosting\3410369\html\counter\includes\counterh.php on line 220

Warning: feof(): supplied argument is not a valid stream resource in D:\Hosting\3410369\html\counter\includes\counterh.php on line 218

Warning: fgets(): supplied argument is not a valid stream resource in D:\Hosting\3410369\html\counter\includes\counterh.php on line 220

Warning: feof(): supplied argument is not a valid stream resource in D:\Hosting\3410369\html\counter\includes\counterh.php on line 218

Warning: fgets(): supplied argument is not a valid stream resource in D:\Hosting\3410369\html\counter\includes\counterh.php on line 220

Warning: feof(): supplied argument is not a valid stream resource in D:\Hosting\3410369\html\counter\includes\counterh.php on line 218

Warning: fgets(): supplied argument is not a valid stream resource in D:\Hosting\3410369\html\counter\includes\counterh.php on line 220

Warning: feof(): supplied argument is not a valid stream resource in D:\Hosting\3410369\html\counter\includes\counterh.php on line 218

Warning: fgets(): supplied argument is not a valid stream resource in D:\Hosting\3410369\html\counter\includes\counterh.php on line 220

Warning: feof(): supplied argument is not a valid stream resource in D:\Hosting\3410369\html\counter\includes\counterh.php on line 218

Warning: fgets(): supplied argument is not a valid stream resource in D:\Hosting\3410369\html\counter\includes\counterh.php on line 220

Warning: feof(): supplied argument is not a valid stream resource in D:\Hosting\3410369\html\counter\includes\counterh.php on line 218

Warning: fgets(): supplied argument is not a valid stream resource in D:\Hosting\3410369\html\counter\includes\counterh.php on line 220

Warning: feof(): supplied argument is not a valid stream resource in D:\Hosting\3410369\html\counter\includes\counterh.php on line 218

Warning: fgets(): supplied argument is not a valid stream resource in D:\Hosting\3410369\html\counter\includes\counterh.php on line 220

Warning: feof(): supplied argument is not a valid stream resource in D:\Hosting\3410369\html\counter\includes\counterh.php on line 218

Warning: fgets(): supplied argument is not a valid stream resource in D:\Hosting\3410369\html\counter\includes\counterh.php on line 220

Warning: feof(): supplied argument is not a valid stream resource in D:\Hosting\3410369\html\counter\includes\counterh.php on line 218

Warning: fgets(): supplied argument is not a valid stream resource in D:\Hosting\3410369\html\counter\includes\counterh.php on line 220

Warning: feof(): supplied argument is not a valid stream resource in D:\Hosting\3410369\html\counter\includes\counterh.php on line 218

Warning: fgets(): supplied argument is not a valid stream resource in D:\Hosting\3410369\html\counter\includes\counterh.php on line 220

Warning: feof(): supplied argument is not a valid stream resource in D:\Hosting\3410369\html\counter\includes\counterh.php on line 218

Warning: fgets(): supplied argument is not a valid stream resource in D:\Hosting\3410369\html\counter\includes\counterh.php on line 220

Warning: feof(): supplied argument is not a valid stream resource in D:\Hosting\3410369\html\counter\includes\counterh.php on line 218

Warning: fgets(): supplied argument is not a valid stream resource in D:\Hosting\3410369\html\counter\includes\counterh.php on line 220

Warning: feof(): supplied argument is not a valid stream resource in D:\Hosting\3410369\html\counter\includes\counterh.php on line 218

Warning: fgets(): supplied argument is not a valid stream resource in D:\Hosting\3410369\html\counter\includes\counterh.php on line 220

Warning: feof(): supplied argument is not a valid stream resource in D:\Hosting\3410369\html\counter\includes\counterh.php on line 218

Warning: fgets(): supplied argument is not a valid stream resource in D:\Hosting\3410369\html\counter\includes\counterh.php on line 220

Warning: feof(): supplied argument is not a valid stream resource in D:\Hosting\3410369\html\counter\includes\counterh.php on line 218

Warning: fgets(): supplied argument is not a valid stream resource in D:\Hosting\3410369\html\counter\includes\counterh.php on line 220

Warning: feof(): supplied argument is not a valid stream resource in D:\Hosting\3410369\html\counter\includes\counterh.php on line 218

Warning: fgets(): supplied argument is not a valid stream resource in D:\Hosting\3410369\html\counter\includes\counterh.php on line 220

Warning: feof(): supplied argument is not a valid stream resource in D:\Hosting\3410369\html\counter\includes\counterh.php on line 218

Warning: fgets(): supplied argument is not a valid stream resource in D:\Hosting\3410369\html\counter\includes\counterh.php on line 220

Warning: feof(): supplied argument is not a valid stream resource in D:\Hosting\3410369\html\counter\includes\counterh.php on line 218

Warning: fgets(): supplied argument is not a valid stream resource in D:\Hosting\3410369\html\counter\includes\counterh.php on line 220

Warning: feof(): supplied argument is not a valid stream resource in D:\Hosting\3410369\html\counter\includes\counterh.php on line 218

Warning: fgets(): supplied argument is not a valid stream resource in D:\Hosting\3410369\html\counter\includes\counterh.php on line 220

Warning: feof(): supplied argument is not a valid stream resource in D:\Hosting\3410369\html\counter\includes\counterh.php on line 218

Warning: fgets(): supplied argument is not a valid stream resource in D:\Hosting\3410369\html\counter\includes\counterh.php on line 220

Warning: feof(): supplied argument is not a valid stream resource in D:\Hosting\3410369\html\counter\includes\counterh.php on line 218

Warning: fgets(): supplied argument is not a valid stream resource in D:\Hosting\3410369\html\counter\includes\counterh.php on line 220

Warning: feof(): supplied argument is not a valid stream resource in D:\Hosting\3410369\html\counter\includes\counterh.php on line 218

Warning: fgets(): supplied argument is not a valid stream resource in D:\Hosting\3410369\html\counter\includes\counterh.php on line 220

Warning: feof(): supplied argument is not a valid stream resource in D:\Hosting\3410369\html\counter\includes\counterh.php on line 218

Warning: fgets(): supplied argument is not a valid stream resource in D:\Hosting\3410369\html\counter\includes\counterh.php on line 220

Warning: feof(): supplied argument is not a valid stream resource in D:\Hosting\3410369\html\counter\includes\counterh.php on line 218

Warning: fgets(): supplied argument is not a valid stream resource in D:\Hosting\3410369\html\counter\includes\counterh.php on line 220

Warning: feof(): supplied argument is not a valid stream resource in D:\Hosting\3410369\html\counter\includes\counterh.php on line 218

Warning: fgets(): supplied argument is not a valid stream resource in D:\Hosting\3410369\html\counter\includes\counterh.php on line 220

Warning: feof(): supplied argument is not a valid stream resource in D:\Hosting\3410369\html\counter\includes\counterh.php on line 218

Warning: fgets(): supplied argument is not a valid stream resource in D:\Hosting\3410369\html\counter\includes\counterh.php on line 220

Warning: feof(): supplied argument is not a valid stream resource in D:\Hosting\3410369\html\counter\includes\counterh.php on line 218

Warning: fgets(): supplied argument is not a valid stream resource in D:\Hosting\3410369\html\counter\includes\counterh.php on line 220

Warning: feof(): supplied argument is not a valid stream resource in D:\Hosting\3410369\html\counter\includes\counterh.php on line 218

Warning: fgets(): supplied argument is not a valid stream resource in D:\Hosting\3410369\html\counter\includes\counterh.php on line 220

Warning: feof(): supplied argument is not a valid stream resource in D:\Hosting\3410369\html\counter\includes\counterh.php on line 218

Warning: fgets(): supplied argument is not a valid stream resource in D:\Hosting\3410369\html\counter\includes\counterh.php on line 220

Warning: feof(): supplied argument is not a valid stream resource in D:\Hosting\3410369\html\counter\includes\counterh.php on line 218

Warning: fgets(): supplied argument is not a valid stream resource in D:\Hosting\3410369\html\counter\includes\counterh.php on line 220

Warning: feof(): supplied argument is not a valid stream resource in D:\Hosting\3410369\html\counter\includes\counterh.php on line 218

Warning: fgets(): supplied argument is not a valid stream resource in D:\Hosting\3410369\html\counter\includes\counterh.php on line 220

Warning: feof(): supplied argument is not a valid stream resource in D:\Hosting\3410369\html\counter\includes\counterh.php on line 218

Warning: fgets(): supplied argument is not a valid stream resource in D:\Hosting\3410369\html\counter\includes\counterh.php on line 220

Warning: feof(): supplied argument is not a valid stream resource in D:\Hosting\3410369\html\counter\includes\counterh.php on line 218

Warning: fgets(): supplied argument is not a valid stream resource in D:\Hosting\3410369\html\counter\includes\counterh.php on line 220

Warning: feof(): supplied argument is not a valid stream resource in D:\Hosting\3410369\html\counter\includes\counterh.php on line 218

Warning: fgets(): supplied argument is not a valid stream resource in D:\Hosting\3410369\html\counter\includes\counterh.php on line 220

Warning: feof(): supplied argument is not a valid stream resource in D:\Hosting\3410369\html\counter\includes\counterh.php on line 218

Warning: fgets(): supplied argument is not a valid stream resource in D:\Hosting\3410369\html\counter\includes\counterh.php on line 220

Warning: feof(): supplied argument is not a valid stream resource in D:\Hosting\3410369\html\counter\includes\counterh.php on line 218

Warning: fgets(): supplied argument is not a valid stream resource in D:\Hosting\3410369\html\counter\includes\counterh.php on line 220

Warning: feof(): supplied argument is not a valid stream resource in D:\Hosting\3410369\html\counter\includes\counterh.php on line 218

Warning: fgets(): supplied argument is not a valid stream resource in D:\Hosting\3410369\html\counter\includes\counterh.php on line 220

Warning: feof(): supplied argument is not a valid stream resource in D:\Hosting\3410369\html\counter\includes\counterh.php on line 218

Warning: fgets(): supplied argument is not a valid stream resource in D:\Hosting\3410369\html\counter\includes\counterh.php on line 220

Warning: feof(): supplied argument is not a valid stream resource in D:\Hosting\3410369\html\counter\includes\counterh.php on line 218

Warning: fgets(): supplied argument is not a valid stream resource in D:\Hosting\3410369\html\counter\includes\counterh.php on line 220

Warning: feof(): supplied argument is not a valid stream resource in D:\Hosting\3410369\html\counter\includes\counterh.php on line 218

Warning: fgets(): supplied argument is not a valid stream resource in D:\Hosting\3410369\html\counter\includes\counterh.php on line 220

Warning: feof(): supplied argument is not a valid stream resource in D:\Hosting\3410369\html\counter\includes\counterh.php on line 218

Warning: fgets(): supplied argument is not a valid stream resource in D:\Hosting\3410369\html\counter\includes\counterh.php on line 220

Warning: feof(): supplied argument is not a valid stream resource in D:\Hosting\3410369\html\counter\includes\counterh.php on line 218

Warning: fgets(): supplied argument is not a valid stream resource in D:\Hosting\3410369\html\counter\includes\counterh.php on line 220

Warning: feof(): supplied argument is not a valid stream resource in D:\Hosting\3410369\html\counter\includes\counterh.php on line 218

Warning: fgets(): supplied argument is not a valid stream resource in D:\Hosting\3410369\html\counter\includes\counterh.php on line 220

Warning: feof(): supplied argument is not a valid stream resource in D:\Hosting\3410369\html\counter\includes\counterh.php on line 218

Warning: fgets(): supplied argument is not a valid stream resource in D:\Hosting\3410369\html\counter\includes\counterh.php on line 220

Warning: feof(): supplied argument is not a valid stream resource in D:\Hosting\3410369\html\counter\includes\counterh.php on line 218

Warning: fgets(): supplied argument is not a valid stream resource in D:\Hosting\3410369\html\counter\includes\counterh.php on line 220

Warning: feof(): supplied argument is not a valid stream resource in D:\Hosting\3410369\html\counter\includes\counterh.php on line 218

Warning: fgets(): supplied argument is not a valid stream resource in D:\Hosting\3410369\html\counter\includes\counterh.php on line 220

Warning: feof(): supplied argument is not a valid stream resource in D:\Hosting\3410369\html\counter\includes\counterh.php on line 218

Warning: fgets(): supplied argument is not a valid stream resource in D:\Hosting\3410369\html\counter\includes\counterh.php on line 220

Warning: feof(): supplied argument is not a valid stream resource in D:\Hosting\3410369\html\counter\includes\counterh.php on line 218

Warning: fgets(): supplied argument is not a valid stream resource in D:\Hosting\3410369\html\counter\includes\counterh.php on line 220

Warning: feof(): supplied argument is not a valid stream resource in D:\Hosting\3410369\html\counter\includes\counterh.php on line 218

Warning: fgets(): supplied argument is not a valid stream resource in D:\Hosting\3410369\html\counter\includes\counterh.php on line 220

Warning: feof(): supplied argument is not a valid stream resource in D:\Hosting\3410369\html\counter\includes\counterh.php on line 218

Warning: fgets(): supplied argument is not a valid stream resource in D:\Hosting\3410369\html\counter\includes\counterh.php on line 220

Warning: feof(): supplied argument is not a valid stream resource in D:\Hosting\3410369\html\counter\includes\counterh.php on line 218

Warning: fgets(): supplied argument is not a valid stream resource in D:\Hosting\3410369\html\counter\includes\counterh.php on line 220

Warning: feof(): supplied argument is not a valid stream resource in D:\Hosting\3410369\html\counter\includes\counterh.php on line 218

Warning: fgets(): supplied argument is not a valid stream resource in D:\Hosting\3410369\html\counter\includes\counterh.php on line 220

Warning: feof(): supplied argument is not a valid stream resource in D:\Hosting\3410369\html\counter\includes\counterh.php on line 218

Warning: fgets(): supplied argument is not a valid stream resource in D:\Hosting\3410369\html\counter\includes\counterh.php on line 220

Warning: feof(): supplied argument is not a valid stream resource in D:\Hosting\3410369\html\counter\includes\counterh.php on line 218

Warning: fgets(): supplied argument is not a valid stream resource in D:\Hosting\3410369\html\counter\includes\counterh.php on line 220

Warning: feof(): supplied argument is not a valid stream resource in D:\Hosting\3410369\html\counter\includes\counterh.php on line 218

Warning: fgets(): supplied argument is not a valid stream resource in D:\Hosting\3410369\html\counter\includes\counterh.php on line 220

Warning: feof(): supplied argument is not a valid stream resource in D:\Hosting\3410369\html\counter\includes\counterh.php on line 218

Warning: fgets(): supplied argument is not a valid stream resource in D:\Hosting\3410369\html\counter\includes\counterh.php on line 220

Warning: feof(): supplied argument is not a valid stream resource in D:\Hosting\3410369\html\counter\includes\counterh.php on line 218

Warning: fgets(): supplied argument is not a valid stream resource in D:\Hosting\3410369\html\counter\includes\counterh.php on line 220

Warning: feof(): supplied argument is not a valid stream resource in D:\Hosting\3410369\html\counter\includes\counterh.php on line 218

Warning: fgets(): supplied argument is not a valid stream resource in D:\Hosting\3410369\html\counter\includes\counterh.php on line 220

Warning: feof(): supplied argument is not a valid stream resource in D:\Hosting\3410369\html\counter\includes\counterh.php on line 218

Warning: fgets(): supplied argument is not a valid stream resource in D:\Hosting\3410369\html\counter\includes\counterh.php on line 220

Warning: feof(): supplied argument is not a valid stream resource in D:\Hosting\3410369\html\counter\includes\counterh.php on line 218

Warning: fgets(): supplied argument is not a valid stream resource in D:\Hosting\3410369\html\counter\includes\counterh.php on line 220

Warning: feof(): supplied argument is not a valid stream resource in D:\Hosting\3410369\html\counter\includes\counterh.php on line 218

Warning: fgets(): supplied argument is not a valid stream resource in D:\Hosting\3410369\html\counter\includes\counterh.php on line 220

Warning: feof(): supplied argument is not a valid stream resource in D:\Hosting\3410369\html\counter\includes\counterh.php on line 218

Warning: fgets(): supplied argument is not a valid stream resource in D:\Hosting\3410369\html\counter\includes\counterh.php on line 220

Warning: feof(): supplied argument is not a valid stream resource in D:\Hosting\3410369\html\counter\includes\counterh.php on line 218

Warning: fgets(): supplied argument is not a valid stream resource in D:\Hosting\3410369\html\counter\includes\counterh.php on line 220

Warning: feof(): supplied argument is not a valid stream resource in D:\Hosting\3410369\html\counter\includes\counterh.php on line 218

Warning: fgets(): supplied argument is not a valid stream resource in D:\Hosting\3410369\html\counter\includes\counterh.php on line 220

Warning: feof(): supplied argument is not a valid stream resource in D:\Hosting\3410369\html\counter\includes\counterh.php on line 218

Warning: fgets(): supplied argument is not a valid stream resource in D:\Hosting\3410369\html\counter\includes\counterh.php on line 220

Warning: feof(): supplied argument is not a valid stream resource in D:\Hosting\3410369\html\counter\includes\counterh.php on line 218

Warning: fgets(): supplied argument is not a valid stream resource in D:\Hosting\3410369\html\counter\includes\counterh.php on line 220

Warning: feof(): supplied argument is not a valid stream resource in D:\Hosting\3410369\html\counter\includes\counterh.php on line 218

Warning: fgets(): supplied argument is not a valid stream resource in D:\Hosting\3410369\html\counter\includes\counterh.php on line 220

Warning: feof(): supplied argument is not a valid stream resource in D:\Hosting\3410369\html\counter\includes\counterh.php on line 218

Warning: fgets(): supplied argument is not a valid stream resource in D:\Hosting\3410369\html\counter\includes\counterh.php on line 220

Warning: feof(): supplied argument is not a valid stream resource in D:\Hosting\3410369\html\counter\includes\counterh.php on line 218

Warning: fgets(): supplied argument is not a valid stream resource in D:\Hosting\3410369\html\counter\includes\counterh.php on line 220

Warning: feof(): supplied argument is not a valid stream resource in D:\Hosting\3410369\html\counter\includes\counterh.php on line 218

Warning: fgets(): supplied argument is not a valid stream resource in D:\Hosting\3410369\html\counter\includes\counterh.php on line 220

Warning: feof(): supplied argument is not a valid stream resource in D:\Hosting\3410369\html\counter\includes\counterh.php on line 218

Warning: fgets(): supplied argument is not a valid stream resource in D:\Hosting\3410369\html\counter\includes\counterh.php on line 220

Warning: feof(): supplied argument is not a valid stream resource in D:\Hosting\3410369\html\counter\includes\counterh.php on line 218

Warning: fgets(): supplied argument is not a valid stream resource in D:\Hosting\3410369\html\counter\includes\counterh.php on line 220

Warning: feof(): supplied argument is not a valid stream resource in D:\Hosting\3410369\html\counter\includes\counterh.php on line 218

Warning: fgets(): supplied argument is not a valid stream resource in D:\Hosting\3410369\html\counter\includes\counterh.php on line 220

Warning: feof(): supplied argument is not a valid stream resource in D:\Hosting\3410369\html\counter\includes\counterh.php on line 218

Warning: fgets(): supplied argument is not a valid stream resource in D:\Hosting\3410369\html\counter\includes\counterh.php on line 220

Warning: feof(): supplied argument is not a valid stream resource in D:\Hosting\3410369\html\counter\includes\counterh.php on line 218

Warning: fgets(): supplied argument is not a valid stream resource in D:\Hosting\3410369\html\counter\includes\counterh.php on line 220

Warning: feof(): supplied argument is not a valid stream resource in D:\Hosting\3410369\html\counter\includes\counterh.php on line 218

Warning: fgets(): supplied argument is not a valid stream resource in D:\Hosting\3410369\html\counter\includes\counterh.php on line 220

Warning: feof(): supplied argument is not a valid stream resource in D:\Hosting\3410369\html\counter\includes\counterh.php on line 218

Warning: fgets(): supplied argument is not a valid stream resource in D:\Hosting\3410369\html\counter\includes\counterh.php on line 220

Warning: feof(): supplied argument is not a valid stream resource in D:\Hosting\3410369\html\counter\includes\counterh.php on line 218

Warning: fgets(): supplied argument is not a valid stream resource in D:\Hosting\3410369\html\counter\includes\counterh.php on line 220

Warning: feof(): supplied argument is not a valid stream resource in D:\Hosting\3410369\html\counter\includes\counterh.php on line 218

Warning: fgets(): supplied argument is not a valid stream resource in D:\Hosting\3410369\html\counter\includes\counterh.php on line 220

Warning: feof(): supplied argument is not a valid stream resource in D:\Hosting\3410369\html\counter\includes\counterh.php on line 218

Warning: fgets(): supplied argument is not a valid stream resource in D:\Hosting\3410369\html\counter\includes\counterh.php on line 220

Warning: feof(): supplied argument is not a valid stream resource in D:\Hosting\3410369\html\counter\includes\counterh.php on line 218

Warning: fgets(): supplied argument is not a valid stream resource in D:\Hosting\3410369\html\counter\includes\counterh.php on line 220

Warning: feof(): supplied argument is not a valid stream resource in D:\Hosting\3410369\html\counter\includes\counterh.php on line 218

Warning: fgets(): supplied argument is not a valid stream resource in D:\Hosting\3410369\html\counter\includes\counterh.php on line 220

Warning: feof(): supplied argument is not a valid stream resource in D:\Hosting\3410369\html\counter\includes\counterh.php on line 218

Warning: fgets(): supplied argument is not a valid stream resource in D:\Hosting\3410369\html\counter\includes\counterh.php on line 220

Warning: feof(): supplied argument is not a valid stream resource in D:\Hosting\3410369\html\counter\includes\counterh.php on line 218

Warning: fgets(): supplied argument is not a valid stream resource in D:\Hosting\3410369\html\counter\includes\counterh.php on line 220

Warning: feof(): supplied argument is not a valid stream resource in D:\Hosting\3410369\html\counter\includes\counterh.php on line 218

Warning: fgets(): supplied argument is not a valid stream resource in D:\Hosting\3410369\html\counter\includes\counterh.php on line 220

Warning: feof(): supplied argument is not a valid stream resource in D:\Hosting\3410369\html\counter\includes\counterh.php on line 218

Warning: fgets(): supplied argument is not a valid stream resource in D:\Hosting\3410369\html\counter\includes\counterh.php on line 220

Warning: feof(): supplied argument is not a valid stream resource in D:\Hosting\3410369\html\counter\includes\counterh.php on line 218

Warning: fgets(): supplied argument is not a valid stream resource in D:\Hosting\3410369\html\counter\includes\counterh.php on line 220

Warning: feof(): supplied argument is not a valid stream resource in D:\Hosting\3410369\html\counter\includes\counterh.php on line 218

Warning: fgets(): supplied argument is not a valid stream resource in D:\Hosting\3410369\html\counter\includes\counterh.php on line 220

Warning: feof(): supplied argument is not a valid stream resource in D:\Hosting\3410369\html\counter\includes\counterh.php on line 218

Warning: fgets(): supplied argument is not a valid stream resource in D:\Hosting\3410369\html\counter\includes\counterh.php on line 220

Warning: feof(): supplied argument is not a valid stream resource in D:\Hosting\3410369\html\counter\includes\counterh.php on line 218

Warning: fgets(): supplied argument is not a valid stream resource in D:\Hosting\3410369\html\counter\includes\counterh.php on line 220

Warning: feof(): supplied argument is not a valid stream resource in D:\Hosting\3410369\html\counter\includes\counterh.php on line 218

Warning: fgets(): supplied argument is not a valid stream resource in D:\Hosting\3410369\html\counter\includes\counterh.php on line 220

Warning: feof(): supplied argument is not a valid stream resource in D:\Hosting\3410369\html\counter\includes\counterh.php on line 218

Warning: fgets(): supplied argument is not a valid stream resource in D:\Hosting\3410369\html\counter\includes\counterh.php on line 220

Warning: feof(): supplied argument is not a valid stream resource in D:\Hosting\3410369\html\counter\includes\counterh.php on line 218

Warning: fgets(): supplied argument is not a valid stream resource in D:\Hosting\3410369\html\counter\includes\counterh.php on line 220

Warning: feof(): supplied argument is not a valid stream resource in D:\Hosting\3410369\html\counter\includes\counterh.php on line 218

Warning: fgets(): supplied argument is not a valid stream resource in D:\Hosting\3410369\html\counter\includes\counterh.php on line 220

Warning: feof(): supplied argument is not a valid stream resource in D:\Hosting\3410369\html\counter\includes\counterh.php on line 218

Warning: fgets(): supplied argument is not a valid stream resource in D:\Hosting\3410369\html\counter\includes\counterh.php on line 220

Warning: feof(): supplied argument is not a valid stream resource in D:\Hosting\3410369\html\counter\includes\counterh.php on line 218

Warning: fgets(): supplied argument is not a valid stream resource in D:\Hosting\3410369\html\counter\includes\counterh.php on line 220

Warning: feof(): supplied argument is not a valid stream resource in D:\Hosting\3410369\html\counter\includes\counterh.php on line 218

Warning: fgets(): supplied argument is not a valid stream resource in D:\Hosting\3410369\html\counter\includes\counterh.php on line 220

Warning: feof(): supplied argument is not a valid stream resource in D:\Hosting\3410369\html\counter\includes\counterh.php on line 218

Warning: fgets(): supplied argument is not a valid stream resource in D:\Hosting\3410369\html\counter\includes\counterh.php on line 220

Warning: feof(): supplied argument is not a valid stream resource in D:\Hosting\3410369\html\counter\includes\counterh.php on line 218

Warning: fgets(): supplied argument is not a valid stream resource in D:\Hosting\3410369\html\counter\includes\counterh.php on line 220

Warning: feof(): supplied argument is not a valid stream resource in D:\Hosting\3410369\html\counter\includes\counterh.php on line 218

Warning: fgets(): supplied argument is not a valid stream resource in D:\Hosting\3410369\html\counter\includes\counterh.php on line 220

Warning: feof(): supplied argument is not a valid stream resource in D:\Hosting\3410369\html\counter\includes\counterh.php on line 218

Warning: fgets(): supplied argument is not a valid stream resource in D:\Hosting\3410369\html\counter\includes\counterh.php on line 220

Warning: feof(): supplied argument is not a valid stream resource in D:\Hosting\3410369\html\counter\includes\counterh.php on line 218

Warning: fgets(): supplied argument is not a valid stream resource in D:\Hosting\3410369\html\counter\includes\counterh.php on line 220

Warning: feof(): supplied argument is not a valid stream resource in D:\Hosting\3410369\html\counter\includes\counterh.php on line 218

Warning: fgets(): supplied argument is not a valid stream resource in D:\Hosting\3410369\html\counter\includes\counterh.php on line 220

Warning: feof(): supplied argument is not a valid stream resource in D:\Hosting\3410369\html\counter\includes\counterh.php on line 218

Warning: fgets(): supplied argument is not a valid stream resource in D:\Hosting\3410369\html\counter\includes\counterh.php on line 220

Warning: feof(): supplied argument is not a valid stream resource in D:\Hosting\3410369\html\counter\includes\counterh.php on line 218

Warning: fgets(): supplied argument is not a valid stream resource in D:\Hosting\3410369\html\counter\includes\counterh.php on line 220

Warning: feof(): supplied argument is not a valid stream resource in D:\Hosting\3410369\html\counter\includes\counterh.php on line 218

Warning: fgets(): supplied argument is not a valid stream resource in D:\Hosting\3410369\html\counter\includes\counterh.php on line 220

Warning: feof(): supplied argument is not a valid stream resource in D:\Hosting\3410369\html\counter\includes\counterh.php on line 218

Warning: fgets(): supplied argument is not a valid stream resource in D:\Hosting\3410369\html\counter\includes\counterh.php on line 220

Warning: feof(): supplied argument is not a valid stream resource in D:\Hosting\3410369\html\counter\includes\counterh.php on line 218

Warning: fgets(): supplied argument is not a valid stream resource in D:\Hosting\3410369\html\counter\includes\counterh.php on line 220

Warning: feof(): supplied argument is not a valid stream resource in D:\Hosting\3410369\html\counter\includes\counterh.php on line 218

Warning: fgets(): supplied argument is not a valid stream resource in D:\Hosting\3410369\html\counter\includes\counterh.php on line 220

Warning: feof(): supplied argument is not a valid stream resource in D:\Hosting\3410369\html\counter\includes\counterh.php on line 218

Warning: fgets(): supplied argument is not a valid stream resource in D:\Hosting\3410369\html\counter\includes\counterh.php on line 220

Warning: feof(): supplied argument is not a valid stream resource in D:\Hosting\3410369\html\counter\includes\counterh.php on line 218

Warning: fgets(): supplied argument is not a valid stream resource in D:\Hosting\3410369\html\counter\includes\counterh.php on line 220

Warning: feof(): supplied argument is not a valid stream resource in D:\Hosting\3410369\html\counter\includes\counterh.php on line 218

Warning: fgets(): supplied argument is not a valid stream resource in D:\Hosting\3410369\html\counter\includes\counterh.php on line 220

Warning: feof(): supplied argument is not a valid stream resource in D:\Hosting\3410369\html\counter\includes\counterh.php on line 218

Warning: fgets(): supplied argument is not a valid stream resource in D:\Hosting\3410369\html\counter\includes\counterh.php on line 220

Warning: feof(): supplied argument is not a valid stream resource in D:\Hosting\3410369\html\counter\includes\counterh.php on line 218

Warning: fgets(): supplied argument is not a valid stream resource in D:\Hosting\3410369\html\counter\includes\counterh.php on line 220

Warning: feof(): supplied argument is not a valid stream resource in D:\Hosting\3410369\html\counter\includes\counterh.php on line 218

Warning: fgets(): supplied argument is not a valid stream resource in D:\Hosting\3410369\html\counter\includes\counterh.php on line 220

Warning: feof(): supplied argument is not a valid stream resource in D:\Hosting\3410369\html\counter\includes\counterh.php on line 218

Warning: fgets(): supplied argument is not a valid stream resource in D:\Hosting\3410369\html\counter\includes\counterh.php on line 220

Warning: feof(): supplied argument is not a valid stream resource in D:\Hosting\3410369\html\counter\includes\counterh.php on line 218

Warning: fgets(): supplied argument is not a valid stream resource in D:\Hosting\3410369\html\counter\includes\counterh.php on line 220

Warning: feof(): supplied argument is not a valid stream resource in D:\Hosting\3410369\html\counter\includes\counterh.php on line 218

Warning: fgets(): supplied argument is not a valid stream resource in D:\Hosting\3410369\html\counter\includes\counterh.php on line 220

Warning: feof(): supplied argument is not a valid stream resource in D:\Hosting\3410369\html\counter\includes\counterh.php on line 218

Warning: fgets(): supplied argument is not a valid stream resource in D:\Hosting\3410369\html\counter\includes\counterh.php on line 220

Warning: feof(): supplied argument is not a valid stream resource in D:\Hosting\3410369\html\counter\includes\counterh.php on line 218

Warning: fgets(): supplied argument is not a valid stream resource in D:\Hosting\3410369\html\counter\includes\counterh.php on line 220

Warning: feof(): supplied argument is not a valid stream resource in D:\Hosting\3410369\html\counter\includes\counterh.php on line 218

Warning: fgets(): supplied argument is not a valid stream resource in D:\Hosting\3410369\html\counter\includes\counterh.php on line 220

Warning: feof(): supplied argument is not a valid stream resource in D:\Hosting\3410369\html\counter\includes\counterh.php on line 218

Warning: fgets(): supplied argument is not a valid stream resource in D:\Hosting\3410369\html\counter\includes\counterh.php on line 220

Warning: feof(): supplied argument is not a valid stream resource in D:\Hosting\3410369\html\counter\includes\counterh.php on line 218

Warning: fgets(): supplied argument is not a valid stream resource in D:\Hosting\3410369\html\counter\includes\counterh.php on line 220

Warning: feof(): supplied argument is not a valid stream resource in D:\Hosting\3410369\html\counter\includes\counterh.php on line 218

Warning: fgets(): supplied argument is not a valid stream resource in D:\Hosting\3410369\html\counter\includes\counterh.php on line 220

Warning: feof(): supplied argument is not a valid stream resource in D:\Hosting\3410369\html\counter\includes\counterh.php on line 218

Warning: fgets(): supplied argument is not a valid stream resource in D:\Hosting\3410369\html\counter\includes\counterh.php on line 220

Warning: feof(): supplied argument is not a valid stream resource in D:\Hosting\3410369\html\counter\includes\counterh.php on line 218

Warning: fgets(): supplied argument is not a valid stream resource in D:\Hosting\3410369\html\counter\includes\counterh.php on line 220

Warning: feof(): supplied argument is not a valid stream resource in D:\Hosting\3410369\html\counter\includes\counterh.php on line 218

Warning: fgets(): supplied argument is not a valid stream resource in D:\Hosting\3410369\html\counter\includes\counterh.php on line 220

Warning: feof(): supplied argument is not a valid stream resource in D:\Hosting\3410369\html\counter\includes\counterh.php on line 218

Warning: fgets(): supplied argument is not a valid stream resource in D:\Hosting\3410369\html\counter\includes\counterh.php on line 220

Warning: feof(): supplied argument is not a valid stream resource in D:\Hosting\3410369\html\counter\includes\counterh.php on line 218

Warning: fgets(): supplied argument is not a valid stream resource in D:\Hosting\3410369\html\counter\includes\counterh.php on line 220

Warning: feof(): supplied argument is not a valid stream resource in D:\Hosting\3410369\html\counter\includes\counterh.php on line 218

Warning: fgets(): supplied argument is not a valid stream resource in D:\Hosting\3410369\html\counter\includes\counterh.php on line 220

Warning: feof(): supplied argument is not a valid stream resource in D:\Hosting\3410369\html\counter\includes\counterh.php on line 218

Warning: fgets(): supplied argument is not a valid stream resource in D:\Hosting\3410369\html\counter\includes\counterh.php on line 220

Warning: feof(): supplied argument is not a valid stream resource in D:\Hosting\3410369\html\counter\includes\counterh.php on line 218

Warning: fgets(): supplied argument is not a valid stream resource in D:\Hosting\3410369\html\counter\includes\counterh.php on line 220

Warning: feof(): supplied argument is not a valid stream resource in D:\Hosting\3410369\html\counter\includes\counterh.php on line 218

Warning: fgets(): supplied argument is not a valid stream resource in D:\Hosting\3410369\html\counter\includes\counterh.php on line 220

Warning: feof(): supplied argument is not a valid stream resource in D:\Hosting\3410369\html\counter\includes\counterh.php on line 218

Warning: fgets(): supplied argument is not a valid stream resource in D:\Hosting\3410369\html\counter\includes\counterh.php on line 220

Warning: feof(): supplied argument is not a valid stream resource in D:\Hosting\3410369\html\counter\includes\counterh.php on line 218

Warning: fgets(): supplied argument is not a valid stream resource in D:\Hosting\3410369\html\counter\includes\counterh.php on line 220

Warning: feof(): supplied argument is not a valid stream resource in D:\Hosting\3410369\html\counter\includes\counterh.php on line 218

Warning: fgets(): supplied argument is not a valid stream resource in D:\Hosting\3410369\html\counter\includes\counterh.php on line 220

Warning: feof(): supplied argument is not a valid stream resource in D:\Hosting\3410369\html\counter\includes\counterh.php on line 218

Warning: fgets(): supplied argument is not a valid stream resource in D:\Hosting\3410369\html\counter\includes\counterh.php on line 220

Warning: feof(): supplied argument is not a valid stream resource in D:\Hosting\3410369\html\counter\includes\counterh.php on line 218

Warning: fgets(): supplied argument is not a valid stream resource in D:\Hosting\3410369\html\counter\includes\counterh.php on line 220

Warning: feof(): supplied argument is not a valid stream resource in D:\Hosting\3410369\html\counter\includes\counterh.php on line 218

Warning: fgets(): supplied argument is not a valid stream resource in D:\Hosting\3410369\html\counter\includes\counterh.php on line 220

Warning: feof(): supplied argument is not a valid stream resource in D:\Hosting\3410369\html\counter\includes\counterh.php on line 218

Warning: fgets(): supplied argument is not a valid stream resource in D:\Hosting\3410369\html\counter\includes\counterh.php on line 220

Warning: feof(): supplied argument is not a valid stream resource in D:\Hosting\3410369\html\counter\includes\counterh.php on line 218

Warning: fgets(): supplied argument is not a valid stream resource in D:\Hosting\3410369\html\counter\includes\counterh.php on line 220

Warning: feof(): supplied argument is not a valid stream resource in D:\Hosting\3410369\html\counter\includes\counterh.php on line 218

Warning: fgets(): supplied argument is not a valid stream resource in D:\Hosting\3410369\html\counter\includes\counterh.php on line 220

Warning: feof(): supplied argument is not a valid stream resource in D:\Hosting\3410369\html\counter\includes\counterh.php on line 218

Warning: fgets(): supplied argument is not a valid stream resource in D:\Hosting\3410369\html\counter\includes\counterh.php on line 220

Warning: feof(): supplied argument is not a valid stream resource in D:\Hosting\3410369\html\counter\includes\counterh.php on line 218

Warning: fgets(): supplied argument is not a valid stream resource in D:\Hosting\3410369\html\counter\includes\counterh.php on line 220

Warning: feof(): supplied argument is not a valid stream resource in D:\Hosting\3410369\html\counter\includes\counterh.php on line 218

Warning: fgets(): supplied argument is not a valid stream resource in D:\Hosting\3410369\html\counter\includes\counterh.php on line 220

Warning: feof(): supplied argument is not a valid stream resource in D:\Hosting\3410369\html\counter\includes\counterh.php on line 218

Warning: fgets(): supplied argument is not a valid stream resource in D:\Hosting\3410369\html\counter\includes\counterh.php on line 220

Warning: feof(): supplied argument is not a valid stream resource in D:\Hosting\3410369\html\counter\includes\counterh.php on line 218

Warning: fgets(): supplied argument is not a valid stream resource in D:\Hosting\3410369\html\counter\includes\counterh.php on line 220

Warning: feof(): supplied argument is not a valid stream resource in D:\Hosting\3410369\html\counter\includes\counterh.php on line 218

Warning: fgets(): supplied argument is not a valid stream resource in D:\Hosting\3410369\html\counter\includes\counterh.php on line 220

Warning: feof(): supplied argument is not a valid stream resource in D:\Hosting\3410369\html\counter\includes\counterh.php on line 218

Warning: fgets(): supplied argument is not a valid stream resource in D:\Hosting\3410369\html\counter\includes\counterh.php on line 220

Warning: feof(): supplied argument is not a valid stream resource in D:\Hosting\3410369\html\counter\includes\counterh.php on line 218

Warning: fgets(): supplied argument is not a valid stream resource in D:\Hosting\3410369\html\counter\includes\counterh.php on line 220

Warning: feof(): supplied argument is not a valid stream resource in D:\Hosting\3410369\html\counter\includes\counterh.php on line 218

Warning: fgets(): supplied argument is not a valid stream resource in D:\Hosting\3410369\html\counter\includes\counterh.php on line 220

Warning: feof(): supplied argument is not a valid stream resource in D:\Hosting\3410369\html\counter\includes\counterh.php on line 218

Warning: fgets(): supplied argument is not a valid stream resource in D:\Hosting\3410369\html\counter\includes\counterh.php on line 220

Warning: feof(): supplied argument is not a valid stream resource in D:\Hosting\3410369\html\counter\includes\counterh.php on line 218

Warning: fgets(): supplied argument is not a valid stream resource in D:\Hosting\3410369\html\counter\includes\counterh.php on line 220

Warning: feof(): supplied argument is not a valid stream resource in D:\Hosting\3410369\html\counter\includes\counterh.php on line 218

Warning: fgets(): supplied argument is not a valid stream resource in D:\Hosting\3410369\html\counter\includes\counterh.php on line 220

Warning: feof(): supplied argument is not a valid stream resource in D:\Hosting\3410369\html\counter\includes\counterh.php on line 218

Warning: fgets(): supplied argument is not a valid stream resource in D:\Hosting\3410369\html\counter\includes\counterh.php on line 220

Warning: feof(): supplied argument is not a valid stream resource in D:\Hosting\3410369\html\counter\includes\counterh.php on line 218

Warning: fgets(): supplied argument is not a valid stream resource in D:\Hosting\3410369\html\counter\includes\counterh.php on line 220

Warning: feof(): supplied argument is not a valid stream resource in D:\Hosting\3410369\html\counter\includes\counterh.php on line 218

Warning: fgets(): supplied argument is not a valid stream resource in D:\Hosting\3410369\html\counter\includes\counterh.php on line 220

Warning: feof(): supplied argument is not a valid stream resource in D:\Hosting\3410369\html\counter\includes\counterh.php on line 218

Warning: fgets(): supplied argument is not a valid stream resource in D:\Hosting\3410369\html\counter\includes\counterh.php on line 220

Warning: feof(): supplied argument is not a valid stream resource in D:\Hosting\3410369\html\counter\includes\counterh.php on line 218

Warning: fgets(): supplied argument is not a valid stream resource in D:\Hosting\3410369\html\counter\includes\counterh.php on line 220

Warning: feof(): supplied argument is not a valid stream resource in D:\Hosting\3410369\html\counter\includes\counterh.php on line 218

Warning: fgets(): supplied argument is not a valid stream resource in D:\Hosting\3410369\html\counter\includes\counterh.php on line 220

Warning: feof(): supplied argument is not a valid stream resource in D:\Hosting\3410369\html\counter\includes\counterh.php on line 218

Warning: fgets(): supplied argument is not a valid stream resource in D:\Hosting\3410369\html\counter\includes\counterh.php on line 220

Warning: feof(): supplied argument is not a valid stream resource in D:\Hosting\3410369\html\counter\includes\counterh.php on line 218

Warning: fgets(): supplied argument is not a valid stream resource in D:\Hosting\3410369\html\counter\includes\counterh.php on line 220

Warning: feof(): supplied argument is not a valid stream resource in D:\Hosting\3410369\html\counter\includes\counterh.php on line 218

Warning: fgets(): supplied argument is not a valid stream resource in D:\Hosting\3410369\html\counter\includes\counterh.php on line 220

Warning: feof(): supplied argument is not a valid stream resource in D:\Hosting\3410369\html\counter\includes\counterh.php on line 218

Warning: fgets(): supplied argument is not a valid stream resource in D:\Hosting\3410369\html\counter\includes\counterh.php on line 220

Warning: feof(): supplied argument is not a valid stream resource in D:\Hosting\3410369\html\counter\includes\counterh.php on line 218

Warning: fgets(): supplied argument is not a valid stream resource in D:\Hosting\3410369\html\counter\includes\counterh.php on line 220

Warning: feof(): supplied argument is not a valid stream resource in D:\Hosting\3410369\html\counter\includes\counterh.php on line 218

Warning: fgets(): supplied argument is not a valid stream resource in D:\Hosting\3410369\html\counter\includes\counterh.php on line 220

Warning: feof(): supplied argument is not a valid stream resource in D:\Hosting\3410369\html\counter\includes\counterh.php on line 218

Warning: fgets(): supplied argument is not a valid stream resource in D:\Hosting\3410369\html\counter\includes\counterh.php on line 220

Warning: feof(): supplied argument is not a valid stream resource in D:\Hosting\3410369\html\counter\includes\counterh.php on line 218

Warning: fgets(): supplied argument is not a valid stream resource in D:\Hosting\3410369\html\counter\includes\counterh.php on line 220

Warning: feof(): supplied argument is not a valid stream resource in D:\Hosting\3410369\html\counter\includes\counterh.php on line 218

Warning: fgets(): supplied argument is not a valid stream resource in D:\Hosting\3410369\html\counter\includes\counterh.php on line 220

Warning: feof(): supplied argument is not a valid stream resource in D:\Hosting\3410369\html\counter\includes\counterh.php on line 218

Warning: fgets(): supplied argument is not a valid stream resource in D:\Hosting\3410369\html\counter\includes\counterh.php on line 220

Warning: feof(): supplied argument is not a valid stream resource in D:\Hosting\3410369\html\counter\includes\counterh.php on line 218

Warning: fgets(): supplied argument is not a valid stream resource in D:\Hosting\3410369\html\counter\includes\counterh.php on line 220

Warning: feof(): supplied argument is not a valid stream resource in D:\Hosting\3410369\html\counter\includes\counterh.php on line 218

Warning: fgets(): supplied argument is not a valid stream resource in D:\Hosting\3410369\html\counter\includes\counterh.php on line 220

Warning: feof(): supplied argument is not a valid stream resource in D:\Hosting\3410369\html\counter\includes\counterh.php on line 218

Warning: fgets(): supplied argument is not a valid stream resource in D:\Hosting\3410369\html\counter\includes\counterh.php on line 220

Warning: feof(): supplied argument is not a valid stream resource in D:\Hosting\3410369\html\counter\includes\counterh.php on line 218

Warning: fgets(): supplied argument is not a valid stream resource in D:\Hosting\3410369\html\counter\includes\counterh.php on line 220

Warning: feof(): supplied argument is not a valid stream resource in D:\Hosting\3410369\html\counter\includes\counterh.php on line 218

Warning: fgets(): supplied argument is not a valid stream resource in D:\Hosting\3410369\html\counter\includes\counterh.php on line 220

Warning: feof(): supplied argument is not a valid stream resource in D:\Hosting\3410369\html\counter\includes\counterh.php on line 218

Warning: fgets(): supplied argument is not a valid stream resource in D:\Hosting\3410369\html\counter\includes\counterh.php on line 220

Warning: feof(): supplied argument is not a valid stream resource in D:\Hosting\3410369\html\counter\includes\counterh.php on line 218

Warning: fgets(): supplied argument is not a valid stream resource in D:\Hosting\3410369\html\counter\includes\counterh.php on line 220

Warning: feof(): supplied argument is not a valid stream resource in D:\Hosting\3410369\html\counter\includes\counterh.php on line 218

Warning: fgets(): supplied argument is not a valid stream resource in D:\Hosting\3410369\html\counter\includes\counterh.php on line 220

Warning: feof(): supplied argument is not a valid stream resource in D:\Hosting\3410369\html\counter\includes\counterh.php on line 218

Warning: fgets(): supplied argument is not a valid stream resource in D:\Hosting\3410369\html\counter\includes\counterh.php on line 220

Warning: feof(): supplied argument is not a valid stream resource in D:\Hosting\3410369\html\counter\includes\counterh.php on line 218

Warning: fgets(): supplied argument is not a valid stream resource in D:\Hosting\3410369\html\counter\includes\counterh.php on line 220

Warning: feof(): supplied argument is not a valid stream resource in D:\Hosting\3410369\html\counter\includes\counterh.php on line 218

Warning: fgets(): supplied argument is not a valid stream resource in D:\Hosting\3410369\html\counter\includes\counterh.php on line 220

Warning: feof(): supplied argument is not a valid stream resource in D:\Hosting\3410369\html\counter\includes\counterh.php on line 218

Warning: fgets(): supplied argument is not a valid stream resource in D:\Hosting\3410369\html\counter\includes\counterh.php on line 220

Warning: feof(): supplied argument is not a valid stream resource in D:\Hosting\3410369\html\counter\includes\counterh.php on line 218

Warning: fgets(): supplied argument is not a valid stream resource in D:\Hosting\3410369\html\counter\includes\counterh.php on line 220

Warning: feof(): supplied argument is not a valid stream resource in D:\Hosting\3410369\html\counter\includes\counterh.php on line 218

Warning: fgets(): supplied argument is not a valid stream resource in D:\Hosting\3410369\html\counter\includes\counterh.php on line 220

Warning: feof(): supplied argument is not a valid stream resource in D:\Hosting\3410369\html\counter\includes\counterh.php on line 218

Warning: fgets(): supplied argument is not a valid stream resource in D:\Hosting\3410369\html\counter\includes\counterh.php on line 220

Warning: feof(): supplied argument is not a valid stream resource in D:\Hosting\3410369\html\counter\includes\counterh.php on line 218

Warning: fgets(): supplied argument is not a valid stream resource in D:\Hosting\3410369\html\counter\includes\counterh.php on line 220

Warning: feof(): supplied argument is not a valid stream resource in D:\Hosting\3410369\html\counter\includes\counterh.php on line 218

Warning: fgets(): supplied argument is not a valid stream resource in D:\Hosting\3410369\html\counter\includes\counterh.php on line 220

Warning: feof(): supplied argument is not a valid stream resource in D:\Hosting\3410369\html\counter\includes\counterh.php on line 218

Warning: fgets(): supplied argument is not a valid stream resource in D:\Hosting\3410369\html\counter\includes\counterh.php on line 220

Warning: feof(): supplied argument is not a valid stream resource in D:\Hosting\3410369\html\counter\includes\counterh.php on line 218

Warning: fgets(): supplied argument is not a valid stream resource in D:\Hosting\3410369\html\counter\includes\counterh.php on line 220

Warning: feof(): supplied argument is not a valid stream resource in D:\Hosting\3410369\html\counter\includes\counterh.php on line 218

Warning: fgets(): supplied argument is not a valid stream resource in D:\Hosting\3410369\html\counter\includes\counterh.php on line 220

Warning: feof(): supplied argument is not a valid stream resource in D:\Hosting\3410369\html\counter\includes\counterh.php on line 218

Warning: fgets(): supplied argument is not a valid stream resource in D:\Hosting\3410369\html\counter\includes\counterh.php on line 220

Warning: feof(): supplied argument is not a valid stream resource in D:\Hosting\3410369\html\counter\includes\counterh.php on line 218

Warning: fgets(): supplied argument is not a valid stream resource in D:\Hosting\3410369\html\counter\includes\counterh.php on line 220

Warning: feof(): supplied argument is not a valid stream resource in D:\Hosting\3410369\html\counter\includes\counterh.php on line 218

Warning: fgets(): supplied argument is not a valid stream resource in D:\Hosting\3410369\html\counter\includes\counterh.php on line 220

Warning: feof(): supplied argument is not a valid stream resource in D:\Hosting\3410369\html\counter\includes\counterh.php on line 218

Warning: fgets(): supplied argument is not a valid stream resource in D:\Hosting\3410369\html\counter\includes\counterh.php on line 220

Warning: feof(): supplied argument is not a valid stream resource in D:\Hosting\3410369\html\counter\includes\counterh.php on line 218

Warning: fgets(): supplied argument is not a valid stream resource in D:\Hosting\3410369\html\counter\includes\counterh.php on line 220

Warning: feof(): supplied argument is not a valid stream resource in D:\Hosting\3410369\html\counter\includes\counterh.php on line 218

Warning: fgets(): supplied argument is not a valid stream resource in D:\Hosting\3410369\html\counter\includes\counterh.php on line 220

Warning: feof(): supplied argument is not a valid stream resource in D:\Hosting\3410369\html\counter\includes\counterh.php on line 218

Warning: fgets(): supplied argument is not a valid stream resource in D:\Hosting\3410369\html\counter\includes\counterh.php on line 220

Warning: feof(): supplied argument is not a valid stream resource in D:\Hosting\3410369\html\counter\includes\counterh.php on line 218

Warning: fgets(): supplied argument is not a valid stream resource in D:\Hosting\3410369\html\counter\includes\counterh.php on line 220

Warning: feof(): supplied argument is not a valid stream resource in D:\Hosting\3410369\html\counter\includes\counterh.php on line 218

Warning: fgets(): supplied argument is not a valid stream resource in D:\Hosting\3410369\html\counter\includes\counterh.php on line 220

Warning: feof(): supplied argument is not a valid stream resource in D:\Hosting\3410369\html\counter\includes\counterh.php on line 218

Warning: fgets(): supplied argument is not a valid stream resource in D:\Hosting\3410369\html\counter\includes\counterh.php on line 220

Warning: feof(): supplied argument is not a valid stream resource in D:\Hosting\3410369\html\counter\includes\counterh.php on line 218

Warning: fgets(): supplied argument is not a valid stream resource in D:\Hosting\3410369\html\counter\includes\counterh.php on line 220

Warning: feof(): supplied argument is not a valid stream resource in D:\Hosting\3410369\html\counter\includes\counterh.php on line 218

Warning: fgets(): supplied argument is not a valid stream resource in D:\Hosting\3410369\html\counter\includes\counterh.php on line 220

Warning: feof(): supplied argument is not a valid stream resource in D:\Hosting\3410369\html\counter\includes\counterh.php on line 218

Warning: fgets(): supplied argument is not a valid stream resource in D:\Hosting\3410369\html\counter\includes\counterh.php on line 220

Warning: feof(): supplied argument is not a valid stream resource in D:\Hosting\3410369\html\counter\includes\counterh.php on line 218

Warning: fgets(): supplied argument is not a valid stream resource in D:\Hosting\3410369\html\counter\includes\counterh.php on line 220

Warning: feof(): supplied argument is not a valid stream resource in D:\Hosting\3410369\html\counter\includes\counterh.php on line 218

Warning: fgets(): supplied argument is not a valid stream resource in D:\Hosting\3410369\html\counter\includes\counterh.php on line 220

Warning: feof(): supplied argument is not a valid stream resource in D:\Hosting\3410369\html\counter\includes\counterh.php on line 218

Warning: fgets(): supplied argument is not a valid stream resource in D:\Hosting\3410369\html\counter\includes\counterh.php on line 220

Warning: feof(): supplied argument is not a valid stream resource in D:\Hosting\3410369\html\counter\includes\counterh.php on line 218

Warning: fgets(): supplied argument is not a valid stream resource in D:\Hosting\3410369\html\counter\includes\counterh.php on line 220

Warning: feof(): supplied argument is not a valid stream resource in D:\Hosting\3410369\html\counter\includes\counterh.php on line 218

Warning: fgets(): supplied argument is not a valid stream resource in D:\Hosting\3410369\html\counter\includes\counterh.php on line 220

Warning: feof(): supplied argument is not a valid stream resource in D:\Hosting\3410369\html\counter\includes\counterh.php on line 218

Warning: fgets(): supplied argument is not a valid stream resource in D:\Hosting\3410369\html\counter\includes\counterh.php on line 220

Warning: feof(): supplied argument is not a valid stream resource in D:\Hosting\3410369\html\counter\includes\counterh.php on line 218

Warning: fgets(): supplied argument is not a valid stream resource in D:\Hosting\3410369\html\counter\includes\counterh.php on line 220

Warning: feof(): supplied argument is not a valid stream resource in D:\Hosting\3410369\html\counter\includes\counterh.php on line 218

Warning: fgets(): supplied argument is not a valid stream resource in D:\Hosting\3410369\html\counter\includes\counterh.php on line 220

Warning: feof(): supplied argument is not a valid stream resource in D:\Hosting\3410369\html\counter\includes\counterh.php on line 218

Warning: fgets(): supplied argument is not a valid stream resource in D:\Hosting\3410369\html\counter\includes\counterh.php on line 220

Warning: feof(): supplied argument is not a valid stream resource in D:\Hosting\3410369\html\counter\includes\counterh.php on line 218

Warning: fgets(): supplied argument is not a valid stream resource in D:\Hosting\3410369\html\counter\includes\counterh.php on line 220

Warning: feof(): supplied argument is not a valid stream resource in D:\Hosting\3410369\html\counter\includes\counterh.php on line 218

Warning: fgets(): supplied argument is not a valid stream resource in D:\Hosting\3410369\html\counter\includes\counterh.php on line 220

Warning: feof(): supplied argument is not a valid stream resource in D:\Hosting\3410369\html\counter\includes\counterh.php on line 218

Warning: fgets(): supplied argument is not a valid stream resource in D:\Hosting\3410369\html\counter\includes\counterh.php on line 220

Warning: feof(): supplied argument is not a valid stream resource in D:\Hosting\3410369\html\counter\includes\counterh.php on line 218

Warning: fgets(): supplied argument is not a valid stream resource in D:\Hosting\3410369\html\counter\includes\counterh.php on line 220

Warning: feof(): supplied argument is not a valid stream resource in D:\Hosting\3410369\html\counter\includes\counterh.php on line 218

Warning: fgets(): supplied argument is not a valid stream resource in D:\Hosting\3410369\html\counter\includes\counterh.php on line 220

Warning: feof(): supplied argument is not a valid stream resource in D:\Hosting\3410369\html\counter\includes\counterh.php on line 218

Warning: fgets(): supplied argument is not a valid stream resource in D:\Hosting\3410369\html\counter\includes\counterh.php on line 220

Warning: feof(): supplied argument is not a valid stream resource in D:\Hosting\3410369\html\counter\includes\counterh.php on line 218

Warning: fgets(): supplied argument is not a valid stream resource in D:\Hosting\3410369\html\counter\includes\counterh.php on line 220

Warning: feof(): supplied argument is not a valid stream resource in D:\Hosting\3410369\html\counter\includes\counterh.php on line 218

Warning: fgets(): supplied argument is not a valid stream resource in D:\Hosting\3410369\html\counter\includes\counterh.php on line 220

Warning: feof(): supplied argument is not a valid stream resource in D:\Hosting\3410369\html\counter\includes\counterh.php on line 218

Warning: fgets(): supplied argument is not a valid stream resource in D:\Hosting\3410369\html\counter\includes\counterh.php on line 220

Warning: feof(): supplied argument is not a valid stream resource in D:\Hosting\3410369\html\counter\includes\counterh.php on line 218

Warning: fgets(): supplied argument is not a valid stream resource in D:\Hosting\3410369\html\counter\includes\counterh.php on line 220

Warning: feof(): supplied argument is not a valid stream resource in D:\Hosting\3410369\html\counter\includes\counterh.php on line 218

Warning: fgets(): supplied argument is not a valid stream resource in D:\Hosting\3410369\html\counter\includes\counterh.php on line 220

Warning: feof(): supplied argument is not a valid stream resource in D:\Hosting\3410369\html\counter\includes\counterh.php on line 218

Warning: fgets(): supplied argument is not a valid stream resource in D:\Hosting\3410369\html\counter\includes\counterh.php on line 220

Warning: feof(): supplied argument is not a valid stream resource in D:\Hosting\3410369\html\counter\includes\counterh.php on line 218

Warning: fgets(): supplied argument is not a valid stream resource in D:\Hosting\3410369\html\counter\includes\counterh.php on line 220

Warning: feof(): supplied argument is not a valid stream resource in D:\Hosting\3410369\html\counter\includes\counterh.php on line 218

Warning: fgets(): supplied argument is not a valid stream resource in D:\Hosting\3410369\html\counter\includes\counterh.php on line 220

Warning: feof(): supplied argument is not a valid stream resource in D:\Hosting\3410369\html\counter\includes\counterh.php on line 218

Warning: fgets(): supplied argument is not a valid stream resource in D:\Hosting\3410369\html\counter\includes\counterh.php on line 220

Warning: feof(): supplied argument is not a valid stream resource in D:\Hosting\3410369\html\counter\includes\counterh.php on line 218

Warning: fgets(): supplied argument is not a valid stream resource in D:\Hosting\3410369\html\counter\includes\counterh.php on line 220

Warning: feof(): supplied argument is not a valid stream resource in D:\Hosting\3410369\html\counter\includes\counterh.php on line 218

Warning: fgets(): supplied argument is not a valid stream resource in D:\Hosting\3410369\html\counter\includes\counterh.php on line 220

Warning: feof(): supplied argument is not a valid stream resource in D:\Hosting\3410369\html\counter\includes\counterh.php on line 218

Warning: fgets(): supplied argument is not a valid stream resource in D:\Hosting\3410369\html\counter\includes\counterh.php on line 220

Warning: feof(): supplied argument is not a valid stream resource in D:\Hosting\3410369\html\counter\includes\counterh.php on line 218

Warning: fgets(): supplied argument is not a valid stream resource in D:\Hosting\3410369\html\counter\includes\counterh.php on line 220

Warning: feof(): supplied argument is not a valid stream resource in D:\Hosting\3410369\html\counter\includes\counterh.php on line 218

Warning: fgets(): supplied argument is not a valid stream resource in D:\Hosting\3410369\html\counter\includes\counterh.php on line 220

Warning: feof(): supplied argument is not a valid stream resource in D:\Hosting\3410369\html\counter\includes\counterh.php on line 218

Warning: fgets(): supplied argument is not a valid stream resource in D:\Hosting\3410369\html\counter\includes\counterh.php on line 220

Warning: feof(): supplied argument is not a valid stream resource in D:\Hosting\3410369\html\counter\includes\counterh.php on line 218

Warning: fgets(): supplied argument is not a valid stream resource in D:\Hosting\3410369\html\counter\includes\counterh.php on line 220

Warning: feof(): supplied argument is not a valid stream resource in D:\Hosting\3410369\html\counter\includes\counterh.php on line 218

Warning: fgets(): supplied argument is not a valid stream resource in D:\Hosting\3410369\html\counter\includes\counterh.php on line 220

Warning: feof(): supplied argument is not a valid stream resource in D:\Hosting\3410369\html\counter\includes\counterh.php on line 218

Warning: fgets(): supplied argument is not a valid stream resource in D:\Hosting\3410369\html\counter\includes\counterh.php on line 220

Warning: feof(): supplied argument is not a valid stream resource in D:\Hosting\3410369\html\counter\includes\counterh.php on line 218

Warning: fgets(): supplied argument is not a valid stream resource in D:\Hosting\3410369\html\counter\includes\counterh.php on line 220

Warning: feof(): supplied argument is not a valid stream resource in D:\Hosting\3410369\html\counter\includes\counterh.php on line 218

Warning: fgets(): supplied argument is not a valid stream resource in D:\Hosting\3410369\html\counter\includes\counterh.php on line 220

Warning: feof(): supplied argument is not a valid stream resource in D:\Hosting\3410369\html\counter\includes\counterh.php on line 218

Warning: fgets(): supplied argument is not a valid stream resource in D:\Hosting\3410369\html\counter\includes\counterh.php on line 220

Warning: feof(): supplied argument is not a valid stream resource in D:\Hosting\3410369\html\counter\includes\counterh.php on line 218

Warning: fgets(): supplied argument is not a valid stream resource in D:\Hosting\3410369\html\counter\includes\counterh.php on line 220

Warning: feof(): supplied argument is not a valid stream resource in D:\Hosting\3410369\html\counter\includes\counterh.php on line 218

Warning: fgets(): supplied argument is not a valid stream resource in D:\Hosting\3410369\html\counter\includes\counterh.php on line 220

Warning: feof(): supplied argument is not a valid stream resource in D:\Hosting\3410369\html\counter\includes\counterh.php on line 218

Warning: fgets(): supplied argument is not a valid stream resource in D:\Hosting\3410369\html\counter\includes\counterh.php on line 220

Warning: feof(): supplied argument is not a valid stream resource in D:\Hosting\3410369\html\counter\includes\counterh.php on line 218

Warning: fgets(): supplied argument is not a valid stream resource in D:\Hosting\3410369\html\counter\includes\counterh.php on line 220

Warning: feof(): supplied argument is not a valid stream resource in D:\Hosting\3410369\html\counter\includes\counterh.php on line 218

Warning: fgets(): supplied argument is not a valid stream resource in D:\Hosting\3410369\html\counter\includes\counterh.php on line 220

Warning: feof(): supplied argument is not a valid stream resource in D:\Hosting\3410369\html\counter\includes\counterh.php on line 218

Warning: fgets(): supplied argument is not a valid stream resource in D:\Hosting\3410369\html\counter\includes\counterh.php on line 220

Warning: feof(): supplied argument is not a valid stream resource in D:\Hosting\3410369\html\counter\includes\counterh.php on line 218

Warning: fgets(): supplied argument is not a valid stream resource in D:\Hosting\3410369\html\counter\includes\counterh.php on line 220

Warning: feof(): supplied argument is not a valid stream resource in D:\Hosting\3410369\html\counter\includes\counterh.php on line 218

Warning: fgets(): supplied argument is not a valid stream resource in D:\Hosting\3410369\html\counter\includes\counterh.php on line 220

Warning: feof(): supplied argument is not a valid stream resource in D:\Hosting\3410369\html\counter\includes\counterh.php on line 218

Warning: fgets(): supplied argument is not a valid stream resource in D:\Hosting\3410369\html\counter\includes\counterh.php on line 220

Warning: feof(): supplied argument is not a valid stream resource in D:\Hosting\3410369\html\counter\includes\counterh.php on line 218

Warning: fgets(): supplied argument is not a valid stream resource in D:\Hosting\3410369\html\counter\includes\counterh.php on line 220

Warning: feof(): supplied argument is not a valid stream resource in D:\Hosting\3410369\html\counter\includes\counterh.php on line 218

Warning: fgets(): supplied argument is not a valid stream resource in D:\Hosting\3410369\html\counter\includes\counterh.php on line 220

Warning: feof(): supplied argument is not a valid stream resource in D:\Hosting\3410369\html\counter\includes\counterh.php on line 218

Warning: fgets(): supplied argument is not a valid stream resource in D:\Hosting\3410369\html\counter\includes\counterh.php on line 220

Warning: feof(): supplied argument is not a valid stream resource in D:\Hosting\3410369\html\counter\includes\counterh.php on line 218

Warning: fgets(): supplied argument is not a valid stream resource in D:\Hosting\3410369\html\counter\includes\counterh.php on line 220

Warning: feof(): supplied argument is not a valid stream resource in D:\Hosting\3410369\html\counter\includes\counterh.php on line 218

Warning: fgets(): supplied argument is not a valid stream resource in D:\Hosting\3410369\html\counter\includes\counterh.php on line 220

Warning: feof(): supplied argument is not a valid stream resource in D:\Hosting\3410369\html\counter\includes\counterh.php on line 218

Warning: fgets(): supplied argument is not a valid stream resource in D:\Hosting\3410369\html\counter\includes\counterh.php on line 220

Warning: feof(): supplied argument is not a valid stream resource in D:\Hosting\3410369\html\counter\includes\counterh.php on line 218

Warning: fgets(): supplied argument is not a valid stream resource in D:\Hosting\3410369\html\counter\includes\counterh.php on line 220

Warning: feof(): supplied argument is not a valid stream resource in D:\Hosting\3410369\html\counter\includes\counterh.php on line 218

Warning: fgets(): supplied argument is not a valid stream resource in D:\Hosting\3410369\html\counter\includes\counterh.php on line 220

Warning: feof(): supplied argument is not a valid stream resource in D:\Hosting\3410369\html\counter\includes\counterh.php on line 218

Warning: fgets(): supplied argument is not a valid stream resource in D:\Hosting\3410369\html\counter\includes\counterh.php on line 220

Warning: feof(): supplied argument is not a valid stream resource in D:\Hosting\3410369\html\counter\includes\counterh.php on line 218

Warning: fgets(): supplied argument is not a valid stream resource in D:\Hosting\3410369\html\counter\includes\counterh.php on line 220

Warning: feof(): supplied argument is not a valid stream resource in D:\Hosting\3410369\html\counter\includes\counterh.php on line 218

Warning: fgets(): supplied argument is not a valid stream resource in D:\Hosting\3410369\html\counter\includes\counterh.php on line 220

Warning: feof(): supplied argument is not a valid stream resource in D:\Hosting\3410369\html\counter\includes\counterh.php on line 218

Warning: fgets(): supplied argument is not a valid stream resource in D:\Hosting\3410369\html\counter\includes\counterh.php on line 220

Warning: feof(): supplied argument is not a valid stream resource in D:\Hosting\3410369\html\counter\includes\counterh.php on line 218

Warning: fgets(): supplied argument is not a valid stream resource in D:\Hosting\3410369\html\counter\includes\counterh.php on line 220

Warning: feof(): supplied argument is not a valid stream resource in D:\Hosting\3410369\html\counter\includes\counterh.php on line 218

Warning: fgets(): supplied argument is not a valid stream resource in D:\Hosting\3410369\html\counter\includes\counterh.php on line 220

Warning: feof(): supplied argument is not a valid stream resource in D:\Hosting\3410369\html\counter\includes\counterh.php on line 218

Warning: fgets(): supplied argument is not a valid stream resource in D:\Hosting\3410369\html\counter\includes\counterh.php on line 220

Warning: feof(): supplied argument is not a valid stream resource in D:\Hosting\3410369\html\counter\includes\counterh.php on line 218

Warning: fgets(): supplied argument is not a valid stream resource in D:\Hosting\3410369\html\counter\includes\counterh.php on line 220

Warning: feof(): supplied argument is not a valid stream resource in D:\Hosting\3410369\html\counter\includes\counterh.php on line 218

Warning: fgets(): supplied argument is not a valid stream resource in D:\Hosting\3410369\html\counter\includes\counterh.php on line 220

Warning: feof(): supplied argument is not a valid stream resource in D:\Hosting\3410369\html\counter\includes\counterh.php on line 218

Warning: fgets(): supplied argument is not a valid stream resource in D:\Hosting\3410369\html\counter\includes\counterh.php on line 220

Warning: feof(): supplied argument is not a valid stream resource in D:\Hosting\3410369\html\counter\includes\counterh.php on line 218

Warning: fgets(): supplied argument is not a valid stream resource in D:\Hosting\3410369\html\counter\includes\counterh.php on line 220

Warning: feof(): supplied argument is not a valid stream resource in D:\Hosting\3410369\html\counter\includes\counterh.php on line 218

Warning: fgets(): supplied argument is not a valid stream resource in D:\Hosting\3410369\html\counter\includes\counterh.php on line 220

Warning: feof(): supplied argument is not a valid stream resource in D:\Hosting\3410369\html\counter\includes\counterh.php on line 218

Warning: fgets(): supplied argument is not a valid stream resource in D:\Hosting\3410369\html\counter\includes\counterh.php on line 220

Warning: feof(): supplied argument is not a valid stream resource in D:\Hosting\3410369\html\counter\includes\counterh.php on line 218

Warning: fgets(): supplied argument is not a valid stream resource in D:\Hosting\3410369\html\counter\includes\counterh.php on line 220

Warning: feof(): supplied argument is not a valid stream resource in D:\Hosting\3410369\html\counter\includes\counterh.php on line 218

Warning: fgets(): supplied argument is not a valid stream resource in D:\Hosting\3410369\html\counter\includes\counterh.php on line 220

Warning: feof(): supplied argument is not a valid stream resource in D:\Hosting\3410369\html\counter\includes\counterh.php on line 218

Warning: fgets(): supplied argument is not a valid stream resource in D:\Hosting\3410369\html\counter\includes\counterh.php on line 220

Warning: feof(): supplied argument is not a valid stream resource in D:\Hosting\3410369\html\counter\includes\counterh.php on line 218

Warning: fgets(): supplied argument is not a valid stream resource in D:\Hosting\3410369\html\counter\includes\counterh.php on line 220

Warning: feof(): supplied argument is not a valid stream resource in D:\Hosting\3410369\html\counter\includes\counterh.php on line 218

Warning: fgets(): supplied argument is not a valid stream resource in D:\Hosting\3410369\html\counter\includes\counterh.php on line 220

Warning: feof(): supplied argument is not a valid stream resource in D:\Hosting\3410369\html\counter\includes\counterh.php on line 218

Warning: fgets(): supplied argument is not a valid stream resource in D:\Hosting\3410369\html\counter\includes\counterh.php on line 220

Warning: feof(): supplied argument is not a valid stream resource in D:\Hosting\3410369\html\counter\includes\counterh.php on line 218

Warning: fgets(): supplied argument is not a valid stream resource in D:\Hosting\3410369\html\counter\includes\counterh.php on line 220

Warning: feof(): supplied argument is not a valid stream resource in D:\Hosting\3410369\html\counter\includes\counterh.php on line 218

Warning: fgets(): supplied argument is not a valid stream resource in D:\Hosting\3410369\html\counter\includes\counterh.php on line 220

Warning: feof(): supplied argument is not a valid stream resource in D:\Hosting\3410369\html\counter\includes\counterh.php on line 218

Warning: fgets(): supplied argument is not a valid stream resource in D:\Hosting\3410369\html\counter\includes\counterh.php on line 220

Warning: feof(): supplied argument is not a valid stream resource in D:\Hosting\3410369\html\counter\includes\counterh.php on line 218

Warning: fgets(): supplied argument is not a valid stream resource in D:\Hosting\3410369\html\counter\includes\counterh.php on line 220

Warning: feof(): supplied argument is not a valid stream resource in D:\Hosting\3410369\html\counter\includes\counterh.php on line 218

Warning: fgets(): supplied argument is not a valid stream resource in D:\Hosting\3410369\html\counter\includes\counterh.php on line 220

Warning: feof(): supplied argument is not a valid stream resource in D:\Hosting\3410369\html\counter\includes\counterh.php on line 218

Warning: fgets(): supplied argument is not a valid stream resource in D:\Hosting\3410369\html\counter\includes\counterh.php on line 220

Warning: feof(): supplied argument is not a valid stream resource in D:\Hosting\3410369\html\counter\includes\counterh.php on line 218

Warning: fgets(): supplied argument is not a valid stream resource in D:\Hosting\3410369\html\counter\includes\counterh.php on line 220

Warning: feof(): supplied argument is not a valid stream resource in D:\Hosting\3410369\html\counter\includes\counterh.php on line 218

Warning: fgets(): supplied argument is not a valid stream resource in D:\Hosting\3410369\html\counter\includes\counterh.php on line 220

Warning: feof(): supplied argument is not a valid stream resource in D:\Hosting\3410369\html\counter\includes\counterh.php on line 218

Warning: fgets(): supplied argument is not a valid stream resource in D:\Hosting\3410369\html\counter\includes\counterh.php on line 220

Warning: feof(): supplied argument is not a valid stream resource in D:\Hosting\3410369\html\counter\includes\counterh.php on line 218

Warning: fgets(): supplied argument is not a valid stream resource in D:\Hosting\3410369\html\counter\includes\counterh.php on line 220

Warning: feof(): supplied argument is not a valid stream resource in D:\Hosting\3410369\html\counter\includes\counterh.php on line 218

Warning: fgets(): supplied argument is not a valid stream resource in D:\Hosting\3410369\html\counter\includes\counterh.php on line 220

Warning: feof(): supplied argument is not a valid stream resource in D:\Hosting\3410369\html\counter\includes\counterh.php on line 218

Warning: fgets(): supplied argument is not a valid stream resource in D:\Hosting\3410369\html\counter\includes\counterh.php on line 220

Warning: feof(): supplied argument is not a valid stream resource in D:\Hosting\3410369\html\counter\includes\counterh.php on line 218

Warning: fgets(): supplied argument is not a valid stream resource in D:\Hosting\3410369\html\counter\includes\counterh.php on line 220

Warning: feof(): supplied argument is not a valid stream resource in D:\Hosting\3410369\html\counter\includes\counterh.php on line 218

Warning: fgets(): supplied argument is not a valid stream resource in D:\Hosting\3410369\html\counter\includes\counterh.php on line 220

Warning: feof(): supplied argument is not a valid stream resource in D:\Hosting\3410369\html\counter\includes\counterh.php on line 218

Warning: fgets(): supplied argument is not a valid stream resource in D:\Hosting\3410369\html\counter\includes\counterh.php on line 220

Warning: feof(): supplied argument is not a valid stream resource in D:\Hosting\3410369\html\counter\includes\counterh.php on line 218

Warning: fgets(): supplied argument is not a valid stream resource in D:\Hosting\3410369\html\counter\includes\counterh.php on line 220

Warning: feof(): supplied argument is not a valid stream resource in D:\Hosting\3410369\html\counter\includes\counterh.php on line 218

Warning: fgets(): supplied argument is not a valid stream resource in D:\Hosting\3410369\html\counter\includes\counterh.php on line 220

Warning: feof(): supplied argument is not a valid stream resource in D:\Hosting\3410369\html\counter\includes\counterh.php on line 218

Warning: fgets(): supplied argument is not a valid stream resource in D:\Hosting\3410369\html\counter\includes\counterh.php on line 220

Warning: feof(): supplied argument is not a valid stream resource in D:\Hosting\3410369\html\counter\includes\counterh.php on line 218

Warning: fgets(): supplied argument is not a valid stream resource in D:\Hosting\3410369\html\counter\includes\counterh.php on line 220

Warning: feof(): supplied argument is not a valid stream resource in D:\Hosting\3410369\html\counter\includes\counterh.php on line 218

Warning: fgets(): supplied argument is not a valid stream resource in D:\Hosting\3410369\html\counter\includes\counterh.php on line 220

Warning: feof(): supplied argument is not a valid stream resource in D:\Hosting\3410369\html\counter\includes\counterh.php on line 218

Warning: fgets(): supplied argument is not a valid stream resource in D:\Hosting\3410369\html\counter\includes\counterh.php on line 220

Warning: feof(): supplied argument is not a valid stream resource in D:\Hosting\3410369\html\counter\includes\counterh.php on line 218

Warning: fgets(): supplied argument is not a valid stream resource in D:\Hosting\3410369\html\counter\includes\counterh.php on line 220

Warning: feof(): supplied argument is not a valid stream resource in D:\Hosting\3410369\html\counter\includes\counterh.php on line 218

Warning: fgets(): supplied argument is not a valid stream resource in D:\Hosting\3410369\html\counter\includes\counterh.php on line 220

Warning: feof(): supplied argument is not a valid stream resource in D:\Hosting\3410369\html\counter\includes\counterh.php on line 218

Warning: fgets(): supplied argument is not a valid stream resource in D:\Hosting\3410369\html\counter\includes\counterh.php on line 220

Warning: feof(): supplied argument is not a valid stream resource in D:\Hosting\3410369\html\counter\includes\counterh.php on line 218

Warning: fgets(): supplied argument is not a valid stream resource in D:\Hosting\3410369\html\counter\includes\counterh.php on line 220

Warning: feof(): supplied argument is not a valid stream resource in D:\Hosting\3410369\html\counter\includes\counterh.php on line 218

Warning: fgets(): supplied argument is not a valid stream resource in D:\Hosting\3410369\html\counter\includes\counterh.php on line 220

Warning: feof(): supplied argument is not a valid stream resource in D:\Hosting\3410369\html\counter\includes\counterh.php on line 218

Warning: fgets(): supplied argument is not a valid stream resource in D:\Hosting\3410369\html\counter\includes\counterh.php on line 220

Warning: feof(): supplied argument is not a valid stream resource in D:\Hosting\3410369\html\counter\includes\counterh.php on line 218

Warning: fgets(): supplied argument is not a valid stream resource in D:\Hosting\3410369\html\counter\includes\counterh.php on line 220

Warning: feof(): supplied argument is not a valid stream resource in D:\Hosting\3410369\html\counter\includes\counterh.php on line 218

Warning: fgets(): supplied argument is not a valid stream resource in D:\Hosting\3410369\html\counter\includes\counterh.php on line 220

Warning: feof(): supplied argument is not a valid stream resource in D:\Hosting\3410369\html\counter\includes\counterh.php on line 218

Warning: fgets(): supplied argument is not a valid stream resource in D:\Hosting\3410369\html\counter\includes\counterh.php on line 220

Warning: feof(): supplied argument is not a valid stream resource in D:\Hosting\3410369\html\counter\includes\counterh.php on line 218

Warning: fgets(): supplied argument is not a valid stream resource in D:\Hosting\3410369\html\counter\includes\counterh.php on line 220

Warning: feof(): supplied argument is not a valid stream resource in D:\Hosting\3410369\html\counter\includes\counterh.php on line 218

Warning: fgets(): supplied argument is not a valid stream resource in D:\Hosting\3410369\html\counter\includes\counterh.php on line 220

Warning: feof(): supplied argument is not a valid stream resource in D:\Hosting\3410369\html\counter\includes\counterh.php on line 218

Warning: fgets(): supplied argument is not a valid stream resource in D:\Hosting\3410369\html\counter\includes\counterh.php on line 220

Warning: feof(): supplied argument is not a valid stream resource in D:\Hosting\3410369\html\counter\includes\counterh.php on line 218

Warning: fgets(): supplied argument is not a valid stream resource in D:\Hosting\3410369\html\counter\includes\counterh.php on line 220

Warning: feof(): supplied argument is not a valid stream resource in D:\Hosting\3410369\html\counter\includes\counterh.php on line 218

Warning: fgets(): supplied argument is not a valid stream resource in D:\Hosting\3410369\html\counter\includes\counterh.php on line 220

Warning: feof(): supplied argument is not a valid stream resource in D:\Hosting\3410369\html\counter\includes\counterh.php on line 218

Warning: fgets(): supplied argument is not a valid stream resource in D:\Hosting\3410369\html\counter\includes\counterh.php on line 220

Warning: feof(): supplied argument is not a valid stream resource in D:\Hosting\3410369\html\counter\includes\counterh.php on line 218

Warning: fgets(): supplied argument is not a valid stream resource in D:\Hosting\3410369\html\counter\includes\counterh.php on line 220

Warning: feof(): supplied argument is not a valid stream resource in D:\Hosting\3410369\html\counter\includes\counterh.php on line 218

Warning: fgets(): supplied argument is not a valid stream resource in D:\Hosting\3410369\html\counter\includes\counterh.php on line 220

Warning: feof(): supplied argument is not a valid stream resource in D:\Hosting\3410369\html\counter\includes\counterh.php on line 218

Warning: fgets(): supplied argument is not a valid stream resource in D:\Hosting\3410369\html\counter\includes\counterh.php on line 220

Warning: feof(): supplied argument is not a valid stream resource in D:\Hosting\3410369\html\counter\includes\counterh.php on line 218

Warning: fgets(): supplied argument is not a valid stream resource in D:\Hosting\3410369\html\counter\includes\counterh.php on line 220

Warning: feof(): supplied argument is not a valid stream resource in D:\Hosting\3410369\html\counter\includes\counterh.php on line 218

Warning: fgets(): supplied argument is not a valid stream resource in D:\Hosting\3410369\html\counter\includes\counterh.php on line 220

Warning: feof(): supplied argument is not a valid stream resource in D:\Hosting\3410369\html\counter\includes\counterh.php on line 218

Warning: fgets(): supplied argument is not a valid stream resource in D:\Hosting\3410369\html\counter\includes\counterh.php on line 220

Warning: feof(): supplied argument is not a valid stream resource in D:\Hosting\3410369\html\counter\includes\counterh.php on line 218

Warning: fgets(): supplied argument is not a valid stream resource in D:\Hosting\3410369\html\counter\includes\counterh.php on line 220

Warning: feof(): supplied argument is not a valid stream resource in D:\Hosting\3410369\html\counter\includes\counterh.php on line 218

Warning: fgets(): supplied argument is not a valid stream resource in D:\Hosting\3410369\html\counter\includes\counterh.php on line 220

Warning: feof(): supplied argument is not a valid stream resource in D:\Hosting\3410369\html\counter\includes\counterh.php on line 218

Warning: fgets(): supplied argument is not a valid stream resource in D:\Hosting\3410369\html\counter\includes\counterh.php on line 220

Warning: feof(): supplied argument is not a valid stream resource in D:\Hosting\3410369\html\counter\includes\counterh.php on line 218

Warning: fgets(): supplied argument is not a valid stream resource in D:\Hosting\3410369\html\counter\includes\counterh.php on line 220

Warning: feof(): supplied argument is not a valid stream resource in D:\Hosting\3410369\html\counter\includes\counterh.php on line 218

Warning: fgets(): supplied argument is not a valid stream resource in D:\Hosting\3410369\html\counter\includes\counterh.php on line 220

Warning: feof(): supplied argument is not a valid stream resource in D:\Hosting\3410369\html\counter\includes\counterh.php on line 218

Warning: fgets(): supplied argument is not a valid stream resource in D:\Hosting\3410369\html\counter\includes\counterh.php on line 220

Warning: feof(): supplied argument is not a valid stream resource in D:\Hosting\3410369\html\counter\includes\counterh.php on line 218

Warning: fgets(): supplied argument is not a valid stream resource in D:\Hosting\3410369\html\counter\includes\counterh.php on line 220

Warning: feof(): supplied argument is not a valid stream resource in D:\Hosting\3410369\html\counter\includes\counterh.php on line 218

Warning: fgets(): supplied argument is not a valid stream resource in D:\Hosting\3410369\html\counter\includes\counterh.php on line 220

Warning: feof(): supplied argument is not a valid stream resource in D:\Hosting\3410369\html\counter\includes\counterh.php on line 218

Warning: fgets(): supplied argument is not a valid stream resource in D:\Hosting\3410369\html\counter\includes\counterh.php on line 220

Warning: feof(): supplied argument is not a valid stream resource in D:\Hosting\3410369\html\counter\includes\counterh.php on line 218

Warning: fgets(): supplied argument is not a valid stream resource in D:\Hosting\3410369\html\counter\includes\counterh.php on line 220

Warning: feof(): supplied argument is not a valid stream resource in D:\Hosting\3410369\html\counter\includes\counterh.php on line 218

Warning: fgets(): supplied argument is not a valid stream resource in D:\Hosting\3410369\html\counter\includes\counterh.php on line 220

Warning: feof(): supplied argument is not a valid stream resource in D:\Hosting\3410369\html\counter\includes\counterh.php on line 218

Warning: fgets(): supplied argument is not a valid stream resource in D:\Hosting\3410369\html\counter\includes\counterh.php on line 220

Warning: feof(): supplied argument is not a valid stream resource in D:\Hosting\3410369\html\counter\includes\counterh.php on line 218

Warning: fgets(): supplied argument is not a valid stream resource in D:\Hosting\3410369\html\counter\includes\counterh.php on line 220

Warning: feof(): supplied argument is not a valid stream resource in D:\Hosting\3410369\html\counter\includes\counterh.php on line 218

Warning: fgets(): supplied argument is not a valid stream resource in D:\Hosting\3410369\html\counter\includes\counterh.php on line 220

Warning: feof(): supplied argument is not a valid stream resource in D:\Hosting\3410369\html\counter\includes\counterh.php on line 218

Warning: fgets(): supplied argument is not a valid stream resource in D:\Hosting\3410369\html\counter\includes\counterh.php on line 220

Warning: feof(): supplied argument is not a valid stream resource in D:\Hosting\3410369\html\counter\includes\counterh.php on line 218

Warning: fgets(): supplied argument is not a valid stream resource in D:\Hosting\3410369\html\counter\includes\counterh.php on line 220

Warning: feof(): supplied argument is not a valid stream resource in D:\Hosting\3410369\html\counter\includes\counterh.php on line 218

Warning: fgets(): supplied argument is not a valid stream resource in D:\Hosting\3410369\html\counter\includes\counterh.php on line 220

Warning: feof(): supplied argument is not a valid stream resource in D:\Hosting\3410369\html\counter\includes\counterh.php on line 218

Warning: fgets(): supplied argument is not a valid stream resource in D:\Hosting\3410369\html\counter\includes\counterh.php on line 220

Warning: feof(): supplied argument is not a valid stream resource in D:\Hosting\3410369\html\counter\includes\counterh.php on line 218

Warning: fgets(): supplied argument is not a valid stream resource in D:\Hosting\3410369\html\counter\includes\counterh.php on line 220

Warning: feof(): supplied argument is not a valid stream resource in D:\Hosting\3410369\html\counter\includes\counterh.php on line 218

Warning: fgets(): supplied argument is not a valid stream resource in D:\Hosting\3410369\html\counter\includes\counterh.php on line 220

Warning: feof(): supplied argument is not a valid stream resource in D:\Hosting\3410369\html\counter\includes\counterh.php on line 218

Warning: fgets(): supplied argument is not a valid stream resource in D:\Hosting\3410369\html\counter\includes\counterh.php on line 220

Warning: feof(): supplied argument is not a valid stream resource in D:\Hosting\3410369\html\counter\includes\counterh.php on line 218

Warning: fgets(): supplied argument is not a valid stream resource in D:\Hosting\3410369\html\counter\includes\counterh.php on line 220

Warning: feof(): supplied argument is not a valid stream resource in D:\Hosting\3410369\html\counter\includes\counterh.php on line 218

Warning: fgets(): supplied argument is not a valid stream resource in D:\Hosting\3410369\html\counter\includes\counterh.php on line 220

Warning: feof(): supplied argument is not a valid stream resource in D:\Hosting\3410369\html\counter\includes\counterh.php on line 218

Warning: fgets(): supplied argument is not a valid stream resource in D:\Hosting\3410369\html\counter\includes\counterh.php on line 220

Warning: feof(): supplied argument is not a valid stream resource in D:\Hosting\3410369\html\counter\includes\counterh.php on line 218

Warning: fgets(): supplied argument is not a valid stream resource in D:\Hosting\3410369\html\counter\includes\counterh.php on line 220

Warning: feof(): supplied argument is not a valid stream resource in D:\Hosting\3410369\html\counter\includes\counterh.php on line 218

Warning: fgets(): supplied argument is not a valid stream resource in D:\Hosting\3410369\html\counter\includes\counterh.php on line 220

Warning: feof(): supplied argument is not a valid stream resource in D:\Hosting\3410369\html\counter\includes\counterh.php on line 218

Warning: fgets(): supplied argument is not a valid stream resource in D:\Hosting\3410369\html\counter\includes\counterh.php on line 220

Warning: feof(): supplied argument is not a valid stream resource in D:\Hosting\3410369\html\counter\includes\counterh.php on line 218

Warning: fgets(): supplied argument is not a valid stream resource in D:\Hosting\3410369\html\counter\includes\counterh.php on line 220

Warning: feof(): supplied argument is not a valid stream resource in D:\Hosting\3410369\html\counter\includes\counterh.php on line 218

Warning: fgets(): supplied argument is not a valid stream resource in D:\Hosting\3410369\html\counter\includes\counterh.php on line 220

Warning: feof(): supplied argument is not a valid stream resource in D:\Hosting\3410369\html\counter\includes\counterh.php on line 218

Warning: fgets(): supplied argument is not a valid stream resource in D:\Hosting\3410369\html\counter\includes\counterh.php on line 220

Warning: feof(): supplied argument is not a valid stream resource in D:\Hosting\3410369\html\counter\includes\counterh.php on line 218

Warning: fgets(): supplied argument is not a valid stream resource in D:\Hosting\3410369\html\counter\includes\counterh.php on line 220

Warning: feof(): supplied argument is not a valid stream resource in D:\Hosting\3410369\html\counter\includes\counterh.php on line 218

Warning: fgets(): supplied argument is not a valid stream resource in D:\Hosting\3410369\html\counter\includes\counterh.php on line 220

Warning: feof(): supplied argument is not a valid stream resource in D:\Hosting\3410369\html\counter\includes\counterh.php on line 218

Warning: fgets(): supplied argument is not a valid stream resource in D:\Hosting\3410369\html\counter\includes\counterh.php on line 220

Warning: feof(): supplied argument is not a valid stream resource in D:\Hosting\3410369\html\counter\includes\counterh.php on line 218

Warning: fgets(): supplied argument is not a valid stream resource in D:\Hosting\3410369\html\counter\includes\counterh.php on line 220

Warning: feof(): supplied argument is not a valid stream resource in D:\Hosting\3410369\html\counter\includes\counterh.php on line 218

Warning: fgets(): supplied argument is not a valid stream resource in D:\Hosting\3410369\html\counter\includes\counterh.php on line 220

Warning: feof(): supplied argument is not a valid stream resource in D:\Hosting\3410369\html\counter\includes\counterh.php on line 218

Warning: fgets(): supplied argument is not a valid stream resource in D:\Hosting\3410369\html\counter\includes\counterh.php on line 220

Warning: feof(): supplied argument is not a valid stream resource in D:\Hosting\3410369\html\counter\includes\counterh.php on line 218

Warning: fgets(): supplied argument is not a valid stream resource in D:\Hosting\3410369\html\counter\includes\counterh.php on line 220

Warning: feof(): supplied argument is not a valid stream resource in D:\Hosting\3410369\html\counter\includes\counterh.php on line 218

Warning: fgets(): supplied argument is not a valid stream resource in D:\Hosting\3410369\html\counter\includes\counterh.php on line 220

Warning: feof(): supplied argument is not a valid stream resource in D:\Hosting\3410369\html\counter\includes\counterh.php on line 218

Warning: fgets(): supplied argument is not a valid stream resource in D:\Hosting\3410369\html\counter\includes\counterh.php on line 220

Warning: feof(): supplied argument is not a valid stream resource in D:\Hosting\3410369\html\counter\includes\counterh.php on line 218

Warning: fgets(): supplied argument is not a valid stream resource in D:\Hosting\3410369\html\counter\includes\counterh.php on line 220

Warning: feof(): supplied argument is not a valid stream resource in D:\Hosting\3410369\html\counter\includes\counterh.php on line 218

Warning: fgets(): supplied argument is not a valid stream resource in D:\Hosting\3410369\html\counter\includes\counterh.php on line 220

Warning: feof(): supplied argument is not a valid stream resource in D:\Hosting\3410369\html\counter\includes\counterh.php on line 218

Warning: fgets(): supplied argument is not a valid stream resource in D:\Hosting\3410369\html\counter\includes\counterh.php on line 220

Warning: feof(): supplied argument is not a valid stream resource in D:\Hosting\3410369\html\counter\includes\counterh.php on line 218

Warning: fgets(): supplied argument is not a valid stream resource in D:\Hosting\3410369\html\counter\includes\counterh.php on line 220

Warning: feof(): supplied argument is not a valid stream resource in D:\Hosting\3410369\html\counter\includes\counterh.php on line 218

Warning: fgets(): supplied argument is not a valid stream resource in D:\Hosting\3410369\html\counter\includes\counterh.php on line 220

Warning: feof(): supplied argument is not a valid stream resource in D:\Hosting\3410369\html\counter\includes\counterh.php on line 218

Warning: fgets(): supplied argument is not a valid stream resource in D:\Hosting\3410369\html\counter\includes\counterh.php on line 220

Warning: feof(): supplied argument is not a valid stream resource in D:\Hosting\3410369\html\counter\includes\counterh.php on line 218

Warning: fgets(): supplied argument is not a valid stream resource in D:\Hosting\3410369\html\counter\includes\counterh.php on line 220

Warning: feof(): supplied argument is not a valid stream resource in D:\Hosting\3410369\html\counter\includes\counterh.php on line 218

Warning: fgets(): supplied argument is not a valid stream resource in D:\Hosting\3410369\html\counter\includes\counterh.php on line 220

Warning: feof(): supplied argument is not a valid stream resource in D:\Hosting\3410369\html\counter\includes\counterh.php on line 218

Warning: fgets(): supplied argument is not a valid stream resource in D:\Hosting\3410369\html\counter\includes\counterh.php on line 220

Warning: feof(): supplied argument is not a valid stream resource in D:\Hosting\3410369\html\counter\includes\counterh.php on line 218

Warning: fgets(): supplied argument is not a valid stream resource in D:\Hosting\3410369\html\counter\includes\counterh.php on line 220

Warning: feof(): supplied argument is not a valid stream resource in D:\Hosting\3410369\html\counter\includes\counterh.php on line 218

Warning: fgets(): supplied argument is not a valid stream resource in D:\Hosting\3410369\html\counter\includes\counterh.php on line 220

Warning: feof(): supplied argument is not a valid stream resource in D:\Hosting\3410369\html\counter\includes\counterh.php on line 218

Warning: fgets(): supplied argument is not a valid stream resource in D:\Hosting\3410369\html\counter\includes\counterh.php on line 220

Warning: feof(): supplied argument is not a valid stream resource in D:\Hosting\3410369\html\counter\includes\counterh.php on line 218

Warning: fgets(): supplied argument is not a valid stream resource in D:\Hosting\3410369\html\counter\includes\counterh.php on line 220

Warning: feof(): supplied argument is not a valid stream resource in D:\Hosting\3410369\html\counter\includes\counterh.php on line 218

Warning: fgets(): supplied argument is not a valid stream resource in D:\Hosting\3410369\html\counter\includes\counterh.php on line 220

Warning: feof(): supplied argument is not a valid stream resource in D:\Hosting\3410369\html\counter\includes\counterh.php on line 218

Warning: fgets(): supplied argument is not a valid stream resource in D:\Hosting\3410369\html\counter\includes\counterh.php on line 220

Warning: feof(): supplied argument is not a valid stream resource in D:\Hosting\3410369\html\counter\includes\counterh.php on line 218

Warning: fgets(): supplied argument is not a valid stream resource in D:\Hosting\3410369\html\counter\includes\counterh.php on line 220

Warning: feof(): supplied argument is not a valid stream resource in D:\Hosting\3410369\html\counter\includes\counterh.php on line 218

Warning: fgets(): supplied argument is not a valid stream resource in D:\Hosting\3410369\html\counter\includes\counterh.php on line 220

Warning: feof(): supplied argument is not a valid stream resource in D:\Hosting\3410369\html\counter\includes\counterh.php on line 218

Warning: fgets(): supplied argument is not a valid stream resource in D:\Hosting\3410369\html\counter\includes\counterh.php on line 220

Warning: feof(): supplied argument is not a valid stream resource in D:\Hosting\3410369\html\counter\includes\counterh.php on line 218

Warning: fgets(): supplied argument is not a valid stream resource in D:\Hosting\3410369\html\counter\includes\counterh.php on line 220

Warning: feof(): supplied argument is not a valid stream resource in D:\Hosting\3410369\html\counter\includes\counterh.php on line 218

Warning: fgets(): supplied argument is not a valid stream resource in D:\Hosting\3410369\html\counter\includes\counterh.php on line 220

Warning: feof(): supplied argument is not a valid stream resource in D:\Hosting\3410369\html\counter\includes\counterh.php on line 218

Warning: fgets(): supplied argument is not a valid stream resource in D:\Hosting\3410369\html\counter\includes\counterh.php on line 220

Warning: feof(): supplied argument is not a valid stream resource in D:\Hosting\3410369\html\counter\includes\counterh.php on line 218

Warning: fgets(): supplied argument is not a valid stream resource in D:\Hosting\3410369\html\counter\includes\counterh.php on line 220

Warning: feof(): supplied argument is not a valid stream resource in D:\Hosting\3410369\html\counter\includes\counterh.php on line 218

Warning: fgets(): supplied argument is not a valid stream resource in D:\Hosting\3410369\html\counter\includes\counterh.php on line 220

Warning: feof(): supplied argument is not a valid stream resource in D:\Hosting\3410369\html\counter\includes\counterh.php on line 218

Warning: fgets(): supplied argument is not a valid stream resource in D:\Hosting\3410369\html\counter\includes\counterh.php on line 220

Warning: feof(): supplied argument is not a valid stream resource in D:\Hosting\3410369\html\counter\includes\counterh.php on line 218

Warning: fgets(): supplied argument is not a valid stream resource in D:\Hosting\3410369\html\counter\includes\counterh.php on line 220

Warning: feof(): supplied argument is not a valid stream resource in D:\Hosting\3410369\html\counter\includes\counterh.php on line 218

Warning: fgets(): supplied argument is not a valid stream resource in D:\Hosting\3410369\html\counter\includes\counterh.php on line 220

Warning: feof(): supplied argument is not a valid stream resource in D:\Hosting\3410369\html\counter\includes\counterh.php on line 218

Warning: fgets(): supplied argument is not a valid stream resource in D:\Hosting\3410369\html\counter\includes\counterh.php on line 220

Warning: feof(): supplied argument is not a valid stream resource in D:\Hosting\3410369\html\counter\includes\counterh.php on line 218

Warning: fgets(): supplied argument is not a valid stream resource in D:\Hosting\3410369\html\counter\includes\counterh.php on line 220

Warning: feof(): supplied argument is not a valid stream resource in D:\Hosting\3410369\html\counter\includes\counterh.php on line 218

Warning: fgets(): supplied argument is not a valid stream resource in D:\Hosting\3410369\html\counter\includes\counterh.php on line 220

Warning: feof(): supplied argument is not a valid stream resource in D:\Hosting\3410369\html\counter\includes\counterh.php on line 218

Warning: fgets(): supplied argument is not a valid stream resource in D:\Hosting\3410369\html\counter\includes\counterh.php on line 220

Warning: feof(): supplied argument is not a valid stream resource in D:\Hosting\3410369\html\counter\includes\counterh.php on line 218

Warning: fgets(): supplied argument is not a valid stream resource in D:\Hosting\3410369\html\counter\includes\counterh.php on line 220

Warning: feof(): supplied argument is not a valid stream resource in D:\Hosting\3410369\html\counter\includes\counterh.php on line 218

Warning: fgets(): supplied argument is not a valid stream resource in D:\Hosting\3410369\html\counter\includes\counterh.php on line 220

Warning: feof(): supplied argument is not a valid stream resource in D:\Hosting\3410369\html\counter\includes\counterh.php on line 218

Warning: fgets(): supplied argument is not a valid stream resource in D:\Hosting\3410369\html\counter\includes\counterh.php on line 220

Warning: feof(): supplied argument is not a valid stream resource in D:\Hosting\3410369\html\counter\includes\counterh.php on line 218

Warning: fgets(): supplied argument is not a valid stream resource in D:\Hosting\3410369\html\counter\includes\counterh.php on line 220

Warning: feof(): supplied argument is not a valid stream resource in D:\Hosting\3410369\html\counter\includes\counterh.php on line 218

Warning: fgets(): supplied argument is not a valid stream resource in D:\Hosting\3410369\html\counter\includes\counterh.php on line 220

Warning: feof(): supplied argument is not a valid stream resource in D:\Hosting\3410369\html\counter\includes\counterh.php on line 218

Warning: fgets(): supplied argument is not a valid stream resource in D:\Hosting\3410369\html\counter\includes\counterh.php on line 220

Warning: feof(): supplied argument is not a valid stream resource in D:\Hosting\3410369\html\counter\includes\counterh.php on line 218

Warning: fgets(): supplied argument is not a valid stream resource in D:\Hosting\3410369\html\counter\includes\counterh.php on line 220

Warning: feof(): supplied argument is not a valid stream resource in D:\Hosting\3410369\html\counter\includes\counterh.php on line 218

Warning: fgets(): supplied argument is not a valid stream resource in D:\Hosting\3410369\html\counter\includes\counterh.php on line 220

Warning: feof(): supplied argument is not a valid stream resource in D:\Hosting\3410369\html\counter\includes\counterh.php on line 218

Warning: fgets(): supplied argument is not a valid stream resource in D:\Hosting\3410369\html\counter\includes\counterh.php on line 220

Warning: feof(): supplied argument is not a valid stream resource in D:\Hosting\3410369\html\counter\includes\counterh.php on line 218

Warning: fgets(): supplied argument is not a valid stream resource in D:\Hosting\3410369\html\counter\includes\counterh.php on line 220

Warning: feof(): supplied argument is not a valid stream resource in D:\Hosting\3410369\html\counter\includes\counterh.php on line 218

Warning: fgets(): supplied argument is not a valid stream resource in D:\Hosting\3410369\html\counter\includes\counterh.php on line 220

Warning: feof(): supplied argument is not a valid stream resource in D:\Hosting\3410369\html\counter\includes\counterh.php on line 218

Warning: fgets(): supplied argument is not a valid stream resource in D:\Hosting\3410369\html\counter\includes\counterh.php on line 220

Warning: feof(): supplied argument is not a valid stream resource in D:\Hosting\3410369\html\counter\includes\counterh.php on line 218

Warning: fgets(): supplied argument is not a valid stream resource in D:\Hosting\3410369\html\counter\includes\counterh.php on line 220

Warning: feof(): supplied argument is not a valid stream resource in D:\Hosting\3410369\html\counter\includes\counterh.php on line 218

Warning: fgets(): supplied argument is not a valid stream resource in D:\Hosting\3410369\html\counter\includes\counterh.php on line 220

Warning: feof(): supplied argument is not a valid stream resource in D:\Hosting\3410369\html\counter\includes\counterh.php on line 218

Warning: fgets(): supplied argument is not a valid stream resource in D:\Hosting\3410369\html\counter\includes\counterh.php on line 220

Warning: feof(): supplied argument is not a valid stream resource in D:\Hosting\3410369\html\counter\includes\counterh.php on line 218

Warning: fgets(): supplied argument is not a valid stream resource in D:\Hosting\3410369\html\counter\includes\counterh.php on line 220

Warning: feof(): supplied argument is not a valid stream resource in D:\Hosting\3410369\html\counter\includes\counterh.php on line 218

Warning: fgets(): supplied argument is not a valid stream resource in D:\Hosting\3410369\html\counter\includes\counterh.php on line 220

Warning: feof(): supplied argument is not a valid stream resource in D:\Hosting\3410369\html\counter\includes\counterh.php on line 218

Warning: fgets(): supplied argument is not a valid stream resource in D:\Hosting\3410369\html\counter\includes\counterh.php on line 220

Warning: feof(): supplied argument is not a valid stream resource in D:\Hosting\3410369\html\counter\includes\counterh.php on line 218

Warning: fgets(): supplied argument is not a valid stream resource in D:\Hosting\3410369\html\counter\includes\counterh.php on line 220

Warning: feof(): supplied argument is not a valid stream resource in D:\Hosting\3410369\html\counter\includes\counterh.php on line 218

Warning: fgets(): supplied argument is not a valid stream resource in D:\Hosting\3410369\html\counter\includes\counterh.php on line 220

Warning: feof(): supplied argument is not a valid stream resource in D:\Hosting\3410369\html\counter\includes\counterh.php on line 218

Warning: fgets(): supplied argument is not a valid stream resource in D:\Hosting\3410369\html\counter\includes\counterh.php on line 220

Warning: feof(): supplied argument is not a valid stream resource in D:\Hosting\3410369\html\counter\includes\counterh.php on line 218

Warning: fgets(): supplied argument is not a valid stream resource in D:\Hosting\3410369\html\counter\includes\counterh.php on line 220

Warning: feof(): supplied argument is not a valid stream resource in D:\Hosting\3410369\html\counter\includes\counterh.php on line 218

Warning: fgets(): supplied argument is not a valid stream resource in D:\Hosting\3410369\html\counter\includes\counterh.php on line 220

Warning: feof(): supplied argument is not a valid stream resource in D:\Hosting\3410369\html\counter\includes\counterh.php on line 218

Warning: fgets(): supplied argument is not a valid stream resource in D:\Hosting\3410369\html\counter\includes\counterh.php on line 220

Warning: feof(): supplied argument is not a valid stream resource in D:\Hosting\3410369\html\counter\includes\counterh.php on line 218

Warning: fgets(): supplied argument is not a valid stream resource in D:\Hosting\3410369\html\counter\includes\counterh.php on line 220

Warning: feof(): supplied argument is not a valid stream resource in D:\Hosting\3410369\html\counter\includes\counterh.php on line 218

Warning: fgets(): supplied argument is not a valid stream resource in D:\Hosting\3410369\html\counter\includes\counterh.php on line 220

Warning: feof(): supplied argument is not a valid stream resource in D:\Hosting\3410369\html\counter\includes\counterh.php on line 218

Warning: fgets(): supplied argument is not a valid stream resource in D:\Hosting\3410369\html\counter\includes\counterh.php on line 220

Warning: feof(): supplied argument is not a valid stream resource in D:\Hosting\3410369\html\counter\includes\counterh.php on line 218

Warning: fgets(): supplied argument is not a valid stream resource in D:\Hosting\3410369\html\counter\includes\counterh.php on line 220

Warning: feof(): supplied argument is not a valid stream resource in D:\Hosting\3410369\html\counter\includes\counterh.php on line 218

Warning: fgets(): supplied argument is not a valid stream resource in D:\Hosting\3410369\html\counter\includes\counterh.php on line 220

Warning: feof(): supplied argument is not a valid stream resource in D:\Hosting\3410369\html\counter\includes\counterh.php on line 218

Warning: fgets(): supplied argument is not a valid stream resource in D:\Hosting\3410369\html\counter\includes\counterh.php on line 220

Warning: feof(): supplied argument is not a valid stream resource in D:\Hosting\3410369\html\counter\includes\counterh.php on line 218

Warning: fgets(): supplied argument is not a valid stream resource in D:\Hosting\3410369\html\counter\includes\counterh.php on line 220

Warning: feof(): supplied argument is not a valid stream resource in D:\Hosting\3410369\html\counter\includes\counterh.php on line 218

Warning: fgets(): supplied argument is not a valid stream resource in D:\Hosting\3410369\html\counter\includes\counterh.php on line 220

Warning: feof(): supplied argument is not a valid stream resource in D:\Hosting\3410369\html\counter\includes\counterh.php on line 218

Warning: fgets(): supplied argument is not a valid stream resource in D:\Hosting\3410369\html\counter\includes\counterh.php on line 220

Warning: feof(): supplied argument is not a valid stream resource in D:\Hosting\3410369\html\counter\includes\counterh.php on line 218

Warning: fgets(): supplied argument is not a valid stream resource in D:\Hosting\3410369\html\counter\includes\counterh.php on line 220

Warning: feof(): supplied argument is not a valid stream resource in D:\Hosting\3410369\html\counter\includes\counterh.php on line 218

Warning: fgets(): supplied argument is not a valid stream resource in D:\Hosting\3410369\html\counter\includes\counterh.php on line 220

Warning: feof(): supplied argument is not a valid stream resource in D:\Hosting\3410369\html\counter\includes\counterh.php on line 218

Warning: fgets(): supplied argument is not a valid stream resource in D:\Hosting\3410369\html\counter\includes\counterh.php on line 220

Warning: feof(): supplied argument is not a valid stream resource in D:\Hosting\3410369\html\counter\includes\counterh.php on line 218

Warning: fgets(): supplied argument is not a valid stream resource in D:\Hosting\3410369\html\counter\includes\counterh.php on line 220

Warning: feof(): supplied argument is not a valid stream resource in D:\Hosting\3410369\html\counter\includes\counterh.php on line 218

Warning: fgets(): supplied argument is not a valid stream resource in D:\Hosting\3410369\html\counter\includes\counterh.php on line 220

Warning: feof(): supplied argument is not a valid stream resource in D:\Hosting\3410369\html\counter\includes\counterh.php on line 218

Warning: fgets(): supplied argument is not a valid stream resource in D:\Hosting\3410369\html\counter\includes\counterh.php on line 220

Warning: feof(): supplied argument is not a valid stream resource in D:\Hosting\3410369\html\counter\includes\counterh.php on line 218

Warning: fgets(): supplied argument is not a valid stream resource in D:\Hosting\3410369\html\counter\includes\counterh.php on line 220

Warning: feof(): supplied argument is not a valid stream resource in D:\Hosting\3410369\html\counter\includes\counterh.php on line 218

Warning: fgets(): supplied argument is not a valid stream resource in D:\Hosting\3410369\html\counter\includes\counterh.php on line 220

Warning: feof(): supplied argument is not a valid stream resource in D:\Hosting\3410369\html\counter\includes\counterh.php on line 218

Warning: fgets(): supplied argument is not a valid stream resource in D:\Hosting\3410369\html\counter\includes\counterh.php on line 220

Warning: feof(): supplied argument is not a valid stream resource in D:\Hosting\3410369\html\counter\includes\counterh.php on line 218

Warning: fgets(): supplied argument is not a valid stream resource in D:\Hosting\3410369\html\counter\includes\counterh.php on line 220

Warning: feof(): supplied argument is not a valid stream resource in D:\Hosting\3410369\html\counter\includes\counterh.php on line 218

Warning: fgets(): supplied argument is not a valid stream resource in D:\Hosting\3410369\html\counter\includes\counterh.php on line 220

Warning: feof(): supplied argument is not a valid stream resource in D:\Hosting\3410369\html\counter\includes\counterh.php on line 218

Warning: fgets(): supplied argument is not a valid stream resource in D:\Hosting\3410369\html\counter\includes\counterh.php on line 220

Warning: feof(): supplied argument is not a valid stream resource in D:\Hosting\3410369\html\counter\includes\counterh.php on line 218

Warning: fgets(): supplied argument is not a valid stream resource in D:\Hosting\3410369\html\counter\includes\counterh.php on line 220

Warning: feof(): supplied argument is not a valid stream resource in D:\Hosting\3410369\html\counter\includes\counterh.php on line 218

Warning: fgets(): supplied argument is not a valid stream resource in D:\Hosting\3410369\html\counter\includes\counterh.php on line 220

Warning: feof(): supplied argument is not a valid stream resource in D:\Hosting\3410369\html\counter\includes\counterh.php on line 218

Warning: fgets(): supplied argument is not a valid stream resource in D:\Hosting\3410369\html\counter\includes\counterh.php on line 220

Warning: feof(): supplied argument is not a valid stream resource in D:\Hosting\3410369\html\counter\includes\counterh.php on line 218

Warning: fgets(): supplied argument is not a valid stream resource in D:\Hosting\3410369\html\counter\includes\counterh.php on line 220

Warning: feof(): supplied argument is not a valid stream resource in D:\Hosting\3410369\html\counter\includes\counterh.php on line 218

Warning: fgets(): supplied argument is not a valid stream resource in D:\Hosting\3410369\html\counter\includes\counterh.php on line 220

Warning: feof(): supplied argument is not a valid stream resource in D:\Hosting\3410369\html\counter\includes\counterh.php on line 218

Warning: fgets(): supplied argument is not a valid stream resource in D:\Hosting\3410369\html\counter\includes\counterh.php on line 220

Warning: feof(): supplied argument is not a valid stream resource in D:\Hosting\3410369\html\counter\includes\counterh.php on line 218

Warning: fgets(): supplied argument is not a valid stream resource in D:\Hosting\3410369\html\counter\includes\counterh.php on line 220

Warning: feof(): supplied argument is not a valid stream resource in D:\Hosting\3410369\html\counter\includes\counterh.php on line 218

Warning: fgets(): supplied argument is not a valid stream resource in D:\Hosting\3410369\html\counter\includes\counterh.php on line 220

Warning: feof(): supplied argument is not a valid stream resource in D:\Hosting\3410369\html\counter\includes\counterh.php on line 218

Warning: fgets(): supplied argument is not a valid stream resource in D:\Hosting\3410369\html\counter\includes\counterh.php on line 220

Warning: feof(): supplied argument is not a valid stream resource in D:\Hosting\3410369\html\counter\includes\counterh.php on line 218

Warning: fgets(): supplied argument is not a valid stream resource in D:\Hosting\3410369\html\counter\includes\counterh.php on line 220

Warning: feof(): supplied argument is not a valid stream resource in D:\Hosting\3410369\html\counter\includes\counterh.php on line 218

Warning: fgets(): supplied argument is not a valid stream resource in D:\Hosting\3410369\html\counter\includes\counterh.php on line 220

Warning: feof(): supplied argument is not a valid stream resource in D:\Hosting\3410369\html\counter\includes\counterh.php on line 218

Warning: fgets(): supplied argument is not a valid stream resource in D:\Hosting\3410369\html\counter\includes\counterh.php on line 220

Warning: feof(): supplied argument is not a valid stream resource in D:\Hosting\3410369\html\counter\includes\counterh.php on line 218

Warning: fgets(): supplied argument is not a valid stream resource in D:\Hosting\3410369\html\counter\includes\counterh.php on line 220

Warning: feof(): supplied argument is not a valid stream resource in D:\Hosting\3410369\html\counter\includes\counterh.php on line 218

Warning: fgets(): supplied argument is not a valid stream resource in D:\Hosting\3410369\html\counter\includes\counterh.php on line 220

Warning: feof(): supplied argument is not a valid stream resource in D:\Hosting\3410369\html\counter\includes\counterh.php on line 218

Warning: fgets(): supplied argument is not a valid stream resource in D:\Hosting\3410369\html\counter\includes\counterh.php on line 220

Warning: feof(): supplied argument is not a valid stream resource in D:\Hosting\3410369\html\counter\includes\counterh.php on line 218

Warning: fgets(): supplied argument is not a valid stream resource in D:\Hosting\3410369\html\counter\includes\counterh.php on line 220

Warning: feof(): supplied argument is not a valid stream resource in D:\Hosting\3410369\html\counter\includes\counterh.php on line 218

Warning: fgets(): supplied argument is not a valid stream resource in D:\Hosting\3410369\html\counter\includes\counterh.php on line 220

Warning: feof(): supplied argument is not a valid stream resource in D:\Hosting\3410369\html\counter\includes\counterh.php on line 218

Warning: fgets(): supplied argument is not a valid stream resource in D:\Hosting\3410369\html\counter\includes\counterh.php on line 220

Warning: feof(): supplied argument is not a valid stream resource in D:\Hosting\3410369\html\counter\includes\counterh.php on line 218

Warning: fgets(): supplied argument is not a valid stream resource in D:\Hosting\3410369\html\counter\includes\counterh.php on line 220

Warning: feof(): supplied argument is not a valid stream resource in D:\Hosting\3410369\html\counter\includes\counterh.php on line 218

Warning: fgets(): supplied argument is not a valid stream resource in D:\Hosting\3410369\html\counter\includes\counterh.php on line 220

Warning: feof(): supplied argument is not a valid stream resource in D:\Hosting\3410369\html\counter\includes\counterh.php on line 218

Warning: fgets(): supplied argument is not a valid stream resource in D:\Hosting\3410369\html\counter\includes\counterh.php on line 220

Warning: feof(): supplied argument is not a valid stream resource in D:\Hosting\3410369\html\counter\includes\counterh.php on line 218

Warning: fgets(): supplied argument is not a valid stream resource in D:\Hosting\3410369\html\counter\includes\counterh.php on line 220

Warning: feof(): supplied argument is not a valid stream resource in D:\Hosting\3410369\html\counter\includes\counterh.php on line 218

Warning: fgets(): supplied argument is not a valid stream resource in D:\Hosting\3410369\html\counter\includes\counterh.php on line 220

Warning: feof(): supplied argument is not a valid stream resource in D:\Hosting\3410369\html\counter\includes\counterh.php on line 218

Warning: fgets(): supplied argument is not a valid stream resource in D:\Hosting\3410369\html\counter\includes\counterh.php on line 220

Warning: feof(): supplied argument is not a valid stream resource in D:\Hosting\3410369\html\counter\includes\counterh.php on line 218

Warning: fgets(): supplied argument is not a valid stream resource in D:\Hosting\3410369\html\counter\includes\counterh.php on line 220

Warning: feof(): supplied argument is not a valid stream resource in D:\Hosting\3410369\html\counter\includes\counterh.php on line 218

Warning: fgets(): supplied argument is not a valid stream resource in D:\Hosting\3410369\html\counter\includes\counterh.php on line 220

Warning: feof(): supplied argument is not a valid stream resource in D:\Hosting\3410369\html\counter\includes\counterh.php on line 218

Warning: fgets(): supplied argument is not a valid stream resource in D:\Hosting\3410369\html\counter\includes\counterh.php on line 220

Warning: feof(): supplied argument is not a valid stream resource in D:\Hosting\3410369\html\counter\includes\counterh.php on line 218

Warning: fgets(): supplied argument is not a valid stream resource in D:\Hosting\3410369\html\counter\includes\counterh.php on line 220

Warning: feof(): supplied argument is not a valid stream resource in D:\Hosting\3410369\html\counter\includes\counterh.php on line 218

Warning: fgets(): supplied argument is not a valid stream resource in D:\Hosting\3410369\html\counter\includes\counterh.php on line 220

Warning: feof(): supplied argument is not a valid stream resource in D:\Hosting\3410369\html\counter\includes\counterh.php on line 218

Warning: fgets(): supplied argument is not a valid stream resource in D:\Hosting\3410369\html\counter\includes\counterh.php on line 220

Warning: feof(): supplied argument is not a valid stream resource in D:\Hosting\3410369\html\counter\includes\counterh.php on line 218

Warning: fgets(): supplied argument is not a valid stream resource in D:\Hosting\3410369\html\counter\includes\counterh.php on line 220

Warning: feof(): supplied argument is not a valid stream resource in D:\Hosting\3410369\html\counter\includes\counterh.php on line 218

Warning: fgets(): supplied argument is not a valid stream resource in D:\Hosting\3410369\html\counter\includes\counterh.php on line 220

Warning: feof(): supplied argument is not a valid stream resource in D:\Hosting\3410369\html\counter\includes\counterh.php on line 218

Warning: fgets(): supplied argument is not a valid stream resource in D:\Hosting\3410369\html\counter\includes\counterh.php on line 220

Warning: feof(): supplied argument is not a valid stream resource in D:\Hosting\3410369\html\counter\includes\counterh.php on line 218

Warning: fgets(): supplied argument is not a valid stream resource in D:\Hosting\3410369\html\counter\includes\counterh.php on line 220

Warning: feof(): supplied argument is not a valid stream resource in D:\Hosting\3410369\html\counter\includes\counterh.php on line 218

Warning: fgets(): supplied argument is not a valid stream resource in D:\Hosting\3410369\html\counter\includes\counterh.php on line 220

Warning: feof(): supplied argument is not a valid stream resource in D:\Hosting\3410369\html\counter\includes\counterh.php on line 218

Warning: fgets(): supplied argument is not a valid stream resource in D:\Hosting\3410369\html\counter\includes\counterh.php on line 220

Warning: feof(): supplied argument is not a valid stream resource in D:\Hosting\3410369\html\counter\includes\counterh.php on line 218

Warning: fgets(): supplied argument is not a valid stream resource in D:\Hosting\3410369\html\counter\includes\counterh.php on line 220

Warning: feof(): supplied argument is not a valid stream resource in D:\Hosting\3410369\html\counter\includes\counterh.php on line 218

Warning: fgets(): supplied argument is not a valid stream resource in D:\Hosting\3410369\html\counter\includes\counterh.php on line 220

Warning: feof(): supplied argument is not a valid stream resource in D:\Hosting\3410369\html\counter\includes\counterh.php on line 218

Warning: fgets(): supplied argument is not a valid stream resource in D:\Hosting\3410369\html\counter\includes\counterh.php on line 220

Warning: feof(): supplied argument is not a valid stream resource in D:\Hosting\3410369\html\counter\includes\counterh.php on line 218

Warning: fgets(): supplied argument is not a valid stream resource in D:\Hosting\3410369\html\counter\includes\counterh.php on line 220

Warning: feof(): supplied argument is not a valid stream resource in D:\Hosting\3410369\html\counter\includes\counterh.php on line 218

Warning: fgets(): supplied argument is not a valid stream resource in D:\Hosting\3410369\html\counter\includes\counterh.php on line 220

Warning: feof(): supplied argument is not a valid stream resource in D:\Hosting\3410369\html\counter\includes\counterh.php on line 218

Warning: fgets(): supplied argument is not a valid stream resource in D:\Hosting\3410369\html\counter\includes\counterh.php on line 220

Warning: feof(): supplied argument is not a valid stream resource in D:\Hosting\3410369\html\counter\includes\counterh.php on line 218

Warning: fgets(): supplied argument is not a valid stream resource in D:\Hosting\3410369\html\counter\includes\counterh.php on line 220

Warning: feof(): supplied argument is not a valid stream resource in D:\Hosting\3410369\html\counter\includes\counterh.php on line 218

Warning: fgets(): supplied argument is not a valid stream resource in D:\Hosting\3410369\html\counter\includes\counterh.php on line 220

Warning: feof(): supplied argument is not a valid stream resource in D:\Hosting\3410369\html\counter\includes\counterh.php on line 218

Warning: fgets(): supplied argument is not a valid stream resource in D:\Hosting\3410369\html\counter\includes\counterh.php on line 220

Warning: feof(): supplied argument is not a valid stream resource in D:\Hosting\3410369\html\counter\includes\counterh.php on line 218

Warning: fgets(): supplied argument is not a valid stream resource in D:\Hosting\3410369\html\counter\includes\counterh.php on line 220

Warning: feof(): supplied argument is not a valid stream resource in D:\Hosting\3410369\html\counter\includes\counterh.php on line 218

Warning: fgets(): supplied argument is not a valid stream resource in D:\Hosting\3410369\html\counter\includes\counterh.php on line 220

Warning: feof(): supplied argument is not a valid stream resource in D:\Hosting\3410369\html\counter\includes\counterh.php on line 218

Warning: fgets(): supplied argument is not a valid stream resource in D:\Hosting\3410369\html\counter\includes\counterh.php on line 220

Warning: feof(): supplied argument is not a valid stream resource in D:\Hosting\3410369\html\counter\includes\counterh.php on line 218

Warning: fgets(): supplied argument is not a valid stream resource in D:\Hosting\3410369\html\counter\includes\counterh.php on line 220

Warning: feof(): supplied argument is not a valid stream resource in D:\Hosting\3410369\html\counter\includes\counterh.php on line 218

Warning: fgets(): supplied argument is not a valid stream resource in D:\Hosting\3410369\html\counter\includes\counterh.php on line 220

Warning: feof(): supplied argument is not a valid stream resource in D:\Hosting\3410369\html\counter\includes\counterh.php on line 218

Warning: fgets(): supplied argument is not a valid stream resource in D:\Hosting\3410369\html\counter\includes\counterh.php on line 220

Warning: feof(): supplied argument is not a valid stream resource in D:\Hosting\3410369\html\counter\includes\counterh.php on line 218

Warning: fgets(): supplied argument is not a valid stream resource in D:\Hosting\3410369\html\counter\includes\counterh.php on line 220

Warning: feof(): supplied argument is not a valid stream resource in D:\Hosting\3410369\html\counter\includes\counterh.php on line 218

Warning: fgets(): supplied argument is not a valid stream resource in D:\Hosting\3410369\html\counter\includes\counterh.php on line 220

Warning: feof(): supplied argument is not a valid stream resource in D:\Hosting\3410369\html\counter\includes\counterh.php on line 218

Warning: fgets(): supplied argument is not a valid stream resource in D:\Hosting\3410369\html\counter\includes\counterh.php on line 220

Warning: feof(): supplied argument is not a valid stream resource in D:\Hosting\3410369\html\counter\includes\counterh.php on line 218

Warning: fgets(): supplied argument is not a valid stream resource in D:\Hosting\3410369\html\counter\includes\counterh.php on line 220

Warning: feof(): supplied argument is not a valid stream resource in D:\Hosting\3410369\html\counter\includes\counterh.php on line 218

Warning: fgets(): supplied argument is not a valid stream resource in D:\Hosting\3410369\html\counter\includes\counterh.php on line 220

Warning: feof(): supplied argument is not a valid stream resource in D:\Hosting\3410369\html\counter\includes\counterh.php on line 218

Warning: fgets(): supplied argument is not a valid stream resource in D:\Hosting\3410369\html\counter\includes\counterh.php on line 220

Warning: feof(): supplied argument is not a valid stream resource in D:\Hosting\3410369\html\counter\includes\counterh.php on line 218

Warning: fgets(): supplied argument is not a valid stream resource in D:\Hosting\3410369\html\counter\includes\counterh.php on line 220

Warning: feof(): supplied argument is not a valid stream resource in D:\Hosting\3410369\html\counter\includes\counterh.php on line 218

Warning: fgets(): supplied argument is not a valid stream resource in D:\Hosting\3410369\html\counter\includes\counterh.php on line 220

Warning: feof(): supplied argument is not a valid stream resource in D:\Hosting\3410369\html\counter\includes\counterh.php on line 218

Warning: fgets(): supplied argument is not a valid stream resource in D:\Hosting\3410369\html\counter\includes\counterh.php on line 220

Warning: feof(): supplied argument is not a valid stream resource in D:\Hosting\3410369\html\counter\includes\counterh.php on line 218

Warning: fgets(): supplied argument is not a valid stream resource in D:\Hosting\3410369\html\counter\includes\counterh.php on line 220

Warning: feof(): supplied argument is not a valid stream resource in D:\Hosting\3410369\html\counter\includes\counterh.php on line 218

Warning: fgets(): supplied argument is not a valid stream resource in D:\Hosting\3410369\html\counter\includes\counterh.php on line 220

Warning: feof(): supplied argument is not a valid stream resource in D:\Hosting\3410369\html\counter\includes\counterh.php on line 218

Warning: fgets(): supplied argument is not a valid stream resource in D:\Hosting\3410369\html\counter\includes\counterh.php on line 220

Warning: feof(): supplied argument is not a valid stream resource in D:\Hosting\3410369\html\counter\includes\counterh.php on line 218

Warning: fgets(): supplied argument is not a valid stream resource in D:\Hosting\3410369\html\counter\includes\counterh.php on line 220

Warning: feof(): supplied argument is not a valid stream resource in D:\Hosting\3410369\html\counter\includes\counterh.php on line 218

Warning: fgets(): supplied argument is not a valid stream resource in D:\Hosting\3410369\html\counter\includes\counterh.php on line 220

Warning: feof(): supplied argument is not a valid stream resource in D:\Hosting\3410369\html\counter\includes\counterh.php on line 218

Warning: fgets(): supplied argument is not a valid stream resource in D:\Hosting\3410369\html\counter\includes\counterh.php on line 220

Warning: feof(): supplied argument is not a valid stream resource in D:\Hosting\3410369\html\counter\includes\counterh.php on line 218

Warning: fgets(): supplied argument is not a valid stream resource in D:\Hosting\3410369\html\counter\includes\counterh.php on line 220

Warning: feof(): supplied argument is not a valid stream resource in D:\Hosting\3410369\html\counter\includes\counterh.php on line 218

Warning: fgets(): supplied argument is not a valid stream resource in D:\Hosting\3410369\html\counter\includes\counterh.php on line 220

Warning: feof(): supplied argument is not a valid stream resource in D:\Hosting\3410369\html\counter\includes\counterh.php on line 218

Warning: fgets(): supplied argument is not a valid stream resource in D:\Hosting\3410369\html\counter\includes\counterh.php on line 220

Warning: feof(): supplied argument is not a valid stream resource in D:\Hosting\3410369\html\counter\includes\counterh.php on line 218

Warning: fgets(): supplied argument is not a valid stream resource in D:\Hosting\3410369\html\counter\includes\counterh.php on line 220

Warning: feof(): supplied argument is not a valid stream resource in D:\Hosting\3410369\html\counter\includes\counterh.php on line 218

Warning: fgets(): supplied argument is not a valid stream resource in D:\Hosting\3410369\html\counter\includes\counterh.php on line 220

Warning: feof(): supplied argument is not a valid stream resource in D:\Hosting\3410369\html\counter\includes\counterh.php on line 218

Warning: fgets(): supplied argument is not a valid stream resource in D:\Hosting\3410369\html\counter\includes\counterh.php on line 220

Warning: feof(): supplied argument is not a valid stream resource in D:\Hosting\3410369\html\counter\includes\counterh.php on line 218

Warning: fgets(): supplied argument is not a valid stream resource in D:\Hosting\3410369\html\counter\includes\counterh.php on line 220

Warning: feof(): supplied argument is not a valid stream resource in D:\Hosting\3410369\html\counter\includes\counterh.php on line 218

Warning: fgets(): supplied argument is not a valid stream resource in D:\Hosting\3410369\html\counter\includes\counterh.php on line 220

Warning: feof(): supplied argument is not a valid stream resource in D:\Hosting\3410369\html\counter\includes\counterh.php on line 218

Warning: fgets(): supplied argument is not a valid stream resource in D:\Hosting\3410369\html\counter\includes\counterh.php on line 220

Warning: feof(): supplied argument is not a valid stream resource in D:\Hosting\3410369\html\counter\includes\counterh.php on line 218

Warning: fgets(): supplied argument is not a valid stream resource in D:\Hosting\3410369\html\counter\includes\counterh.php on line 220

Warning: feof(): supplied argument is not a valid stream resource in D:\Hosting\3410369\html\counter\includes\counterh.php on line 218

Warning: fgets(): supplied argument is not a valid stream resource in D:\Hosting\3410369\html\counter\includes\counterh.php on line 220

Warning: feof(): supplied argument is not a valid stream resource in D:\Hosting\3410369\html\counter\includes\counterh.php on line 218

Warning: fgets(): supplied argument is not a valid stream resource in D:\Hosting\3410369\html\counter\includes\counterh.php on line 220

Warning: feof(): supplied argument is not a valid stream resource in D:\Hosting\3410369\html\counter\includes\counterh.php on line 218

Warning: fgets(): supplied argument is not a valid stream resource in D:\Hosting\3410369\html\counter\includes\counterh.php on line 220

Warning: feof(): supplied argument is not a valid stream resource in D:\Hosting\3410369\html\counter\includes\counterh.php on line 218

Warning: fgets(): supplied argument is not a valid stream resource in D:\Hosting\3410369\html\counter\includes\counterh.php on line 220

Warning: feof(): supplied argument is not a valid stream resource in D:\Hosting\3410369\html\counter\includes\counterh.php on line 218

Warning: fgets(): supplied argument is not a valid stream resource in D:\Hosting\3410369\html\counter\includes\counterh.php on line 220

Warning: feof(): supplied argument is not a valid stream resource in D:\Hosting\3410369\html\counter\includes\counterh.php on line 218

Warning: fgets(): supplied argument is not a valid stream resource in D:\Hosting\3410369\html\counter\includes\counterh.php on line 220

Warning: feof(): supplied argument is not a valid stream resource in D:\Hosting\3410369\html\counter\includes\counterh.php on line 218

Warning: fgets(): supplied argument is not a valid stream resource in D:\Hosting\3410369\html\counter\includes\counterh.php on line 220

Warning: feof(): supplied argument is not a valid stream resource in D:\Hosting\3410369\html\counter\includes\counterh.php on line 218

Warning: fgets(): supplied argument is not a valid stream resource in D:\Hosting\3410369\html\counter\includes\counterh.php on line 220

Warning: feof(): supplied argument is not a valid stream resource in D:\Hosting\3410369\html\counter\includes\counterh.php on line 218

Warning: fgets(): supplied argument is not a valid stream resource in D:\Hosting\3410369\html\counter\includes\counterh.php on line 220

Warning: feof(): supplied argument is not a valid stream resource in D:\Hosting\3410369\html\counter\includes\counterh.php on line 218

Warning: fgets(): supplied argument is not a valid stream resource in D:\Hosting\3410369\html\counter\includes\counterh.php on line 220

Warning: feof(): supplied argument is not a valid stream resource in D:\Hosting\3410369\html\counter\includes\counterh.php on line 218

Warning: fgets(): supplied argument is not a valid stream resource in D:\Hosting\3410369\html\counter\includes\counterh.php on line 220

Warning: feof(): supplied argument is not a valid stream resource in D:\Hosting\3410369\html\counter\includes\counterh.php on line 218

Warning: fgets(): supplied argument is not a valid stream resource in D:\Hosting\3410369\html\counter\includes\counterh.php on line 220

Warning: feof(): supplied argument is not a valid stream resource in D:\Hosting\3410369\html\counter\includes\counterh.php on line 218

Warning: fgets(): supplied argument is not a valid stream resource in D:\Hosting\3410369\html\counter\includes\counterh.php on line 220

Warning: feof(): supplied argument is not a valid stream resource in D:\Hosting\3410369\html\counter\includes\counterh.php on line 218

Warning: fgets(): supplied argument is not a valid stream resource in D:\Hosting\3410369\html\counter\includes\counterh.php on line 220

Warning: feof(): supplied argument is not a valid stream resource in D:\Hosting\3410369\html\counter\includes\counterh.php on line 218

Warning: fgets(): supplied argument is not a valid stream resource in D:\Hosting\3410369\html\counter\includes\counterh.php on line 220

Warning: feof(): supplied argument is not a valid stream resource in D:\Hosting\3410369\html\counter\includes\counterh.php on line 218

Warning: fgets(): supplied argument is not a valid stream resource in D:\Hosting\3410369\html\counter\includes\counterh.php on line 220

Warning: feof(): supplied argument is not a valid stream resource in D:\Hosting\3410369\html\counter\includes\counterh.php on line 218

Warning: fgets(): supplied argument is not a valid stream resource in D:\Hosting\3410369\html\counter\includes\counterh.php on line 220

Warning: feof(): supplied argument is not a valid stream resource in D:\Hosting\3410369\html\counter\includes\counterh.php on line 218

Warning: fgets(): supplied argument is not a valid stream resource in D:\Hosting\3410369\html\counter\includes\counterh.php on line 220

Warning: feof(): supplied argument is not a valid stream resource in D:\Hosting\3410369\html\counter\includes\counterh.php on line 218

Warning: fgets(): supplied argument is not a valid stream resource in D:\Hosting\3410369\html\counter\includes\counterh.php on line 220

Warning: feof(): supplied argument is not a valid stream resource in D:\Hosting\3410369\html\counter\includes\counterh.php on line 218

Warning: fgets(): supplied argument is not a valid stream resource in D:\Hosting\3410369\html\counter\includes\counterh.php on line 220

Warning: feof(): supplied argument is not a valid stream resource in D:\Hosting\3410369\html\counter\includes\counterh.php on line 218

Warning: fgets(): supplied argument is not a valid stream resource in D:\Hosting\3410369\html\counter\includes\counterh.php on line 220

Warning: feof(): supplied argument is not a valid stream resource in D:\Hosting\3410369\html\counter\includes\counterh.php on line 218

Warning: fgets(): supplied argument is not a valid stream resource in D:\Hosting\3410369\html\counter\includes\counterh.php on line 220

Warning: feof(): supplied argument is not a valid stream resource in D:\Hosting\3410369\html\counter\includes\counterh.php on line 218

Warning: fgets(): supplied argument is not a valid stream resource in D:\Hosting\3410369\html\counter\includes\counterh.php on line 220

Warning: feof(): supplied argument is not a valid stream resource in D:\Hosting\3410369\html\counter\includes\counterh.php on line 218

Warning: fgets(): supplied argument is not a valid stream resource in D:\Hosting\3410369\html\counter\includes\counterh.php on line 220

Warning: feof(): supplied argument is not a valid stream resource in D:\Hosting\3410369\html\counter\includes\counterh.php on line 218

Warning: fgets(): supplied argument is not a valid stream resource in D:\Hosting\3410369\html\counter\includes\counterh.php on line 220

Warning: feof(): supplied argument is not a valid stream resource in D:\Hosting\3410369\html\counter\includes\counterh.php on line 218

Warning: fgets(): supplied argument is not a valid stream resource in D:\Hosting\3410369\html\counter\includes\counterh.php on line 220

Warning: feof(): supplied argument is not a valid stream resource in D:\Hosting\3410369\html\counter\includes\counterh.php on line 218

Warning: fgets(): supplied argument is not a valid stream resource in D:\Hosting\3410369\html\counter\includes\counterh.php on line 220

Warning: feof(): supplied argument is not a valid stream resource in D:\Hosting\3410369\html\counter\includes\counterh.php on line 218

Warning: fgets(): supplied argument is not a valid stream resource in D:\Hosting\3410369\html\counter\includes\counterh.php on line 220

Warning: feof(): supplied argument is not a valid stream resource in D:\Hosting\3410369\html\counter\includes\counterh.php on line 218

Warning: fgets(): supplied argument is not a valid stream resource in D:\Hosting\3410369\html\counter\includes\counterh.php on line 220

Warning: feof(): supplied argument is not a valid stream resource in D:\Hosting\3410369\html\counter\includes\counterh.php on line 218

Warning: fgets(): supplied argument is not a valid stream resource in D:\Hosting\3410369\html\counter\includes\counterh.php on line 220

Warning: feof(): supplied argument is not a valid stream resource in D:\Hosting\3410369\html\counter\includes\counterh.php on line 218

Warning: fgets(): supplied argument is not a valid stream resource in D:\Hosting\3410369\html\counter\includes\counterh.php on line 220

Warning: feof(): supplied argument is not a valid stream resource in D:\Hosting\3410369\html\counter\includes\counterh.php on line 218

Warning: fgets(): supplied argument is not a valid stream resource in D:\Hosting\3410369\html\counter\includes\counterh.php on line 220

Warning: feof(): supplied argument is not a valid stream resource in D:\Hosting\3410369\html\counter\includes\counterh.php on line 218

Warning: fgets(): supplied argument is not a valid stream resource in D:\Hosting\3410369\html\counter\includes\counterh.php on line 220

Warning: feof(): supplied argument is not a valid stream resource in D:\Hosting\3410369\html\counter\includes\counterh.php on line 218

Warning: fgets(): supplied argument is not a valid stream resource in D:\Hosting\3410369\html\counter\includes\counterh.php on line 220

Warning: feof(): supplied argument is not a valid stream resource in D:\Hosting\3410369\html\counter\includes\counterh.php on line 218

Warning: fgets(): supplied argument is not a valid stream resource in D:\Hosting\3410369\html\counter\includes\counterh.php on line 220

Warning: feof(): supplied argument is not a valid stream resource in D:\Hosting\3410369\html\counter\includes\counterh.php on line 218

Warning: fgets(): supplied argument is not a valid stream resource in D:\Hosting\3410369\html\counter\includes\counterh.php on line 220

Warning: feof(): supplied argument is not a valid stream resource in D:\Hosting\3410369\html\counter\includes\counterh.php on line 218

Warning: fgets(): supplied argument is not a valid stream resource in D:\Hosting\3410369\html\counter\includes\counterh.php on line 220

Warning: feof(): supplied argument is not a valid stream resource in D:\Hosting\3410369\html\counter\includes\counterh.php on line 218

Warning: fgets(): supplied argument is not a valid stream resource in D:\Hosting\3410369\html\counter\includes\counterh.php on line 220

Warning: feof(): supplied argument is not a valid stream resource in D:\Hosting\3410369\html\counter\includes\counterh.php on line 218

Warning: fgets(): supplied argument is not a valid stream resource in D:\Hosting\3410369\html\counter\includes\counterh.php on line 220

Warning: feof(): supplied argument is not a valid stream resource in D:\Hosting\3410369\html\counter\includes\counterh.php on line 218

Warning: fgets(): supplied argument is not a valid stream resource in D:\Hosting\3410369\html\counter\includes\counterh.php on line 220

Warning: feof(): supplied argument is not a valid stream resource in D:\Hosting\3410369\html\counter\includes\counterh.php on line 218

Warning: fgets(): supplied argument is not a valid stream resource in D:\Hosting\3410369\html\counter\includes\counterh.php on line 220

Warning: feof(): supplied argument is not a valid stream resource in D:\Hosting\3410369\html\counter\includes\counterh.php on line 218

Warning: fgets(): supplied argument is not a valid stream resource in D:\Hosting\3410369\html\counter\includes\counterh.php on line 220

Warning: feof(): supplied argument is not a valid stream resource in D:\Hosting\3410369\html\counter\includes\counterh.php on line 218

Warning: fgets(): supplied argument is not a valid stream resource in D:\Hosting\3410369\html\counter\includes\counterh.php on line 220

Warning: feof(): supplied argument is not a valid stream resource in D:\Hosting\3410369\html\counter\includes\counterh.php on line 218

Warning: fgets(): supplied argument is not a valid stream resource in D:\Hosting\3410369\html\counter\includes\counterh.php on line 220

Warning: feof(): supplied argument is not a valid stream resource in D:\Hosting\3410369\html\counter\includes\counterh.php on line 218

Warning: fgets(): supplied argument is not a valid stream resource in D:\Hosting\3410369\html\counter\includes\counterh.php on line 220

Warning: feof(): supplied argument is not a valid stream resource in D:\Hosting\3410369\html\counter\includes\counterh.php on line 218

Warning: fgets(): supplied argument is not a valid stream resource in D:\Hosting\3410369\html\counter\includes\counterh.php on line 220

Warning: feof(): supplied argument is not a valid stream resource in D:\Hosting\3410369\html\counter\includes\counterh.php on line 218

Warning: fgets(): supplied argument is not a valid stream resource in D:\Hosting\3410369\html\counter\includes\counterh.php on line 220

Warning: feof(): supplied argument is not a valid stream resource in D:\Hosting\3410369\html\counter\includes\counterh.php on line 218

Warning: fgets(): supplied argument is not a valid stream resource in D:\Hosting\3410369\html\counter\includes\counterh.php on line 220

Warning: feof(): supplied argument is not a valid stream resource in D:\Hosting\3410369\html\counter\includes\counterh.php on line 218

Warning: fgets(): supplied argument is not a valid stream resource in D:\Hosting\3410369\html\counter\includes\counterh.php on line 220

Warning: feof(): supplied argument is not a valid stream resource in D:\Hosting\3410369\html\counter\includes\counterh.php on line 218

Warning: fgets(): supplied argument is not a valid stream resource in D:\Hosting\3410369\html\counter\includes\counterh.php on line 220

Warning: feof(): supplied argument is not a valid stream resource in D:\Hosting\3410369\html\counter\includes\counterh.php on line 218

Warning: fgets(): supplied argument is not a valid stream resource in D:\Hosting\3410369\html\counter\includes\counterh.php on line 220

Warning: feof(): supplied argument is not a valid stream resource in D:\Hosting\3410369\html\counter\includes\counterh.php on line 218

Warning: fgets(): supplied argument is not a valid stream resource in D:\Hosting\3410369\html\counter\includes\counterh.php on line 220

Warning: feof(): supplied argument is not a valid stream resource in D:\Hosting\3410369\html\counter\includes\counterh.php on line 218

Warning: fgets(): supplied argument is not a valid stream resource in D:\Hosting\3410369\html\counter\includes\counterh.php on line 220

Warning: feof(): supplied argument is not a valid stream resource in D:\Hosting\3410369\html\counter\includes\counterh.php on line 218

Warning: fgets(): supplied argument is not a valid stream resource in D:\Hosting\3410369\html\counter\includes\counterh.php on line 220

Warning: feof(): supplied argument is not a valid stream resource in D:\Hosting\3410369\html\counter\includes\counterh.php on line 218

Warning: fgets(): supplied argument is not a valid stream resource in D:\Hosting\3410369\html\counter\includes\counterh.php on line 220

Warning: feof(): supplied argument is not a valid stream resource in D:\Hosting\3410369\html\counter\includes\counterh.php on line 218

Warning: fgets(): supplied argument is not a valid stream resource in D:\Hosting\3410369\html\counter\includes\counterh.php on line 220

Warning: feof(): supplied argument is not a valid stream resource in D:\Hosting\3410369\html\counter\includes\counterh.php on line 218

Warning: fgets(): supplied argument is not a valid stream resource in D:\Hosting\3410369\html\counter\includes\counterh.php on line 220

Warning: feof(): supplied argument is not a valid stream resource in D:\Hosting\3410369\html\counter\includes\counterh.php on line 218

Warning: fgets(): supplied argument is not a valid stream resource in D:\Hosting\3410369\html\counter\includes\counterh.php on line 220

Warning: feof(): supplied argument is not a valid stream resource in D:\Hosting\3410369\html\counter\includes\counterh.php on line 218

Warning: fgets(): supplied argument is not a valid stream resource in D:\Hosting\3410369\html\counter\includes\counterh.php on line 220

Warning: feof(): supplied argument is not a valid stream resource in D:\Hosting\3410369\html\counter\includes\counterh.php on line 218

Warning: fgets(): supplied argument is not a valid stream resource in D:\Hosting\3410369\html\counter\includes\counterh.php on line 220

Warning: feof(): supplied argument is not a valid stream resource in D:\Hosting\3410369\html\counter\includes\counterh.php on line 218

Warning: fgets(): supplied argument is not a valid stream resource in D:\Hosting\3410369\html\counter\includes\counterh.php on line 220

Warning: feof(): supplied argument is not a valid stream resource in D:\Hosting\3410369\html\counter\includes\counterh.php on line 218

Warning: fgets(): supplied argument is not a valid stream resource in D:\Hosting\3410369\html\counter\includes\counterh.php on line 220

Warning: feof(): supplied argument is not a valid stream resource in D:\Hosting\3410369\html\counter\includes\counterh.php on line 218

Warning: fgets(): supplied argument is not a valid stream resource in D:\Hosting\3410369\html\counter\includes\counterh.php on line 220

Warning: feof(): supplied argument is not a valid stream resource in D:\Hosting\3410369\html\counter\includes\counterh.php on line 218

Warning: fgets(): supplied argument is not a valid stream resource in D:\Hosting\3410369\html\counter\includes\counterh.php on line 220

Warning: feof(): supplied argument is not a valid stream resource in D:\Hosting\3410369\html\counter\includes\counterh.php on line 218

Warning: fgets(): supplied argument is not a valid stream resource in D:\Hosting\3410369\html\counter\includes\counterh.php on line 220

Warning: feof(): supplied argument is not a valid stream resource in D:\Hosting\3410369\html\counter\includes\counterh.php on line 218

Warning: fgets(): supplied argument is not a valid stream resource in D:\Hosting\3410369\html\counter\includes\counterh.php on line 220

Warning: feof(): supplied argument is not a valid stream resource in D:\Hosting\3410369\html\counter\includes\counterh.php on line 218

Warning: fgets(): supplied argument is not a valid stream resource in D:\Hosting\3410369\html\counter\includes\counterh.php on line 220

Warning: feof(): supplied argument is not a valid stream resource in D:\Hosting\3410369\html\counter\includes\counterh.php on line 218

Warning: fgets(): supplied argument is not a valid stream resource in D:\Hosting\3410369\html\counter\includes\counterh.php on line 220

Warning: feof(): supplied argument is not a valid stream resource in D:\Hosting\3410369\html\counter\includes\counterh.php on line 218

Warning: fgets(): supplied argument is not a valid stream resource in D:\Hosting\3410369\html\counter\includes\counterh.php on line 220

Warning: feof(): supplied argument is not a valid stream resource in D:\Hosting\3410369\html\counter\includes\counterh.php on line 218

Warning: fgets(): supplied argument is not a valid stream resource in D:\Hosting\3410369\html\counter\includes\counterh.php on line 220

Warning: feof(): supplied argument is not a valid stream resource in D:\Hosting\3410369\html\counter\includes\counterh.php on line 218

Warning: fgets(): supplied argument is not a valid stream resource in D:\Hosting\3410369\html\counter\includes\counterh.php on line 220

Warning: feof(): supplied argument is not a valid stream resource in D:\Hosting\3410369\html\counter\includes\counterh.php on line 218

Warning: fgets(): supplied argument is not a valid stream resource in D:\Hosting\3410369\html\counter\includes\counterh.php on line 220

Warning: feof(): supplied argument is not a valid stream resource in D:\Hosting\3410369\html\counter\includes\counterh.php on line 218

Warning: fgets(): supplied argument is not a valid stream resource in D:\Hosting\3410369\html\counter\includes\counterh.php on line 220

Warning: feof(): supplied argument is not a valid stream resource in D:\Hosting\3410369\html\counter\includes\counterh.php on line 218

Warning: fgets(): supplied argument is not a valid stream resource in D:\Hosting\3410369\html\counter\includes\counterh.php on line 220

Warning: feof(): supplied argument is not a valid stream resource in D:\Hosting\3410369\html\counter\includes\counterh.php on line 218

Warning: fgets(): supplied argument is not a valid stream resource in D:\Hosting\3410369\html\counter\includes\counterh.php on line 220

Warning: feof(): supplied argument is not a valid stream resource in D:\Hosting\3410369\html\counter\includes\counterh.php on line 218

Warning: fgets(): supplied argument is not a valid stream resource in D:\Hosting\3410369\html\counter\includes\counterh.php on line 220

Warning: feof(): supplied argument is not a valid stream resource in D:\Hosting\3410369\html\counter\includes\counterh.php on line 218

Warning: fgets(): supplied argument is not a valid stream resource in D:\Hosting\3410369\html\counter\includes\counterh.php on line 220

Warning: feof(): supplied argument is not a valid stream resource in D:\Hosting\3410369\html\counter\includes\counterh.php on line 218

Warning: fgets(): supplied argument is not a valid stream resource in D:\Hosting\3410369\html\counter\includes\counterh.php on line 220

Warning: feof(): supplied argument is not a valid stream resource in D:\Hosting\3410369\html\counter\includes\counterh.php on line 218

Warning: fgets(): supplied argument is not a valid stream resource in D:\Hosting\3410369\html\counter\includes\counterh.php on line 220

Warning: feof(): supplied argument is not a valid stream resource in D:\Hosting\3410369\html\counter\includes\counterh.php on line 218

Warning: fgets(): supplied argument is not a valid stream resource in D:\Hosting\3410369\html\counter\includes\counterh.php on line 220

Warning: feof(): supplied argument is not a valid stream resource in D:\Hosting\3410369\html\counter\includes\counterh.php on line 218

Warning: fgets(): supplied argument is not a valid stream resource in D:\Hosting\3410369\html\counter\includes\counterh.php on line 220

Warning: feof(): supplied argument is not a valid stream resource in D:\Hosting\3410369\html\counter\includes\counterh.php on line 218

Warning: fgets(): supplied argument is not a valid stream resource in D:\Hosting\3410369\html\counter\includes\counterh.php on line 220

Warning: feof(): supplied argument is not a valid stream resource in D:\Hosting\3410369\html\counter\includes\counterh.php on line 218

Warning: fgets(): supplied argument is not a valid stream resource in D:\Hosting\3410369\html\counter\includes\counterh.php on line 220

Warning: feof(): supplied argument is not a valid stream resource in D:\Hosting\3410369\html\counter\includes\counterh.php on line 218

Warning: fgets(): supplied argument is not a valid stream resource in D:\Hosting\3410369\html\counter\includes\counterh.php on line 220

Warning: feof(): supplied argument is not a valid stream resource in D:\Hosting\3410369\html\counter\includes\counterh.php on line 218

Warning: fgets(): supplied argument is not a valid stream resource in D:\Hosting\3410369\html\counter\includes\counterh.php on line 220

Warning: feof(): supplied argument is not a valid stream resource in D:\Hosting\3410369\html\counter\includes\counterh.php on line 218

Warning: fgets(): supplied argument is not a valid stream resource in D:\Hosting\3410369\html\counter\includes\counterh.php on line 220

Warning: feof(): supplied argument is not a valid stream resource in D:\Hosting\3410369\html\counter\includes\counterh.php on line 218

Warning: fgets(): supplied argument is not a valid stream resource in D:\Hosting\3410369\html\counter\includes\counterh.php on line 220

Warning: feof(): supplied argument is not a valid stream resource in D:\Hosting\3410369\html\counter\includes\counterh.php on line 218

Warning: fgets(): supplied argument is not a valid stream resource in D:\Hosting\3410369\html\counter\includes\counterh.php on line 220

Warning: feof(): supplied argument is not a valid stream resource in D:\Hosting\3410369\html\counter\includes\counterh.php on line 218

Warning: fgets(): supplied argument is not a valid stream resource in D:\Hosting\3410369\html\counter\includes\counterh.php on line 220

Warning: feof(): supplied argument is not a valid stream resource in D:\Hosting\3410369\html\counter\includes\counterh.php on line 218

Warning: fgets(): supplied argument is not a valid stream resource in D:\Hosting\3410369\html\counter\includes\counterh.php on line 220

Warning: feof(): supplied argument is not a valid stream resource in D:\Hosting\3410369\html\counter\includes\counterh.php on line 218

Warning: fgets(): supplied argument is not a valid stream resource in D:\Hosting\3410369\html\counter\includes\counterh.php on line 220

Warning: feof(): supplied argument is not a valid stream resource in D:\Hosting\3410369\html\counter\includes\counterh.php on line 218

Warning: fgets(): supplied argument is not a valid stream resource in D:\Hosting\3410369\html\counter\includes\counterh.php on line 220

Warning: feof(): supplied argument is not a valid stream resource in D:\Hosting\3410369\html\counter\includes\counterh.php on line 218

Warning: fgets(): supplied argument is not a valid stream resource in D:\Hosting\3410369\html\counter\includes\counterh.php on line 220

Warning: feof(): supplied argument is not a valid stream resource in D:\Hosting\3410369\html\counter\includes\counterh.php on line 218

Warning: fgets(): supplied argument is not a valid stream resource in D:\Hosting\3410369\html\counter\includes\counterh.php on line 220

Warning: feof(): supplied argument is not a valid stream resource in D:\Hosting\3410369\html\counter\includes\counterh.php on line 218

Warning: fgets(): supplied argument is not a valid stream resource in D:\Hosting\3410369\html\counter\includes\counterh.php on line 220

Warning: feof(): supplied argument is not a valid stream resource in D:\Hosting\3410369\html\counter\includes\counterh.php on line 218

Warning: fgets(): supplied argument is not a valid stream resource in D:\Hosting\3410369\html\counter\includes\counterh.php on line 220

Warning: feof(): supplied argument is not a valid stream resource in D:\Hosting\3410369\html\counter\includes\counterh.php on line 218

Warning: fgets(): supplied argument is not a valid stream resource in D:\Hosting\3410369\html\counter\includes\counterh.php on line 220

Warning: feof(): supplied argument is not a valid stream resource in D:\Hosting\3410369\html\counter\includes\counterh.php on line 218

Warning: fgets(): supplied argument is not a valid stream resource in D:\Hosting\3410369\html\counter\includes\counterh.php on line 220

Warning: feof(): supplied argument is not a valid stream resource in D:\Hosting\3410369\html\counter\includes\counterh.php on line 218

Warning: fgets(): supplied argument is not a valid stream resource in D:\Hosting\3410369\html\counter\includes\counterh.php on line 220

Warning: feof(): supplied argument is not a valid stream resource in D:\Hosting\3410369\html\counter\includes\counterh.php on line 218

Warning: fgets(): supplied argument is not a valid stream resource in D:\Hosting\3410369\html\counter\includes\counterh.php on line 220

Warning: feof(): supplied argument is not a valid stream resource in D:\Hosting\3410369\html\counter\includes\counterh.php on line 218

Warning: fgets(): supplied argument is not a valid stream resource in D:\Hosting\3410369\html\counter\includes\counterh.php on line 220

Warning: feof(): supplied argument is not a valid stream resource in D:\Hosting\3410369\html\counter\includes\counterh.php on line 218

Warning: fgets(): supplied argument is not a valid stream resource in D:\Hosting\3410369\html\counter\includes\counterh.php on line 220

Warning: feof(): supplied argument is not a valid stream resource in D:\Hosting\3410369\html\counter\includes\counterh.php on line 218

Warning: fgets(): supplied argument is not a valid stream resource in D:\Hosting\3410369\html\counter\includes\counterh.php on line 220

Warning: feof(): supplied argument is not a valid stream resource in D:\Hosting\3410369\html\counter\includes\counterh.php on line 218

Warning: fgets(): supplied argument is not a valid stream resource in D:\Hosting\3410369\html\counter\includes\counterh.php on line 220

Warning: feof(): supplied argument is not a valid stream resource in D:\Hosting\3410369\html\counter\includes\counterh.php on line 218

Warning: fgets(): supplied argument is not a valid stream resource in D:\Hosting\3410369\html\counter\includes\counterh.php on line 220

Warning: feof(): supplied argument is not a valid stream resource in D:\Hosting\3410369\html\counter\includes\counterh.php on line 218

Warning: fgets(): supplied argument is not a valid stream resource in D:\Hosting\3410369\html\counter\includes\counterh.php on line 220

Warning: feof(): supplied argument is not a valid stream resource in D:\Hosting\3410369\html\counter\includes\counterh.php on line 218

Warning: fgets(): supplied argument is not a valid stream resource in D:\Hosting\3410369\html\counter\includes\counterh.php on line 220

Warning: feof(): supplied argument is not a valid stream resource in D:\Hosting\3410369\html\counter\includes\counterh.php on line 218

Warning: fgets(): supplied argument is not a valid stream resource in D:\Hosting\3410369\html\counter\includes\counterh.php on line 220

Warning: feof(): supplied argument is not a valid stream resource in D:\Hosting\3410369\html\counter\includes\counterh.php on line 218

Warning: fgets(): supplied argument is not a valid stream resource in D:\Hosting\3410369\html\counter\includes\counterh.php on line 220

Warning: feof(): supplied argument is not a valid stream resource in D:\Hosting\3410369\html\counter\includes\counterh.php on line 218

Warning: fgets(): supplied argument is not a valid stream resource in D:\Hosting\3410369\html\counter\includes\counterh.php on line 220

Warning: feof(): supplied argument is not a valid stream resource in D:\Hosting\3410369\html\counter\includes\counterh.php on line 218

Warning: fgets(): supplied argument is not a valid stream resource in D:\Hosting\3410369\html\counter\includes\counterh.php on line 220

Warning: feof(): supplied argument is not a valid stream resource in D:\Hosting\3410369\html\counter\includes\counterh.php on line 218

Warning: fgets(): supplied argument is not a valid stream resource in D:\Hosting\3410369\html\counter\includes\counterh.php on line 220

Warning: feof(): supplied argument is not a valid stream resource in D:\Hosting\3410369\html\counter\includes\counterh.php on line 218

Warning: fgets(): supplied argument is not a valid stream resource in D:\Hosting\3410369\html\counter\includes\counterh.php on line 220

Warning: feof(): supplied argument is not a valid stream resource in D:\Hosting\3410369\html\counter\includes\counterh.php on line 218

Warning: fgets(): supplied argument is not a valid stream resource in D:\Hosting\3410369\html\counter\includes\counterh.php on line 220

Warning: feof(): supplied argument is not a valid stream resource in D:\Hosting\3410369\html\counter\includes\counterh.php on line 218

Warning: fgets(): supplied argument is not a valid stream resource in D:\Hosting\3410369\html\counter\includes\counterh.php on line 220

Warning: feof(): supplied argument is not a valid stream resource in D:\Hosting\3410369\html\counter\includes\counterh.php on line 218

Warning: fgets(): supplied argument is not a valid stream resource in D:\Hosting\3410369\html\counter\includes\counterh.php on line 220

Warning: feof(): supplied argument is not a valid stream resource in D:\Hosting\3410369\html\counter\includes\counterh.php on line 218

Warning: fgets(): supplied argument is not a valid stream resource in D:\Hosting\3410369\html\counter\includes\counterh.php on line 220

Warning: feof(): supplied argument is not a valid stream resource in D:\Hosting\3410369\html\counter\includes\counterh.php on line 218

Warning: fgets(): supplied argument is not a valid stream resource in D:\Hosting\3410369\html\counter\includes\counterh.php on line 220

Warning: feof(): supplied argument is not a valid stream resource in D:\Hosting\3410369\html\counter\includes\counterh.php on line 218

Warning: fgets(): supplied argument is not a valid stream resource in D:\Hosting\3410369\html\counter\includes\counterh.php on line 220

Warning: feof(): supplied argument is not a valid stream resource in D:\Hosting\3410369\html\counter\includes\counterh.php on line 218

Warning: fgets(): supplied argument is not a valid stream resource in D:\Hosting\3410369\html\counter\includes\counterh.php on line 220

Warning: feof(): supplied argument is not a valid stream resource in D:\Hosting\3410369\html\counter\includes\counterh.php on line 218

Warning: fgets(): supplied argument is not a valid stream resource in D:\Hosting\3410369\html\counter\includes\counterh.php on line 220

Warning: feof(): supplied argument is not a valid stream resource in D:\Hosting\3410369\html\counter\includes\counterh.php on line 218

Warning: fgets(): supplied argument is not a valid stream resource in D:\Hosting\3410369\html\counter\includes\counterh.php on line 220

Warning: feof(): supplied argument is not a valid stream resource in D:\Hosting\3410369\html\counter\includes\counterh.php on line 218

Warning: fgets(): supplied argument is not a valid stream resource in D:\Hosting\3410369\html\counter\includes\counterh.php on line 220

Warning: feof(): supplied argument is not a valid stream resource in D:\Hosting\3410369\html\counter\includes\counterh.php on line 218

Warning: fgets(): supplied argument is not a valid stream resource in D:\Hosting\3410369\html\counter\includes\counterh.php on line 220

Warning: feof(): supplied argument is not a valid stream resource in D:\Hosting\3410369\html\counter\includes\counterh.php on line 218

Warning: fgets(): supplied argument is not a valid stream resource in D:\Hosting\3410369\html\counter\includes\counterh.php on line 220

Warning: feof(): supplied argument is not a valid stream resource in D:\Hosting\3410369\html\counter\includes\counterh.php on line 218

Warning: fgets(): supplied argument is not a valid stream resource in D:\Hosting\3410369\html\counter\includes\counterh.php on line 220

Warning: feof(): supplied argument is not a valid stream resource in D:\Hosting\3410369\html\counter\includes\counterh.php on line 218

Warning: fgets(): supplied argument is not a valid stream resource in D:\Hosting\3410369\html\counter\includes\counterh.php on line 220

Warning: feof(): supplied argument is not a valid stream resource in D:\Hosting\3410369\html\counter\includes\counterh.php on line 218

Warning: fgets(): supplied argument is not a valid stream resource in D:\Hosting\3410369\html\counter\includes\counterh.php on line 220

Warning: feof(): supplied argument is not a valid stream resource in D:\Hosting\3410369\html\counter\includes\counterh.php on line 218

Warning: fgets(): supplied argument is not a valid stream resource in D:\Hosting\3410369\html\counter\includes\counterh.php on line 220

Warning: feof(): supplied argument is not a valid stream resource in D:\Hosting\3410369\html\counter\includes\counterh.php on line 218

Warning: fgets(): supplied argument is not a valid stream resource in D:\Hosting\3410369\html\counter\includes\counterh.php on line 220

Warning: feof(): supplied argument is not a valid stream resource in D:\Hosting\3410369\html\counter\includes\counterh.php on line 218

Warning: fgets(): supplied argument is not a valid stream resource in D:\Hosting\3410369\html\counter\includes\counterh.php on line 220

Warning: feof(): supplied argument is not a valid stream resource in D:\Hosting\3410369\html\counter\includes\counterh.php on line 218

Warning: fgets(): supplied argument is not a valid stream resource in D:\Hosting\3410369\html\counter\includes\counterh.php on line 220

Warning: feof(): supplied argument is not a valid stream resource in D:\Hosting\3410369\html\counter\includes\counterh.php on line 218

Warning: fgets(): supplied argument is not a valid stream resource in D:\Hosting\3410369\html\counter\includes\counterh.php on line 220

Warning: feof(): supplied argument is not a valid stream resource in D:\Hosting\3410369\html\counter\includes\counterh.php on line 218

Warning: fgets(): supplied argument is not a valid stream resource in D:\Hosting\3410369\html\counter\includes\counterh.php on line 220

Warning: feof(): supplied argument is not a valid stream resource in D:\Hosting\3410369\html\counter\includes\counterh.php on line 218

Warning: fgets(): supplied argument is not a valid stream resource in D:\Hosting\3410369\html\counter\includes\counterh.php on line 220

Warning: feof(): supplied argument is not a valid stream resource in D:\Hosting\3410369\html\counter\includes\counterh.php on line 218

Warning: fgets(): supplied argument is not a valid stream resource in D:\Hosting\3410369\html\counter\includes\counterh.php on line 220

Warning: feof(): supplied argument is not a valid stream resource in D:\Hosting\3410369\html\counter\includes\counterh.php on line 218

Warning: fgets(): supplied argument is not a valid stream resource in D:\Hosting\3410369\html\counter\includes\counterh.php on line 220

Warning: feof(): supplied argument is not a valid stream resource in D:\Hosting\3410369\html\counter\includes\counterh.php on line 218

Warning: fgets(): supplied argument is not a valid stream resource in D:\Hosting\3410369\html\counter\includes\counterh.php on line 220

Warning: feof(): supplied argument is not a valid stream resource in D:\Hosting\3410369\html\counter\includes\counterh.php on line 218

Warning: fgets(): supplied argument is not a valid stream resource in D:\Hosting\3410369\html\counter\includes\counterh.php on line 220

Warning: feof(): supplied argument is not a valid stream resource in D:\Hosting\3410369\html\counter\includes\counterh.php on line 218

Warning: fgets(): supplied argument is not a valid stream resource in D:\Hosting\3410369\html\counter\includes\counterh.php on line 220

Warning: feof(): supplied argument is not a valid stream resource in D:\Hosting\3410369\html\counter\includes\counterh.php on line 218

Warning: fgets(): supplied argument is not a valid stream resource in D:\Hosting\3410369\html\counter\includes\counterh.php on line 220

Warning: feof(): supplied argument is not a valid stream resource in D:\Hosting\3410369\html\counter\includes\counterh.php on line 218

Warning: fgets(): supplied argument is not a valid stream resource in D:\Hosting\3410369\html\counter\includes\counterh.php on line 220

Warning: feof(): supplied argument is not a valid stream resource in D:\Hosting\3410369\html\counter\includes\counterh.php on line 218

Warning: fgets(): supplied argument is not a valid stream resource in D:\Hosting\3410369\html\counter\includes\counterh.php on line 220

Warning: feof(): supplied argument is not a valid stream resource in D:\Hosting\3410369\html\counter\includes\counterh.php on line 218

Warning: fgets(): supplied argument is not a valid stream resource in D:\Hosting\3410369\html\counter\includes\counterh.php on line 220

Warning: feof(): supplied argument is not a valid stream resource in D:\Hosting\3410369\html\counter\includes\counterh.php on line 218

Warning: fgets(): supplied argument is not a valid stream resource in D:\Hosting\3410369\html\counter\includes\counterh.php on line 220

Warning: feof(): supplied argument is not a valid stream resource in D:\Hosting\3410369\html\counter\includes\counterh.php on line 218

Warning: fgets(): supplied argument is not a valid stream resource in D:\Hosting\3410369\html\counter\includes\counterh.php on line 220

Warning: feof(): supplied argument is not a valid stream resource in D:\Hosting\3410369\html\counter\includes\counterh.php on line 218

Warning: fgets(): supplied argument is not a valid stream resource in D:\Hosting\3410369\html\counter\includes\counterh.php on line 220

Warning: feof(): supplied argument is not a valid stream resource in D:\Hosting\3410369\html\counter\includes\counterh.php on line 218

Warning: fgets(): supplied argument is not a valid stream resource in D:\Hosting\3410369\html\counter\includes\counterh.php on line 220

Warning: feof(): supplied argument is not a valid stream resource in D:\Hosting\3410369\html\counter\includes\counterh.php on line 218

Warning: fgets(): supplied argument is not a valid stream resource in D:\Hosting\3410369\html\counter\includes\counterh.php on line 220

Warning: feof(): supplied argument is not a valid stream resource in D:\Hosting\3410369\html\counter\includes\counterh.php on line 218

Warning: fgets(): supplied argument is not a valid stream resource in D:\Hosting\3410369\html\counter\includes\counterh.php on line 220

Warning: feof(): supplied argument is not a valid stream resource in D:\Hosting\3410369\html\counter\includes\counterh.php on line 218

Warning: fgets(): supplied argument is not a valid stream resource in D:\Hosting\3410369\html\counter\includes\counterh.php on line 220

Warning: feof(): supplied argument is not a valid stream resource in D:\Hosting\3410369\html\counter\includes\counterh.php on line 218

Warning: fgets(): supplied argument is not a valid stream resource in D:\Hosting\3410369\html\counter\includes\counterh.php on line 220

Warning: feof(): supplied argument is not a valid stream resource in D:\Hosting\3410369\html\counter\includes\counterh.php on line 218

Warning: fgets(): supplied argument is not a valid stream resource in D:\Hosting\3410369\html\counter\includes\counterh.php on line 220

Warning: feof(): supplied argument is not a valid stream resource in D:\Hosting\3410369\html\counter\includes\counterh.php on line 218

Warning: fgets(): supplied argument is not a valid stream resource in D:\Hosting\3410369\html\counter\includes\counterh.php on line 220

Warning: feof(): supplied argument is not a valid stream resource in D:\Hosting\3410369\html\counter\includes\counterh.php on line 218

Warning: fgets(): supplied argument is not a valid stream resource in D:\Hosting\3410369\html\counter\includes\counterh.php on line 220

Warning: feof(): supplied argument is not a valid stream resource in D:\Hosting\3410369\html\counter\includes\counterh.php on line 218

Warning: fgets(): supplied argument is not a valid stream resource in D:\Hosting\3410369\html\counter\includes\counterh.php on line 220

Warning: feof(): supplied argument is not a valid stream resource in D:\Hosting\3410369\html\counter\includes\counterh.php on line 218

Warning: fgets(): supplied argument is not a valid stream resource in D:\Hosting\3410369\html\counter\includes\counterh.php on line 220

Warning: feof(): supplied argument is not a valid stream resource in D:\Hosting\3410369\html\counter\includes\counterh.php on line 218

Warning: fgets(): supplied argument is not a valid stream resource in D:\Hosting\3410369\html\counter\includes\counterh.php on line 220

Warning: feof(): supplied argument is not a valid stream resource in D:\Hosting\3410369\html\counter\includes\counterh.php on line 218

Warning: fgets(): supplied argument is not a valid stream resource in D:\Hosting\3410369\html\counter\includes\counterh.php on line 220

Warning: feof(): supplied argument is not a valid stream resource in D:\Hosting\3410369\html\counter\includes\counterh.php on line 218

Warning: fgets(): supplied argument is not a valid stream resource in D:\Hosting\3410369\html\counter\includes\counterh.php on line 220

Warning: feof(): supplied argument is not a valid stream resource in D:\Hosting\3410369\html\counter\includes\counterh.php on line 218

Warning: fgets(): supplied argument is not a valid stream resource in D:\Hosting\3410369\html\counter\includes\counterh.php on line 220

Warning: feof(): supplied argument is not a valid stream resource in D:\Hosting\3410369\html\counter\includes\counterh.php on line 218

Warning: fgets(): supplied argument is not a valid stream resource in D:\Hosting\3410369\html\counter\includes\counterh.php on line 220

Warning: feof(): supplied argument is not a valid stream resource in D:\Hosting\3410369\html\counter\includes\counterh.php on line 218

Warning: fgets(): supplied argument is not a valid stream resource in D:\Hosting\3410369\html\counter\includes\counterh.php on line 220

Warning: feof(): supplied argument is not a valid stream resource in D:\Hosting\3410369\html\counter\includes\counterh.php on line 218

Warning: fgets(): supplied argument is not a valid stream resource in D:\Hosting\3410369\html\counter\includes\counterh.php on line 220

Warning: feof(): supplied argument is not a valid stream resource in D:\Hosting\3410369\html\counter\includes\counterh.php on line 218

Warning: fgets(): supplied argument is not a valid stream resource in D:\Hosting\3410369\html\counter\includes\counterh.php on line 220

Warning: feof(): supplied argument is not a valid stream resource in D:\Hosting\3410369\html\counter\includes\counterh.php on line 218

Warning: fgets(): supplied argument is not a valid stream resource in D:\Hosting\3410369\html\counter\includes\counterh.php on line 220

Warning: feof(): supplied argument is not a valid stream resource in D:\Hosting\3410369\html\counter\includes\counterh.php on line 218

Warning: fgets(): supplied argument is not a valid stream resource in D:\Hosting\3410369\html\counter\includes\counterh.php on line 220

Warning: feof(): supplied argument is not a valid stream resource in D:\Hosting\3410369\html\counter\includes\counterh.php on line 218

Warning: fgets(): supplied argument is not a valid stream resource in D:\Hosting\3410369\html\counter\includes\counterh.php on line 220

Warning: feof(): supplied argument is not a valid stream resource in D:\Hosting\3410369\html\counter\includes\counterh.php on line 218

Warning: fgets(): supplied argument is not a valid stream resource in D:\Hosting\3410369\html\counter\includes\counterh.php on line 220

Warning: feof(): supplied argument is not a valid stream resource in D:\Hosting\3410369\html\counter\includes\counterh.php on line 218

Warning: fgets(): supplied argument is not a valid stream resource in D:\Hosting\3410369\html\counter\includes\counterh.php on line 220

Warning: feof(): supplied argument is not a valid stream resource in D:\Hosting\3410369\html\counter\includes\counterh.php on line 218

Warning: fgets(): supplied argument is not a valid stream resource in D:\Hosting\3410369\html\counter\includes\counterh.php on line 220

Warning: feof(): supplied argument is not a valid stream resource in D:\Hosting\3410369\html\counter\includes\counterh.php on line 218

Warning: fgets(): supplied argument is not a valid stream resource in D:\Hosting\3410369\html\counter\includes\counterh.php on line 220

Warning: feof(): supplied argument is not a valid stream resource in D:\Hosting\3410369\html\counter\includes\counterh.php on line 218

Warning: fgets(): supplied argument is not a valid stream resource in D:\Hosting\3410369\html\counter\includes\counterh.php on line 220

Warning: feof(): supplied argument is not a valid stream resource in D:\Hosting\3410369\html\counter\includes\counterh.php on line 218

Warning: fgets(): supplied argument is not a valid stream resource in D:\Hosting\3410369\html\counter\includes\counterh.php on line 220

Warning: feof(): supplied argument is not a valid stream resource in D:\Hosting\3410369\html\counter\includes\counterh.php on line 218

Warning: fgets(): supplied argument is not a valid stream resource in D:\Hosting\3410369\html\counter\includes\counterh.php on line 220

Warning: feof(): supplied argument is not a valid stream resource in D:\Hosting\3410369\html\counter\includes\counterh.php on line 218

Warning: fgets(): supplied argument is not a valid stream resource in D:\Hosting\3410369\html\counter\includes\counterh.php on line 220

Warning: feof(): supplied argument is not a valid stream resource in D:\Hosting\3410369\html\counter\includes\counterh.php on line 218

Warning: fgets(): supplied argument is not a valid stream resource in D:\Hosting\3410369\html\counter\includes\counterh.php on line 220

Warning: feof(): supplied argument is not a valid stream resource in D:\Hosting\3410369\html\counter\includes\counterh.php on line 218

Warning: fgets(): supplied argument is not a valid stream resource in D:\Hosting\3410369\html\counter\includes\counterh.php on line 220

Warning: feof(): supplied argument is not a valid stream resource in D:\Hosting\3410369\html\counter\includes\counterh.php on line 218

Warning: fgets(): supplied argument is not a valid stream resource in D:\Hosting\3410369\html\counter\includes\counterh.php on line 220

Warning: feof(): supplied argument is not a valid stream resource in D:\Hosting\3410369\html\counter\includes\counterh.php on line 218

Warning: fgets(): supplied argument is not a valid stream resource in D:\Hosting\3410369\html\counter\includes\counterh.php on line 220

Warning: feof(): supplied argument is not a valid stream resource in D:\Hosting\3410369\html\counter\includes\counterh.php on line 218

Warning: fgets(): supplied argument is not a valid stream resource in D:\Hosting\3410369\html\counter\includes\counterh.php on line 220

Warning: feof(): supplied argument is not a valid stream resource in D:\Hosting\3410369\html\counter\includes\counterh.php on line 218

Warning: fgets(): supplied argument is not a valid stream resource in D:\Hosting\3410369\html\counter\includes\counterh.php on line 220

Warning: feof(): supplied argument is not a valid stream resource in D:\Hosting\3410369\html\counter\includes\counterh.php on line 218

Warning: fgets(): supplied argument is not a valid stream resource in D:\Hosting\3410369\html\counter\includes\counterh.php on line 220

Warning: feof(): supplied argument is not a valid stream resource in D:\Hosting\3410369\html\counter\includes\counterh.php on line 218

Warning: fgets(): supplied argument is not a valid stream resource in D:\Hosting\3410369\html\counter\includes\counterh.php on line 220

Warning: feof(): supplied argument is not a valid stream resource in D:\Hosting\3410369\html\counter\includes\counterh.php on line 218

Warning: fgets(): supplied argument is not a valid stream resource in D:\Hosting\3410369\html\counter\includes\counterh.php on line 220

Warning: feof(): supplied argument is not a valid stream resource in D:\Hosting\3410369\html\counter\includes\counterh.php on line 218

Warning: fgets(): supplied argument is not a valid stream resource in D:\Hosting\3410369\html\counter\includes\counterh.php on line 220

Warning: feof(): supplied argument is not a valid stream resource in D:\Hosting\3410369\html\counter\includes\counterh.php on line 218

Warning: fgets(): supplied argument is not a valid stream resource in D:\Hosting\3410369\html\counter\includes\counterh.php on line 220

Warning: feof(): supplied argument is not a valid stream resource in D:\Hosting\3410369\html\counter\includes\counterh.php on line 218

Warning: fgets(): supplied argument is not a valid stream resource in D:\Hosting\3410369\html\counter\includes\counterh.php on line 220

Warning: feof(): supplied argument is not a valid stream resource in D:\Hosting\3410369\html\counter\includes\counterh.php on line 218

Warning: fgets(): supplied argument is not a valid stream resource in D:\Hosting\3410369\html\counter\includes\counterh.php on line 220

Warning: feof(): supplied argument is not a valid stream resource in D:\Hosting\3410369\html\counter\includes\counterh.php on line 218

Warning: fgets(): supplied argument is not a valid stream resource in D:\Hosting\3410369\html\counter\includes\counterh.php on line 220

Warning: feof(): supplied argument is not a valid stream resource in D:\Hosting\3410369\html\counter\includes\counterh.php on line 218

Warning: fgets(): supplied argument is not a valid stream resource in D:\Hosting\3410369\html\counter\includes\counterh.php on line 220

Warning: feof(): supplied argument is not a valid stream resource in D:\Hosting\3410369\html\counter\includes\counterh.php on line 218

Warning: fgets(): supplied argument is not a valid stream resource in D:\Hosting\3410369\html\counter\includes\counterh.php on line 220

Warning: feof(): supplied argument is not a valid stream resource in D:\Hosting\3410369\html\counter\includes\counterh.php on line 218

Warning: fgets(): supplied argument is not a valid stream resource in D:\Hosting\3410369\html\counter\includes\counterh.php on line 220

Warning: feof(): supplied argument is not a valid stream resource in D:\Hosting\3410369\html\counter\includes\counterh.php on line 218

Warning: fgets(): supplied argument is not a valid stream resource in D:\Hosting\3410369\html\counter\includes\counterh.php on line 220

Warning: feof(): supplied argument is not a valid stream resource in D:\Hosting\3410369\html\counter\includes\counterh.php on line 218

Warning: fgets(): supplied argument is not a valid stream resource in D:\Hosting\3410369\html\counter\includes\counterh.php on line 220

Warning: feof(): supplied argument is not a valid stream resource in D:\Hosting\3410369\html\counter\includes\counterh.php on line 218

Warning: fgets(): supplied argument is not a valid stream resource in D:\Hosting\3410369\html\counter\includes\counterh.php on line 220

Warning: feof(): supplied argument is not a valid stream resource in D:\Hosting\3410369\html\counter\includes\counterh.php on line 218

Warning: fgets(): supplied argument is not a valid stream resource in D:\Hosting\3410369\html\counter\includes\counterh.php on line 220

Warning: feof(): supplied argument is not a valid stream resource in D:\Hosting\3410369\html\counter\includes\counterh.php on line 218

Warning: fgets(): supplied argument is not a valid stream resource in D:\Hosting\3410369\html\counter\includes\counterh.php on line 220

Warning: feof(): supplied argument is not a valid stream resource in D:\Hosting\3410369\html\counter\includes\counterh.php on line 218

Warning: fgets(): supplied argument is not a valid stream resource in D:\Hosting\3410369\html\counter\includes\counterh.php on line 220

Warning: feof(): supplied argument is not a valid stream resource in D:\Hosting\3410369\html\counter\includes\counterh.php on line 218

Warning: fgets(): supplied argument is not a valid stream resource in D:\Hosting\3410369\html\counter\includes\counterh.php on line 220

Warning: feof(): supplied argument is not a valid stream resource in D:\Hosting\3410369\html\counter\includes\counterh.php on line 218

Warning: fgets(): supplied argument is not a valid stream resource in D:\Hosting\3410369\html\counter\includes\counterh.php on line 220

Warning: feof(): supplied argument is not a valid stream resource in D:\Hosting\3410369\html\counter\includes\counterh.php on line 218

Warning: fgets(): supplied argument is not a valid stream resource in D:\Hosting\3410369\html\counter\includes\counterh.php on line 220

Warning: feof(): supplied argument is not a valid stream resource in D:\Hosting\3410369\html\counter\includes\counterh.php on line 218

Warning: fgets(): supplied argument is not a valid stream resource in D:\Hosting\3410369\html\counter\includes\counterh.php on line 220

Warning: feof(): supplied argument is not a valid stream resource in D:\Hosting\3410369\html\counter\includes\counterh.php on line 218

Warning: fgets(): supplied argument is not a valid stream resource in D:\Hosting\3410369\html\counter\includes\counterh.php on line 220

Warning: feof(): supplied argument is not a valid stream resource in D:\Hosting\3410369\html\counter\includes\counterh.php on line 218

Warning: fgets(): supplied argument is not a valid stream resource in D:\Hosting\3410369\html\counter\includes\counterh.php on line 220

Warning: feof(): supplied argument is not a valid stream resource in D:\Hosting\3410369\html\counter\includes\counterh.php on line 218

Warning: fgets(): supplied argument is not a valid stream resource in D:\Hosting\3410369\html\counter\includes\counterh.php on line 220

Warning: feof(): supplied argument is not a valid stream resource in D:\Hosting\3410369\html\counter\includes\counterh.php on line 218

Warning: fgets(): supplied argument is not a valid stream resource in D:\Hosting\3410369\html\counter\includes\counterh.php on line 220

Warning: feof(): supplied argument is not a valid stream resource in D:\Hosting\3410369\html\counter\includes\counterh.php on line 218

Warning: fgets(): supplied argument is not a valid stream resource in D:\Hosting\3410369\html\counter\includes\counterh.php on line 220

Warning: feof(): supplied argument is not a valid stream resource in D:\Hosting\3410369\html\counter\includes\counterh.php on line 218

Warning: fgets(): supplied argument is not a valid stream resource in D:\Hosting\3410369\html\counter\includes\counterh.php on line 220

Warning: feof(): supplied argument is not a valid stream resource in D:\Hosting\3410369\html\counter\includes\counterh.php on line 218

Warning: fgets(): supplied argument is not a valid stream resource in D:\Hosting\3410369\html\counter\includes\counterh.php on line 220

Warning: feof(): supplied argument is not a valid stream resource in D:\Hosting\3410369\html\counter\includes\counterh.php on line 218

Warning: fgets(): supplied argument is not a valid stream resource in D:\Hosting\3410369\html\counter\includes\counterh.php on line 220

Warning: feof(): supplied argument is not a valid stream resource in D:\Hosting\3410369\html\counter\includes\counterh.php on line 218

Warning: fgets(): supplied argument is not a valid stream resource in D:\Hosting\3410369\html\counter\includes\counterh.php on line 220

Warning: feof(): supplied argument is not a valid stream resource in D:\Hosting\3410369\html\counter\includes\counterh.php on line 218

Warning: fgets(): supplied argument is not a valid stream resource in D:\Hosting\3410369\html\counter\includes\counterh.php on line 220

Warning: feof(): supplied argument is not a valid stream resource in D:\Hosting\3410369\html\counter\includes\counterh.php on line 218

Warning: fgets(): supplied argument is not a valid stream resource in D:\Hosting\3410369\html\counter\includes\counterh.php on line 220

Warning: feof(): supplied argument is not a valid stream resource in D:\Hosting\3410369\html\counter\includes\counterh.php on line 218

Warning: fgets(): supplied argument is not a valid stream resource in D:\Hosting\3410369\html\counter\includes\counterh.php on line 220

Warning: feof(): supplied argument is not a valid stream resource in D:\Hosting\3410369\html\counter\includes\counterh.php on line 218

Warning: fgets(): supplied argument is not a valid stream resource in D:\Hosting\3410369\html\counter\includes\counterh.php on line 220

Warning: feof(): supplied argument is not a valid stream resource in D:\Hosting\3410369\html\counter\includes\counterh.php on line 218

Warning: fgets(): supplied argument is not a valid stream resource in D:\Hosting\3410369\html\counter\includes\counterh.php on line 220

Warning: feof(): supplied argument is not a valid stream resource in D:\Hosting\3410369\html\counter\includes\counterh.php on line 218

Warning: fgets(): supplied argument is not a valid stream resource in D:\Hosting\3410369\html\counter\includes\counterh.php on line 220

Warning: feof(): supplied argument is not a valid stream resource in D:\Hosting\3410369\html\counter\includes\counterh.php on line 218

Warning: fgets(): supplied argument is not a valid stream resource in D:\Hosting\3410369\html\counter\includes\counterh.php on line 220

Warning: feof(): supplied argument is not a valid stream resource in D:\Hosting\3410369\html\counter\includes\counterh.php on line 218

Warning: fgets(): supplied argument is not a valid stream resource in D:\Hosting\3410369\html\counter\includes\counterh.php on line 220

Warning: feof(): supplied argument is not a valid stream resource in D:\Hosting\3410369\html\counter\includes\counterh.php on line 218

Warning: fgets(): supplied argument is not a valid stream resource in D:\Hosting\3410369\html\counter\includes\counterh.php on line 220

Warning: feof(): supplied argument is not a valid stream resource in D:\Hosting\3410369\html\counter\includes\counterh.php on line 218

Warning: fgets(): supplied argument is not a valid stream resource in D:\Hosting\3410369\html\counter\includes\counterh.php on line 220

Warning: feof(): supplied argument is not a valid stream resource in D:\Hosting\3410369\html\counter\includes\counterh.php on line 218

Warning: fgets(): supplied argument is not a valid stream resource in D:\Hosting\3410369\html\counter\includes\counterh.php on line 220

Warning: feof(): supplied argument is not a valid stream resource in D:\Hosting\3410369\html\counter\includes\counterh.php on line 218

Warning: fgets(): supplied argument is not a valid stream resource in D:\Hosting\3410369\html\counter\includes\counterh.php on line 220

Warning: feof(): supplied argument is not a valid stream resource in D:\Hosting\3410369\html\counter\includes\counterh.php on line 218

Warning: fgets(): supplied argument is not a valid stream resource in D:\Hosting\3410369\html\counter\includes\counterh.php on line 220

Warning: feof(): supplied argument is not a valid stream resource in D:\Hosting\3410369\html\counter\includes\counterh.php on line 218

Warning: fgets(): supplied argument is not a valid stream resource in D:\Hosting\3410369\html\counter\includes\counterh.php on line 220

Warning: feof(): supplied argument is not a valid stream resource in D:\Hosting\3410369\html\counter\includes\counterh.php on line 218

Warning: fgets(): supplied argument is not a valid stream resource in D:\Hosting\3410369\html\counter\includes\counterh.php on line 220

Warning: feof(): supplied argument is not a valid stream resource in D:\Hosting\3410369\html\counter\includes\counterh.php on line 218

Warning: fgets(): supplied argument is not a valid stream resource in D:\Hosting\3410369\html\counter\includes\counterh.php on line 220

Warning: feof(): supplied argument is not a valid stream resource in D:\Hosting\3410369\html\counter\includes\counterh.php on line 218

Warning: fgets(): supplied argument is not a valid stream resource in D:\Hosting\3410369\html\counter\includes\counterh.php on line 220

Warning: feof(): supplied argument is not a valid stream resource in D:\Hosting\3410369\html\counter\includes\counterh.php on line 218

Warning: fgets(): supplied argument is not a valid stream resource in D:\Hosting\3410369\html\counter\includes\counterh.php on line 220

Warning: feof(): supplied argument is not a valid stream resource in D:\Hosting\3410369\html\counter\includes\counterh.php on line 218

Warning: fgets(): supplied argument is not a valid stream resource in D:\Hosting\3410369\html\counter\includes\counterh.php on line 220

Warning: feof(): supplied argument is not a valid stream resource in D:\Hosting\3410369\html\counter\includes\counterh.php on line 218

Warning: fgets(): supplied argument is not a valid stream resource in D:\Hosting\3410369\html\counter\includes\counterh.php on line 220

Warning: feof(): supplied argument is not a valid stream resource in D:\Hosting\3410369\html\counter\includes\counterh.php on line 218

Warning: fgets(): supplied argument is not a valid stream resource in D:\Hosting\3410369\html\counter\includes\counterh.php on line 220

Warning: feof(): supplied argument is not a valid stream resource in D:\Hosting\3410369\html\counter\includes\counterh.php on line 218

Warning: fgets(): supplied argument is not a valid stream resource in D:\Hosting\3410369\html\counter\includes\counterh.php on line 220

Warning: feof(): supplied argument is not a valid stream resource in D:\Hosting\3410369\html\counter\includes\counterh.php on line 218

Warning: fgets(): supplied argument is not a valid stream resource in D:\Hosting\3410369\html\counter\includes\counterh.php on line 220

Warning: feof(): supplied argument is not a valid stream resource in D:\Hosting\3410369\html\counter\includes\counterh.php on line 218

Warning: fgets(): supplied argument is not a valid stream resource in D:\Hosting\3410369\html\counter\includes\counterh.php on line 220

Warning: feof(): supplied argument is not a valid stream resource in D:\Hosting\3410369\html\counter\includes\counterh.php on line 218

Warning: fgets(): supplied argument is not a valid stream resource in D:\Hosting\3410369\html\counter\includes\counterh.php on line 220

Warning: feof(): supplied argument is not a valid stream resource in D:\Hosting\3410369\html\counter\includes\counterh.php on line 218

Warning: fgets(): supplied argument is not a valid stream resource in D:\Hosting\3410369\html\counter\includes\counterh.php on line 220

Warning: feof(): supplied argument is not a valid stream resource in D:\Hosting\3410369\html\counter\includes\counterh.php on line 218

Warning: fgets(): supplied argument is not a valid stream resource in D:\Hosting\3410369\html\counter\includes\counterh.php on line 220

Warning: feof(): supplied argument is not a valid stream resource in D:\Hosting\3410369\html\counter\includes\counterh.php on line 218

Warning: fgets(): supplied argument is not a valid stream resource in D:\Hosting\3410369\html\counter\includes\counterh.php on line 220

Warning: feof(): supplied argument is not a valid stream resource in D:\Hosting\3410369\html\counter\includes\counterh.php on line 218

Warning: fgets(): supplied argument is not a valid stream resource in D:\Hosting\3410369\html\counter\includes\counterh.php on line 220

Warning: feof(): supplied argument is not a valid stream resource in D:\Hosting\3410369\html\counter\includes\counterh.php on line 218

Warning: fgets(): supplied argument is not a valid stream resource in D:\Hosting\3410369\html\counter\includes\counterh.php on line 220

Warning: feof(): supplied argument is not a valid stream resource in D:\Hosting\3410369\html\counter\includes\counterh.php on line 218

Warning: fgets(): supplied argument is not a valid stream resource in D:\Hosting\3410369\html\counter\includes\counterh.php on line 220

Warning: feof(): supplied argument is not a valid stream resource in D:\Hosting\3410369\html\counter\includes\counterh.php on line 218

Warning: fgets(): supplied argument is not a valid stream resource in D:\Hosting\3410369\html\counter\includes\counterh.php on line 220

Warning: feof(): supplied argument is not a valid stream resource in D:\Hosting\3410369\html\counter\includes\counterh.php on line 218

Warning: fgets(): supplied argument is not a valid stream resource in D:\Hosting\3410369\html\counter\includes\counterh.php on line 220

Warning: feof(): supplied argument is not a valid stream resource in D:\Hosting\3410369\html\counter\includes\counterh.php on line 218

Warning: fgets(): supplied argument is not a valid stream resource in D:\Hosting\3410369\html\counter\includes\counterh.php on line 220

Warning: feof(): supplied argument is not a valid stream resource in D:\Hosting\3410369\html\counter\includes\counterh.php on line 218

Warning: fgets(): supplied argument is not a valid stream resource in D:\Hosting\3410369\html\counter\includes\counterh.php on line 220

Warning: feof(): supplied argument is not a valid stream resource in D:\Hosting\3410369\html\counter\includes\counterh.php on line 218

Warning: fgets(): supplied argument is not a valid stream resource in D:\Hosting\3410369\html\counter\includes\counterh.php on line 220

Warning: feof(): supplied argument is not a valid stream resource in D:\Hosting\3410369\html\counter\includes\counterh.php on line 218

Warning: fgets(): supplied argument is not a valid stream resource in D:\Hosting\3410369\html\counter\includes\counterh.php on line 220

Warning: feof(): supplied argument is not a valid stream resource in D:\Hosting\3410369\html\counter\includes\counterh.php on line 218

Warning: fgets(): supplied argument is not a valid stream resource in D:\Hosting\3410369\html\counter\includes\counterh.php on line 220

Warning: feof(): supplied argument is not a valid stream resource in D:\Hosting\3410369\html\counter\includes\counterh.php on line 218

Warning: fgets(): supplied argument is not a valid stream resource in D:\Hosting\3410369\html\counter\includes\counterh.php on line 220

Warning: feof(): supplied argument is not a valid stream resource in D:\Hosting\3410369\html\counter\includes\counterh.php on line 218

Warning: fgets(): supplied argument is not a valid stream resource in D:\Hosting\3410369\html\counter\includes\counterh.php on line 220

Warning: feof(): supplied argument is not a valid stream resource in D:\Hosting\3410369\html\counter\includes\counterh.php on line 218

Warning: fgets(): supplied argument is not a valid stream resource in D:\Hosting\3410369\html\counter\includes\counterh.php on line 220

Warning: feof(): supplied argument is not a valid stream resource in D:\Hosting\3410369\html\counter\includes\counterh.php on line 218

Warning: fgets(): supplied argument is not a valid stream resource in D:\Hosting\3410369\html\counter\includes\counterh.php on line 220

Warning: feof(): supplied argument is not a valid stream resource in D:\Hosting\3410369\html\counter\includes\counterh.php on line 218

Warning: fgets(): supplied argument is not a valid stream resource in D:\Hosting\3410369\html\counter\includes\counterh.php on line 220

Warning: feof(): supplied argument is not a valid stream resource in D:\Hosting\3410369\html\counter\includes\counterh.php on line 218

Warning: fgets(): supplied argument is not a valid stream resource in D:\Hosting\3410369\html\counter\includes\counterh.php on line 220

Warning: feof(): supplied argument is not a valid stream resource in D:\Hosting\3410369\html\counter\includes\counterh.php on line 218

Warning: fgets(): supplied argument is not a valid stream resource in D:\Hosting\3410369\html\counter\includes\counterh.php on line 220

Warning: feof(): supplied argument is not a valid stream resource in D:\Hosting\3410369\html\counter\includes\counterh.php on line 218

Warning: fgets(): supplied argument is not a valid stream resource in D:\Hosting\3410369\html\counter\includes\counterh.php on line 220

Warning: feof(): supplied argument is not a valid stream resource in D:\Hosting\3410369\html\counter\includes\counterh.php on line 218

Warning: fgets(): supplied argument is not a valid stream resource in D:\Hosting\3410369\html\counter\includes\counterh.php on line 220

Warning: feof(): supplied argument is not a valid stream resource in D:\Hosting\3410369\html\counter\includes\counterh.php on line 218

Warning: fgets(): supplied argument is not a valid stream resource in D:\Hosting\3410369\html\counter\includes\counterh.php on line 220

Warning: feof(): supplied argument is not a valid stream resource in D:\Hosting\3410369\html\counter\includes\counterh.php on line 218

Warning: fgets(): supplied argument is not a valid stream resource in D:\Hosting\3410369\html\counter\includes\counterh.php on line 220

Warning: feof(): supplied argument is not a valid stream resource in D:\Hosting\3410369\html\counter\includes\counterh.php on line 218

Warning: fgets(): supplied argument is not a valid stream resource in D:\Hosting\3410369\html\counter\includes\counterh.php on line 220

Warning: feof(): supplied argument is not a valid stream resource in D:\Hosting\3410369\html\counter\includes\counterh.php on line 218

Warning: fgets(): supplied argument is not a valid stream resource in D:\Hosting\3410369\html\counter\includes\counterh.php on line 220

Warning: feof(): supplied argument is not a valid stream resource in D:\Hosting\3410369\html\counter\includes\counterh.php on line 218

Warning: fgets(): supplied argument is not a valid stream resource in D:\Hosting\3410369\html\counter\includes\counterh.php on line 220

Warning: feof(): supplied argument is not a valid stream resource in D:\Hosting\3410369\html\counter\includes\counterh.php on line 218

Warning: fgets(): supplied argument is not a valid stream resource in D:\Hosting\3410369\html\counter\includes\counterh.php on line 220

Warning: feof(): supplied argument is not a valid stream resource in D:\Hosting\3410369\html\counter\includes\counterh.php on line 218

Warning: fgets(): supplied argument is not a valid stream resource in D:\Hosting\3410369\html\counter\includes\counterh.php on line 220

Warning: feof(): supplied argument is not a valid stream resource in D:\Hosting\3410369\html\counter\includes\counterh.php on line 218

Warning: fgets(): supplied argument is not a valid stream resource in D:\Hosting\3410369\html\counter\includes\counterh.php on line 220

Warning: feof(): supplied argument is not a valid stream resource in D:\Hosting\3410369\html\counter\includes\counterh.php on line 218

Warning: fgets(): supplied argument is not a valid stream resource in D:\Hosting\3410369\html\counter\includes\counterh.php on line 220

Warning: feof(): supplied argument is not a valid stream resource in D:\Hosting\3410369\html\counter\includes\counterh.php on line 218

Warning: fgets(): supplied argument is not a valid stream resource in D:\Hosting\3410369\html\counter\includes\counterh.php on line 220

Warning: feof(): supplied argument is not a valid stream resource in D:\Hosting\3410369\html\counter\includes\counterh.php on line 218

Warning: fgets(): supplied argument is not a valid stream resource in D:\Hosting\3410369\html\counter\includes\counterh.php on line 220

Warning: feof(): supplied argument is not a valid stream resource in D:\Hosting\3410369\html\counter\includes\counterh.php on line 218

Warning: fgets(): supplied argument is not a valid stream resource in D:\Hosting\3410369\html\counter\includes\counterh.php on line 220

Warning: feof(): supplied argument is not a valid stream resource in D:\Hosting\3410369\html\counter\includes\counterh.php on line 218

Warning: fgets(): supplied argument is not a valid stream resource in D:\Hosting\3410369\html\counter\includes\counterh.php on line 220

Warning: feof(): supplied argument is not a valid stream resource in D:\Hosting\3410369\html\counter\includes\counterh.php on line 218

Warning: fgets(): supplied argument is not a valid stream resource in D:\Hosting\3410369\html\counter\includes\counterh.php on line 220

Warning: feof(): supplied argument is not a valid stream resource in D:\Hosting\3410369\html\counter\includes\counterh.php on line 218

Warning: fgets(): supplied argument is not a valid stream resource in D:\Hosting\3410369\html\counter\includes\counterh.php on line 220

Warning: feof(): supplied argument is not a valid stream resource in D:\Hosting\3410369\html\counter\includes\counterh.php on line 218

Warning: fgets(): supplied argument is not a valid stream resource in D:\Hosting\3410369\html\counter\includes\counterh.php on line 220

Warning: feof(): supplied argument is not a valid stream resource in D:\Hosting\3410369\html\counter\includes\counterh.php on line 218

Warning: fgets(): supplied argument is not a valid stream resource in D:\Hosting\3410369\html\counter\includes\counterh.php on line 220

Warning: feof(): supplied argument is not a valid stream resource in D:\Hosting\3410369\html\counter\includes\counterh.php on line 218

Warning: fgets(): supplied argument is not a valid stream resource in D:\Hosting\3410369\html\counter\includes\counterh.php on line 220

Warning: feof(): supplied argument is not a valid stream resource in D:\Hosting\3410369\html\counter\includes\counterh.php on line 218

Warning: fgets(): supplied argument is not a valid stream resource in D:\Hosting\3410369\html\counter\includes\counterh.php on line 220

Warning: feof(): supplied argument is not a valid stream resource in D:\Hosting\3410369\html\counter\includes\counterh.php on line 218

Warning: fgets(): supplied argument is not a valid stream resource in D:\Hosting\3410369\html\counter\includes\counterh.php on line 220

Warning: feof(): supplied argument is not a valid stream resource in D:\Hosting\3410369\html\counter\includes\counterh.php on line 218

Warning: fgets(): supplied argument is not a valid stream resource in D:\Hosting\3410369\html\counter\includes\counterh.php on line 220

Warning: feof(): supplied argument is not a valid stream resource in D:\Hosting\3410369\html\counter\includes\counterh.php on line 218

Warning: fgets(): supplied argument is not a valid stream resource in D:\Hosting\3410369\html\counter\includes\counterh.php on line 220

Warning: feof(): supplied argument is not a valid stream resource in D:\Hosting\3410369\html\counter\includes\counterh.php on line 218

Warning: fgets(): supplied argument is not a valid stream resource in D:\Hosting\3410369\html\counter\includes\counterh.php on line 220

Warning: feof(): supplied argument is not a valid stream resource in D:\Hosting\3410369\html\counter\includes\counterh.php on line 218

Warning: fgets(): supplied argument is not a valid stream resource in D:\Hosting\3410369\html\counter\includes\counterh.php on line 220

Warning: feof(): supplied argument is not a valid stream resource in D:\Hosting\3410369\html\counter\includes\counterh.php on line 218

Warning: fgets(): supplied argument is not a valid stream resource in D:\Hosting\3410369\html\counter\includes\counterh.php on line 220

Warning: feof(): supplied argument is not a valid stream resource in D:\Hosting\3410369\html\counter\includes\counterh.php on line 218

Warning: fgets(): supplied argument is not a valid stream resource in D:\Hosting\3410369\html\counter\includes\counterh.php on line 220

Warning: feof(): supplied argument is not a valid stream resource in D:\Hosting\3410369\html\counter\includes\counterh.php on line 218

Warning: fgets(): supplied argument is not a valid stream resource in D:\Hosting\3410369\html\counter\includes\counterh.php on line 220

Warning: feof(): supplied argument is not a valid stream resource in D:\Hosting\3410369\html\counter\includes\counterh.php on line 218

Warning: fgets(): supplied argument is not a valid stream resource in D:\Hosting\3410369\html\counter\includes\counterh.php on line 220

Warning: feof(): supplied argument is not a valid stream resource in D:\Hosting\3410369\html\counter\includes\counterh.php on line 218

Warning: fgets(): supplied argument is not a valid stream resource in D:\Hosting\3410369\html\counter\includes\counterh.php on line 220

Warning: feof(): supplied argument is not a valid stream resource in D:\Hosting\3410369\html\counter\includes\counterh.php on line 218

Warning: fgets(): supplied argument is not a valid stream resource in D:\Hosting\3410369\html\counter\includes\counterh.php on line 220

Warning: feof(): supplied argument is not a valid stream resource in D:\Hosting\3410369\html\counter\includes\counterh.php on line 218

Warning: fgets(): supplied argument is not a valid stream resource in D:\Hosting\3410369\html\counter\includes\counterh.php on line 220

Warning: feof(): supplied argument is not a valid stream resource in D:\Hosting\3410369\html\counter\includes\counterh.php on line 218

Warning: fgets(): supplied argument is not a valid stream resource in D:\Hosting\3410369\html\counter\includes\counterh.php on line 220

Warning: feof(): supplied argument is not a valid stream resource in D:\Hosting\3410369\html\counter\includes\counterh.php on line 218

Warning: fgets(): supplied argument is not a valid stream resource in D:\Hosting\3410369\html\counter\includes\counterh.php on line 220

Warning: feof(): supplied argument is not a valid stream resource in D:\Hosting\3410369\html\counter\includes\counterh.php on line 218

Warning: fgets(): supplied argument is not a valid stream resource in D:\Hosting\3410369\html\counter\includes\counterh.php on line 220

Warning: feof(): supplied argument is not a valid stream resource in D:\Hosting\3410369\html\counter\includes\counterh.php on line 218

Warning: fgets(): supplied argument is not a valid stream resource in D:\Hosting\3410369\html\counter\includes\counterh.php on line 220

Warning: feof(): supplied argument is not a valid stream resource in D:\Hosting\3410369\html\counter\includes\counterh.php on line 218

Warning: fgets(): supplied argument is not a valid stream resource in D:\Hosting\3410369\html\counter\includes\counterh.php on line 220

Warning: feof(): supplied argument is not a valid stream resource in D:\Hosting\3410369\html\counter\includes\counterh.php on line 218

Warning: fgets(): supplied argument is not a valid stream resource in D:\Hosting\3410369\html\counter\includes\counterh.php on line 220

Warning: feof(): supplied argument is not a valid stream resource in D:\Hosting\3410369\html\counter\includes\counterh.php on line 218

Warning: fgets(): supplied argument is not a valid stream resource in D:\Hosting\3410369\html\counter\includes\counterh.php on line 220

Warning: feof(): supplied argument is not a valid stream resource in D:\Hosting\3410369\html\counter\includes\counterh.php on line 218

Warning: fgets(): supplied argument is not a valid stream resource in D:\Hosting\3410369\html\counter\includes\counterh.php on line 220

Warning: feof(): supplied argument is not a valid stream resource in D:\Hosting\3410369\html\counter\includes\counterh.php on line 218

Warning: fgets(): supplied argument is not a valid stream resource in D:\Hosting\3410369\html\counter\includes\counterh.php on line 220

Warning: feof(): supplied argument is not a valid stream resource in D:\Hosting\3410369\html\counter\includes\counterh.php on line 218

Warning: fgets(): supplied argument is not a valid stream resource in D:\Hosting\3410369\html\counter\includes\counterh.php on line 220

Warning: feof(): supplied argument is not a valid stream resource in D:\Hosting\3410369\html\counter\includes\counterh.php on line 218

Warning: fgets(): supplied argument is not a valid stream resource in D:\Hosting\3410369\html\counter\includes\counterh.php on line 220

Warning: feof(): supplied argument is not a valid stream resource in D:\Hosting\3410369\html\counter\includes\counterh.php on line 218

Warning: fgets(): supplied argument is not a valid stream resource in D:\Hosting\3410369\html\counter\includes\counterh.php on line 220

Warning: feof(): supplied argument is not a valid stream resource in D:\Hosting\3410369\html\counter\includes\counterh.php on line 218

Warning: fgets(): supplied argument is not a valid stream resource in D:\Hosting\3410369\html\counter\includes\counterh.php on line 220

Warning: feof(): supplied argument is not a valid stream resource in D:\Hosting\3410369\html\counter\includes\counterh.php on line 218

Warning: fgets(): supplied argument is not a valid stream resource in D:\Hosting\3410369\html\counter\includes\counterh.php on line 220

Warning: feof(): supplied argument is not a valid stream resource in D:\Hosting\3410369\html\counter\includes\counterh.php on line 218

Warning: fgets(): supplied argument is not a valid stream resource in D:\Hosting\3410369\html\counter\includes\counterh.php on line 220

Warning: feof(): supplied argument is not a valid stream resource in D:\Hosting\3410369\html\counter\includes\counterh.php on line 218

Warning: fgets(): supplied argument is not a valid stream resource in D:\Hosting\3410369\html\counter\includes\counterh.php on line 220

Warning: feof(): supplied argument is not a valid stream resource in D:\Hosting\3410369\html\counter\includes\counterh.php on line 218

Warning: fgets(): supplied argument is not a valid stream resource in D:\Hosting\3410369\html\counter\includes\counterh.php on line 220

Warning: feof(): supplied argument is not a valid stream resource in D:\Hosting\3410369\html\counter\includes\counterh.php on line 218

Warning: fgets(): supplied argument is not a valid stream resource in D:\Hosting\3410369\html\counter\includes\counterh.php on line 220

Warning: feof(): supplied argument is not a valid stream resource in D:\Hosting\3410369\html\counter\includes\counterh.php on line 218

Warning: fgets(): supplied argument is not a valid stream resource in D:\Hosting\3410369\html\counter\includes\counterh.php on line 220

Warning: feof(): supplied argument is not a valid stream resource in D:\Hosting\3410369\html\counter\includes\counterh.php on line 218

Warning: fgets(): supplied argument is not a valid stream resource in D:\Hosting\3410369\html\counter\includes\counterh.php on line 220

Warning: feof(): supplied argument is not a valid stream resource in D:\Hosting\3410369\html\counter\includes\counterh.php on line 218

Warning: fgets(): supplied argument is not a valid stream resource in D:\Hosting\3410369\html\counter\includes\counterh.php on line 220

Warning: feof(): supplied argument is not a valid stream resource in D:\Hosting\3410369\html\counter\includes\counterh.php on line 218

Warning: fgets(): supplied argument is not a valid stream resource in D:\Hosting\3410369\html\counter\includes\counterh.php on line 220

Warning: feof(): supplied argument is not a valid stream resource in D:\Hosting\3410369\html\counter\includes\counterh.php on line 218

Warning: fgets(): supplied argument is not a valid stream resource in D:\Hosting\3410369\html\counter\includes\counterh.php on line 220

Warning: feof(): supplied argument is not a valid stream resource in D:\Hosting\3410369\html\counter\includes\counterh.php on line 218

Warning: fgets(): supplied argument is not a valid stream resource in D:\Hosting\3410369\html\counter\includes\counterh.php on line 220

Warning: feof(): supplied argument is not a valid stream resource in D:\Hosting\3410369\html\counter\includes\counterh.php on line 218

Warning: fgets(): supplied argument is not a valid stream resource in D:\Hosting\3410369\html\counter\includes\counterh.php on line 220

Warning: feof(): supplied argument is not a valid stream resource in D:\Hosting\3410369\html\counter\includes\counterh.php on line 218

Warning: fgets(): supplied argument is not a valid stream resource in D:\Hosting\3410369\html\counter\includes\counterh.php on line 220

Warning: feof(): supplied argument is not a valid stream resource in D:\Hosting\3410369\html\counter\includes\counterh.php on line 218

Warning: fgets(): supplied argument is not a valid stream resource in D:\Hosting\3410369\html\counter\includes\counterh.php on line 220

Warning: feof(): supplied argument is not a valid stream resource in D:\Hosting\3410369\html\counter\includes\counterh.php on line 218

Warning: fgets(): supplied argument is not a valid stream resource in D:\Hosting\3410369\html\counter\includes\counterh.php on line 220

Warning: feof(): supplied argument is not a valid stream resource in D:\Hosting\3410369\html\counter\includes\counterh.php on line 218

Warning: fgets(): supplied argument is not a valid stream resource in D:\Hosting\3410369\html\counter\includes\counterh.php on line 220

Warning: feof(): supplied argument is not a valid stream resource in D:\Hosting\3410369\html\counter\includes\counterh.php on line 218

Warning: fgets(): supplied argument is not a valid stream resource in D:\Hosting\3410369\html\counter\includes\counterh.php on line 220

Warning: feof(): supplied argument is not a valid stream resource in D:\Hosting\3410369\html\counter\includes\counterh.php on line 218

Warning: fgets(): supplied argument is not a valid stream resource in D:\Hosting\3410369\html\counter\includes\counterh.php on line 220

Warning: feof(): supplied argument is not a valid stream resource in D:\Hosting\3410369\html\counter\includes\counterh.php on line 218

Warning: fgets(): supplied argument is not a valid stream resource in D:\Hosting\3410369\html\counter\includes\counterh.php on line 220

Warning: feof(): supplied argument is not a valid stream resource in D:\Hosting\3410369\html\counter\includes\counterh.php on line 218

Warning: fgets(): supplied argument is not a valid stream resource in D:\Hosting\3410369\html\counter\includes\counterh.php on line 220

Warning: feof(): supplied argument is not a valid stream resource in D:\Hosting\3410369\html\counter\includes\counterh.php on line 218

Warning: fgets(): supplied argument is not a valid stream resource in D:\Hosting\3410369\html\counter\includes\counterh.php on line 220

Warning: feof(): supplied argument is not a valid stream resource in D:\Hosting\3410369\html\counter\includes\counterh.php on line 218

Warning: fgets(): supplied argument is not a valid stream resource in D:\Hosting\3410369\html\counter\includes\counterh.php on line 220

Warning: feof(): supplied argument is not a valid stream resource in D:\Hosting\3410369\html\counter\includes\counterh.php on line 218

Warning: fgets(): supplied argument is not a valid stream resource in D:\Hosting\3410369\html\counter\includes\counterh.php on line 220

Warning: feof(): supplied argument is not a valid stream resource in D:\Hosting\3410369\html\counter\includes\counterh.php on line 218

Warning: fgets(): supplied argument is not a valid stream resource in D:\Hosting\3410369\html\counter\includes\counterh.php on line 220

Warning: feof(): supplied argument is not a valid stream resource in D:\Hosting\3410369\html\counter\includes\counterh.php on line 218

Warning: fgets(): supplied argument is not a valid stream resource in D:\Hosting\3410369\html\counter\includes\counterh.php on line 220

Warning: feof(): supplied argument is not a valid stream resource in D:\Hosting\3410369\html\counter\includes\counterh.php on line 218

Warning: fgets(): supplied argument is not a valid stream resource in D:\Hosting\3410369\html\counter\includes\counterh.php on line 220

Warning: feof(): supplied argument is not a valid stream resource in D:\Hosting\3410369\html\counter\includes\counterh.php on line 218

Warning: fgets(): supplied argument is not a valid stream resource in D:\Hosting\3410369\html\counter\includes\counterh.php on line 220

Warning: feof(): supplied argument is not a valid stream resource in D:\Hosting\3410369\html\counter\includes\counterh.php on line 218

Warning: fgets(): supplied argument is not a valid stream resource in D:\Hosting\3410369\html\counter\includes\counterh.php on line 220

Warning: feof(): supplied argument is not a valid stream resource in D:\Hosting\3410369\html\counter\includes\counterh.php on line 218

Warning: fgets(): supplied argument is not a valid stream resource in D:\Hosting\3410369\html\counter\includes\counterh.php on line 220

Warning: feof(): supplied argument is not a valid stream resource in D:\Hosting\3410369\html\counter\includes\counterh.php on line 218

Warning: fgets(): supplied argument is not a valid stream resource in D:\Hosting\3410369\html\counter\includes\counterh.php on line 220

Warning: feof(): supplied argument is not a valid stream resource in D:\Hosting\3410369\html\counter\includes\counterh.php on line 218

Warning: fgets(): supplied argument is not a valid stream resource in D:\Hosting\3410369\html\counter\includes\counterh.php on line 220

Warning: feof(): supplied argument is not a valid stream resource in D:\Hosting\3410369\html\counter\includes\counterh.php on line 218

Warning: fgets(): supplied argument is not a valid stream resource in D:\Hosting\3410369\html\counter\includes\counterh.php on line 220

Warning: feof(): supplied argument is not a valid stream resource in D:\Hosting\3410369\html\counter\includes\counterh.php on line 218

Warning: fgets(): supplied argument is not a valid stream resource in D:\Hosting\3410369\html\counter\includes\counterh.php on line 220

Warning: feof(): supplied argument is not a valid stream resource in D:\Hosting\3410369\html\counter\includes\counterh.php on line 218

Warning: fgets(): supplied argument is not a valid stream resource in D:\Hosting\3410369\html\counter\includes\counterh.php on line 220

Warning: feof(): supplied argument is not a valid stream resource in D:\Hosting\3410369\html\counter\includes\counterh.php on line 218

Warning: fgets(): supplied argument is not a valid stream resource in D:\Hosting\3410369\html\counter\includes\counterh.php on line 220

Warning: feof(): supplied argument is not a valid stream resource in D:\Hosting\3410369\html\counter\includes\counterh.php on line 218

Warning: fgets(): supplied argument is not a valid stream resource in D:\Hosting\3410369\html\counter\includes\counterh.php on line 220

Warning: feof(): supplied argument is not a valid stream resource in D:\Hosting\3410369\html\counter\includes\counterh.php on line 218

Warning: fgets(): supplied argument is not a valid stream resource in D:\Hosting\3410369\html\counter\includes\counterh.php on line 220

Warning: feof(): supplied argument is not a valid stream resource in D:\Hosting\3410369\html\counter\includes\counterh.php on line 218

Warning: fgets(): supplied argument is not a valid stream resource in D:\Hosting\3410369\html\counter\includes\counterh.php on line 220

Warning: feof(): supplied argument is not a valid stream resource in D:\Hosting\3410369\html\counter\includes\counterh.php on line 218

Warning: fgets(): supplied argument is not a valid stream resource in D:\Hosting\3410369\html\counter\includes\counterh.php on line 220

Warning: feof(): supplied argument is not a valid stream resource in D:\Hosting\3410369\html\counter\includes\counterh.php on line 218

Warning: fgets(): supplied argument is not a valid stream resource in D:\Hosting\3410369\html\counter\includes\counterh.php on line 220

Warning: feof(): supplied argument is not a valid stream resource in D:\Hosting\3410369\html\counter\includes\counterh.php on line 218

Warning: fgets(): supplied argument is not a valid stream resource in D:\Hosting\3410369\html\counter\includes\counterh.php on line 220

Warning: feof(): supplied argument is not a valid stream resource in D:\Hosting\3410369\html\counter\includes\counterh.php on line 218

Warning: fgets(): supplied argument is not a valid stream resource in D:\Hosting\3410369\html\counter\includes\counterh.php on line 220

Warning: feof(): supplied argument is not a valid stream resource in D:\Hosting\3410369\html\counter\includes\counterh.php on line 218

Warning: fgets(): supplied argument is not a valid stream resource in D:\Hosting\3410369\html\counter\includes\counterh.php on line 220

Warning: feof(): supplied argument is not a valid stream resource in D:\Hosting\3410369\html\counter\includes\counterh.php on line 218

Warning: fgets(): supplied argument is not a valid stream resource in D:\Hosting\3410369\html\counter\includes\counterh.php on line 220

Warning: feof(): supplied argument is not a valid stream resource in D:\Hosting\3410369\html\counter\includes\counterh.php on line 218

Warning: fgets(): supplied argument is not a valid stream resource in D:\Hosting\3410369\html\counter\includes\counterh.php on line 220

Warning: feof(): supplied argument is not a valid stream resource in D:\Hosting\3410369\html\counter\includes\counterh.php on line 218

Warning: fgets(): supplied argument is not a valid stream resource in D:\Hosting\3410369\html\counter\includes\counterh.php on line 220

Warning: feof(): supplied argument is not a valid stream resource in D:\Hosting\3410369\html\counter\includes\counterh.php on line 218

Warning: fgets(): supplied argument is not a valid stream resource in D:\Hosting\3410369\html\counter\includes\counterh.php on line 220

Warning: feof(): supplied argument is not a valid stream resource in D:\Hosting\3410369\html\counter\includes\counterh.php on line 218

Warning: fgets(): supplied argument is not a valid stream resource in D:\Hosting\3410369\html\counter\includes\counterh.php on line 220

Warning: feof(): supplied argument is not a valid stream resource in D:\Hosting\3410369\html\counter\includes\counterh.php on line 218

Warning: fgets(): supplied argument is not a valid stream resource in D:\Hosting\3410369\html\counter\includes\counterh.php on line 220

Warning: feof(): supplied argument is not a valid stream resource in D:\Hosting\3410369\html\counter\includes\counterh.php on line 218

Warning: fgets(): supplied argument is not a valid stream resource in D:\Hosting\3410369\html\counter\includes\counterh.php on line 220

Warning: feof(): supplied argument is not a valid stream resource in D:\Hosting\3410369\html\counter\includes\counterh.php on line 218

Warning: fgets(): supplied argument is not a valid stream resource in D:\Hosting\3410369\html\counter\includes\counterh.php on line 220

Warning: feof(): supplied argument is not a valid stream resource in D:\Hosting\3410369\html\counter\includes\counterh.php on line 218

Warning: fgets(): supplied argument is not a valid stream resource in D:\Hosting\3410369\html\counter\includes\counterh.php on line 220

Warning: feof(): supplied argument is not a valid stream resource in D:\Hosting\3410369\html\counter\includes\counterh.php on line 218

Warning: fgets(): supplied argument is not a valid stream resource in D:\Hosting\3410369\html\counter\includes\counterh.php on line 220

Warning: feof(): supplied argument is not a valid stream resource in D:\Hosting\3410369\html\counter\includes\counterh.php on line 218

Warning: fgets(): supplied argument is not a valid stream resource in D:\Hosting\3410369\html\counter\includes\counterh.php on line 220

Warning: feof(): supplied argument is not a valid stream resource in D:\Hosting\3410369\html\counter\includes\counterh.php on line 218

Warning: fgets(): supplied argument is not a valid stream resource in D:\Hosting\3410369\html\counter\includes\counterh.php on line 220

Warning: feof(): supplied argument is not a valid stream resource in D:\Hosting\3410369\html\counter\includes\counterh.php on line 218

Warning: fgets(): supplied argument is not a valid stream resource in D:\Hosting\3410369\html\counter\includes\counterh.php on line 220

Warning: feof(): supplied argument is not a valid stream resource in D:\Hosting\3410369\html\counter\includes\counterh.php on line 218

Warning: fgets(): supplied argument is not a valid stream resource in D:\Hosting\3410369\html\counter\includes\counterh.php on line 220

Warning: feof(): supplied argument is not a valid stream resource in D:\Hosting\3410369\html\counter\includes\counterh.php on line 218

Warning: fgets(): supplied argument is not a valid stream resource in D:\Hosting\3410369\html\counter\includes\counterh.php on line 220

Warning: feof(): supplied argument is not a valid stream resource in D:\Hosting\3410369\html\counter\includes\counterh.php on line 218

Warning: fgets(): supplied argument is not a valid stream resource in D:\Hosting\3410369\html\counter\includes\counterh.php on line 220

Warning: feof(): supplied argument is not a valid stream resource in D:\Hosting\3410369\html\counter\includes\counterh.php on line 218

Warning: fgets(): supplied argument is not a valid stream resource in D:\Hosting\3410369\html\counter\includes\counterh.php on line 220

Warning: feof(): supplied argument is not a valid stream resource in D:\Hosting\3410369\html\counter\includes\counterh.php on line 218

Warning: fgets(): supplied argument is not a valid stream resource in D:\Hosting\3410369\html\counter\includes\counterh.php on line 220

Warning: feof(): supplied argument is not a valid stream resource in D:\Hosting\3410369\html\counter\includes\counterh.php on line 218

Warning: fgets(): supplied argument is not a valid stream resource in D:\Hosting\3410369\html\counter\includes\counterh.php on line 220

Warning: feof(): supplied argument is not a valid stream resource in D:\Hosting\3410369\html\counter\includes\counterh.php on line 218

Warning: fgets(): supplied argument is not a valid stream resource in D:\Hosting\3410369\html\counter\includes\counterh.php on line 220

Warning: feof(): supplied argument is not a valid stream resource in D:\Hosting\3410369\html\counter\includes\counterh.php on line 218

Warning: fgets(): supplied argument is not a valid stream resource in D:\Hosting\3410369\html\counter\includes\counterh.php on line 220

Warning: feof(): supplied argument is not a valid stream resource in D:\Hosting\3410369\html\counter\includes\counterh.php on line 218

Warning: fgets(): supplied argument is not a valid stream resource in D:\Hosting\3410369\html\counter\includes\counterh.php on line 220

Warning: feof(): supplied argument is not a valid stream resource in D:\Hosting\3410369\html\counter\includes\counterh.php on line 218

Warning: fgets(): supplied argument is not a valid stream resource in D:\Hosting\3410369\html\counter\includes\counterh.php on line 220

Warning: feof(): supplied argument is not a valid stream resource in D:\Hosting\3410369\html\counter\includes\counterh.php on line 218

Warning: fgets(): supplied argument is not a valid stream resource in D:\Hosting\3410369\html\counter\includes\counterh.php on line 220

Warning: feof(): supplied argument is not a valid stream resource in D:\Hosting\3410369\html\counter\includes\counterh.php on line 218

Warning: fgets(): supplied argument is not a valid stream resource in D:\Hosting\3410369\html\counter\includes\counterh.php on line 220

Warning: feof(): supplied argument is not a valid stream resource in D:\Hosting\3410369\html\counter\includes\counterh.php on line 218

Warning: fgets(): supplied argument is not a valid stream resource in D:\Hosting\3410369\html\counter\includes\counterh.php on line 220

Warning: feof(): supplied argument is not a valid stream resource in D:\Hosting\3410369\html\counter\includes\counterh.php on line 218

Warning: fgets(): supplied argument is not a valid stream resource in D:\Hosting\3410369\html\counter\includes\counterh.php on line 220

Warning: feof(): supplied argument is not a valid stream resource in D:\Hosting\3410369\html\counter\includes\counterh.php on line 218

Warning: fgets(): supplied argument is not a valid stream resource in D:\Hosting\3410369\html\counter\includes\counterh.php on line 220

Warning: feof(): supplied argument is not a valid stream resource in D:\Hosting\3410369\html\counter\includes\counterh.php on line 218

Warning: fgets(): supplied argument is not a valid stream resource in D:\Hosting\3410369\html\counter\includes\counterh.php on line 220

Warning: feof(): supplied argument is not a valid stream resource in D:\Hosting\3410369\html\counter\includes\counterh.php on line 218

Warning: fgets(): supplied argument is not a valid stream resource in D:\Hosting\3410369\html\counter\includes\counterh.php on line 220

Warning: feof(): supplied argument is not a valid stream resource in D:\Hosting\3410369\html\counter\includes\counterh.php on line 218

Warning: fgets(): supplied argument is not a valid stream resource in D:\Hosting\3410369\html\counter\includes\counterh.php on line 220

Warning: feof(): supplied argument is not a valid stream resource in D:\Hosting\3410369\html\counter\includes\counterh.php on line 218

Warning: fgets(): supplied argument is not a valid stream resource in D:\Hosting\3410369\html\counter\includes\counterh.php on line 220

Warning: feof(): supplied argument is not a valid stream resource in D:\Hosting\3410369\html\counter\includes\counterh.php on line 218

Warning: fgets(): supplied argument is not a valid stream resource in D:\Hosting\3410369\html\counter\includes\counterh.php on line 220

Warning: feof(): supplied argument is not a valid stream resource in D:\Hosting\3410369\html\counter\includes\counterh.php on line 218

Warning: fgets(): supplied argument is not a valid stream resource in D:\Hosting\3410369\html\counter\includes\counterh.php on line 220

Warning: feof(): supplied argument is not a valid stream resource in D:\Hosting\3410369\html\counter\includes\counterh.php on line 218

Warning: fgets(): supplied argument is not a valid stream resource in D:\Hosting\3410369\html\counter\includes\counterh.php on line 220

Warning: feof(): supplied argument is not a valid stream resource in D:\Hosting\3410369\html\counter\includes\counterh.php on line 218

Warning: fgets(): supplied argument is not a valid stream resource in D:\Hosting\3410369\html\counter\includes\counterh.php on line 220

Warning: feof(): supplied argument is not a valid stream resource in D:\Hosting\3410369\html\counter\includes\counterh.php on line 218

Warning: fgets(): supplied argument is not a valid stream resource in D:\Hosting\3410369\html\counter\includes\counterh.php on line 220

Warning: feof(): supplied argument is not a valid stream resource in D:\Hosting\3410369\html\counter\includes\counterh.php on line 218

Warning: fgets(): supplied argument is not a valid stream resource in D:\Hosting\3410369\html\counter\includes\counterh.php on line 220

Warning: feof(): supplied argument is not a valid stream resource in D:\Hosting\3410369\html\counter\includes\counterh.php on line 218

Warning: fgets(): supplied argument is not a valid stream resource in D:\Hosting\3410369\html\counter\includes\counterh.php on line 220

Warning: feof(): supplied argument is not a valid stream resource in D:\Hosting\3410369\html\counter\includes\counterh.php on line 218

Warning: fgets(): supplied argument is not a valid stream resource in D:\Hosting\3410369\html\counter\includes\counterh.php on line 220

Warning: feof(): supplied argument is not a valid stream resource in D:\Hosting\3410369\html\counter\includes\counterh.php on line 218

Warning: fgets(): supplied argument is not a valid stream resource in D:\Hosting\3410369\html\counter\includes\counterh.php on line 220

Warning: feof(): supplied argument is not a valid stream resource in D:\Hosting\3410369\html\counter\includes\counterh.php on line 218

Warning: fgets(): supplied argument is not a valid stream resource in D:\Hosting\3410369\html\counter\includes\counterh.php on line 220

Warning: feof(): supplied argument is not a valid stream resource in D:\Hosting\3410369\html\counter\includes\counterh.php on line 218

Warning: fgets(): supplied argument is not a valid stream resource in D:\Hosting\3410369\html\counter\includes\counterh.php on line 220

Warning: feof(): supplied argument is not a valid stream resource in D:\Hosting\3410369\html\counter\includes\counterh.php on line 218

Warning: fgets(): supplied argument is not a valid stream resource in D:\Hosting\3410369\html\counter\includes\counterh.php on line 220

Warning: feof(): supplied argument is not a valid stream resource in D:\Hosting\3410369\html\counter\includes\counterh.php on line 218

Warning: fgets(): supplied argument is not a valid stream resource in D:\Hosting\3410369\html\counter\includes\counterh.php on line 220

Warning: feof(): supplied argument is not a valid stream resource in D:\Hosting\3410369\html\counter\includes\counterh.php on line 218

Warning: fgets(): supplied argument is not a valid stream resource in D:\Hosting\3410369\html\counter\includes\counterh.php on line 220

Warning: feof(): supplied argument is not a valid stream resource in D:\Hosting\3410369\html\counter\includes\counterh.php on line 218

Warning: fgets(): supplied argument is not a valid stream resource in D:\Hosting\3410369\html\counter\includes\counterh.php on line 220

Warning: feof(): supplied argument is not a valid stream resource in D:\Hosting\3410369\html\counter\includes\counterh.php on line 218

Warning: fgets(): supplied argument is not a valid stream resource in D:\Hosting\3410369\html\counter\includes\counterh.php on line 220

Warning: feof(): supplied argument is not a valid stream resource in D:\Hosting\3410369\html\counter\includes\counterh.php on line 218

Warning: fgets(): supplied argument is not a valid stream resource in D:\Hosting\3410369\html\counter\includes\counterh.php on line 220

Warning: feof(): supplied argument is not a valid stream resource in D:\Hosting\3410369\html\counter\includes\counterh.php on line 218

Warning: fgets(): supplied argument is not a valid stream resource in D:\Hosting\3410369\html\counter\includes\counterh.php on line 220

Warning: feof(): supplied argument is not a valid stream resource in D:\Hosting\3410369\html\counter\includes\counterh.php on line 218

Warning: fgets(): supplied argument is not a valid stream resource in D:\Hosting\3410369\html\counter\includes\counterh.php on line 220

Warning: feof(): supplied argument is not a valid stream resource in D:\Hosting\3410369\html\counter\includes\counterh.php on line 218

Warning: fgets(): supplied argument is not a valid stream resource in D:\Hosting\3410369\html\counter\includes\counterh.php on line 220

Warning: feof(): supplied argument is not a valid stream resource in D:\Hosting\3410369\html\counter\includes\counterh.php on line 218

Warning: fgets(): supplied argument is not a valid stream resource in D:\Hosting\3410369\html\counter\includes\counterh.php on line 220

Warning: feof(): supplied argument is not a valid stream resource in D:\Hosting\3410369\html\counter\includes\counterh.php on line 218

Warning: fgets(): supplied argument is not a valid stream resource in D:\Hosting\3410369\html\counter\includes\counterh.php on line 220

Warning: feof(): supplied argument is not a valid stream resource in D:\Hosting\3410369\html\counter\includes\counterh.php on line 218

Warning: fgets(): supplied argument is not a valid stream resource in D:\Hosting\3410369\html\counter\includes\counterh.php on line 220

Warning: feof(): supplied argument is not a valid stream resource in D:\Hosting\3410369\html\counter\includes\counterh.php on line 218

Warning: fgets(): supplied argument is not a valid stream resource in D:\Hosting\3410369\html\counter\includes\counterh.php on line 220

Warning: feof(): supplied argument is not a valid stream resource in D:\Hosting\3410369\html\counter\includes\counterh.php on line 218

Warning: fgets(): supplied argument is not a valid stream resource in D:\Hosting\3410369\html\counter\includes\counterh.php on line 220

Warning: feof(): supplied argument is not a valid stream resource in D:\Hosting\3410369\html\counter\includes\counterh.php on line 218

Warning: fgets(): supplied argument is not a valid stream resource in D:\Hosting\3410369\html\counter\includes\counterh.php on line 220

Warning: feof(): supplied argument is not a valid stream resource in D:\Hosting\3410369\html\counter\includes\counterh.php on line 218

Warning: fgets(): supplied argument is not a valid stream resource in D:\Hosting\3410369\html\counter\includes\counterh.php on line 220

Warning: feof(): supplied argument is not a valid stream resource in D:\Hosting\3410369\html\counter\includes\counterh.php on line 218

Warning: fgets(): supplied argument is not a valid stream resource in D:\Hosting\3410369\html\counter\includes\counterh.php on line 220

Warning: feof(): supplied argument is not a valid stream resource in D:\Hosting\3410369\html\counter\includes\counterh.php on line 218

Warning: fgets(): supplied argument is not a valid stream resource in D:\Hosting\3410369\html\counter\includes\counterh.php on line 220

Warning: feof(): supplied argument is not a valid stream resource in D:\Hosting\3410369\html\counter\includes\counterh.php on line 218

Warning: fgets(): supplied argument is not a valid stream resource in D:\Hosting\3410369\html\counter\includes\counterh.php on line 220

Warning: feof(): supplied argument is not a valid stream resource in D:\Hosting\3410369\html\counter\includes\counterh.php on line 218

Warning: fgets(): supplied argument is not a valid stream resource in D:\Hosting\3410369\html\counter\includes\counterh.php on line 220

Warning: feof(): supplied argument is not a valid stream resource in D:\Hosting\3410369\html\counter\includes\counterh.php on line 218

Warning: fgets(): supplied argument is not a valid stream resource in D:\Hosting\3410369\html\counter\includes\counterh.php on line 220

Warning: feof(): supplied argument is not a valid stream resource in D:\Hosting\3410369\html\counter\includes\counterh.php on line 218

Warning: fgets(): supplied argument is not a valid stream resource in D:\Hosting\3410369\html\counter\includes\counterh.php on line 220

Warning: feof(): supplied argument is not a valid stream resource in D:\Hosting\3410369\html\counter\includes\counterh.php on line 218

Warning: fgets(): supplied argument is not a valid stream resource in D:\Hosting\3410369\html\counter\includes\counterh.php on line 220

Warning: feof(): supplied argument is not a valid stream resource in D:\Hosting\3410369\html\counter\includes\counterh.php on line 218

Warning: fgets(): supplied argument is not a valid stream resource in D:\Hosting\3410369\html\counter\includes\counterh.php on line 220

Warning: feof(): supplied argument is not a valid stream resource in D:\Hosting\3410369\html\counter\includes\counterh.php on line 218

Warning: fgets(): supplied argument is not a valid stream resource in D:\Hosting\3410369\html\counter\includes\counterh.php on line 220

Warning: feof(): supplied argument is not a valid stream resource in D:\Hosting\3410369\html\counter\includes\counterh.php on line 218

Warning: fgets(): supplied argument is not a valid stream resource in D:\Hosting\3410369\html\counter\includes\counterh.php on line 220

Warning: feof(): supplied argument is not a valid stream resource in D:\Hosting\3410369\html\counter\includes\counterh.php on line 218

Warning: fgets(): supplied argument is not a valid stream resource in D:\Hosting\3410369\html\counter\includes\counterh.php on line 220

Warning: feof(): supplied argument is not a valid stream resource in D:\Hosting\3410369\html\counter\includes\counterh.php on line 218

Warning: fgets(): supplied argument is not a valid stream resource in D:\Hosting\3410369\html\counter\includes\counterh.php on line 220

Warning: feof(): supplied argument is not a valid stream resource in D:\Hosting\3410369\html\counter\includes\counterh.php on line 218

Warning: fgets(): supplied argument is not a valid stream resource in D:\Hosting\3410369\html\counter\includes\counterh.php on line 220

Warning: feof(): supplied argument is not a valid stream resource in D:\Hosting\3410369\html\counter\includes\counterh.php on line 218

Warning: fgets(): supplied argument is not a valid stream resource in D:\Hosting\3410369\html\counter\includes\counterh.php on line 220

Warning: feof(): supplied argument is not a valid stream resource in D:\Hosting\3410369\html\counter\includes\counterh.php on line 218

Warning: fgets(): supplied argument is not a valid stream resource in D:\Hosting\3410369\html\counter\includes\counterh.php on line 220

Warning: feof(): supplied argument is not a valid stream resource in D:\Hosting\3410369\html\counter\includes\counterh.php on line 218

Warning: fgets(): supplied argument is not a valid stream resource in D:\Hosting\3410369\html\counter\includes\counterh.php on line 220

Warning: feof(): supplied argument is not a valid stream resource in D:\Hosting\3410369\html\counter\includes\counterh.php on line 218

Warning: fgets(): supplied argument is not a valid stream resource in D:\Hosting\3410369\html\counter\includes\counterh.php on line 220

Warning: feof(): supplied argument is not a valid stream resource in D:\Hosting\3410369\html\counter\includes\counterh.php on line 218

Warning: fgets(): supplied argument is not a valid stream resource in D:\Hosting\3410369\html\counter\includes\counterh.php on line 220

Warning: feof(): supplied argument is not a valid stream resource in D:\Hosting\3410369\html\counter\includes\counterh.php on line 218

Warning: fgets(): supplied argument is not a valid stream resource in D:\Hosting\3410369\html\counter\includes\counterh.php on line 220

Warning: feof(): supplied argument is not a valid stream resource in D:\Hosting\3410369\html\counter\includes\counterh.php on line 218

Warning: fgets(): supplied argument is not a valid stream resource in D:\Hosting\3410369\html\counter\includes\counterh.php on line 220

Warning: feof(): supplied argument is not a valid stream resource in D:\Hosting\3410369\html\counter\includes\counterh.php on line 218

Warning: fgets(): supplied argument is not a valid stream resource in D:\Hosting\3410369\html\counter\includes\counterh.php on line 220

Warning: feof(): supplied argument is not a valid stream resource in D:\Hosting\3410369\html\counter\includes\counterh.php on line 218

Warning: fgets(): supplied argument is not a valid stream resource in D:\Hosting\3410369\html\counter\includes\counterh.php on line 220

Warning: feof(): supplied argument is not a valid stream resource in D:\Hosting\3410369\html\counter\includes\counterh.php on line 218

Warning: fgets(): supplied argument is not a valid stream resource in D:\Hosting\3410369\html\counter\includes\counterh.php on line 220

Warning: feof(): supplied argument is not a valid stream resource in D:\Hosting\3410369\html\counter\includes\counterh.php on line 218

Warning: fgets(): supplied argument is not a valid stream resource in D:\Hosting\3410369\html\counter\includes\counterh.php on line 220

Warning: feof(): supplied argument is not a valid stream resource in D:\Hosting\3410369\html\counter\includes\counterh.php on line 218

Warning: fgets(): supplied argument is not a valid stream resource in D:\Hosting\3410369\html\counter\includes\counterh.php on line 220

Warning: feof(): supplied argument is not a valid stream resource in D:\Hosting\3410369\html\counter\includes\counterh.php on line 218

Warning: fgets(): supplied argument is not a valid stream resource in D:\Hosting\3410369\html\counter\includes\counterh.php on line 220

Warning: feof(): supplied argument is not a valid stream resource in D:\Hosting\3410369\html\counter\includes\counterh.php on line 218

Warning: fgets(): supplied argument is not a valid stream resource in D:\Hosting\3410369\html\counter\includes\counterh.php on line 220

Warning: feof(): supplied argument is not a valid stream resource in D:\Hosting\3410369\html\counter\includes\counterh.php on line 218

Warning: fgets(): supplied argument is not a valid stream resource in D:\Hosting\3410369\html\counter\includes\counterh.php on line 220

Warning: feof(): supplied argument is not a valid stream resource in D:\Hosting\3410369\html\counter\includes\counterh.php on line 218

Warning: fgets(): supplied argument is not a valid stream resource in D:\Hosting\3410369\html\counter\includes\counterh.php on line 220

Warning: feof(): supplied argument is not a valid stream resource in D:\Hosting\3410369\html\counter\includes\counterh.php on line 218

Warning: fgets(): supplied argument is not a valid stream resource in D:\Hosting\3410369\html\counter\includes\counterh.php on line 220

Warning: feof(): supplied argument is not a valid stream resource in D:\Hosting\3410369\html\counter\includes\counterh.php on line 218

Warning: fgets(): supplied argument is not a valid stream resource in D:\Hosting\3410369\html\counter\includes\counterh.php on line 220

Warning: feof(): supplied argument is not a valid stream resource in D:\Hosting\3410369\html\counter\includes\counterh.php on line 218

Warning: fgets(): supplied argument is not a valid stream resource in D:\Hosting\3410369\html\counter\includes\counterh.php on line 220

Warning: feof(): supplied argument is not a valid stream resource in D:\Hosting\3410369\html\counter\includes\counterh.php on line 218

Warning: fgets(): supplied argument is not a valid stream resource in D:\Hosting\3410369\html\counter\includes\counterh.php on line 220

Warning: feof(): supplied argument is not a valid stream resource in D:\Hosting\3410369\html\counter\includes\counterh.php on line 218

Warning: fgets(): supplied argument is not a valid stream resource in D:\Hosting\3410369\html\counter\includes\counterh.php on line 220

Warning: feof(): supplied argument is not a valid stream resource in D:\Hosting\3410369\html\counter\includes\counterh.php on line 218

Warning: fgets(): supplied argument is not a valid stream resource in D:\Hosting\3410369\html\counter\includes\counterh.php on line 220

Warning: feof(): supplied argument is not a valid stream resource in D:\Hosting\3410369\html\counter\includes\counterh.php on line 218

Warning: fgets(): supplied argument is not a valid stream resource in D:\Hosting\3410369\html\counter\includes\counterh.php on line 220

Warning: feof(): supplied argument is not a valid stream resource in D:\Hosting\3410369\html\counter\includes\counterh.php on line 218

Warning: fgets(): supplied argument is not a valid stream resource in D:\Hosting\3410369\html\counter\includes\counterh.php on line 220

Warning: feof(): supplied argument is not a valid stream resource in D:\Hosting\3410369\html\counter\includes\counterh.php on line 218

Warning: fgets(): supplied argument is not a valid stream resource in D:\Hosting\3410369\html\counter\includes\counterh.php on line 220

Warning: feof(): supplied argument is not a valid stream resource in D:\Hosting\3410369\html\counter\includes\counterh.php on line 218

Warning: fgets(): supplied argument is not a valid stream resource in D:\Hosting\3410369\html\counter\includes\counterh.php on line 220

Warning: feof(): supplied argument is not a valid stream resource in D:\Hosting\3410369\html\counter\includes\counterh.php on line 218

Warning: fgets(): supplied argument is not a valid stream resource in D:\Hosting\3410369\html\counter\includes\counterh.php on line 220

Warning: feof(): supplied argument is not a valid stream resource in D:\Hosting\3410369\html\counter\includes\counterh.php on line 218

Warning: fgets(): supplied argument is not a valid stream resource in D:\Hosting\3410369\html\counter\includes\counterh.php on line 220

Warning: feof(): supplied argument is not a valid stream resource in D:\Hosting\3410369\html\counter\includes\counterh.php on line 218

Warning: fgets(): supplied argument is not a valid stream resource in D:\Hosting\3410369\html\counter\includes\counterh.php on line 220

Warning: feof(): supplied argument is not a valid stream resource in D:\Hosting\3410369\html\counter\includes\counterh.php on line 218

Warning: fgets(): supplied argument is not a valid stream resource in D:\Hosting\3410369\html\counter\includes\counterh.php on line 220

Warning: feof(): supplied argument is not a valid stream resource in D:\Hosting\3410369\html\counter\includes\counterh.php on line 218

Warning: fgets(): supplied argument is not a valid stream resource in D:\Hosting\3410369\html\counter\includes\counterh.php on line 220

Warning: feof(): supplied argument is not a valid stream resource in D:\Hosting\3410369\html\counter\includes\counterh.php on line 218

Warning: fgets(): supplied argument is not a valid stream resource in D:\Hosting\3410369\html\counter\includes\counterh.php on line 220

Warning: feof(): supplied argument is not a valid stream resource in D:\Hosting\3410369\html\counter\includes\counterh.php on line 218

Warning: fgets(): supplied argument is not a valid stream resource in D:\Hosting\3410369\html\counter\includes\counterh.php on line 220

Warning: feof(): supplied argument is not a valid stream resource in D:\Hosting\3410369\html\counter\includes\counterh.php on line 218

Warning: fgets(): supplied argument is not a valid stream resource in D:\Hosting\3410369\html\counter\includes\counterh.php on line 220

Warning: feof(): supplied argument is not a valid stream resource in D:\Hosting\3410369\html\counter\includes\counterh.php on line 218

Warning: fgets(): supplied argument is not a valid stream resource in D:\Hosting\3410369\html\counter\includes\counterh.php on line 220

Warning: feof(): supplied argument is not a valid stream resource in D:\Hosting\3410369\html\counter\includes\counterh.php on line 218

Warning: fgets(): supplied argument is not a valid stream resource in D:\Hosting\3410369\html\counter\includes\counterh.php on line 220

Warning: feof(): supplied argument is not a valid stream resource in D:\Hosting\3410369\html\counter\includes\counterh.php on line 218

Warning: fgets(): supplied argument is not a valid stream resource in D:\Hosting\3410369\html\counter\includes\counterh.php on line 220

Warning: feof(): supplied argument is not a valid stream resource in D:\Hosting\3410369\html\counter\includes\counterh.php on line 218

Warning: fgets(): supplied argument is not a valid stream resource in D:\Hosting\3410369\html\counter\includes\counterh.php on line 220

Warning: feof(): supplied argument is not a valid stream resource in D:\Hosting\3410369\html\counter\includes\counterh.php on line 218

Warning: fgets(): supplied argument is not a valid stream resource in D:\Hosting\3410369\html\counter\includes\counterh.php on line 220

Warning: feof(): supplied argument is not a valid stream resource in D:\Hosting\3410369\html\counter\includes\counterh.php on line 218

Warning: fgets(): supplied argument is not a valid stream resource in D:\Hosting\3410369\html\counter\includes\counterh.php on line 220

Warning: feof(): supplied argument is not a valid stream resource in D:\Hosting\3410369\html\counter\includes\counterh.php on line 218

Warning: fgets(): supplied argument is not a valid stream resource in D:\Hosting\3410369\html\counter\includes\counterh.php on line 220

Warning: feof(): supplied argument is not a valid stream resource in D:\Hosting\3410369\html\counter\includes\counterh.php on line 218

Warning: fgets(): supplied argument is not a valid stream resource in D:\Hosting\3410369\html\counter\includes\counterh.php on line 220

Warning: feof(): supplied argument is not a valid stream resource in D:\Hosting\3410369\html\counter\includes\counterh.php on line 218

Warning: fgets(): supplied argument is not a valid stream resource in D:\Hosting\3410369\html\counter\includes\counterh.php on line 220

Warning: feof(): supplied argument is not a valid stream resource in D:\Hosting\3410369\html\counter\includes\counterh.php on line 218

Warning: fgets(): supplied argument is not a valid stream resource in D:\Hosting\3410369\html\counter\includes\counterh.php on line 220

Warning: feof(): supplied argument is not a valid stream resource in D:\Hosting\3410369\html\counter\includes\counterh.php on line 218

Warning: fgets(): supplied argument is not a valid stream resource in D:\Hosting\3410369\html\counter\includes\counterh.php on line 220

Warning: feof(): supplied argument is not a valid stream resource in D:\Hosting\3410369\html\counter\includes\counterh.php on line 218

Warning: fgets(): supplied argument is not a valid stream resource in D:\Hosting\3410369\html\counter\includes\counterh.php on line 220

Warning: feof(): supplied argument is not a valid stream resource in D:\Hosting\3410369\html\counter\includes\counterh.php on line 218

Warning: fgets(): supplied argument is not a valid stream resource in D:\Hosting\3410369\html\counter\includes\counterh.php on line 220

Warning: feof(): supplied argument is not a valid stream resource in D:\Hosting\3410369\html\counter\includes\counterh.php on line 218

Warning: fgets(): supplied argument is not a valid stream resource in D:\Hosting\3410369\html\counter\includes\counterh.php on line 220

Warning: feof(): supplied argument is not a valid stream resource in D:\Hosting\3410369\html\counter\includes\counterh.php on line 218

Warning: fgets(): supplied argument is not a valid stream resource in D:\Hosting\3410369\html\counter\includes\counterh.php on line 220

Warning: feof(): supplied argument is not a valid stream resource in D:\Hosting\3410369\html\counter\includes\counterh.php on line 218

Warning: fgets(): supplied argument is not a valid stream resource in D:\Hosting\3410369\html\counter\includes\counterh.php on line 220

Warning: feof(): supplied argument is not a valid stream resource in D:\Hosting\3410369\html\counter\includes\counterh.php on line 218

Warning: fgets(): supplied argument is not a valid stream resource in D:\Hosting\3410369\html\counter\includes\counterh.php on line 220

Warning: feof(): supplied argument is not a valid stream resource in D:\Hosting\3410369\html\counter\includes\counterh.php on line 218

Warning: fgets(): supplied argument is not a valid stream resource in D:\Hosting\3410369\html\counter\includes\counterh.php on line 220

Warning: feof(): supplied argument is not a valid stream resource in D:\Hosting\3410369\html\counter\includes\counterh.php on line 218

Warning: fgets(): supplied argument is not a valid stream resource in D:\Hosting\3410369\html\counter\includes\counterh.php on line 220

Warning: feof(): supplied argument is not a valid stream resource in D:\Hosting\3410369\html\counter\includes\counterh.php on line 218

Warning: fgets(): supplied argument is not a valid stream resource in D:\Hosting\3410369\html\counter\includes\counterh.php on line 220

Warning: feof(): supplied argument is not a valid stream resource in D:\Hosting\3410369\html\counter\includes\counterh.php on line 218

Warning: fgets(): supplied argument is not a valid stream resource in D:\Hosting\3410369\html\counter\includes\counterh.php on line 220

Warning: feof(): supplied argument is not a valid stream resource in D:\Hosting\3410369\html\counter\includes\counterh.php on line 218

Warning: fgets(): supplied argument is not a valid stream resource in D:\Hosting\3410369\html\counter\includes\counterh.php on line 220

Warning: feof(): supplied argument is not a valid stream resource in D:\Hosting\3410369\html\counter\includes\counterh.php on line 218

Warning: fgets(): supplied argument is not a valid stream resource in D:\Hosting\3410369\html\counter\includes\counterh.php on line 220

Warning: feof(): supplied argument is not a valid stream resource in D:\Hosting\3410369\html\counter\includes\counterh.php on line 218

Warning: fgets(): supplied argument is not a valid stream resource in D:\Hosting\3410369\html\counter\includes\counterh.php on line 220

Warning: feof(): supplied argument is not a valid stream resource in D:\Hosting\3410369\html\counter\includes\counterh.php on line 218

Warning: fgets(): supplied argument is not a valid stream resource in D:\Hosting\3410369\html\counter\includes\counterh.php on line 220

Warning: feof(): supplied argument is not a valid stream resource in D:\Hosting\3410369\html\counter\includes\counterh.php on line 218

Warning: fgets(): supplied argument is not a valid stream resource in D:\Hosting\3410369\html\counter\includes\counterh.php on line 220

Warning: feof(): supplied argument is not a valid stream resource in D:\Hosting\3410369\html\counter\includes\counterh.php on line 218

Warning: fgets(): supplied argument is not a valid stream resource in D:\Hosting\3410369\html\counter\includes\counterh.php on line 220

Warning: feof(): supplied argument is not a valid stream resource in D:\Hosting\3410369\html\counter\includes\counterh.php on line 218

Warning: fgets(): supplied argument is not a valid stream resource in D:\Hosting\3410369\html\counter\includes\counterh.php on line 220

Warning: feof(): supplied argument is not a valid stream resource in D:\Hosting\3410369\html\counter\includes\counterh.php on line 218

Warning: fgets(): supplied argument is not a valid stream resource in D:\Hosting\3410369\html\counter\includes\counterh.php on line 220

Warning: feof(): supplied argument is not a valid stream resource in D:\Hosting\3410369\html\counter\includes\counterh.php on line 218

Warning: fgets(): supplied argument is not a valid stream resource in D:\Hosting\3410369\html\counter\includes\counterh.php on line 220

Warning: feof(): supplied argument is not a valid stream resource in D:\Hosting\3410369\html\counter\includes\counterh.php on line 218

Warning: fgets(): supplied argument is not a valid stream resource in D:\Hosting\3410369\html\counter\includes\counterh.php on line 220

Warning: feof(): supplied argument is not a valid stream resource in D:\Hosting\3410369\html\counter\includes\counterh.php on line 218

Warning: fgets(): supplied argument is not a valid stream resource in D:\Hosting\3410369\html\counter\includes\counterh.php on line 220

Warning: feof(): supplied argument is not a valid stream resource in D:\Hosting\3410369\html\counter\includes\counterh.php on line 218

Warning: fgets(): supplied argument is not a valid stream resource in D:\Hosting\3410369\html\counter\includes\counterh.php on line 220

Warning: feof(): supplied argument is not a valid stream resource in D:\Hosting\3410369\html\counter\includes\counterh.php on line 218

Warning: fgets(): supplied argument is not a valid stream resource in D:\Hosting\3410369\html\counter\includes\counterh.php on line 220

Warning: feof(): supplied argument is not a valid stream resource in D:\Hosting\3410369\html\counter\includes\counterh.php on line 218

Warning: fgets(): supplied argument is not a valid stream resource in D:\Hosting\3410369\html\counter\includes\counterh.php on line 220

Warning: feof(): supplied argument is not a valid stream resource in D:\Hosting\3410369\html\counter\includes\counterh.php on line 218

Warning: fgets(): supplied argument is not a valid stream resource in D:\Hosting\3410369\html\counter\includes\counterh.php on line 220

Warning: feof(): supplied argument is not a valid stream resource in D:\Hosting\3410369\html\counter\includes\counterh.php on line 218

Warning: fgets(): supplied argument is not a valid stream resource in D:\Hosting\3410369\html\counter\includes\counterh.php on line 220

Warning: feof(): supplied argument is not a valid stream resource in D:\Hosting\3410369\html\counter\includes\counterh.php on line 218

Warning: fgets(): supplied argument is not a valid stream resource in D:\Hosting\3410369\html\counter\includes\counterh.php on line 220

Warning: feof(): supplied argument is not a valid stream resource in D:\Hosting\3410369\html\counter\includes\counterh.php on line 218

Warning: fgets(): supplied argument is not a valid stream resource in D:\Hosting\3410369\html\counter\includes\counterh.php on line 220

Warning: feof(): supplied argument is not a valid stream resource in D:\Hosting\3410369\html\counter\includes\counterh.php on line 218

Warning: fgets(): supplied argument is not a valid stream resource in D:\Hosting\3410369\html\counter\includes\counterh.php on line 220

Warning: feof(): supplied argument is not a valid stream resource in D:\Hosting\3410369\html\counter\includes\counterh.php on line 218

Warning: fgets(): supplied argument is not a valid stream resource in D:\Hosting\3410369\html\counter\includes\counterh.php on line 220

Warning: feof(): supplied argument is not a valid stream resource in D:\Hosting\3410369\html\counter\includes\counterh.php on line 218

Warning: fgets(): supplied argument is not a valid stream resource in D:\Hosting\3410369\html\counter\includes\counterh.php on line 220

Warning: feof(): supplied argument is not a valid stream resource in D:\Hosting\3410369\html\counter\includes\counterh.php on line 218

Warning: fgets(): supplied argument is not a valid stream resource in D:\Hosting\3410369\html\counter\includes\counterh.php on line 220

Warning: feof(): supplied argument is not a valid stream resource in D:\Hosting\3410369\html\counter\includes\counterh.php on line 218

Warning: fgets(): supplied argument is not a valid stream resource in D:\Hosting\3410369\html\counter\includes\counterh.php on line 220

Warning: feof(): supplied argument is not a valid stream resource in D:\Hosting\3410369\html\counter\includes\counterh.php on line 218

Warning: fgets(): supplied argument is not a valid stream resource in D:\Hosting\3410369\html\counter\includes\counterh.php on line 220

Warning: feof(): supplied argument is not a valid stream resource in D:\Hosting\3410369\html\counter\includes\counterh.php on line 218

Warning: fgets(): supplied argument is not a valid stream resource in D:\Hosting\3410369\html\counter\includes\counterh.php on line 220

Warning: feof(): supplied argument is not a valid stream resource in D:\Hosting\3410369\html\counter\includes\counterh.php on line 218

Warning: fgets(): supplied argument is not a valid stream resource in D:\Hosting\3410369\html\counter\includes\counterh.php on line 220

Warning: feof(): supplied argument is not a valid stream resource in D:\Hosting\3410369\html\counter\